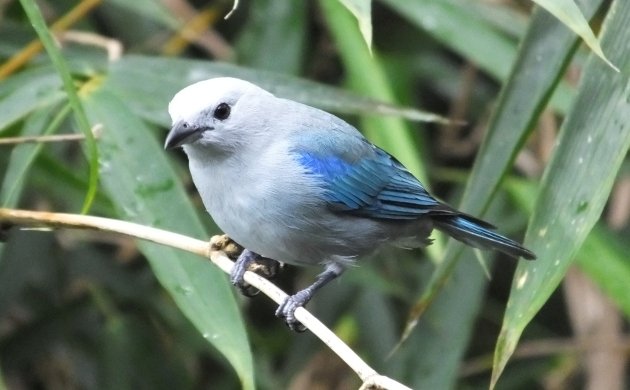 Spring migration! The annual parade of birds is happening and the feathered participants are dressed in their best breeding suits. Now is the special time that birders look forward to all year long. Now is when we can venture into the closest park and see birds of the deep woods, species that breed far from town. Blackburnian Warblers and Scarlet Tanagers might be present and every day brings another chance at connecting with rare, unexpected aspects of the avian kind. It's a living festival and for the birds, 2020 is no different. They have to keep on moving, following their instincts to travel back to the breeding grounds even if the trip is accompanied by many a danger.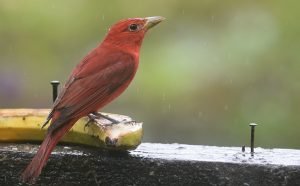 Summer Tanagers also migrate.
For birders, spring migration 2020 is of course very different. Whether by choice or by decree, our movements are restricted. We can't go to our favorite spots to watch the annual avian parade, the viewing is limited to the backyard or to nearby parks, and in some places, it's only what a birder can espy from a high rise window. The viewing might also be restricted to a terrace.  On account of a strict curfew in Spain, such is the situation for David Lindo, the "Urban Birder". He has been watching and telling us about the birds identified from his terrace during more than 40 days of lockdown (!).
In Costa Rica, although we have some freedom of movement, most local birders are still watching from home, me included. National parks are closed, beaches are off limits and we can't do much at night so home and yard birding it is. Luckily, there's lots of cool stuff to see in the skies above and green space in between. At the moment, we are also hoping to see more of spring migration. It's not like the colorful feathered parade in the north and many birds have already passed through but the show ain't over yet! Thousands of birds have yet to fly through Costa Rica, in particular, the "late migrants" like Canada Warbler, various tyrant-flycatchers, and Yellow-billed Cuckoos. Since this is migration, other things are also possible, I still hope to see more of them out back and in the neighborhood.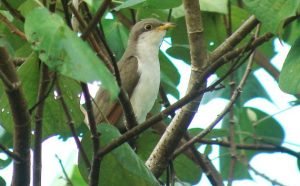 I hope and wait for spring migrants in 2020 by watching the green space from the back balcony, usually between 6 and 7 in the morning. I scan the tree tops in all directions seeing a Red-billed Pigeon here, a Bue-gray Tanager there but these are the regular backyard birds, not the ones I am really looking for. Sure, a wild pigeon with maroonish colors and a small bird colored to the tune of a Mountain Bluebird are always cool to see but around here, they occur every day.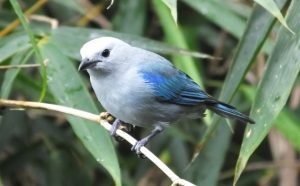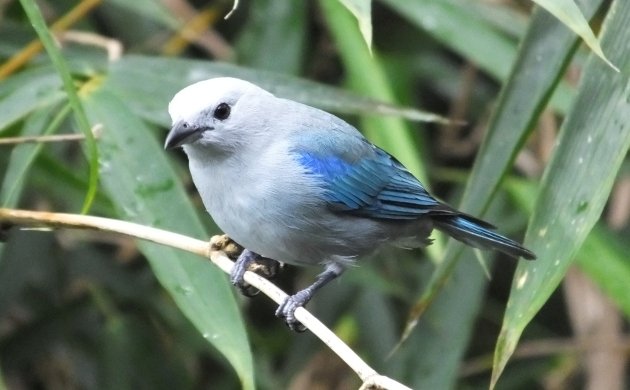 It's the other species hiding out there, the ones that can be here from one day to the next that I am really hoping for. The hope that an Acadian Flycatcher will have dropped from the night sky to rest in the riparian zone out back. That Alder and Willow Flycatchers will perch in the field visible from the front. That the faint piping notes of an Upland Sandpiper will filter down out of the evening sky. Cuckoos are sneaky and a challenge but I keep watching and hoping to see one fly into view, to suddenly see one perched there in a tall tree. Maybe it will be in the vegetation at the end of the street? Maybe one will be right out back. You never know so you just have to keep on looking. I have already seen a few Scarlet Tanagers and some Eastern Kingbirds but I won't complain if I see more. I hope for more of those birds to appear and ride the wings of that hope for a safe end to this trying situation soon, for a time when we can watch birds together again whether that be Costa Rica, Panama, Spain, or Yunnan, China.