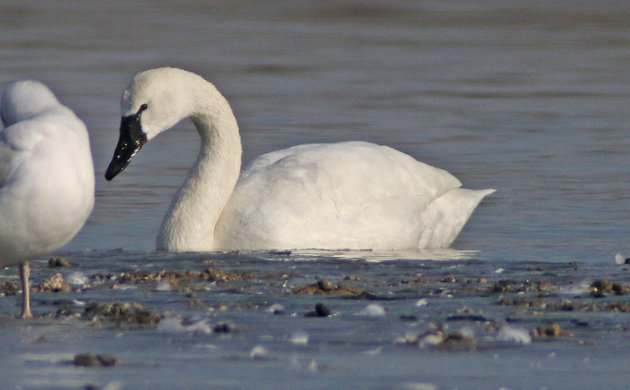 This past Sunday I led a birding outing in Queens for New York City Audubon. The focus of the trip was ducks and we hit a couple of hotspots in central Queens, Baisley Pond Park and Willow Lake Preserve, and then we took a quick stop at World's Fair Marina to track down a few more species. For the six hours of the field trip, nearly two hours of which were just getting back and forth from Manhattan, we totaled eighteen species of waterfowl. (Waterfowl is defined here as swans, geese, and ducks. So no grebes, cormorants, loons, or coots.) That led me to wonder just how many species of waterfowl can be found in a day's birding in Queens. I'm going to try it before February is out and see what I can come up with but here are the rudiments of the plan and what I expect to find.
Stop 1 – Breezy Point
At Breezy Point all three scoter species – Black, White-winged, and Surf – are possible and Red-breasted Merganser, Long-tailed Duck, Greater Scaup, and Bufflehead are all likely. Common Eider is tough but not unlikely. King Eider and Harlequin Duck would be marvelous finds but neither are at all likely.
Likely Number When Done: 7
Best Possible Number When Done: 10
Common Eider is always a nice bird in Queens.
Stop 2 – Rockaways
This isn't so much as one stop as it is a series of stops along the Rockaway Peninsula, working east, looking for any species that were missed at Breezy Point. Along the way Canada Geese and Brant will be found, and on the bay side of the peninsula Snow Geese, American Black Duck, Mallard, Hooded Merganser, and Common Goldeneye should all be spotted.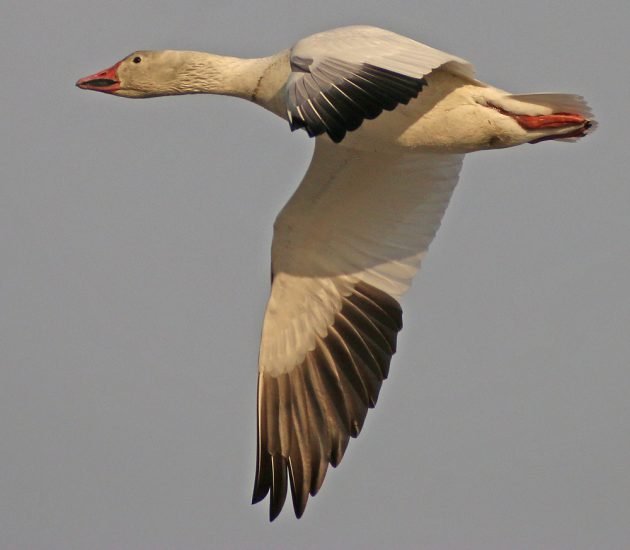 Most winters Snow Geese are a gimme when birding Queens.
Likely Number When Done: 14
Best Possible Number When Done: 17
Stop 3 – Jamaica Bay Wildlife Refuge
At Jamaica Bay Northern Shovelers, Northern Pintail, American Wigeon, Gadwall, and Ruddy Duck should all be easily added. Clean up on any of the common dabbling and non-scoter-and-eider diving ducks should be completed as well. If the Tundra Swan (at the top of this post) has stuck around until I get a chance to do this trip it could be added as well. With a miracle a Eurasian Wigeon will be present.
Likely Number When Done: 19
Best Possible Number When Done: 24
Stop 4 – Baisley Pond Park
Baisley Pond Park is almost guaranteed to add Redhead and Ring-necked Duck. With luck, a Green-winged Teal, a Wood Duck, or a Blue-winged Teal will show up as well. (Both teal have been reported in Queens this winter but Wood Duck has been entirely absent.) If somehow Ruddy Duck, Northern Shovelers, Gadwall, Mute Swan, American Black Duck, or a variety of other species have been missed they will be added at this point.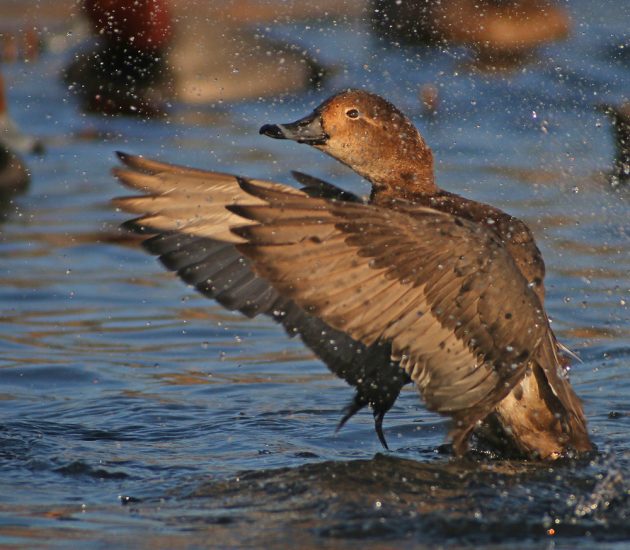 Nowhere in New York City is better for Redhead than Baisley Pond Park.
Likely Number When Done: 21
Best Possible Number When Done: 29
Stop 5 – Willow Lake Preserve
Willow Lake is a stop just to look for the wintering Common Mergansers, the only place in Queens where this species regularly winters. If somehow Hooded Mergansers have been missed until now they should be here as well. Green-winged Teal is possible as well, as a drake was present until this past Saturday.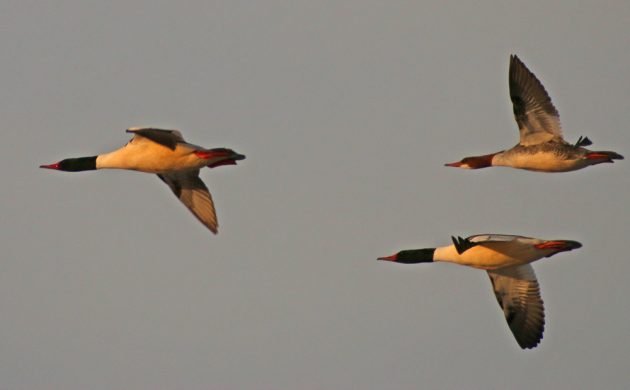 All the mergansers are awesome but I think Common Merganser is my favorite.
Likely Number When Done: 22
Best Possible Number When Done: 30
Stop 6 – World's Fair Marina
Two ducks to add here: Canvasback and Lesser Scaup, if the latter hasn't been seen yet. If the Northern Pintail are gone from Jamaica Bay they are possible here as well.
Likely Number When Done: 24
Best Possible Number When Done: 32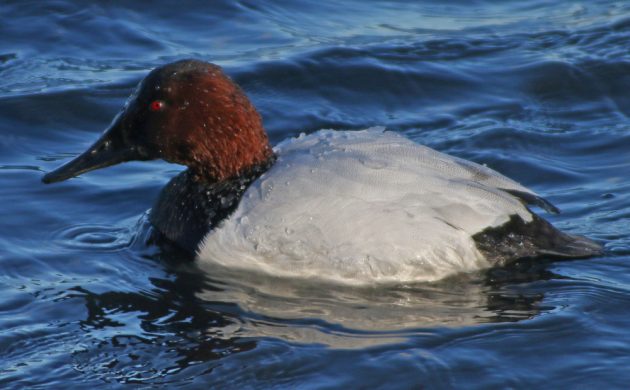 Who doesn't like Canvasback? Though you shouldn't try to paint on their backs, no matter how tempting that bright white expanse is.
Stop 7 – Restoration Pond at the Long Island Expressway/Cross Island Parkway Interchange
This pond hosted a Greater White-fronted Goose earlier in January and the bird could come back again. Also, Green-winged Teal, Northern Pintail, and virtually any other dabbling or freshwater diving duck could show up here.
Here's hoping the Greater White-fronted Goose shows up again!
Likely Number When Done: 24
Best Possible Number When Done: 33
Stop 8 – Flocks of Geese
The eighth stop isn't a single stop but wherever geese have been sighted in large numbers. Flushing Meadows-Corona Park, Fort Totten, a variety of cemeteries, and wherever else geese might gather will be where the day is done. The hope would be to find Cackling Goose or Ross's Goose in the flocks. Neither is terribly likely though the former is by far the most likely of the two. If somehow both geese were added it would be a miracle. Throw in the minuscule chance at Pink-footed Goose and Barnacle Goose and it could be one heck of a day!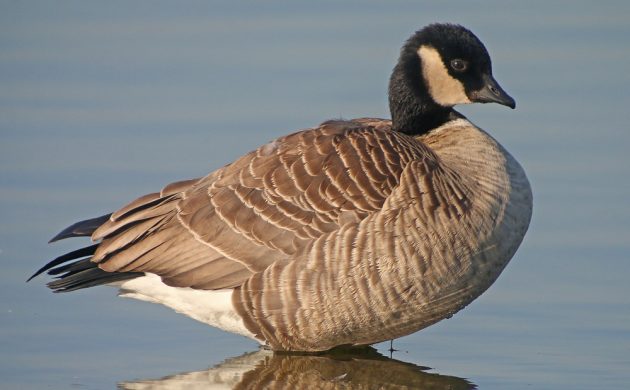 I found this Cackling Goose in Queens. Why not another?
Likely Number When Done: 24
Best Possible Number When Done: 37
I think if everything came together nicely that 27 species is not unreasonable and 30 species not outside the realm of possibility. I'll keep folks updated as to when I decide to make this run: here's hoping the weather cooperates for the next two weeks until I can find a weekend day I can burn on this endeavor! Thirty species or bust!
Anyone else have any fun type of listing challenges to propose? I'm all all ears!