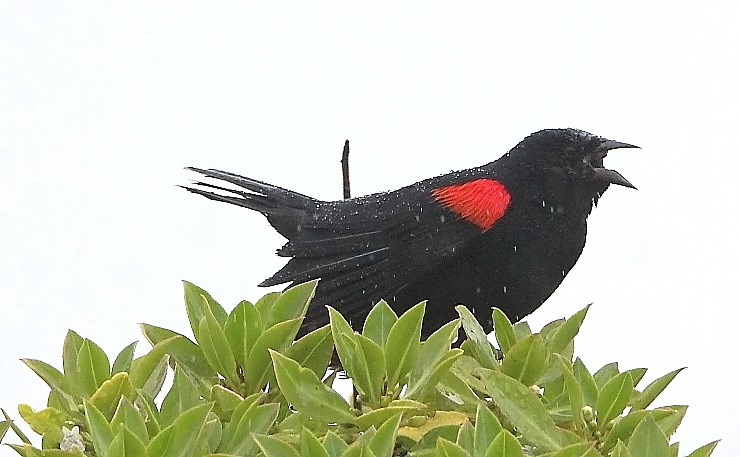 Any California-raised person knows that it just doesn't rain in California in June. San Francisco averages two-tenths of an inch for the month, while San Jose only averages half that much. I was raised in between the two cities, and visited that area earlier this month. I had set aside the morning of Sunday, June 10th to cross the San Francisco Peninsula to the Pacific Ocean town of Half Moon Bay, a mere 25 minute drive away, for a few hours of birding. But, unexpectedly, the weather forecast began to predict a possibility of rain. Should I go anyway? I decided that I should. After all, in California in June, how much could it rain?
I won't make you wait for the answer. I got very, very wet that day. It would have been a typical rainy California day for, say, the month of January, with steady drizzle punctuated by more substantial showers. By the time I gave up around 1 p.m., my shoes were soaked through, as were my jeans from the knees down, and my collapsable travel hat. My camera and binoculars, protected by the light coat I had packed, were wet but fully functional. But I went through some anxiety concerning those.
Not only was I very, very wet, so were the birds that I saw. I'm fond of photos of birds in a visible mist or drizzle. But these ones looked almost as bedraggled as I did.
The Red-winged Blackbirds were wet.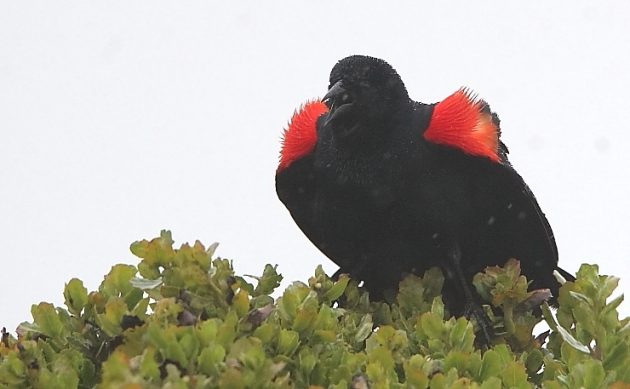 The Spotted Towhees were wet.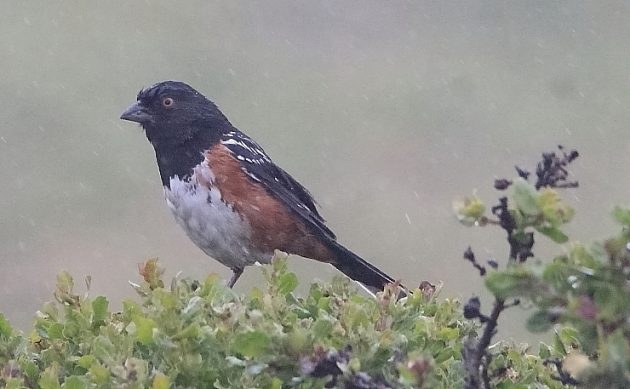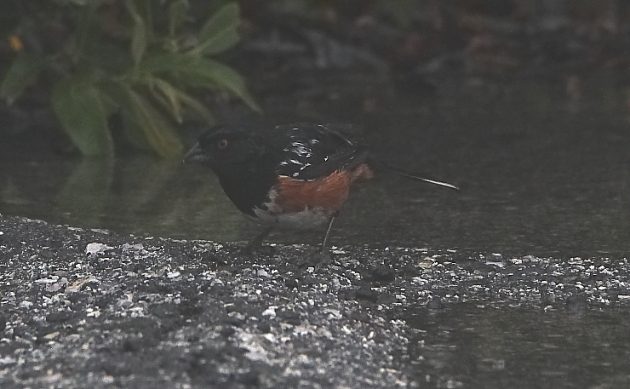 The Song Sparrows were wet.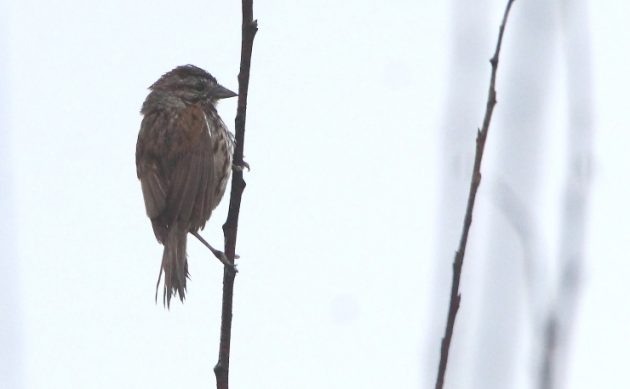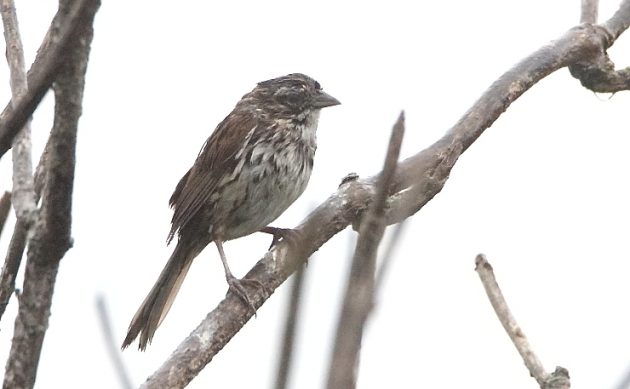 And the White-crowned Sparrows were very, very wet.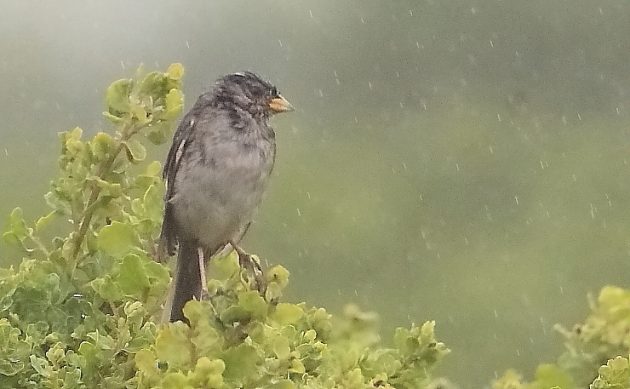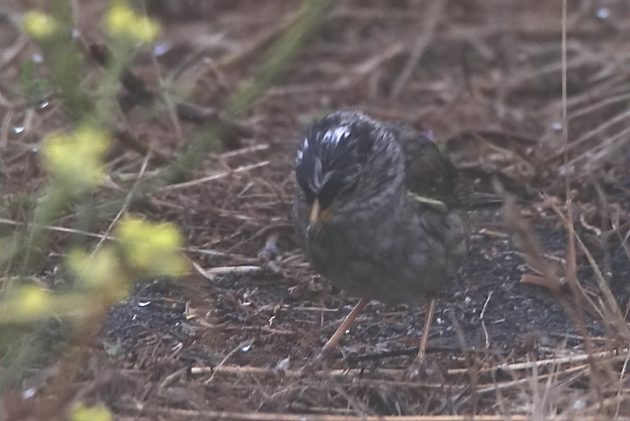 I was also very, very wet.
I had gone to the hotspot of "Venice Beach and Pilarcitos Creek Mouth" in the hope of seeing, among other things, some ocean-loving birds. After all, seabirds are hard to find in the highlands of Michoacán. But the steady rain made visibility so bad that I couldn't really see into the waves, and these were so rough that seabirds seem to have decided it would be easier to be somewhere else. So I had to settle for seeing a Black Phoebe, some Killdeers, and Caspian Terns standing by the Creek Mouth — all species I can see near home — and lots of Mallards, which do not occur in central Mexico, but are common in much of the rest of the world.
That meant I had to settle for trying to take grainy pictures of passing seagulls. The vast majority were Western Gulls, which, happily, cannot be seen in central Mexico. They helpfully flew over the parking lot, since getting to the beach was tough.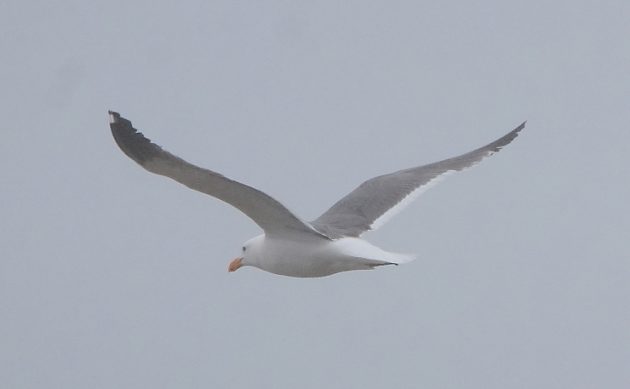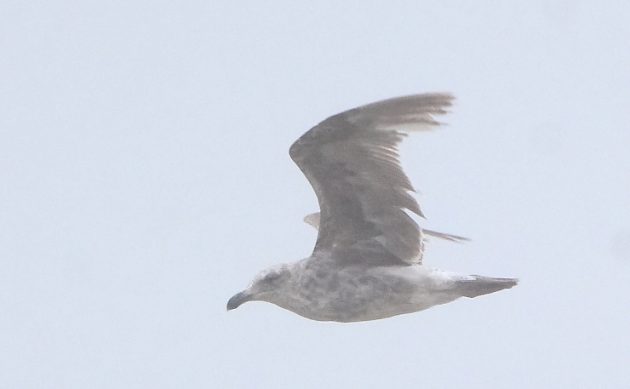 Photographing flying birds is always difficult, but more so in the low light of a steady rain. Even so, I believe that the faint black line at the tip of this gull's less bulky bill, and its apparently greenish legs, allow me to add the California Gull to my yearlist. I would love to hear from any gull experts out there to confirm or correct my ID. (Gull ID can be really hard!)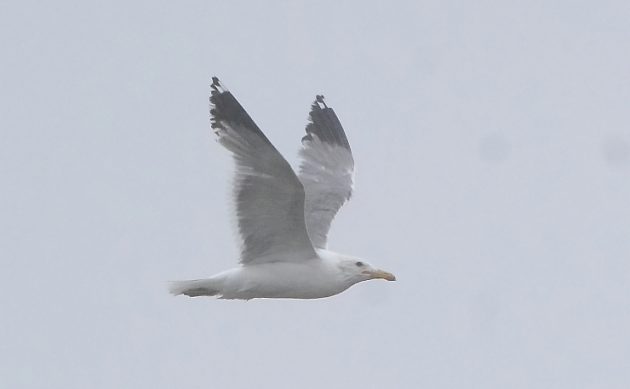 One might think I had already had enough troubles on this outing, but, no, one more problem would present itself. I had thought that my camera use on two previous neighborhood outings was not enough to demand recharging its battery. I was wrong. Halfway through my planned outing (and before I managed to reach the accessible part of the beach) my camera shut off. At first I was quite upset. Then I decided that the universe was telling me to stop messing around with my digital camera in the rain, which served as a bit of cold, but real, comfort. I tucked the whole thing under my leather jacket, half-heartedly continued another half hour, and went home.
Next week I will describe my welcome opportunity for a do-over…