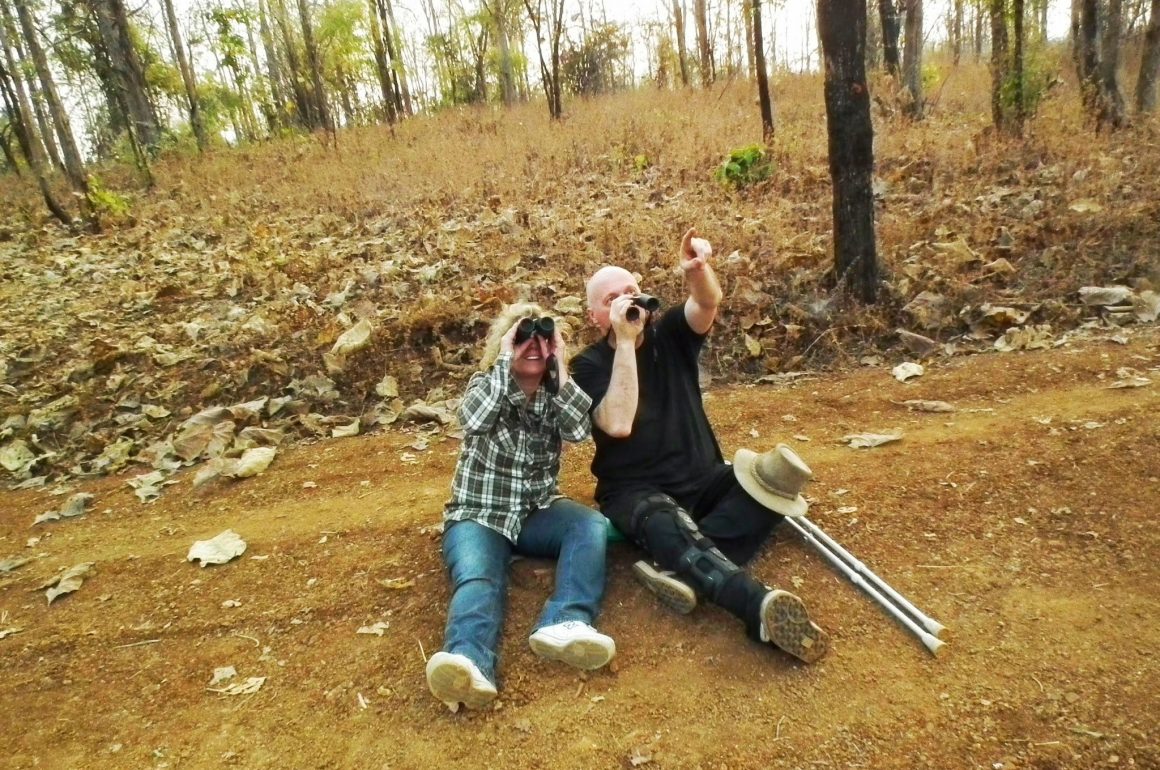 Clearly, it is easier said than done. And after three decades of walking on crutches, I still do not know how to answer the title question. Probably because I find it very uncomfortable, so I prefer to bird from a sitting position, of which I have already written here (birding by car, by kayak…), but I have only rarely written about birding on foot (e.g. in the Lazarev Canyon).
Once in East Anglia, I was visiting a well-known Common Crane site where the car park turned out to be too far from the low embankment overlooking the reed-bed. My friend continued by car all the way to the embankment, where, next to a line of birders awaiting for the cranes to land, we met a reserve warden who accepted our explanation of why we had driven there. Yet, he insisted that after leaving me there, my friend ought to drive back to park at the official parking, then walk back and later walk back again to the car park, so he could pick me up. It would have been much easier if he was allowed to keep the car nearby, but, if the warden wasn't so full of understanding, we probably risked paying a fine.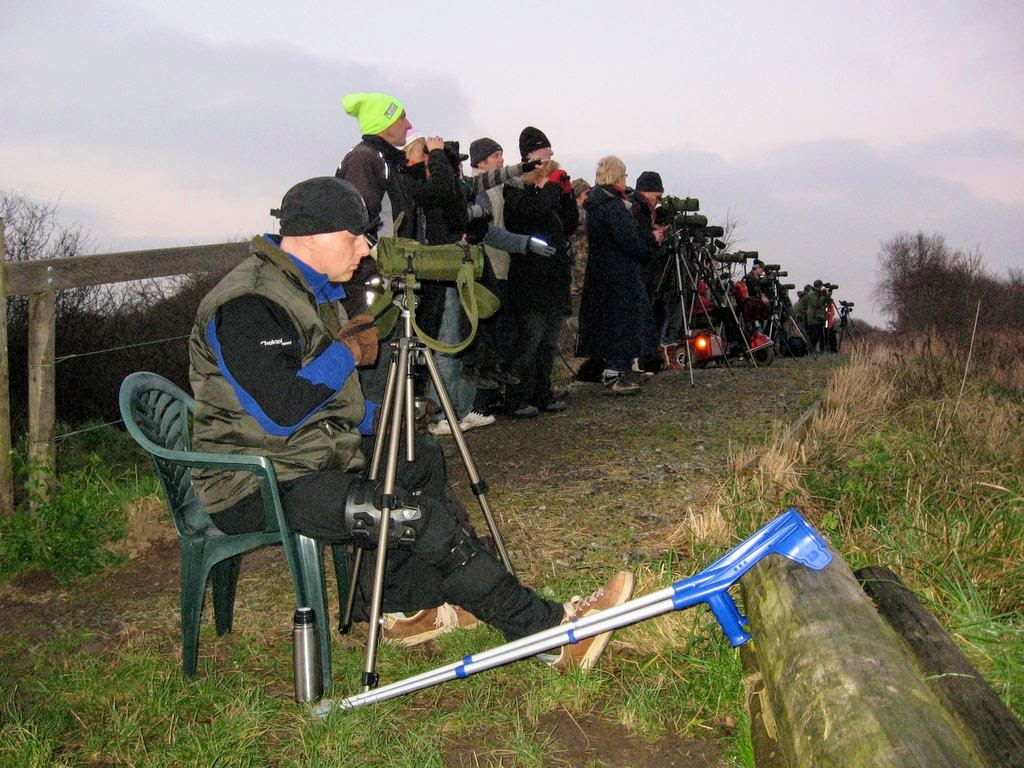 My friend brought one plastic garden chair in the trunk of his car, so I sat next to the line of standing birders, in a cold winter sunset, barely a few degrees above freezing. While I walk with two crutches, I can stand using only one, freeing my other hand, so – with lightweight binoculars – why would birding on foot be so uncomfortable?
It doesn't have to be for everyone, it has to do with the nature of my injury. I broke my spine, damaging the spinal cord and loosing movement and feeling in my legs. So when I am looking through binoculars, especially something at a short distance, I lose the sight of a horizon, and my feet not being able to tell me if the ground is flat or sloping, I start losing my balance, too. Hence, to do any proper birding, I need to sit down.
On that same trip, in another reserve I was walking along the boardwalk through a large reed-bed. Being next to the sea, the air was cold and damp, enough for the wood to absorb moisture and become slippery. To prevent accidents, the reserve authorities nailed a chicken wire mesh (poultry netting) onto the planks, to prevent slipping, but the boardwalk was much wider than the netting and while my feet were on the netting, my crutches were more often than not on both sides of it (when walking on crutches, one needs to position them at least at the shoulder width and preferably wider). Hence, I did slip and hit my hip rather painfully, fortunately, without a fracture (yet, I had to go to the ER to make sure nothing was broken). The simplest solution would be using a double width wire mesh.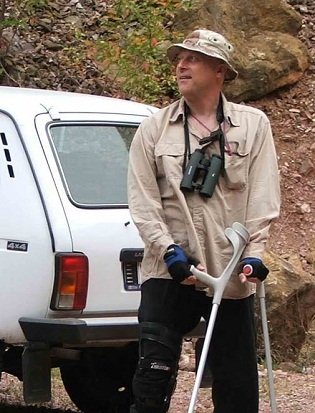 Once in Serbia, I tried to follow a group of birders walking over a dry salty crust left behind on an evaporated saline lake. No other walkers had any problem with the crust, but me. The crust was hardened enough to walk on foot, but not on crutches. One of my crutches went through it, under it, where the sucking mud was waiting to pull off the rubber tip, so with every successive step it would no longer stay on top of the crust but go all the way down.
Being an experienced canoeist – who has already dropped one crutch to the bottom of the Danube, I always keep a spare crutch in the trunk of my car, so I called someone to walk to the car park and get me another one. But I gave up walking further over the salty crust.
Even without any accidents, walking on crutches requires the use of the upper body muscles (supposedly burning more calories – not that I ever noticed it), and in hot and humid tropics too much walking becomes unpleasantly sweaty. In both India and Botswana, I was at the very edge of the tropics (under the Tropic of Cancer and the Tropic of Capricorn, respectively), but in dry semi-desert zones, never deep in the true, humid tropics.
For some reason it didn't occur to me how humid Costa Rica might be and I needed a day or two to acclimatise. Only, I didn't have that extra day. It was a magnificent, madly-intense birding from the first morning onward (and I only arrived the previous evening). On that day I wore a shirt made of some smart material, which I expected to dry out fast, not the least because it had a logo of a well-known binoculars brand on it.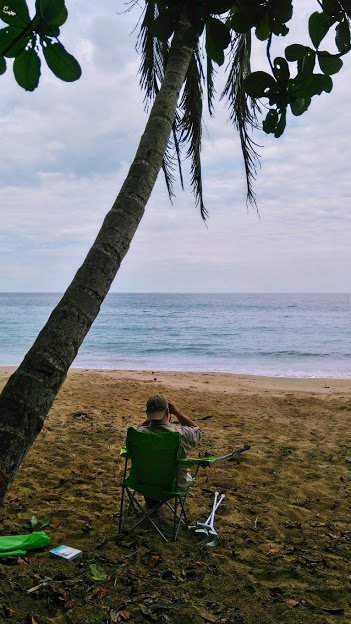 There was some light rain after lunch, so the soaked soil was evaporating, together with all those leaves in the forest around us. I still hadn't determined my limits in such conditions, nor could our guide judge where to take me and where not to.
You know how imprecisely you estimate the distance: it is just behind that bend in the track, oh, not this one, the next one, oh, the next one for sure… Yes it was close by for someone on two legs, but it turned out to be a bit too far for someone sweating profoundly while walking on all four. And my smart shirt made me feel like a hot-dog cooking inside a nylon sleeve.
That same evening I wanted to pay for my drinks at the bar, but presumably because I had dollars and not colones, the bartender sent me to the reception desk. I had no clue how far that reception was and it turned out to be another long and sweaty walk, only to find out that the bartender could have accepted dollars and that there was no need for me to wander through the humid forest. After that, I both acclimatised and restricted my walks. And it worked – I still dream of Costa Rica.
So, even after 30 years, I still do not know how to bird on crutches. My recommendations to the lodge owners, do not try to put every mobility challenged person in that large disabled-friendly room in the back of the lodge. Someone in a wheelchair can easily get there, while it may turn into torture for someone on crutches. Wheelchair users need extra-spacious rooms to turn around and accessible bathrooms with grub rails, plus one important point – everything to be within reach from the sitting position.
On the other hand, using crutches, I prefer ordinary rooms with shorter distances to walk to reach them, if possible – no or fewer stairs, and either a proper bath tub or a shower cubicle wide enough to put a plastic garden chair under it. And that is about all, accommodation wise. Once I was in a beautiful lodge where I asked for an extra chair to put under the shower and then felt embarrassed when I saw a lady manager (no male help around) carrying a very heavy wooden chair up the stairs for me. Those lightweight plastic chairs are not just cheap, the bigger problem is that they look cheap, and just about every lodge has ditched them, making easy tasks unnecessarily complicated.
Regarding walking trails, consider positioning sitting benches every 100 metres or so where possible. Benches make life more pleasant for others, not just for people with mobility issues, but small children, pregnant women, unfit elderly… If you are on electric grid (and not solar) and the trail is reasonably even and wide, a noiseless golf cart might be a great solution. Personally, I love places where it is possible to bird from an open 4×4 or a boat, but then again, I also love forest habitats even when barely accessible on foot.
And the final advice to lodge owners: listen to your guests. They are the experts on their condition and how to overcome their limitations.
Cover photo: observing the rarest owl of India