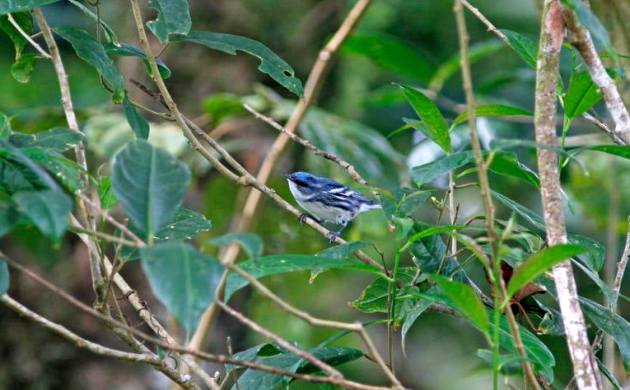 In the birding world, May is the beautiful time. With birds bedecked in their breeding best and filling the air with song, this is migration at its loveliest. A wonderful variety of bird species are waiting to be seen and among them are many a birder's favorite avian group, the wood-warblers. Among the most desired bird species during May migration, brightly colored, beautiful and boldly patterned, how can a birder not get hooked on spring warblers? An annual spectacle of living jewels, feathered spangles that appear from one day to the glorious next, a few of these beauties are also decidedly uncommon. Threatened by loss of habitat both on breeding as well as wintering grounds, a few species have even become endangered or at least on a perilous track towards that worrisome designation.
One of the most esteemed and desired of those rare little threatened birds is the Cerulean Wabler, an exquisite, sky blue species that just won't go for habitats bereft of mature forest featuring tall, majestic trees. Such habitats are increasingly hard to come by on the breeding grounds whereas more and more habitat on migration and wintering grounds is also destroyed. The end result is a small threatened population of birds that are typically and understandably tough to see during migration. To find even one Cerulean Warbler, most birders need to spend a few days birding major migration hotspots or visit a known breeding site in June.
Such migration hotspots include the famed Magee Marsh area in Ohio, Point Pelee in southern Ontario, Cape May, New Jersey, and what might be the best area, sites on the Texas coast. However, fortunately for birders in Costa Rica, we also have an important wood-warbler hotspot. Located in the misty, lush foothills above the the banana growing region of Siquirres, from late August to mid-September, the Las Brisas Reserve becomes Cerulean central. First noted by local guide and ornithologist Ernesto Carman, he found that this site not only hosted Cerulean Warbler, but on some days, there were a dozen or more of this rare bird!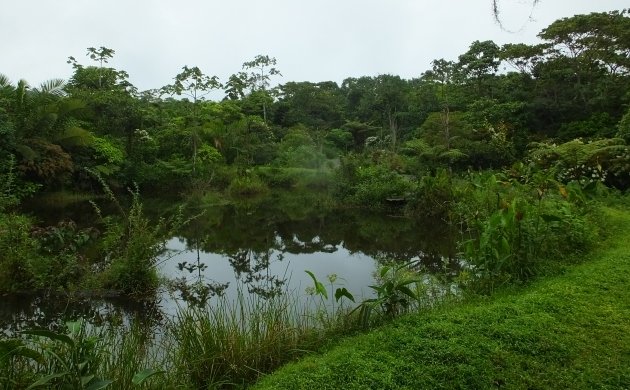 Habitat at Las Brisas.
Sharing habitat with Blackburnian Warblers, American Redstarts and other migrants, it appears that Las Brisas acts as an important stopover site for many species. Not to mention, it's also a good area for a surprising variety of resident lowland and foothill species including other uncommon and threatened species like Agami Heron, Lattice-tailed Trogon, and the Great Green Macaw.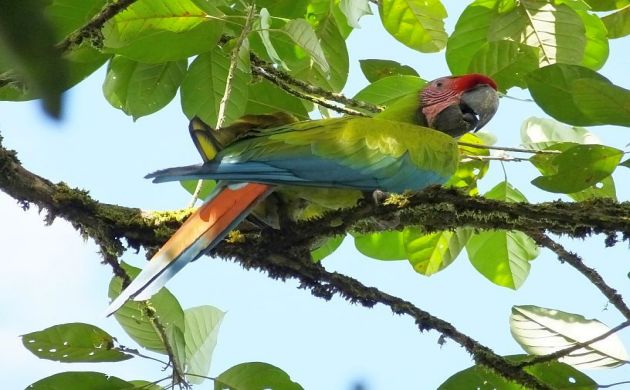 Great Green Macaw!
Ernesto and another local guide and ornithologist, Juan Diego Vargas, have theorized that Las Brisas might be situated at a strategic point where Ceruleans and other migrants make their first stop after flying from another important stopover point in Belize and Guatemala because more seem to be seen at Las Brisas than other sites with similar habitats in Costa Rica. Whatever the reason may be, we do know that Las Brisas provides a lot of food and shelter for Cerulean Warblers as they migrate south. With that in mind, Ernesto and fellow researchers are working on figuring out which plant species might be most important for Ceruleans and other migrants so areas in and near Las Brisas can be more efficiently recuperated and restored.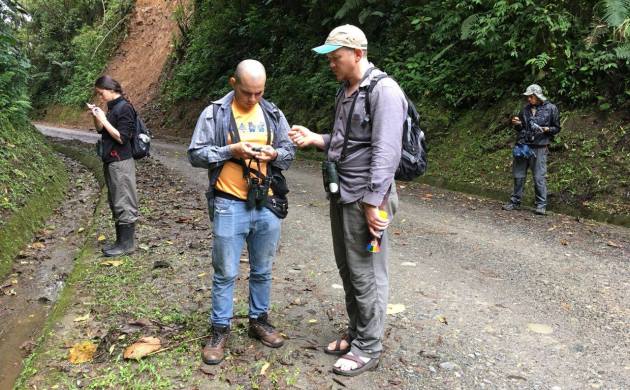 Ernesto and his team in the field.
How You Can Help
Participate in the Rainforest Biodiversity Group's annual bird-a-thon. For 13 years, this organization has carried out a bird-a-thon to raise funds for such projects as reforestation in Ecuador and protecting nests of the Harpy Eagle in Brazil. In 2019, this event will help with conservation efforts in the Las Brisas Reserve and thus work at improving vital and increasingly scarce habitat for the Cerulean Warbler and many other species. There are three main ways to participate:
–    Donate any amount of funds at the bird-a-thon site.
–    A person may pledge a per-species amount to donate on May 18 depending on the team they want to follow.
–    Create your own team to participate in the bird-a-thon!
In other words, birders who have to work on the 18th or just can't get outside to go birding can donate at the site or choose a team to follow and make a pledge on a per bird basis. Or, use this as a fun, worthwhile excuse to go birding by creating a team, finding pledges, and then seeing how many birds can be found on May 18th. Although all options help Cerulean Warblers, the latter option would be the most fun!
Ernesto Carman and his team will probably do their winning Big Day route (if you want to make a per species pledge, keep in mind that they have recorded more than 350 species on this route in one day!). How will you help Cerulean Warblers and other migrants flying to and from South America? Any donation helps but if you can go birding at the same time, birding to help conserve a threatened species is always a win-win combination.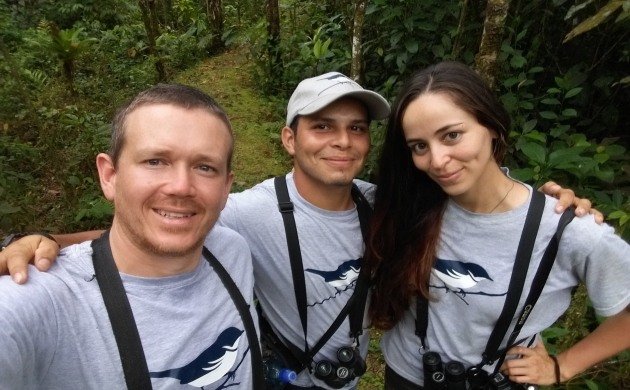 Make a pledge to help these birders help Ceruleans and many other birds. Warning!- Before pledging per species, keep in mind that this team has one of the highest Big Day totals ever (350 plus)!
—
Feature image of Cerulean Warbler and researchers at Las Brisas Reserve by Paz Irola.