Like most birders in the path of Hurricane Irene I couldn't wait for the storm to arrive and pass because I couldn't wait to get out searching for birds driven north and to land by the powerful wind. Neither having to spend a day reading about the terns that showed in North Carolina on Saturday nor studying my Sibley helped me tamp down the eager anticipation I felt.  When Sunday arrived and Irene proved to be less powerful and faster moving than was expected I was chomping the bit and eager to get out birding!  Seth, Andrew, and I coordinated by phone and it was at shortly after 10 AM that we gathered at Seth's where, along with Seth's wife, Lori, we piled into Seth's car and headed east into Nassau County hoping to find an open route to the barrier beaches.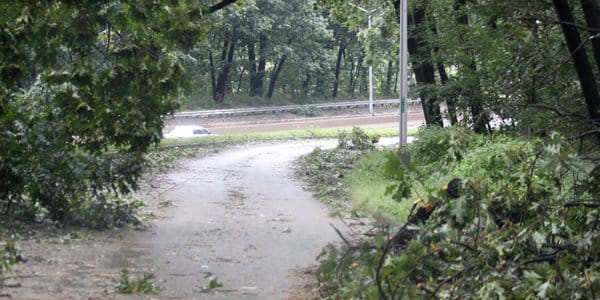 debris on the Grand Central ramp to the Cross Island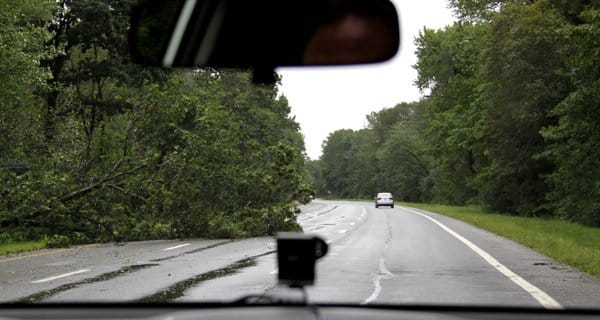 tree down on the Southern State Parkway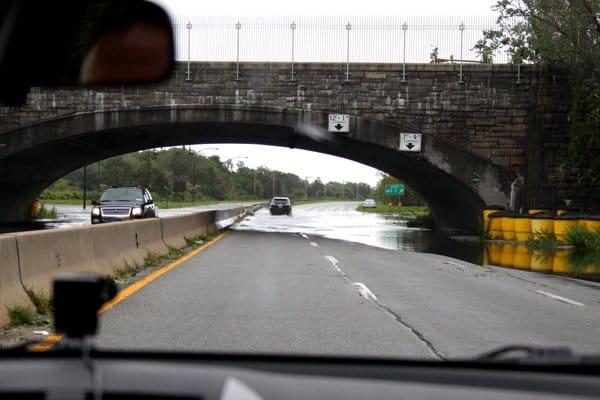 flooding on the Meadowbrook Parkway
Though there were trees down and some minor flooding damage seemed light for a hurricane and we managed to make our way from the Grand Central Parkway to the Cross Island Expressway to the Southern State Parkway to the Meadowbrook Parkway to Ocean Parkway and Jones Beach where we were stymied at every parking lot because Jones Beach State Park was apparently closed.  Then we remembered that birders are always allowed at the West End even when it is closed to everyone else so we made our way to the Coast Guard Station where we met up with some other New York birders who had already had some very impressive birds including a jaeger that refused to give up its identity and instead drifted out of view even as we got our scopes on it.  This minor disappointment would rapidly be forgotten when my life Band-rumped Storm-petrel was spotted.  Yeah, I'm not kidding, a Band-rumped Storm-petrel behind the Coast Guard Station at Jones Beach.  I will pause now while those who have been there pick their jaws up off the floor.
There were also several Wilson's Storm-petrels in the inlet and while we did enjoy watching them we were constantly interrupted by things like fly-by Royal Terns, hordes of shorebirds, and, wait, a Bridled Tern!  Lifer number two of the day!  It would be the first of at least three spotted at Jones Beach, the last of which is in the photos below.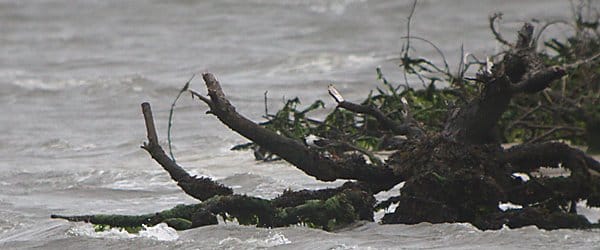 And did I mention the Leach's Storm-petrel?  Yeah, I didn't think I had but we spotted one of those too.  It was an insane morning of birding and I haven't even mentioned the Sandwich Tern that would normally have been the highlight of a day's birding in New York that was just hanging out on the spit at Jones Beach.  Yeah, and there was an American Avocet there as well, you know, just as a bit of sweet sweet icing on a rather impressive rarity cake.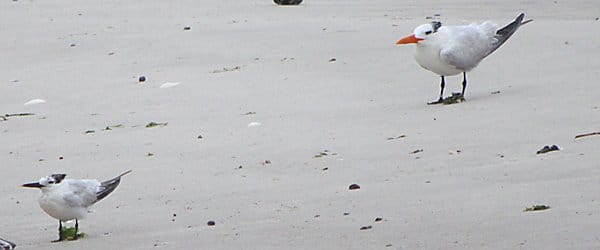 Sandwich Tern with Royal Tern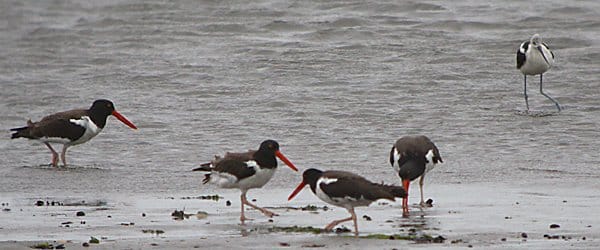 American Avocet with American Oystercatchers
Eventually, an employee of Jones Beach State Park arrived on the scene to let us know that the park was entirely closed, even for birders, and sent us on our way.  Our small crew made our way to Point Lookout where we added another Sandwich Tern and a Common Nighthawk to the day list, the latter a bizarre sighting over the inlet that took my brain several seconds to process.  Finally, Seth spotted a Sooty Tern on the far side of the inlet, my fourth lifer of the day, and it was nicely complemented by another Bridled Tern and a Black Tern as well.  The Eastern Kingbird we spotted eating pokeberries seemed a perfect emblem for an excellent day of New York State birding.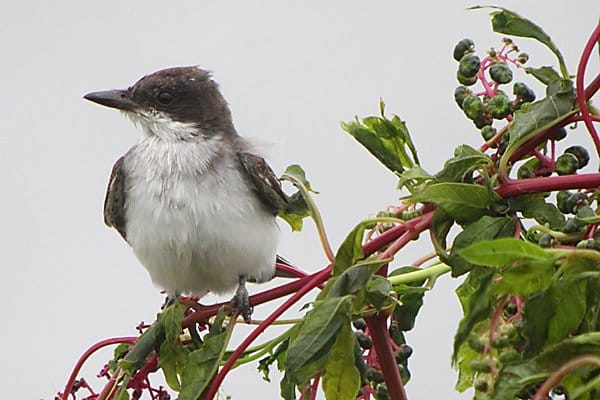 Eastern Kingbird with pokeberries
Then word came that a White-tailed Tropicbird had been found just west of us but it was heading further west and our attempt at tracking it down proved both pointless and birdless as the wind picked back up and conditions rapidly deteriorated.  We headed back to Queens soaked, happy, and hoping for another hurricane!
…