There might be some question as to if the birding that resulted from Hurricane Irene on Sunday, 28 August 2011, was the best birding ever in New York State but any day that can even be entered into that conversation is going to feature some amazingly good birding. Though I have already detailed my experience that day I felt that it was worthwhile to give a fuller account of what was going on along the coast on Long Island, in New York City proper, and up the Hudson River wherever storm-tossed birds were spotted. A horde of New York birders were out and about searching for rarities and it was the rare (and very sad) birder who did not find at least some. Hurricane Irene was as kind to New York State birders as she was unkind to those who lived in low-lying coastal areas or along streams and rivers swollen past flood stage. The birds were great but we should remember that the same storm that brought birds to delight us also caused many misery. If there was only a way to have hurricane birds without the hurricane then everyone would be happy!
Before I get into the birds I would like to share a brief outline of Irene's pounding of New York City and Long Island. Rather than reveal my inability to write knowledgably about weather I will turn to an expert, Dr. Jeff Masters, of WunderBlog:
At 9 am EDT, Irene made a third U.S. landfall over Long Island, NY, and New York City, as a tropical storm with 65 mph winds. Top wind gusts measured in New York City were 60 mph at Central Park at 3:58 am; 67 mph at La Guardia at 4:10 am; and 59 mph at JFK Airport at 1:33 am. A 91 mph gust was recorded in Sayville, NY on the Central Long Island coast, at 7:02 am. Emergency managers reported that the nearby town of Lindenhurst (population 28,000), on the south side of Long Island, was mostly under water due to a storm surge. The storm surge at The Battery on the southern shore of Manhattan reached 4.0 feet, overtopping the sea wall in several locations. Fresh water run-off from Irene's torrential rains, riding on top of a 3 to 4-foot storm surge, allowed the swollen East and Hudson Rivers to overflow at the edges of Manhattan. Irene's rains have now ended in New York City, after accumulating to 7.60″ at Central Park. This brings total rainfall for the month of August in New York City to 19.68″, making it the wettest month in the city since record keeping began in 1869.
Of course upstate New York was inundated with huge rainfall totals that resulted in bad flooding that helped prevent many birders from getting out and about looking for good birds. Downstate, those birders who were not trapped by high water or stuck dealing with damaged property were able to get around remarkably well by late morning considering that a huge storm had swept through.
With the weather out of the way let's get going on the birds! Birders wanted to see seabirds blown north out of the Caribbean more than any other birds and we were extremely lucky in variety and number. Let's delve into the details, shall we?
But first, a note – all of the images here are copyrighted and used with permission. Do not steal any photos or a hurricane will come and blow you away.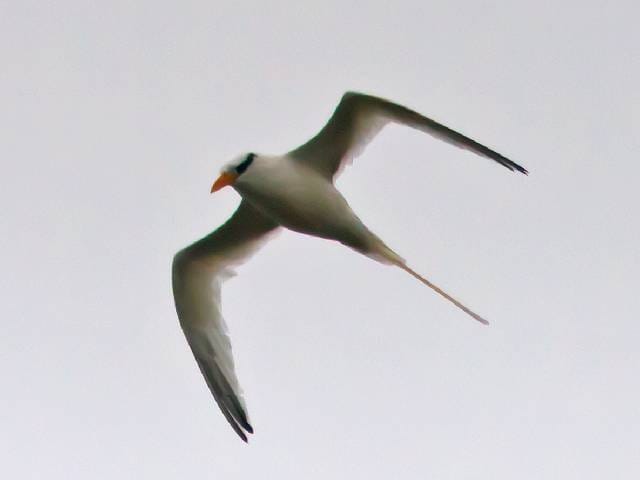 White-tailed Tropicbird Phaethon lepturus at Point Lookout by Steve Walter
White-tailed Tropicbird is a bird that is extremely rare in New York waters but at least three were spotted in New York City and on Long Island after the storm. Steve Walter had one fly by heading west on the bay side of Point Lookout that he photographed. Two others were observed on the Hudson River from the west side of Manhattan, one an adult and one a juvenile and each was seen by multiple observers. Sam Stuart got pictures of the adult and tells the tale below:
I went to the end of the 23rd St pier on Sunday afternoon to try and cash in on the great sightings others had posted earlier that day. I was just completing another scan over the Hudson with my binoculars and chewing on some crackers when I saw the bird. It swooped into the center of my field of view from behind the Frying Pan, hugging the near shoreline. Initially all I could see was its white underside and assumed it would be another Royal Tern. But it banked, or flapped and in that instant I saw a dark band along the upper side of the inner wing and long tail = Tropicbird. My mind roared to life and in quick succession I had several ecstatic reactions to the bird: 1) "Woohoo, Tropicbird, I'm seeing something really good" 2) "Oh sh*t, Tropicbird, I'm seeing something really good" 3) "Get your camera out QUICK!" I spun around and yanked my camera from its bag, flinging my lens hood and cap to the ground in the process. Then I spent several breathless seconds rapidly firing off as many shots of the bird as possible, hoping and praying that just one would be in focus as the bird passed less than 100 feet in front of me. It was a thrilling bird to see and I enjoyed every millisecond of the sighting.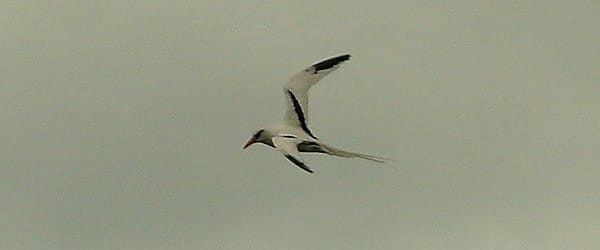 White-tailed Tropicbird over the Hudson River by Sam Stuart
Sadly, not every tropicbird was observed in flight. One White-tailed Tropicbird was found dead by Urban Park Ranger Marisa Miller in the Rockaways in Queens, a second was found dead in East Marion on Suffolk County's north fork, and a third was found alive by someone who wishes to remain anonymous on Presbyterian Hill Road in Stephentown, Rensselaer County, over one hundred forty miles north of New York City. It was captured but by the time it was handed off to a rehabilitator it had already perished.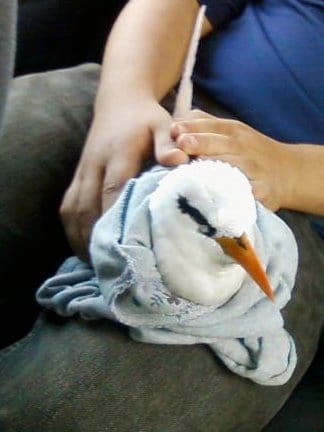 the rescued White-tailed Tropicbird from Rensselaer County
South Polar Skua was another species that didn't always weather the storm well. Two were reported by Angus Wilson out at Hook Pond in East Hampton, another was found grounded, seemingly exhausted, at Jones Beach by Brent Bomkamp, and another was found in Sea Cliff on the north shore by Carole Berglie and was eventually captured and passed on to a rehabber, held overnight, and released in seemingly good health the next day.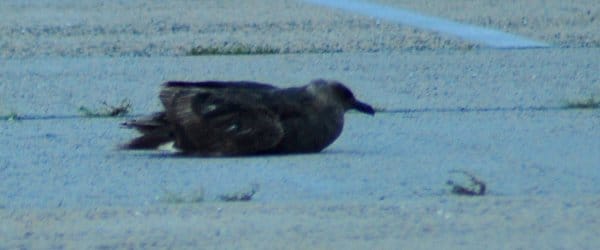 South Polar Skua at Jones Beach by Brent Bomkamp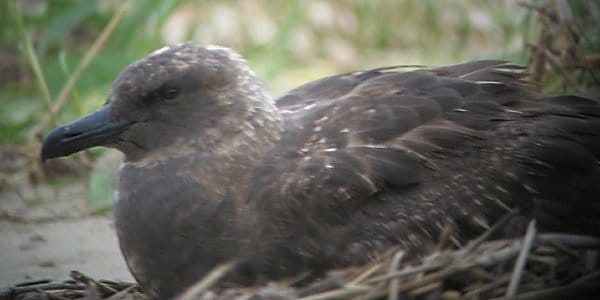 South Polar Skua at Sea Cliff, NY, by Mary Normandia
Angus Wilson had the most jaeger-love of anyone in the state with a Pomarine Jaeger and two Parastic Jaegers at Hook Pond (also seen by Michael McBrien), six more Parasitic Jaegers at Sagg Pond, and a Parasitic Jaeger at Further Lane that was also spotted byAnthony Collerton. Two more Parasitic Jeagers were added to the impressive Suffolk County tally by Michael McBrien in Mecox Bay. One jaeger that refused to give up its identity was spotted at Eaton's Neck by Brent Bomkamp and a bunch of birders at Jones Beach including yours truly had another unidentifiable jaeger. The trio of Harry Maas, Lloyd Spitalnik, and David Speiser hit a jaeger bonanza in the East River as observed from Manhattan with seven in sight at one time and total of about ten spotted. Almost all that could be identified were Parasitic Jaegers but at least one was a Pomarine Jaeger and one was likely a Long-tailed Jaeger. A definite Long-tailed Jaeger was spotted from Playland Park in Rye, Westchester County.
The only report of a Magnificent Frigatebird was from an upstate location. Tim O'Conner reported the lone Magnificent Frigatebird in New York State blown in on Irene from the city of Hudson which is on the east bank of the Hudson River in Columbia County about one hundred miles north of New York City. There were also only three Brown Pelicans that showed up, all in Suffolk County. One was on Great Gull Island, the second was in Montauk, and the third was in East Patchogue.
Storm-petrels were reported from across New York's coast, with Wilson's Storm-petrels virtually everywhere. Oceanites oceanicus was seen up the Hudson River at least as far north as Sleepy Hollow, Westchester County, which is north of the Tappan Zee Bridge, and in Long Island Sound from Westchester County and the Bronx. Wilson's Storm-petrels were seen all along the south shore of Long Island, in New York Harbor from Brooklyn, and in the Hudson River from Manhattan. But this common storm-petrel is not what birders really wanted to see. There were far better storm-petrels around as well.
Leach's Storm-Petrel was one of two Oceanodroma storm-petrels reported in the state. They were seen from several spots along the Hudson River in Manhattan and the Bronx, from Veteran's Memorial Pier in Brooklyn, from Jones Beach in Nassau County, from the Bronx in Long Island Sound, and out east in Suffolk County where 3-5 were at Mecox Bay and another was out at Montauk. The other Oceanodroma species spotted was Band-rumped Storm-petrel. Two were spotted – one at Jones Beach where ten of us (me, Andrew Baksh, Seth Ausubel, Shai Mitra, Pat Lindsay, Andy Guthrie, Tom Burke, Gail Benson, Steve Walter, and Doug Futuyma) observed one in the inlet behind the Coast Guard Station and one observed by P.A. Buckley at the western extremity of Long Island Sound from the New York State Maritime College in the Bronx.
More amazing than any of the storm-petrels was the Black-capped Petrel Pterodroma hasitata spotted in Mecox Bay near the very end of the day by Angus Wilson. Andy Guthrie, John Shemilt, Tom Burke, and Gail Benson were all able to get on the bird as well, and this has to be the bird of the storm. Prior to 1996 there were only seven records in New York but on 7 September 1996 Hurricane Fran "more than doubled all previous records for the species [in New York State]" according to Bull's Birds of New York State. It is an amazing bird to see in New York and it figures that it almost always takes a hurricane to see one.
Shearwaters were oddly in short supply with an Audubon's Shearwater reported by P.A. Buckley as it floated down the Hudson River past the Bronx, a Corey's Shearwater reported by the same observer in the same spot, but flying, another Corey's Shearwater was reported by Angus Wilson at Mecox Bay in Suffolk County, a Greater Shearwater was spotted from Brooklyn's Veteran's Memorial Pier by the Brooklyn birder trio of Shane Blodgett, Doug Gochfeld, and Heydi Lopes and another Greater Shearwater was spotted in the East River from Manhattan by David Speiser and Harry Maas.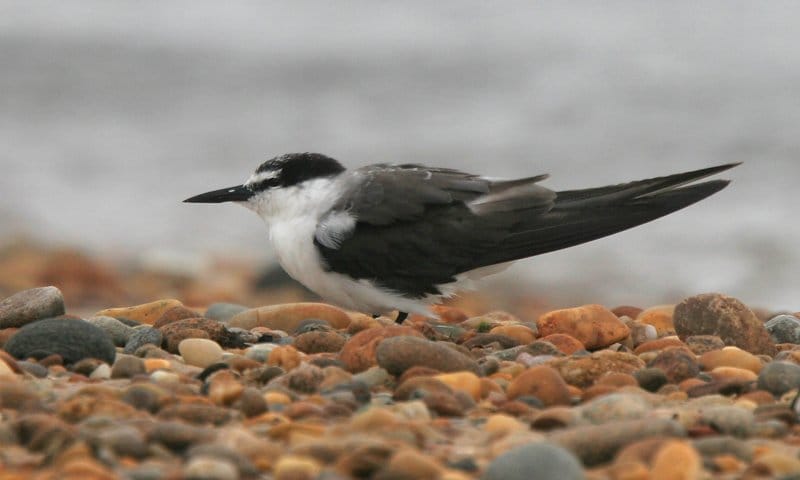 Bridled Tern at Fort Pond Bay by Angus Wilson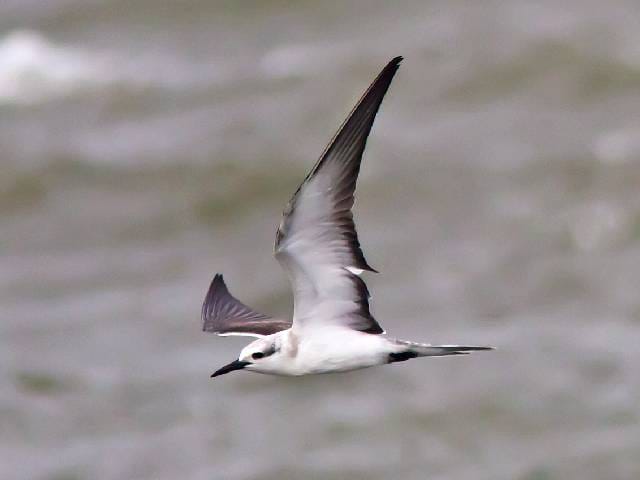 immature Bridled Tern at Point Lookout by Steve Walter
As for terns, well, there were lots of them all over the place. Bridled Terns and Sooty Terns were the most sought after and they were reported from pretty much every location mentioned in this post. But the two Onychoprion terns were only one-sixth of the amazing twelve species of terns reported (and Black Skimmer too). Sandwich Tern was probably the third-most-sought after species and they were seen all over as well. A particularly notable sighting was of a huge flock of "several thousand" Common Terns and 300-400 Black Terns feeding off of West Meadow Beach on the north shore by Ben Weinstein. The fact that Least Tern, Forster's Tern, Royal Tern, Caspian Tern, Roseate Tern, Gull-billed Tern, and Arctic Tern also all were reported is simply amazing. The only species of tern that has ever been seen in New York State that was not seen on 28 August 2011 was White-winged Tern. That is absolutely nuts.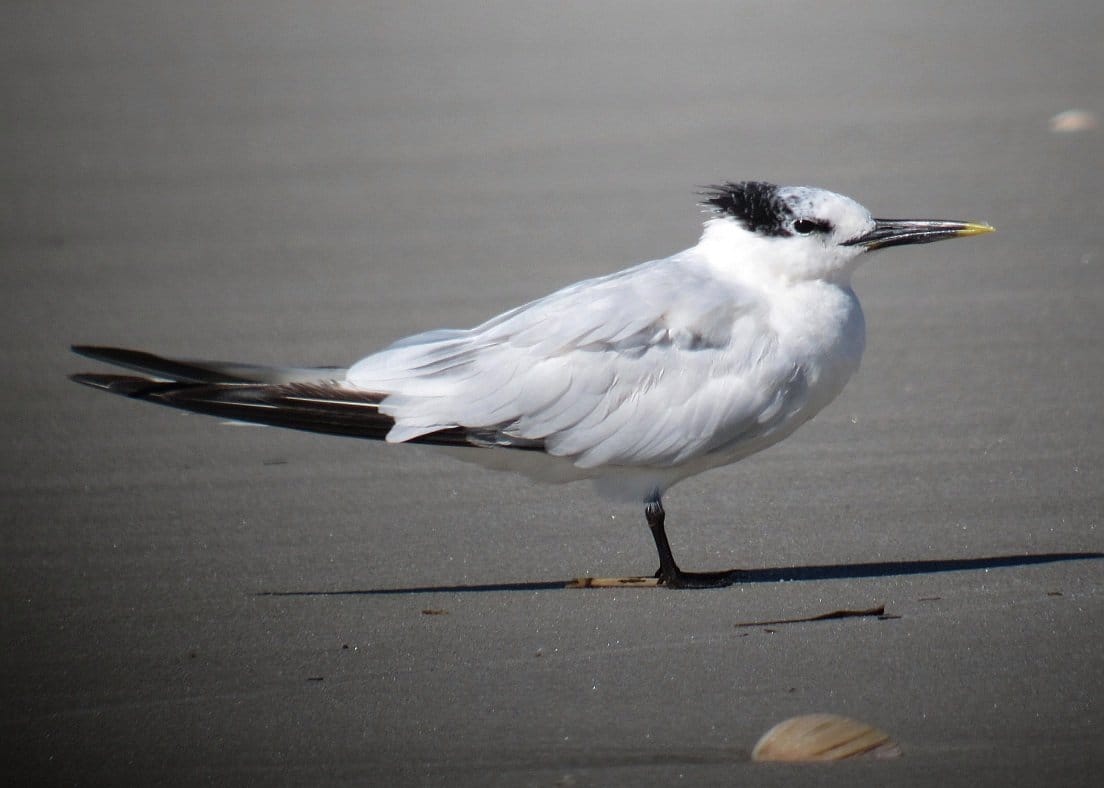 Sandwich Tern at Point Lookout by Seth Ausubel (on Monday, 29 August 2011)
Seabirds weren't the only attractions that Hurricane Irene blew into New York. In Sleepy Hollow in Westchester County, the county north of New York City, a Black-necked Stilt was discovered by Evan Edelbaum and observed by several other birders. It is, so far as anyone can figure out, the first Black-necked Stilt ever recorded in Westchester County and that it was found in an old industrial site along the Hudson River made the sighting that much more unique.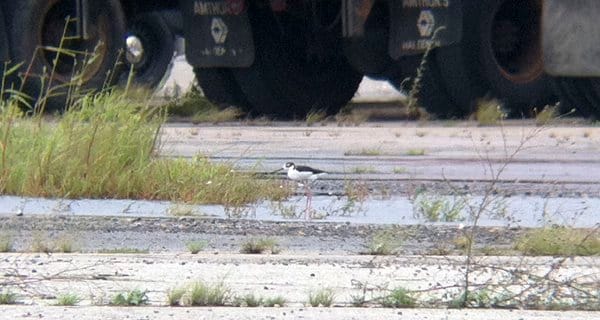 Black-necked Stilt in Westchester County by Benjamin Van Doren
Other rare-for-New York shorebirds were around as well, with the American Avocet at the sand spit at the Jones Beach Coast Guard Station being one the highlights, though a coastal avocet in the summer in New York pales in comparison to a stilt in Westchester County. The same Brooklyn birders mentioned above spotted over 115 Red-necked Phalaropes flying past Veteran's Memorial Pier in Brooklyn, an exceptional number. Other flocks of Red-necked Phalaropes were observed flying down the Hudson River from the Bronx by P.A. Buckley, from Eaton's Neck by Brent Bomkamp and at Mecox Bay in Suffolk County by Hugh McGuinness and Peter Polshek. Another impressive Brooklyn shorebird sighting by the Brookynites was of ten Hudsonian Godwits at Floyd Bennett Field, though that paled in comparison to the flock of 22 Hudwits spotted flying up the Hudson River upstate in Kingston, Ulster County, by Susan Fox Rogers, Peter Schoenberger, and Mark DeDea. Other "good" shorebirds reported from locations in New York City and on Long Island included American Golden-Plover, Whimbrel, Marbled Godwit, Baird's Sandpiper, Western Sandpiper, Buff-breasted Sandpiper, and Wilson's Phalarope.
In the days after the storm there weren't many storm-tossed rarities still around though scattered reports of Bridled Terns and several reports of Sandwich Terns were made. The Brown Pelicans lingered on for several days. What will last much longer than the presence of the birds is the memories and it will be many years before mention of a good day of birding in New York State doesn't bring this day to mind, at least to those couple score birders who were out and about in the immediate aftermath of Irene.
Angus Wilson would like to remind birders to get written reports of rarities in to the New York State Avian Review Committee (NYSARC) so that a permanent record of the amazing variety and number of storm-blown birds can be kept.
To facilitate the process I provide a list of NYSARC reviewable species that were reported on the day. If this is not complete, please let me know. Given the sheer numbers of some 'rarities', I think it will be helpful to subdivide the list into HIGH and MEDIUM priority. HIGH means that there are few previous accepted records of the species in New York State and that detailed documentation if at all possible with supporting photographs is strongly desired. Perhaps not by coincidence this category includes species that are challenging to identify. MEDIUM priority is a notch down from this and involves birds that were present in good numbers but having details would enrich the archive and make it easier for editors and other commentators to tabulate the counts. The focus is on the 'downstate' region and there may be some storm-driven birds 'upstate' that also warrant review.

*** HIGH PRIORITY – detailed reports and/or photos on ALL sightings requested ***

BLACK-CAPPED PETREL
LEACH'S STORM-PETREL
BAND-RUMPED STORM-PETREL
WHITE-TAILED TROPICBIRD
MAGNIFICENT FRIGATEBIRD
SOUTH POLAR SKUA
ARCTIC TERN

*** MEDIUM PRIORITY – given the circumstances it is appropriate to combine descriptions of multiple individuals from a single locality but please explain the basis for your identification to specie level and provide pertinent information such as assessments of age or plumage ***

AUDUBON'S SHEARWATER
SOOTY TERN
BRIDLED TERN
SANDWICH TERN

Other species such as Wilson's Storm-Petrel, Royal Tern and so on are sufficiently regular on the coast that the do not need NYSARC review unless they are from 'upstate'. The upstate/downstate boundary is very difficult to define in bird terms but in the case of this storm might be considered as north of Rockland and Westchester Counties. However, regional editors and eBird reviewers south of this line may well solicit details.
Get those NYSARC reports in!
I am sure I have made some errors of commission in this post and at the very least I must have made some errors of ommission. Please feel free to correct me in the comments. Thanks to all the birders who shared images, written accounts, and their reports. Good Birding!
…