Due to technical difficulties beyond Y C Wee's control, the 85th edition of I and the Bird will not be hosted at Bird Ecology Study Group as planned. Still, as they say in show business, the show must go on! The IATB Players have put together a sensational performance as always. Sure, we may have to move our scheduled production from a swank Singaporean theater to the less opulent auditorium over at Divine Dove Nondenominational Church but once the performance begins, you won't even notice the smell!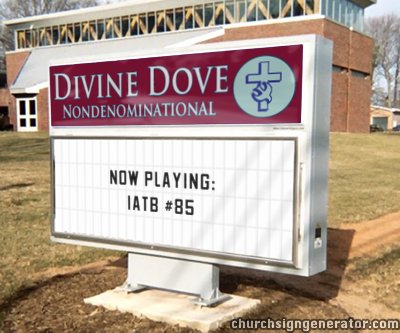 Presenting Love and Birding, a Blog Carnival in Three Acts…
ACT 1: A crisp morning, October 2008. A man (MERLIN) binoculars sidles up to a woman (ROBIN) looking through a scope.
MERLIN: As the days grow shorter and the air acquires an element of dry crispness, there is little doubt that the equinox has indeed passed us by and that autumn is here.
ROBIN: So true. Is that original?
M: No,John E. Riutta said it. He waxes eloquent about the birds of the season too.
R: Have you read David Ringer's musings on the season as well?
M: Of course! By the way, haven't I seen you somewhere before?
R: Maybe at the Artificial Burrowing Owl Burrows in Chandler, Arizona?
M: Not there. How about at Cape May, when John Beetham saw his first Connecticut Warbler?
R: I don't believe so.
M: I know… in September when the Black-throated Gray Warbler showed up in Central Park.
R: Oh, don't get me started on that gray day. I was with my friend Carrie on the other side of the parkadmiring Blue Jays.
M: Well, I'm sure it was somewhere. By the way, my name is Merlin.
R: I'm Robin.
M: Really? What kind of Robin?
R: I don't follow your meaning.
M: You know, like Rick Wright writes… when is a Robin not a Robin? Polysemy.
R: A word or phrase with multiple, related meanings?
M: Precisely. Now may I be so bold as to ask for a gander through your scope?
R: Certainly. It's not every day a Rock Eagle Owl pops up in this area. I've seen them in India with Ashwini but never here.
M: India with Ashwini – that must be where we met!
ACT 2: One week later. MERLIN and ROBIN are scanning trees for fall migrants.
MERLIN: That episode of Lesser Adjutant CSI last night was fascinating, wasn't it? Who knew that storks in Sri Lanka were so creepy?
ROBIN: I really dug that battle royale between the White-winged Choughs and the goanna.
MERLIN: He was a "goanna" for sure! Seriously, those Australian monitor lizards are pretty cool. Still, I'd be content to watch a backyard feeder on TV as long as you're there.
ROBIN: Don't knock backyard birders. Eric Ripma at Nutty Birder has some sweet species at his feeders.
MERLIN: I didn't mean anything by it. Oh wait, there's a little gray bird up there…
R: Gray like a catbird?
M: No
R: Gray like a titmouse?
M: No
R: Gray like a butcherbird?!?
M: Maybe.. forget it, it's only a chickadee.
ROBIN: Only a chickadee?!? What do you mean only a chickadee?
M: Come on. I know what Amber Coakley says about the importance of all living things in the web of life but really, we're looking for special birds here.
R: Chickadees are very special to me. A Carolina Chickadee was the very first bird I ever skinned.
M: That's sick.
R: No, that's science. I was In The Bird Lab with N8.
M: In the lab with N8? Now I'm starting to find out who you really are.
R: Who I am? How about those golf clubs in the trunk of your car?
M: What's wrong with golf?
R: When guys like Rob Lowe and Tripp Isenhour are knocking birds out of trees on the golf course, don't you think it's time to turn in your clubs?
M: Speaking of turns, I don't care for the turn this conversation has taken.
R: Neither do I. I'm out of here! (exits stage left)
MERLIN stands forlorn, like a Peregrine that has just missed a Redshank.
ACT 3: Months later. MERLIN encounters ROBIN where they last parted.
ROBIN: Merlin, what a surprise.
MERLIN: No, Robin, a surprise is stumbling on a Piping Plover in the Great Lakes when there are probably less than 100 in that region a year.
R: Oh, you read Birdfreak too? I just downloaded their Guide to Taking Kids Birding.
M: Please don't try to change the subject. I've been searching for you for months. From the hawkwatch platform to the shore to the sewage ponds, I've combed all your favorite places. Where have you been?
R: I think I've been suffering from ABIM.
M: Come again?
R: Acute Birding Induced Malaise. A highly respected Senior Scientist at Audubon discovered it. It's when birds burrow so deeply into your soul, that you have a hard time functioning without them, yet they seem to be eating away at the rest of your life.
M: Are you sure it was only birds burrowing into your soul?
R: What do you mean?
M: Maybe you were frightened away by your feelings for me, the same powerful feelings I have for you.
R: Are you talking about love? In my experience, love lasts about as long as a frigatebird in the Finger Lakes. I gave that up years ago.
M: That N8 guy might have hurt you, baby, but don't give up on us. New research suggests the ostriches, emus, rheas and other flightless birds known as ratites have lost the ability to fly many times, rather than just once, as long thought. Could the ability to love be the same way?
R: Oh Merlin, it's true. I do love you. I love you like finches love nyjer seed.
M: I love you too! Let's make like Malaysian Zebra Doves and get out of here.
…AND CUT!
I hope you enjoyed this performance. As ever, the IATB Players enjoyed bringing it to you! And if you'd like a role in our next production, our next director is none other than N8 of The Drinking Bird, who isn't really a scoundrel but just plays one in the blogosphere. Send a link and summary of your best recent post on birding or wild birds to me or N8 (naswick AT gmail DOT com) by Tuesday, October 14 for the 10/16 show.