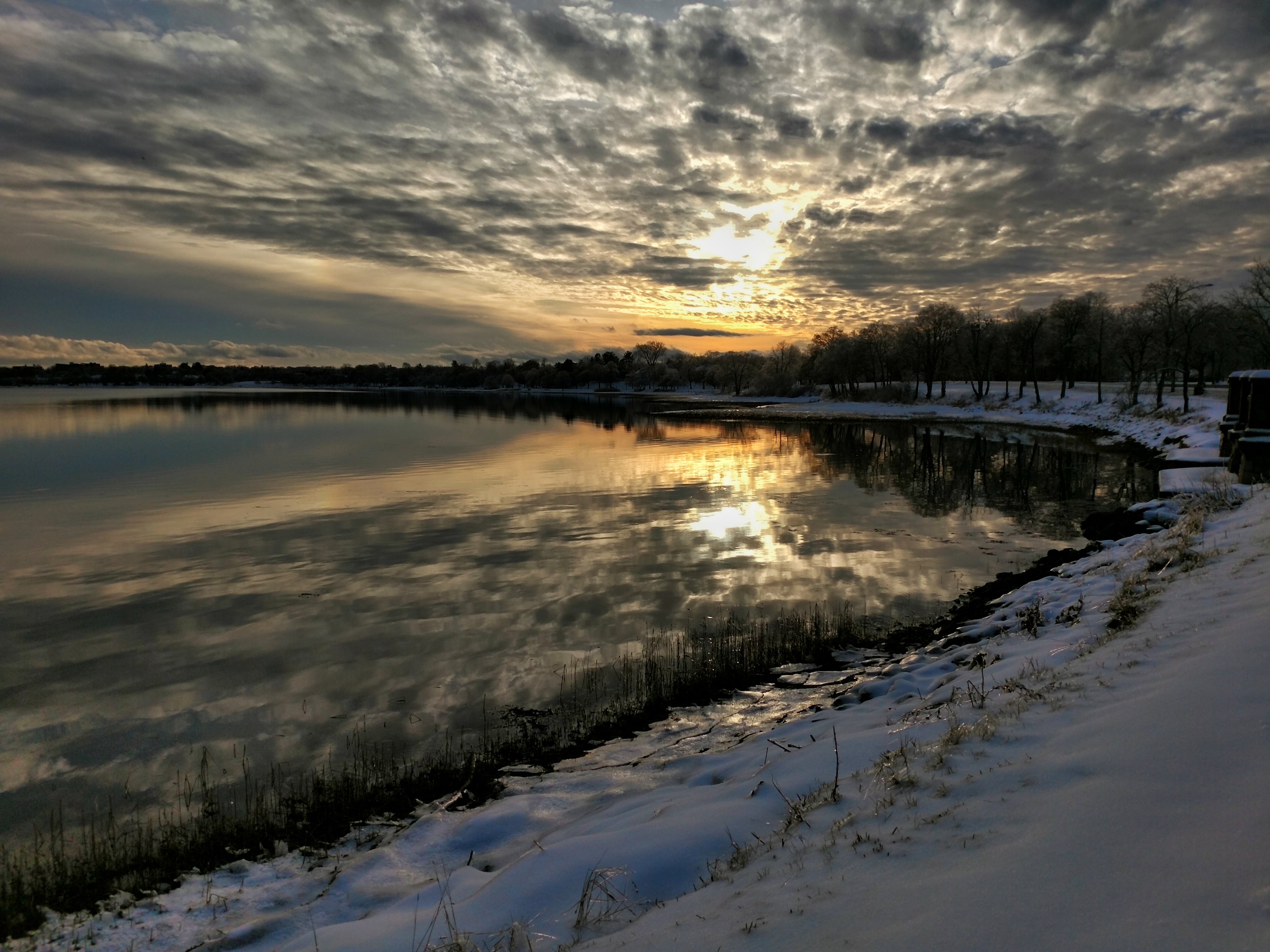 It was the day before Christmas in Southern Maine, and an ice storm had recently churned through, leaving the world bright and extra reflective. Home for the holidays, I convinced my mother to follow me to one of my favorite loops: the 3.5 miles around Portland's Back Cove.
We had no idea what we were in for.
The car clock had just struck 2 p.m. as we pulled up to the parking area, the temperature hovering around the freezing point and the sun already on its way down in a partly clear, partly cloudy sky. Usually the 3.5 mile jaunt around the cove is relatively flat and easy, only inclining slightly in one spot to use the highway bridge to cross the cove's mouth. Though I had actually been out birding earlier in the day, I was unprepared for the solid sheet of ice that lay plastered across every inch of the path like extra-slippery cement. In short, we needed crampons, not normal winter boots.
Nevertheless we set off, buoyed by early sightings of Buffleheads and a Common Goldeneye, both species sporting dramatic black and white plumage. The walk is slightly urban, starting along a soccer field, bordering the highway, then curving back along a row of water-front homes and apartment buildings. The birds dotting the cove and hugging the edges formed the avian focal points, from gulls to waterfowl to seabirds.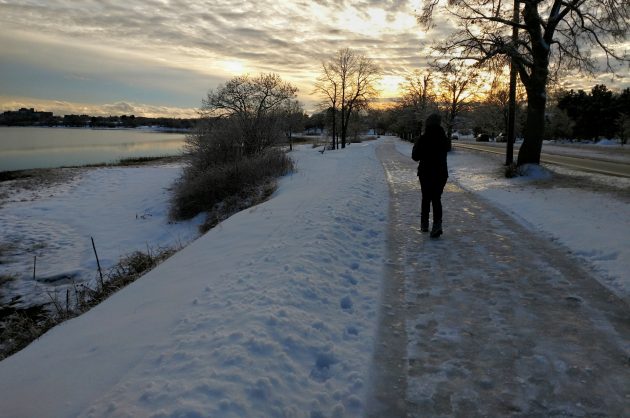 Mom carefully walking on the trail.
Progress remained slow. When we strove to look up (you know, to see birds), one of us would invariably slip, a toe or heel skimming across the ice while our arms shot out in a desperate attempt to maintain balance. To compensate, we took extra small steps, shuffling along as if we had a pair of underwear around our ankles. Passing few people, about halfway through we seriously began to doubt our common sense as the walk became more like a trek.
But then, the sunset began. Rose gold hues painted the horizon, pooling on the calm cove which positively shimmered, like a well-polished saucer. We only encountered 10 species in total, but I ticked off 25 Canada Geese, nearly 150 American Black Ducks and Mallards, plus Common Eiders, Red-breasted Mergansers, Common Loons, and nearly 50 Bufflehead. The ice had not melted from the trees, and their boughs tinkled and glowed like sterling silver as the salmon-colored sunlight lit the twigs and branches from behind. Our pace slowed still further, as we couldn't help taking photo after photo of the beautiful interplay of color and reflection.
After two hours, we successfully wobbled our way back to the parking lot with a few close calls but no definitive falls. Our feet ached from the strain of finding a hold on the trail, but we both agreed the outing had been worth it.