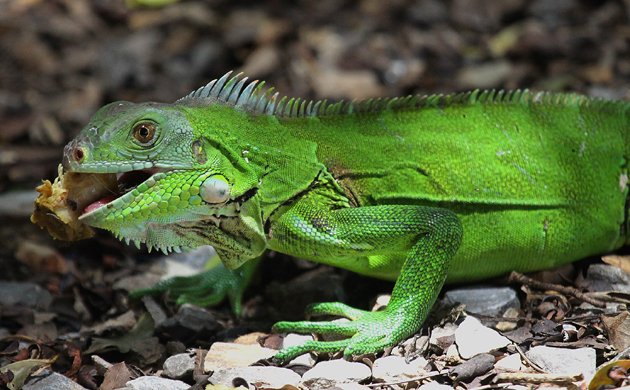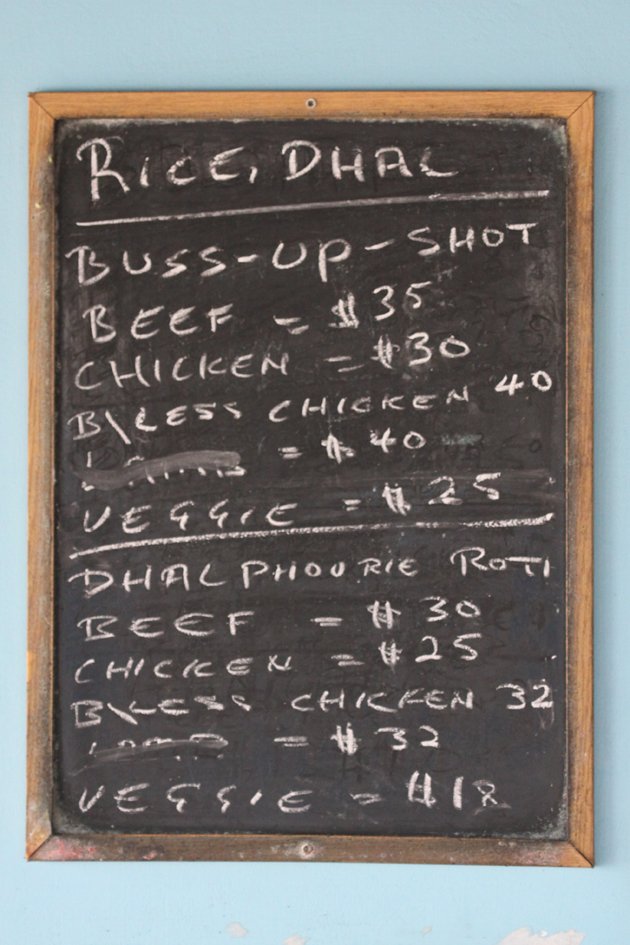 West of Port of Spain in Chaguaramus, off the Western Main Road, is a very large boatyard. Hidden away in that boatyard is an amazingly good spot to buy roti, which rivaled doubles as my favorite food that I sampled while in Trinidad and Tobago. What, exactly, is roti? It usually refers to an unleavened bread of the type made in south Asia. But, as Wikipedia points out, it has taken on a new meaning in the Caribbean:
The roti wrap is the commercialization of roti and curry as a fast-food item in the Caribbean. This happened in Trinidad and Guyana in the urban areas to make it easier and faster to eat the items, as the individuals' hands would not get as dirty. In Trinidad and Tobago, various wrapped "roti" are served, including chicken, conch, beef, and vegetable. Shrimp and goat are also available. Because the roti acts as a wrap, numerous combinations can be made, but the most popular tend to be curried items.
Let me tell you, a wrap of curried chicken and potatoes was both delicious and filling. I bolted mine down quickly both because it was so delicious and because I wanted to wander around and look for birds a bit. But you don't have to take my word for how good the food was. Just check out the iguanas!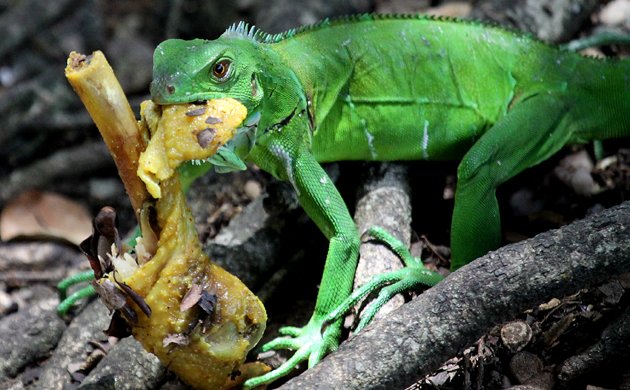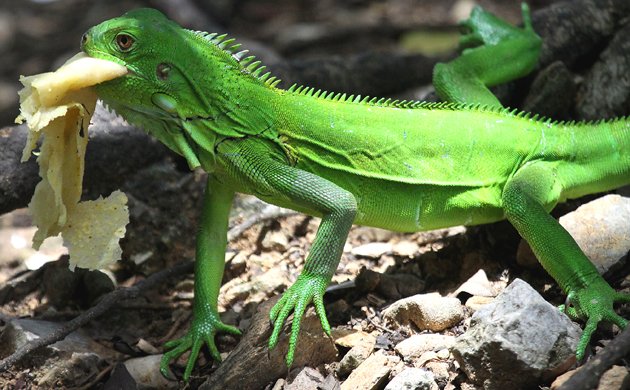 Apparently, the Green Iguanas, which are usually just referred to as iguanas though you might find some who like them so much that they refer to them by their scientific name, Iguana iguana, were around before the little take out restaurant. But as people began throwing the iguanas their leftovers more iguanas hung around the place. Now there are so many that occasionally poachers pull up in boats and catch some. That is greatly frowned upon, especially by the regulars at the roti stand who are pretty attached to the iguanas. Can you blame them?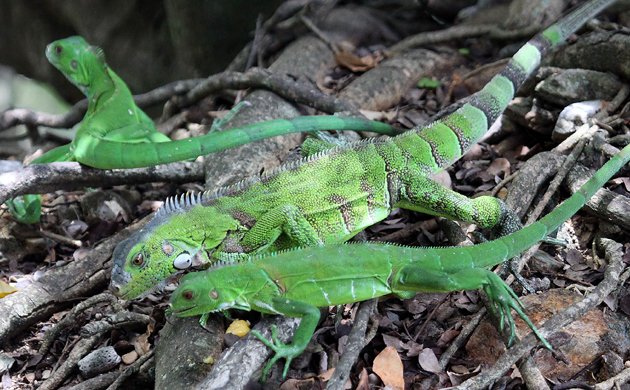 This trio is less than half of the iguanas present.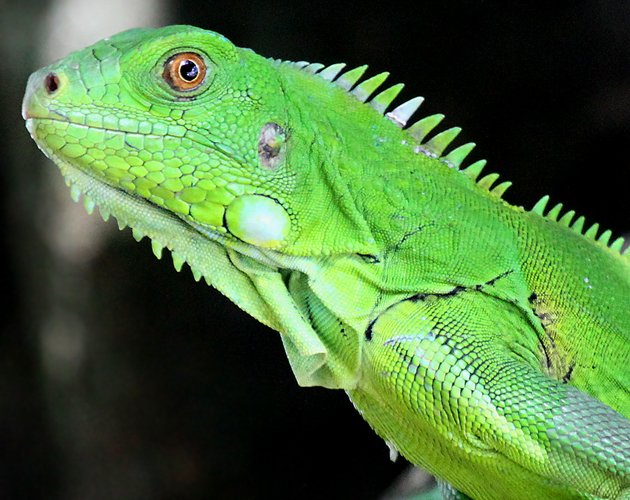 Is it any wonder that someone considered this lizard so nice that they named it twice? Iguana iguana!
Though it was great to see how close the iguanas would come when people fed them I didn't regret eating all of my roti at all. It was so good and I figured that if other people wanted to toss their food to the lizards I could take advantage of their generosity and get images that way.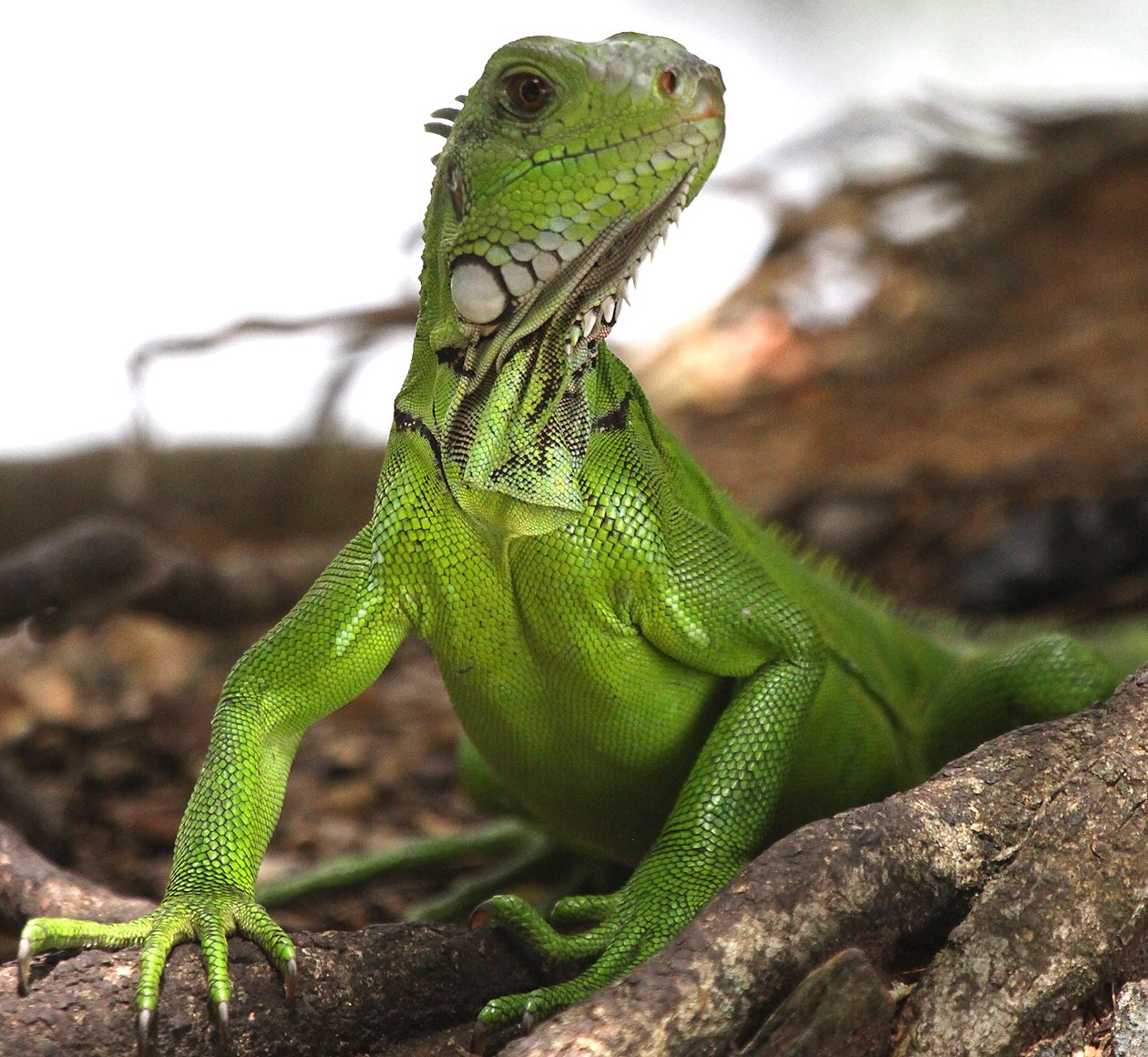 You can click the image above to make it bigger.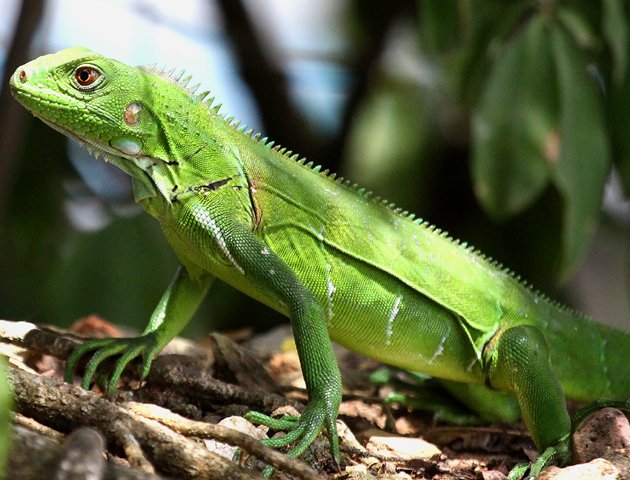 Our guide for two full days in Trinidad was Courtenay Rooks and he was knowledgeable about the history of Trinidad, where to find good food, and what spots to see birds. He is also the managing director of Paria Springs, an ecotourism company though his business card has his title as "Adventurer/Naturalist." You could certainly do much worse than to let yourself be guided around Trinidad by Courtenay. If you do use Courtenay as your guide and you find yourself in far northwestern Trinidad make sure that you insist upon a stop at the roti stand both for the food and the iguanas!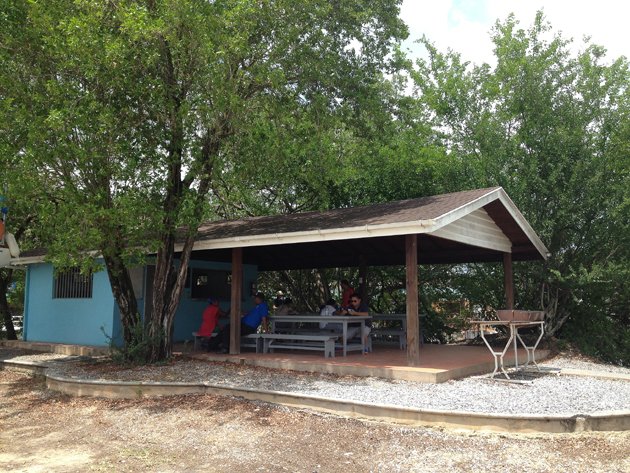 The iguana-infested roti stand.
…
If you liked this post and want to see more great images of wildlife check out 10,000 Clicks, our huge (and growing) collection of galleries!
…
My visit to Trinidad and Tobago was sponsored by the Trinidad and Tobago Tourism Development Company but the views expressed in the blog posts regarding the trip are my own. For more information about visiting Trinidad and Tobago a good place to start is the official tourism website.
…