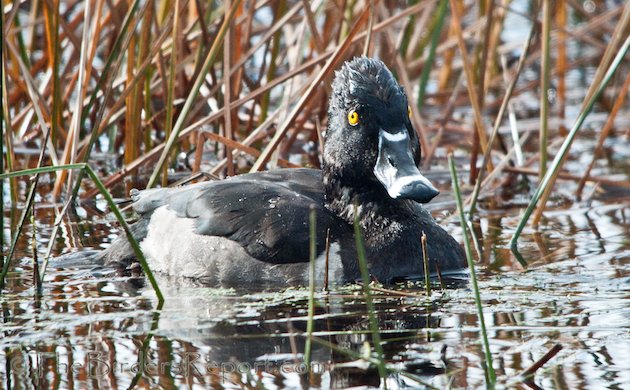 Ring-necked Duck (Aythya collaris) photo by Larry Jordan
The Migratory Bird Hunting Stamp Act, which went into effect seventy-nine years ago on July 1, 1934, authorized the annual issuance of what is popularly known as the Duck Stamp. In 1976, Congress changed the official name to the Migratory Bird Hunting and Conservation Stamp, presumably to broaden its appeal to non-hunters.
Over the following thirty-seven years there has never been a concerted effort to promote what is still called the "Duck Stamp" by the United States Fish and Wildlife Service (USFWS) to anyone other than hunters and philatelists. All you need to do to realize this unfortunate reality is to check out their official "Duck Stamp" page announcing the new 2013 – 2014 season.
You don't have to be a genius to see the folly in this approach to Duck Stamp sales. Why promote the stamp to waterfowl hunters when it is mandatory that they buy one to hunt waterfowl? Philatelists, after seventy-nine years, are already tuned in to the advantages they enjoy from collecting the stamps. It is only the growing number of birders, photographers and conservationists that need convincing.
Back in October of 2012, the USFWS published a document pertaining to recommendations 17 and 18 of their vision document titled "Hunting, Fishing, & Outdoor Recreation: National Wildlife Refuge System."  It is part of their "Strategic Plan" for the National Refuge System over the next decade called "Conserving the Future: Wildlife Refuges and the Next Generation." In that document they speak of a strategy for new opportunities stating that "the team will work with States and other conservation partners to complete a strategy for developing new opportunities for hunting, fishing, WILDLIFE VIEWING AND PHOTOGRAPHY, with special emphasis on youth and people with disabilities."
Interestingly, the new draft document from the group working on these recommendations has concentrated only on hunting and fishing, not even a mention of wildlife viewing and photography! In their final draft document on Recommendation 17 – Draft Hunting and Fishing Strategic Plan however, they actually show a summary of the statistics on refuge visitation in 2012:
2.5 million hunting visits
7.1 million fishing visits
30 million wildlife viewing visits
10.6 million auto tour visits
7.4 million photography visits
Does anything in these figures jump out at you? Like three times the number of photographer visits as hunting visits, four times the number of auto tour visits, and a whopping twelve times more wildlife viewing visits than hunting visits!
Clearly these staggering figures on usage of our National Refuge System would lead most rational people to consider a strategy to enhance the experience of those members of the public visiting the refuges the most right? Maybe even come up with a strategy to help this multitude of wildlife viewers contribute monetarily to the refuge system they seem to enjoy so much?
Instead, the new Draft Hunting and Fishing Strategic Plan only speaks to increasing quality hunting and fishing opportunities on refuges.
Is it so hard to understand why birders and wildlife conservationists don't buy the Duck Stamp?
In this draft the Hunting, Fishing and Outdoor Recreation Group extols the hunters and anglers for their contribution to conservation via excise taxes and duck stamp sales stating "while not all Americans hunt or fish, those who enjoy open spaces, wildlife, and other environmental services (i.e. clean water) benefit from the contributions of hunters and anglers."
Is it so hard to understand why birders and wildlife conservationists don't buy the Duck Stamp?
The fact that the USFWS doesn't even see the potential of tapping into this huge contingent of non-consumptive wildlife viewers is mind boggling! Instead they would rather concentrate on increasing the number of hunters and fishers because they are required to make purchases (including the Duck Stamp) to pursue their sporting activities.
We non-consumptive users of our National Wildlife Refuge System want a Wildlife Conservation Stamp that reflects our priorities for our National Wildlife Refuges! We believe that those 30 million wildlife viewing visits should be the focus of Wildlife Refuges and the Next Generation.
Please take a few minutes to read the Draft Hunting and Fishing Strategic Plan then share your comments on this plan. The public comment period is open until August 15th so do it now.
We believe that the Duck Stamp and the Wildlife Conservation Stamp can exist side by side to supply a much larger and much needed income stream for our National Wildlife Refuges.
If you haven't read our proposal or seen the benefits of the Wildlife Conservation Stamp, please visit the website and support us by liking us on Facebook.
Nothing stated here should be construed as opposition to hunting and fishing, I just think that the USFWS is missing the boat here. There is a huge untapped source of income for the refuge system that is being ignored and we have a simple solution. Create a Federal Wildlife Conservation Stamp!