Outlook and goals for 2015
I started year-listing three years ago, with previous listing ambitions having been limited to my life list. While it's been a fun ride, and while I certainly will continue to keep year lists for the time being, it seems appropriate to quickly reflect on the three reasons I gave way back in 2012 to get involved in the game:
Show Corey how the cow eats the cabbage (revenge for him seeing a Grace's Warbler in NY on Jan 1st during a time when I was scarcely seeing anything but House Sparrows)
Re-connect with many common or regular WP birds I hadn't seen in many years through sheer neglect, focussing on regular German species.
Take advantage of upcoming business/birding trips abroad which might lead to rather high year totals (after scarcely getting over 250 for quite some years).


.
So, how did I do in the last three years?
I have beaten Corey three times in a row and now consider the Grace's Warbler incident avenged.
During the last three years, I managed to see the vast majority of regular WP birds I had seen pre-2012, with very few regular German species left (e.g. Red-breasted Goose and Capercaille). Major European gaps are now limited to species whose ranges are restricted to areas I haven't been able to visit, e.g. northern Scandinavia, mainland Spain, or Turkey. Therefore, I also consider this mission to be accomplished.
Two year lists of over 550 and one exceeding 600 are amazing by my standards, and the only time I reached comparable numbers was during the 1990s when I frequently visited Scandinavia and southern Africa. I guess that goal is also reached, with a very bright outlook onto the future.
 .
The ability to look back on the last three years of year-listing with a deep feeling of satisfaction certainly has implications on my targets for 2015, which I thus define as follows:
In order to allow myself more freedom in my birding endeavors, I will actively NOT try to beat Corey.  I will also not try to beat Corey subconsciously.
To have at least some numerical motivation, I'll try and surpass 500 species again.
After neglecting my participation in ornitho.de (the German equivalent to eBird) in the second half of 2014, I will try and enter more than 8,000 observations in 2015.


.
The outlook for 2015 is rather bright again, albeit slightly less definite than in the previous years. The year started out fine on the beautiful and birdy island of Mallorca. I have an invitation to visit Indonesia again in October or November, and family trips are fixed for the Black Forest in February, NE Germany in August, and Mallorca as a very likely destination in late December once more.  Kazakhstan might happen again, and I hope to make it to a new destination either in S Asia or in Africa, but that's not so likely.
The overall lay-out and structure of this year list follows the previous lists from 2013 and 2014.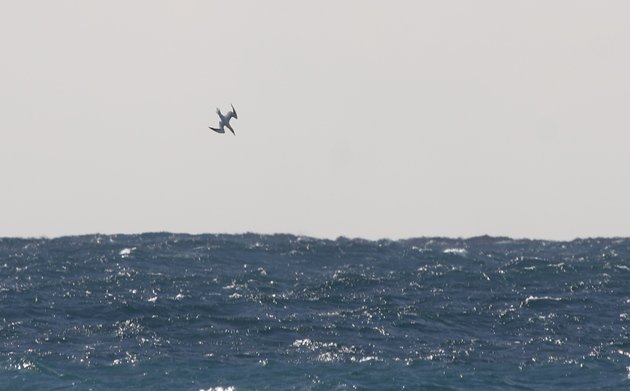 Diving into a new birding year!
.
The birding diary
January
Jan 1: We start the year slowly in Sant Elm, Mallorca. "Slowly" however means that I observe Gannets, Shags, Audouin's Gulls and Red Crossbills without even leaving the bungalow. Oh, birding Mallorca sure can be nice. After a long breakfast, we take a walk to a former watch tower just north of Sant Elm. I fail to find the hoped-for Balearic Warbler (none during the entire trip), but the local Osprey, a blue rock Thrush and a brookei-Peregrine make this failure less painful. In the afternoon, we visit Palma with friends. The biggest attraction for me of course is not the cathedal but the 4 Booted Eagles I see en route… Birders!
Jan 2: Another very quiet day on Mallorca spent only in Sant elm and with our friends in Peguera.
Jan 3: A fine long birding day. We traverse the island towards the Safari Park near Sa Coma. Near Manacor, two Spotless Starlings are the first i see since 2001. The Safari Park is also quite interesting, with large numbers of common passerines (e.g. Serin, Meadow Pipits) and no less than 16 Hoopoes, clearly taking advantage of the many "pellets". After the Safari Park, we visit the beach at Port d'Alcudia and are amazed: the entire tourist infrastructure there is abandoned for the winter and resembles old Ghost Towns from the Wild West. The beach is great, with an Audouin's Gull and a surprise Arctic Diver. After some time on the beach, the family grants me a short stray into the famous S'Albufera reserve, and we walk along the canal at the entrance. Sadly no Knob-billed Coot, but Purple Swamphens show very well, my first after 2001.
Jan 4: We drive north towards the large bay at Port de Pollenca to give our son a last day at the beach. Birding along the route and the beach is quite nice, with some Booted Eagles again, Sandwich Terns, and many Crag Martins. A visit to Cala St Vincente sadly does not reveal any Balearic Warblers, but the sea produces many goodies, most notably a group of 8 Balearic Shearwaters which can be seen nicely from the short.
Jan 5: An early morning's departure for the airport. En route, I spot one of the largest flocks of Starlings I have seen, measuring approximately 1.3 km in length. My estimate of 130.000 is likely a vast underestimate. The drive along the German autobahn from Frankfurt to Heidelberg produces my first woodpecker of the year: a Black Woodpecker. Corey is not going to like this…
Jan 6 to 12: In line with my wanting to take it slow this year, I only do "light" birding from my office window, balcony etc. and therefore add only a few common garden birds to my year list. The grey weather doesn't help.
Jan 13: Finally a sunny day in Heidelberg, after yet another long period of 100% cloud cover. I spend the day looking out of my office windows … er … working really hard. Nothing special, but it is nice to see a landscape in colours on such a spring-like day.
Jan 14: A short visit to a site in the Odenwald nearby. Due to the clouds and the rain, there is not much pleasure in birds to be found, just some common "firsts".
Jan 17: Running some errands in downtown Heidelberg leaves me with enough time to quickly check the banks of the river Neckar. The usual feral waterfowl assemblage is joined this time by a flock of more than 200 Black-headed Gulls, which I scan – fruitlessly – for anything special. A Goosander on the river is a nice surprise.
Jan 19: Our landscape is covered in powdered sugar, a mixture of hoar frost and frozen fog. Upon entering my office and glancing out of my window, I notice a "Starling" with a strange flight style. A peek through my binoculars confirms this is a lone Waxwing, a very sweet bird for a non-influx year!
Jan 23: A rather strong snow storm crushes our plans of visiting Frankfurt. Dropping a few parcels off at the post office leads to my first of the year Long-tailed Tits.
Jan 24: The darkness continues, and we rejoice at every minute we can see blue skies or even – gasp! – the sun. During an epic snow ball fight with my son in the fields south of Pfaffengrund, I observe a small flock of Skylarks – firsts for the year – and some Meadow Pipits, both of which aren't bad for January.
Jan 26: A nice day of "office birding" thanks to a Black Woodpecker flying by less than 20 m outside my window and a large flock of Linnets.
Jan 28: Around noon I depart for a two-nights business trip to Hannover and arrive there just in time to twitch a Ruddy Duck on the Große Koldinger See. Another highlight is a huge female Goshawk fighting with and dwarfing a Common Buzzard! Possibly the most impressive Goshawk I've ever seen.
Jan 29: A boring office day at Hannover yields a few Herring Gulls outside the windows.
Jan 30: The drive back allows me to check for a dodgy Red-breasted Goose that had been hanging around with Greylag and Egyptian Geese near the Silbersee Roxheim. It isn't there anymore, which I don't really mind as I'd prefer to see a non-dodgy one after such a long time.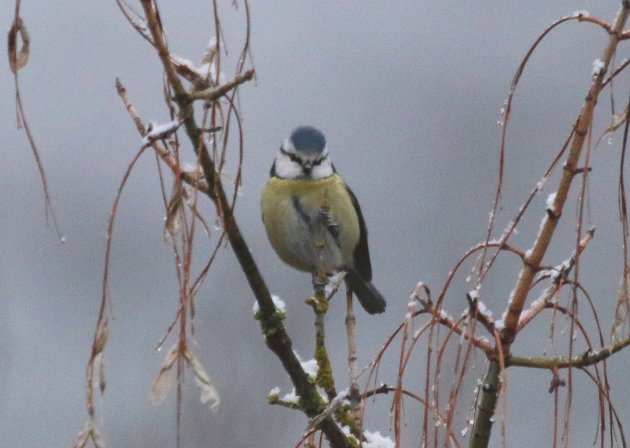 The Blue Tit is the best winter bird in the world – even on cloudy days
February
Feb 05: A Lesser Spotted Woodpecker outside my office window, at less than 5 m, is the best one in quite a few years.
Feb 08: A very peculiar change in the colour of the sky has occurred during the last two days. We are occasionally seeing hints of an unearthly blue through the greyness, and these spots of blue are lacking the familiar structure and pattern of our usual carpet of clouds. I guess it's the end of the world as we know it… Anyway, a short visit with family and friends at the Lingentaler Hof includes a short walk through the adjacent forests and fields and also short bursts of sunlight through spots of blue skies, and last but not least some nice first-of-year tits and yellowhammers, all of which are sadly heard-onlys.
Feb 09: We fade to grey – again…
Feb 11: Still, grey skies dominate. A Red Kite, my personal "sign of spring", flies by the office.
Feb 15 – 20: A short family holiday in Trichtingen, 20 minutes south of Stuttgart, mostly spent at our vacation home with short walks in the immediate surroundings and a short trip to Stuttgart zoo. Beautiful days with a feeder on the balcony, Bullfinches, Willow Tits, Lesser Redpolls etc.
Feb 24: Back at the office, a nice day reaches its climax with 14  bramblings flying through. Not the millions at the known roosts near Lörrach or in Hessen, but I am not complaining.
Feb 25: during an "official" visit to the nearby Leimen quarry, I finally see my Eagle Owl of the year – more than expected but nice nonetheless.
Feb 26: An uneventful day trip to Wetzlar for a meeting with no time for birding but a very early Black Kite over the Autobahn near Mannheim.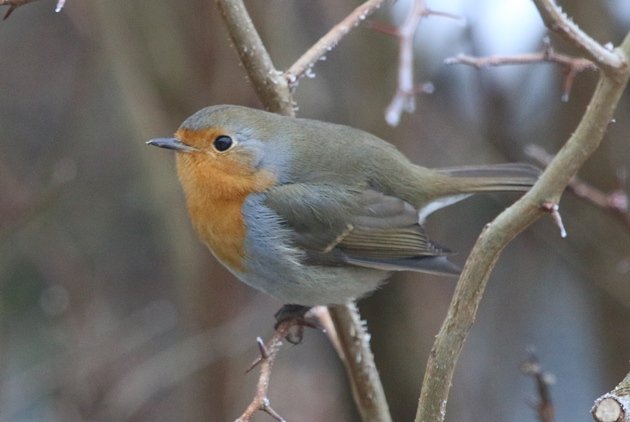 This very confiding European Robin was one of the great feeder birds we had during our week at Trichtingen.
March
Mar 05: The weather has improved and the first clear signs of spring are showing up, e.g. my first Chiffchaff for Germany a few days ago here in Leimen. Today, a Middle Spotted Woodpecker flew by my office. Not unexpected but good nonetheless.
Mar 09: It seems the dark age has come to an end, and it is not so infrequent now to see blue skies over Heidelberg. On my drive home from work, two cranes fly low towards the north. Nice but not exceedingly rare for the Heidelberg area.
Mar 18: Slow month, but a short vacation (probably to northern Italy) is not too far off. Today, the weather is spectacular, with clear blue skies and spring-like temperatures reaching close to 20°C. Very good migration outside my office window, with quite some nice raptors and a first-of-year Woodlark.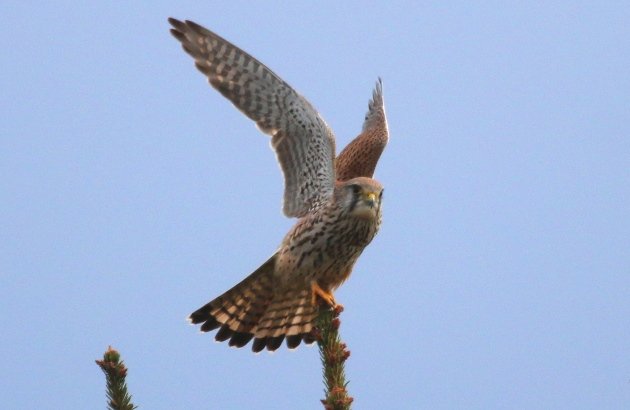 We had joy, we had fun, we had Kestrels in the sun
.
April
Apr 02: Our plans to rent a caravan and head off to northern Italy for 10 days are thwarted when we all – the entire family – are down with influenza! Well, effing great: instead of Short-toed Snake-eagles and a try at one of my last European potential lifers (stone partridge), we spend 10 days at home in bed trying to survive and not kill each other in a bout of cabin fever.
Apr 08: While I am sick, I may as well spend a day at the office to send a few urgent reports out. Well, the first swallow of the spring – Barn Swallow of course – is some miniature consolation for missing out on the birds of northern Italy.
Apr 09: Since this is the first day none of us has fever, we quickly pack our things and go on a spontaneous short trip to Prague to get at least something out of this year's Easter holidays. Due to our departing in the afternoon, we only make it to Nürnberg on our first day, where we spend the night in a hotel near the inner city.
Apr 10: We arrive in Prague around noon and visit the castle area and inner city, afte enjoying some Pilsener goulash and Urquell beer.
Apr 11: A day at the wonderful Prague zoo, where I get to see my first-ever Shoebill (yes, of course it doesn't count – but it is such a cool bird) and my first-of-year Common Redstart.
Apr 12: We depart Prague around noon, stop over at Amberg for lunch, and are back in Heidelberg at 17:00, very tired after such an exhausting short trip, but happy we were able to do anything at all this Easter.
Apr 13: first day back at the office, and a nice spring day it is, too. blackcaps are singing in force, the trees are in bloom, and this year's birding has been so ridiculous that I really need to do something about it. Luckily, my field survey period will start soon, and times are bound to change for the better. The last 3 weeks have been way too depressing…
Apr 17: Finally, finally, finally … some birding! I quickly visit the sand dunes near Sandhausen to look for a reported Ortolan Bunting and find two! Very sweet species for this neck of Germany. Afterwards, I lead a guided tour near Nussloch which also yields a few first-of-year migrants, most notably heard-only Wrynecks. Birding sure feels good!
Apr 20: A business trip to Schelklingen allows for a quick visit of the Gundelfinger Moos, which is just brilliant. In the best weather imaginable, I find year bird after year bird. An evening tour near Schelklingen is also great, with a calling Long-eared Owl (the first in many, many years) and a breeding Eagle Owl.
Apr 21: Before departing back towards Heidelberg, I visit the Schmiechener See which also has amazing birds in equally amazing weather, with the highlight being a Jacksnipe spooked by a hunting Red Kite.
.
Statistics and maps

.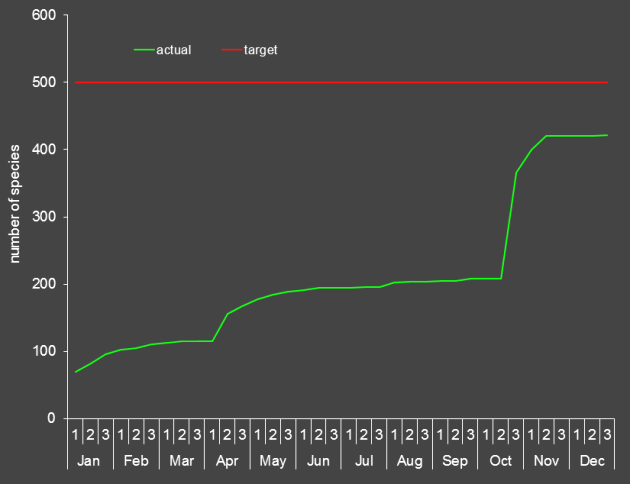 .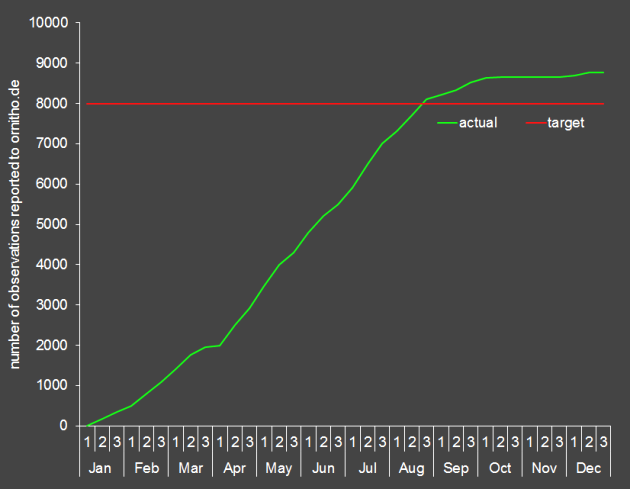 .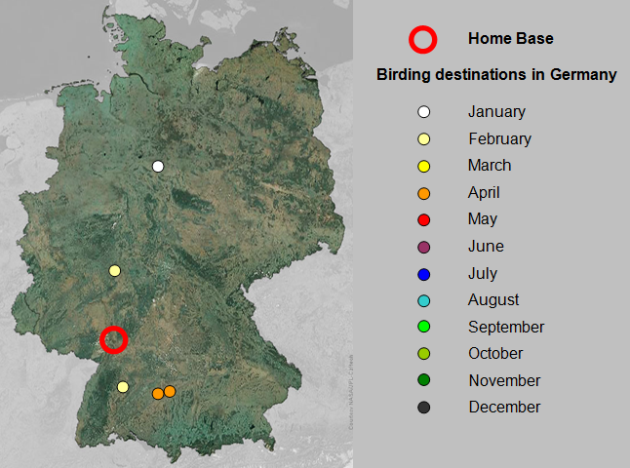 .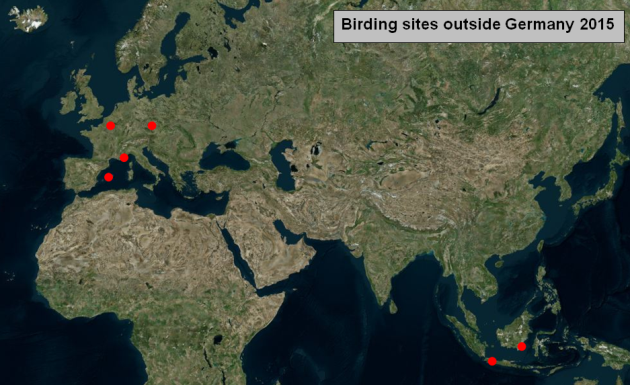 .
The almighty list
The list for species seen in the WP will follow the taxonomy of Clements (as provided on the site www.club300.de) while I will add species seen outside (e.g. hopefully in Indonesia) to the bottom of the list in the order that is most convenient (most likely order of appearance in a field guide), just like I did in 2014.
Abbreviations for German "Bundesländer" (states, provinces, whatever…):
BW: Baden-Württemberg
BY: Bayern
HE: Hessen
MV: Mecklenburg-Vorpommern
NI: Niedersachsen
RP: Rheinland-Pfalz
.
Greater White-fronted Goose Anser albifrons: Mooswaldsee NW, BY, Germany, 20 Apr
Greylag Goose Anser anser: Port de Pollenca, Mallorca, Spain, 4 Jan
Canada Goose Branta canadensis: Heidelberg, BW, Germany, 17 Jan
Mute Swan Cygnus olor: Mosbach, BW, Germany, 14 Jan
Egyptian Goose Alopochen aegyptiaca: Heidelberg, BW, Germany, 5 Jan
Ruddy Duck Tadorna ferruginea: Mooswaldsee NW, BY, Germany, 20 Apr
Gadwall Anas strepera: S'Albufera, Mallorca, Spain, 3 Jan
Mallard Anas platyrhynchos: Palma de Mallorca, Mallorca, Spain, 1 Jan
Northern Shoveler Anas clypeata: S'Albufera, Mallorca, Spain, 3 Jan
Garganey Anas querquedula: Mooswaldsee NW, BY, Germany, 20 Apr
Common Teal Anas crecca: Mooswaldsee NW, BY, Germany, 20 Apr
Red-crested Pochard Netta rufina: Mooswaldsee NW, BY, Germany, 20 Apr
Common Pochard Aythya ferina: Großer Koldinger See, NI, Germany, 28 Jan
Tufted Duck Aythya fuligula: Großer Koldinger See, NI, Germany, 28 Jan
Common Goldeneye Bucephala clangula: Großer Koldinger See, NI, Germany, 28 Jan
Smew Mergellus albellus: Großer Koldinger See, NI, Germany, 28 Jan
Common Merganser Mergus merganser: Heidelberg, BW, Germany, 17 Jan
Ruddy Duck Oxyura jamaicensis: Großer Koldinger See, NI, Germany, 28 Jan – my fist in Europe
Grey Partridge Perdix perdix: Kriegsheim, RP, Germany, 15 Jun
Common Quail Coturnix coturnix: Münsingen, BW, Germany, 18 May
Common Pheasant Phasianus colchicus: Heidelberg, BW, Germany, 4 Feb
Arctic Diver Gavia arctica: Port d'Alcudia, Mallorca, Spain, 3 Jan
Little Grebe Tachybaptus ruficollis: Vohenstrauß, BY, Germany, 10 Apr
Red-necked Grebe Podiceps grisegena: Binz, MV, Germany, 10 Aug
Great Crested Grebe Podiceps cristatus: Großer Koldinger See, NI, Germany, 28 Jan
Black-necked Grebe Podiceps nigricollis: Mooswaldsee NW, BY, Germany, 20 Apr
Cory's Shearwater Calonectris diomedea: Cala St Vincenc, Mallorca, Spain, 4 Jan
Balearic Shearwater Puffinus mauretanicus: Cala St Vincenc, Mallorca, Spain, 4 Jan
Black Stork Ciconia nigra: Heidelberg, BW, Germany, 26 Apr
White Stork Ciconia ciconia: Heidelberg, BW, Germany, 16 Jan
Northern Gannet Morus bassanus: Sant Elm, Mallorca, Spain, 1 Jan
Great Cormorant Phalacrocorax carbo: Palma de Mallorca, Mallorca, Spain, 1 Jan
European Shag Phalacrocorax aristotelis: Sant Elm, Mallorca, Spain, 1 Jan
Grey Heron Ardea cinerea: S'Albufera, Mallorca, Spain, 3 Jan
Purple Heron Ardea purpurea: Wagbachniederung, BW, Germany, 4 May
Great Egret Ardea alba: Port de Pollenca, Mallorca, Spain, 4 Jan
Little Egret Egretta garzetta: Port d'Alcudia, Mallorca, Spain, 3 Jan
Cattle Egret Bubulcus ibis: Sant Elm, Mallorca, Spain, 1 Jan
Black-crowned Night Heron Nycticorax nycticorax: S'Albufera, Mallorca, Spain, 3 Jan
Osprey Pandion haliaetus: Sant Elm, Mallorca, Spain, 1 Jan
European Honey Buzzard Pernis apivorus: Leimen, BW, Germany, 13 May
Red Kite Milvus milvus: Leimen, BW, Germany, 11 Feb
Black Kite Milvus migrans: near Mannheim, BW, Germany, 26 Feb
White-tailed Eagle Haliaeetus albicilla: Gasin, MV, Germany, 8 Aug
Western Marsh Harrier, Circus aeruginosus: Port de Pollenca, Mallorca, Spain, 4 Jan
Pallid Harrier Circus macrourus: Adlum, NI, Germany, 21 Sep
Eurasian Sparrowhawk Accipiter nisus: near Port de Pollenca, Mallorca, Spain, 4 Jan
Northern Goshawk Accipiter gentilis: Großer Koldinger See, NI, Germany, 28 Jan
Common Buzzard Buteo buteo: south of Frankfurt airport, HE, Germany, 5 Jan
Booted Eagle Hieraaetus pennatus: near Palma, Mallorca, Spain, 1 Jan
Common Kestrel Falco tinnunculus: near Palma, Mallorca, Spain, 1 Jan
Red-footed Falcon Falco vespertinus: Leimen, BW, Germany, 9 Sep
Merlin Falco columbarius: Adlum, NI, Germany, 21 Sep
Eurasian Hobby Falco subbuteo: Sandhausen, BW, Germany, 17 Apr
Peregrine Falcon Falco peregrinus: Sant Elm, Mallorca, Spain, 1 Jan
Water Rail Rallus aquaticus: Schmiechener See, BW, Germany, 21 Apr
Baillon's Crake Porzana pusilla: Schmiechener See, BW, Germany, 18 May
Spotted Crake Porzana porzana: Schmiechener See, BW, Germany, 4 May
Purple Swamphen Porphyrio porphyrio: S'Albufera, Mallorca, Spain, 3 Jan
Eurasian Moorhen Gallinula chloropus: S'Albufera, Mallorca, Spain, 3 Jan
Eurasian Coot Fulica atra: S'Albufera, Mallorca, Spain, 3 Jan
Common Crane Grus grus: Heidelberg, BW, Germany, 9 Mar
Eurasian Stone-curlew Burhinus oedicnemus: somewhere in BW, Germany, 29 Apr
Northern Lapwing Vanellus vanellus: somewhere west of Prague, Czech Republic, 12 Apr
Common Ringed Plover Charadrius hiaticula: Wagbachniederung, BW, Germany, 28 May
Little Ringed Plover Charadrius dubius: Mooswaldsee NW, BY, Germany, 20 Apr
Eurasian Oystercatcher Haematopus ostralegus: Hannover, NI, Germany, 6 Jun
Common Sandpiper Actitis hypoleucos: Schmiechener See, BW, Germany, 30 Apr
Green Sandpiper Tringa ochropus: Burglengenfeld, BY, Germany, 17 Jul
Spotted Redshank Tringa erythropus: Schurrsee, BY, Germany, 20 Apr
Common Greenshank Tringa nebularia: Mooswaldsee NW, BY, Germany, 20 Apr
Wood Sandpiper Tringa glareola: Schurrsee, BY, Germany, 20 Apr
Whimbrel Numenius phaeopus: Mooswaldsee NW, BY, Germany, 20 Apr
Eurasian Curlew Numenius arquata: Schurrsee, BY, Germany, 20 Apr
Black-tailed Godwit Limosa limosa: Schurrsee, BY, Germany, 20 Apr
Ruddy Turnstone Arenaria interpres: Binz, MV, Germany, 10 Aug
Ruff Calidris pugnax: Schurrsee, BY, Germany, 20 Apr
Jacksnipe Lymnocryptes minimus: Schmiechener See, BW, Germany, 21 Apr
Common Snipe Gallinago gallinago: Schurrsee, BY, Germany, 20 Apr
Eurasian Woodcock Scolopax rusticola: Michelstadt, HE, Germany, 24 May
Black-headed Gull Chroicocephalus ridibundus: Palma de Mallorca, Mallorca, Spain, 1 Jan
Little Gull Hydrocoloeus minutus: St. Tropez, Cote d'Azur, France, 30 Dec
Audouin's Gull Ichthyaetus audouinii: Sant Elm, Mallorca, Spain, 1 Jan
Common Gull Larus canus: Weinheim, BW, Germany, 5 Jan
Herring Gull Larus argentatus: Hannover, NI, Germany, 29 Jan
Yellow-legged Gull Larus michahellis: Sant Elm, Mallorca, Spain, 1 Jan
Caspian Gull Larus cachinnans: Malchow, MV, Germany, 15 Aug
Lesser Black-backed Gull Larus fuscus: Binz, MV, Germany, 10 Aug
Great Black-backed Gull Larus marinus: Binz, MV, Germany, 9 Aug
Caspian Tern Hydroprogne caspia: Binz, MV, Germany, 9 Aug
Common Tern Sterna hirundo: Schurrsee, BY, Germany, 20 Apr
Sandwich Tern Thalasseus sandvicensis: Port de Pollenca, Mallorca, Spain, 4 Jan
Common Pigeon Columba livia: Sant Elm, Mallorca, Spain, 1 Jan
Stock Dove Columba oenas: Leimen, BW, Germany, 12 Feb
Common Wood Pigeon Columba palumbus: Sant Elm, Mallorca, Spain, 1 Jan
European Turtle Dove Streptopelia turtur: Wagbachniederung, BW, Germany, 4 May
Eurasian Collared Dove Streptopelia decaocto: Sant Elm, Mallorca, Spain, 1 Jan
Rose-ringed Parakeet Psittacula krameri: Heidelberg, BW, Germany, 5 Jan
Common Cuckoo Cuculus canorus: Mooswaldsee, BY, Germany, 20 Apr
Eurasian Eagle Owl Bubo bubo: Leimen, BW, Germany, 25 Feb
Tawny Owl Strix aluco: Blaubeuren, BW, Germany, 4 May
Long-eared Owl Asio otus: Schelklingen, BW, Germany, 21 Apr
Alpine Swift Apus melba: Lörrach, BW, Germany, 11 Jun
Common Swift Apus apus: Sandhausen, BW, Germany, 17 Apr
Common Kingfisher Alcedo atthis: S'Albufera, Mallorca, Spain, 3 Jan
European Bee-eater Merops apiaster: Neuenburg am Rhein, BW, Germany, 29 Apr
Eurasian Hoopoe Upupa epops: around Manacor, Mallorca, Spain, 3 Jan
Eurasian Wryneck Jynx torquilla: Nussloch, BW, Germany, 17 Apr
Lesser Spotted Woodpecker Dendrocopos minor: Leimen, BW, Germany, 5 Feb
Middle Spotted Woodpecker Dendrocopos medius: Leimen, BW, Germany, 5 Mar
Great Spotted Woodpecker Dendrocopos major: Heidelberg, BW, Germany, 11 Jan
Black Woodpecker Dryocopus martius: south of Frankfurt airport, HE, Germany, 5 Jan
European Green Woodpecker Picus viridis: Leimen, BW, Germany, 7 Jan
Grey-headed Woodpecker Picus canus: Leimen, BW, Germany, 14 Apr
Red-backed Shrike Lanius collurio: Münsingen, BW, Germany, 18 May
Eurasian Golden Oriole Oriolus oriolus: Wetzlar, HE, Germany, 22 May
Eurasian Jay Garrulus glandarius: Heidelberg, BW, Germany, 13 Jan
Eurasian Magpie Pica pica: south of Frankfurt airport, HE, Germany, 5 Jan
Western Jackdaw Corvus monedula: Heidelberg, BW, Germany, 11 Jan
Rook Corvus frugilegus: Heidelberg, BW, Germany, 11 Jan
Carrion Crow Corvus corone: south of Frankfurt airport, HE, Germany, 5 Jan
Hooded Crow Corvus cornix: Binz, MV, Germany, 9 Aug
Northern Raven Corvus corax: Port de Pollenca, Mallorca, Spain, 4 Jan
Bearded Reedling Panurus biarmicus: Wagbachniederung, BW, Germany, 4 May
Crested Lark Galerida cristata: Waghäusel, BW, Germany, 4 May
Thekla Lark Galerida theklae: around Palma airport, Mallorca, Spain, 3 Jan
Eurasian Skylark Alauda arvensis: Heidelberg, BW, Germany, 24 Jan
Woodlark Lullula arborea: Leimen, BW, Germany, 18 Mar
Sand Martin Riparia riparia: Schurrsee, BY, Germany, 20 Apr
Barn Swallow Hirundo rustica: Leimen, BW, Germany, 8 Apr
Eurasian Crag Martin Ptyonoprogne rupestris: Port d'Alcudia, Mallorca, Spain, 3 Jan
Common House Martin Delichon urbicum: Nussloch, BW, Germany, 17 Apr
Marsh Tit Poecile palustris: Mosbach, BW, Germany, 14 Jan
Willow Tit Poecile montanus: Lingentaler Hof, BW, Germany, 08 Feb
Coal Tit Periparus ater: Lingentaler Hof, BW, Germany, 08 Feb
European Crested Tit Lophophanes cristatus: Trichtingen, BW, Germany, 16 Feb
Great Tit Parus major: Sant Elm, Mallorca, Spain, 1 Jan
Eurasian Blue Tit Cyanistes caeruleus: Sant Elm, Mallorca, Spain, 1 Jan
Eurasian Penduline Tit Remiz pendulinus: Nussloch, BW, Germany, 17 Apr
Long-tailed Tit Aegithalos caudatus: Heidelberg, BW, Germany, 23 Jan
Eurasian Nuthatch Sitta europaea: Mosbach, BW, Germany, 14 Jan
Eurasian Treecreeper Certhia familiaris: Trichtingen, BW, Germany, 16 Feb
Short-toed Treecreeper Certhia brachydactyla: Großer Koldinger See, NI, Germany, 28 Jan
Eurasian Wren Troglodytes troglodytes: Leimen, BW, Germany, 7 Jan
White-throated Dipper Cinclus cinclus: Blaubeuren, BW, Germany, 4 May
Common Goldcrest Regulus regulus: Leimen, BW, Germany, 7 Jan
Firecrest Regulus ignicapilla: Sant Elm, Mallorca, Spain, 1 Jan
Cetti's Warbler Cettia cetti: S'Albufera, Mallorca, Spain, 3 Jan
Willow Warbler Phylloscopus trochilus: Mooswaldsee NW, BY, Germany, 20 Apr
Common Chiffchaff Phylloscopus collybita: Safari Park near Sa Coma, Mallorca, Spain, 3 Jan
Wood Warbler Phylloscopus sibilatrix: Mooswaldsee NW, BY, Germany, 20 Apr
Melodious Warbler Hippolais polyglotta: Neuleiningen, RP, Germany, 15 Jun
Icterine Warbler Hippolais icterina: Bensheim, HE, Germany, 25 May
Sedge Warbler Acrocephalus schoenobaenus: Wagbachniederung, BW, Germany, 4 May
Eurasian Reed Warbler Acrocephalus scirpaceus: Mooswaldsee NW, BY, Germany, 20 Apr
Marsh Warbler Acrocephalus palustris: Heidelberg, BW, Germany, 18 May
Great Reed Warbler Acrocephalus arundinaceus: Plessenteich, BY, Germany, 19 May
Common Grasshopper Warbler Locustella naevia: Schelklingen, BW, Germany, 30 Apr
Eurasian Blackcap Sylvia atricapilla: Leimen, BW, Germany, 13 Apr
Garden Warbler Sylvia borin: Mooswaldsee NW, BY, Germany, 20 Apr
Lesser Whitethroat Sylvia curruca: Schmiechener See, BW, Germany, 21 Apr
Sardinian Warbler Sylvia melanocephala: Sant Elm, Mallorca, Spain, 1 Jan
Common Whitethroat Sylvia communis: Leimen, BW, Germany, 14 Apr
Spotted Flycatcher Muscicapa striata: Bensheim, HE, Germany, 25 May
European Robin Erithacus rubecula: Sant Elm, Mallorca, Spain, 1 Jan
Common Nightingale Luscinia megarhynchos: Heidelberg, BW, Germany, 20 Apr
Bluethroat Luscinia svecica: Hannover, NI, Germany, 6 Jun
European Pied Flycatcher Ficedula hypoleuca: Hannover, NI, Germany, 3 May
Collared Flycatcher Ficedula albicollis: Schurrsee, BY, Germany, 20 Apr
Common Redstart Phoenicurus phoenicurus: Prague zoo, Czech Republic, 11 Apr
Black Redstart Phoenicurus ochruros: Sant Elm, Mallorca, Spain, 1 Jan
Blue Rock Thrush Monticola solitarius: Sant Elm, Mallorca, Spain, 1 Jan
Whinchat Saxicola rubetra: Schmiechener See, BW, Germany, 30 Apr
European Stonechat Saxicola rubicola: Sant Elm, Mallorca, Spain, 1 Jan
Northern Wheatear Oenanthe oenanthe: Hannover, NI, Germany, 1 May
Ring Ouzel Turdus torquatus: Schelklingen, BW, Germany, 20 Apr
Common Blackbird Turdus merula: Sant Elm, Mallorca, Spain, 1 Jan
Fieldfare Turdus pilaris: Heidelberg, BW, Germany, 28 Jan
Redwing Turdus iliacus: Leimen, BW, Germany, 2 Mar
Song Thrush Turdus philomelos: S'Albufera, Mallorca, Spain, 3 Jan
Mistle Thrush Turdus viscivorus: Leimen, BW, Germany, 19 Jan
Common Starling Sturnus vulgaris: Sant Elm – Palma, Mallorca, Spain, 1 Jan
Hedge Accentor Prunella modularis: S'Albufera, Mallorca, Spain, 3 Jan
Blue-headed Wagtail Motacilla flava: Mooswaldsee NW, BY, Germany, 20 Apr
Grey-headed Wagtail Motacilla thunbergi: Clauen, NI, Germany, 21 Sep
Grey Wagtail Motacilla cinerea: Sant Elm, Mallorca, Spain, 3 Jan
White Wagtail Motacilla alba: Palma, Mallorca, Spain, 1 Jan
Meadow Pipit Anthus pratensis: Safari Park near Sa Coma, Mallorca, Spain, 3 Jan
Tree Pipit Anthus trivialis: Nussloch, BW, Germany, 17 Apr
Red-throated Pipit Anthus cervinus: Heidelberg, BW, Germany, 7 Sep
Water Pipit Anthus spinoletta: Schurrsee, BY, Germany, 20 Apr
Bohemian Waxwing Bombycilla garrulus: Leimen, BW, Germany, 20 Jan
Yellowhammer Emberiza citrinella: Lingentaler Hof, BW, Germany, 08 Feb
Ortolan Bunting Emberiza hortulana: Sandhausen, BW, Germany, 17 Apr
Common Reed Bunting Emberiza schoeniclus: Mooswaldsee NW, BY, Germany, 20 Apr
Corn Bunting Emberiza calandra: Heidelberg, BW, Germany, 14 May
Common Chaffinch Fringilla coelebs: Sant Elm, Mallorca, Spain, 1 Jan
Brambling Fringilla montifringilla: Leimen, BW, Germany, 24 Feb
European Greenfinch Chloris chloris: Sant Elm, Mallorca, Spain, 1 Jan
Red Crossbill Loxia curvirostra: Sant Elm, Mallorca, Spain, 1 Jan
Lesser Redpoll Acanthis cabaret: Trichtingen, BW, Germany, 16 Feb
Eurasian Siskin Spinus spinus: Großer Koldinger See, NI, Germany, 28 Jan
European Goldfinch Carduelis carduelis: Sant Elm, Mallorca, Spain, 1 Jan
Common Linnet Carduelis cannabina: Sant Elm, Mallorca, Spain, 1 Jan
European Serin Serinus serinus: Palma, Mallorca, Spain, 1 Jan
Eurasian Bullfinch Pyrrhula pyrrhula: Trichtingen, BW, Germany, 16 Feb
Hawfinch Coccothraustes coccothraustes: Leimen, BW, Germany, 19 Jan
House Sparrow Passer domesticus: Sant Elm, Mallorca, Spain, 1 Jan
Eurasian Tree Sparrow Passer montanus: Trichtingen, BW, Germany, 17