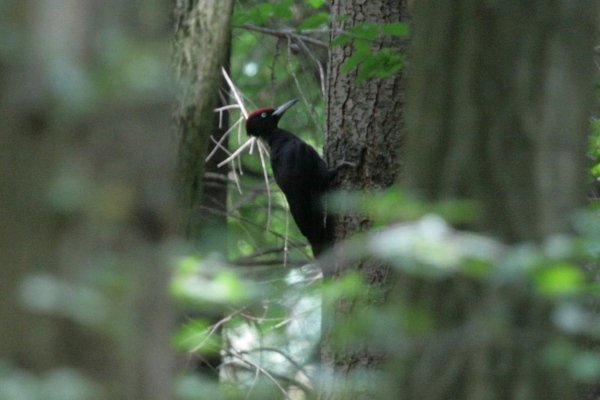 "Thus, I give up the binoculars!" – Captain Ahab's last words (paraphrased)
I have been relatively fortunate in my birding life in that I don't have a single nemesis bird that has vexed me. Sure, I didn't like it in 2007 when I was doing a (not very) big year in New York and Black-backed Woodpecker would not cooperate for me. But I had seen one in 2006 and I have since seen them twice more so the species never rose to the level of nemesis bird for me. I mean, sure, I've had my share of dips but none of them were multiple attempts at a single species that did not end up in victory within three attempts. Instead of having a single arch enemy like Joker is to Batman or Baby Gerald is to Maggie Simpson I have several species that are approaching nemesis bird status. Below I share my five nemesis birds to be. I must see them before they achieve full nemesis status, just like I did with Black Guillemot.
But, first, a quick explanation of what, exactly, a nemesis bird is. One wise birder has defined a nemesis bird as "A bird that has eluded a birder despite several efforts to see it."
I think that definition works but I think that there is a bit more to it. A nemesis bird is frustration. A nemesis bird is anger. A nemesis bird is what makes listing more than just checking boxes on a checklist. A nemesis bird gives meaning to a birder. And when a nemesis bird is seen, well, maybe it would be better if your binoculars were lashed to the beast and it dragged you down to the watery deeps. Because what do you do once you have seen a nemesis bird? What will give your birding meaning?
But I don't intend to let things get that far. No, I will persevere and see each of these birds at my next opportunity. Otherwise, they will become true nemesis birds.
Scissor-tailed Flycatcher – I haven't made a ton of effort to find one of these. But I did chase one back in 2009 that I dipped on. The next one that appeared was out on Long Island when I was in Cape May. I have been in Honduras in winter, when the birds should be there, and never found one. Ditto for Costa Rica. I have never stumbled across one in all my time birding. This is a gaping hole on my life list that must be filled. If I make one more dedicated twitch after a Scissor-tailed Flycatcher and fail to find it this will be a nemesis for sure!
Resplendant Quetzal – Sure, I have only had two real attempts at Resplendant Quetzal. The first, back in 2009, was when I was in Honduras. The one day we were to get into habitat for the bird there was a mudslide blocking the road and I never even got to the proper elevation. The second, on my recent trip to Costa Rica, came at the wrong time of year to pin down quetzals for sure, at least in the part of the country I was in. We still tried to find them and failed miserably, though we did find quite a few other species on likely-looking, fruiting trees. This bird is approaching nemesis status both because of the failures to see and because it is such an outstanding and amazing bird to see.

I console myself after missing quetzals by buying magnets.

American Dipper – Yes, I have seen Brown Dipper in Kazakhstan and White-capped Dippers in Ecuador but somehow I am missing the only dipper found in the United States, the American Dipper. I have looked for them in southern California in winter several times, I have looked for them in Washington in summer, and I have looked for them in Costa Rica this month. But I haven't found them. It might make sense linguistically to regularly dip on dippers but that is small consolation to this birder who is American Dipper-less.

This is an American Dipper by Redgannet, who probably wonders what the big deal is.

Whimbrel (in Queens) – I have actually seen lots of Whimbrel. Just in New York State I have seen eight different Whimbrel. But I have never managed to see one in my home borough of Queens despite there being at least twenty-one different sightings of Whimbrel since I moved here in 2008. It is absurd that I have seen Ruff, Curlew Sandpiper, Red-necked Stint, Sharp-tailed Sandpiper, and Upland Sandpiper, to name a few of the better shorebirds I have spotted in Queens, and not seen a Whimbrel. If I don't manage one in Queens in 2015 then Whimbrel will be a nemesis bird for sure.
Black Woodpecker – This is a bird that has eluded me on two trips to Germany – both of which included exploring forests where they were supposed to be present –  and a trip to a region of Hungary where they are supposed to be common. In Hungary I managed to track down White-backed Woodpecker, allegedly a much more difficult bird to see, but never spotted a Black Woodpecker. My lack of a Black Woodpecker has brought Jochen a vast amount of amusement (That's one of his images at the top of this post.) and now Dragan is getting in on the act as well. This bird, I think, has actually already reached nemesis bird status. No, make that Nemesis Bird status, in capitals, as I really, really, really want to see one. Whenever I get to Europe again this will be my most-wanted bird. And if I dip again…well, that doesn't even bear thinking about. I better not miss this bird again.
What's your nemesis bird? Do you have a plan to see it? See you in the comments…