When I arrived at Jones Beach on Thursday morning I planned to check out the area around the Coast Guard station for early migrating shorebirds and to photograph some terns. Was I ever surprised to see what I presumed to be a female Yellow-headed Blackbird!
I first saw the bird foraging in the grass just east of the bathrooms near the Coast Guard Station, where House Sparrows normally feed, shortly after 9 AM. I got some pics, but with my 100 mm lens, the best of which is below, heavily cropped.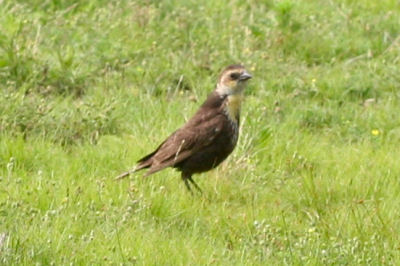 From there the bird flew to a bush on the south side of the parking lot, where I kept an eye on it while I walked backwards to my car to get a field guide, as I had never seen a Yellow-headed Blackbird before and while the males are easy to identify I had no idea what a female's field marks were, though for some reason I was pretty sure of the bird's ID.
I went back and forth between the guide and the bird, and then the bird flew to a tree between the parking lot and the water. With what little light was getting through the clouds behind me I got a couple more shots: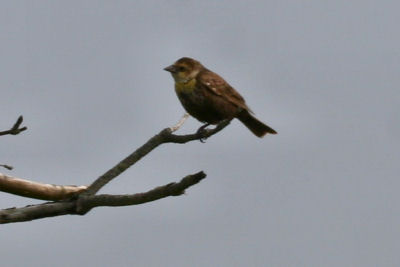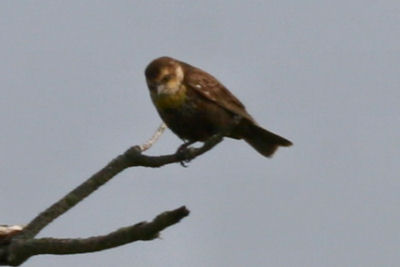 Then, while I was switching to my big lens, the bird flew over the bathrooms, making a "check" call, and looking like it was going to come down where I originally saw it…but when I walked around the building it was gone, and 2.5 hours of searching did not make it reappear.
What I saw was a solid dark brown bird with yellow cheeks, chest, and eyebrows. The guide I was using was the National Geographic guide, which says the female has white stripes running down its belly, which I did not see (odd that the stripes show in the pics though, and odder still that Sibley's guide does not portray nor mention this field mark). I wasn't 100% sure that it was a Yellow-headed Blackbird, but I was sure enough to call Will and get him to post it to the New York State listserve.
On my way back upstate today, before I had gotten these pics loaded on the computer for review, I got a call from my frequent birding companion, Jory, who let me know that the bird had been refound and confirmed! Whoo-hoo! My first self-found New York State rarity!