Christmas Eve Eve dawned cold and relatively clear.  It also dawned windy, with steady winds from the northwest around twenty miles per hour and gusts up to forty-five!  Of course, as is only to be expected when Daisy has the day off from work and has agreed to take responsibility for our son and I am at loose ends for a morning, I went birding.  Seth and I headed from Forest Hills to meet up with Shane and Bob at Fort Tilden to scour Queens' coastline in the hopes of finding some recently reported good seaducks and finding some good birds of our own.  Of course, the strong winds blowing seabirds offshore weren't helpful but we figured at least some good birds should still be close enough to land to see.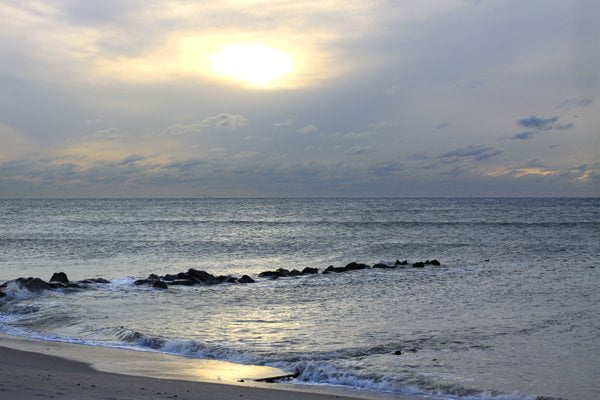 beach and jetty and ocean and sky and bird(?)
Before Seth and I even arrived at the fishermen's parking lot at Fort Tilden, our planned meeting place, my cell phone was ringing with a call from Shane letting us know that he had refound one of the better birds from the Brooklyn Christmas Bird Count (due to a quirk of geography and the shamelessness of Brooklyn birders they get some of Queens' best habitat for their count, the low-down, no-good poachers!).  Seth floored it and we raced to the scene, running down lesser birds left and right in our haste to see the rarity (I kid, I kid).  Then we arrived, walked to the beach, and saw the scene you see above.  Here, let me put my scope on that bird…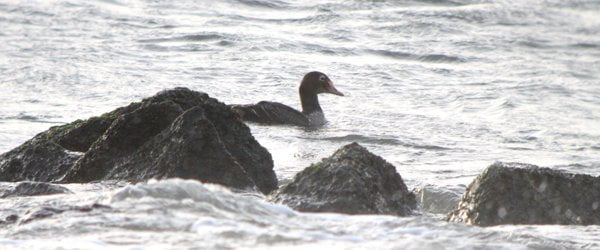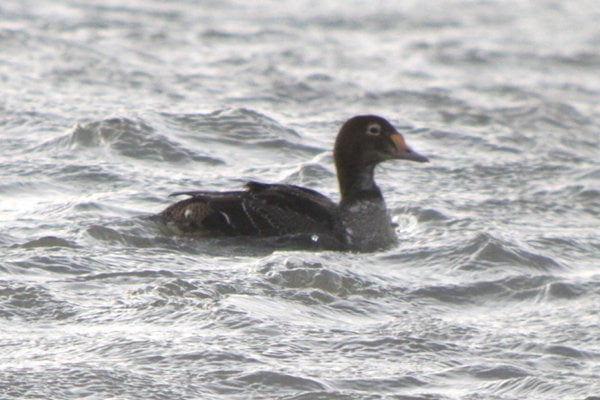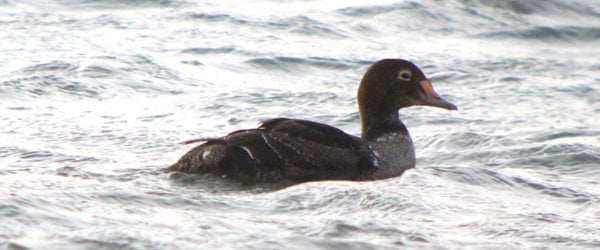 As those of you who are friends with me on Facebook, follow 10,000 Birds on Facebook, or are up on your seaduck identification know, that is a first-winter male King Eider Somateria spectabilis.  Even better, that is only the second King Eider I have ever seen* and the first in Queens, making it number 271 on my Queens list!  Better than that, this bird stuck long enough for Bob to arrive and see the bird and it hung out so long that we eventually walked away from it, making it the best kind of rarity — a walk-away rarity.
From there we scoped the ocean from a couple different vantage points at Fort Tilden, seeing lots of the expected species (all three scoters, Red-breasted Mergansers, Long-tailed Ducks, Great Cormorants, Greater Scaup, Northern Gannets, etc) but nothing outstanding.  We decided to make the move to Breezy Point to see if we could find anything out there where Queens narrows down to a mere jetty.  On this day, Breezy Point lived up to its name!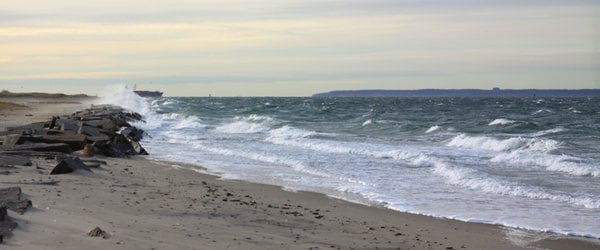 We approached the jetty from the bay side, and were stunned by the force of the wind, which whipped both saltwater spray and sand into us and our optics.  The conditions were brutal and if the temperature had been much lower than the 30s Fahrenheit they were we would really have been suffering.  As it was, there was no way we could walk anywhere near the jetty without getting drenched so we were forced to detour into the dunes to get around it.  Really, the entire walk out to the ocean front was more a brutal slog of a forced march than it was birding.  And once we made it out to the ocean we weren't even rewarded for our grit, stamina, and determination with a rarity!  In fact, the only bird we added to our day list was Purple Sandpiper, a nice enough bird but not worth frozen faces, sand-scoured optics, and salt-spray soggy clothes.  A dead Northern Gannet was interesting but also not worth the price of admission, though, really, considering how miserable the weather was I almost envied it lying there, beyond caring…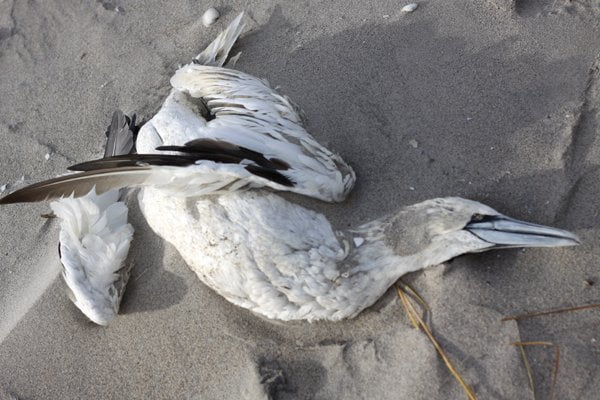 Though we tried some other spots for more birds, including Riis Park, where Seth spotted a couple of Razorbills way out on the horizon that the rest of us couldn't get on, we couldn't match the King Eider and eventually gave up and made our ways home, happy with the eider but wishing we had seen more.  Isn't that always how it is though?
*The first was when I still lived upstate during my 2007 New York State Big Year and the look was not so great.