PARADISE ISLAND, BAHAMAS – JANUARY 2006 — The first bird Sara and I spotted in the Bahamas was the same species as our last in the United States, a House Sparrow as at home in the Nassau International Airport as its cousin was in JFK. The second bird we saw, a ubiquitous invasive that has overwhelmed this particular island, was a Eurasian Collared-Dove. Our third Bahamian bird was an unflappable Palm Warbler on the asphalt next to our airport shuttle bus. That was the moment we realized that our far-too-long journey had ended and we were, at last, on New Providence in the Bahamas.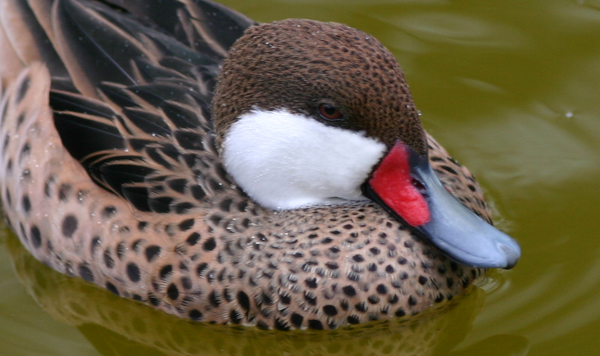 White-cheeked Pintail (full gallery)
Sara and I carved a few days out of our hectic schedules for some tropical birding and relaxation, not in that particular order. Our Caribbean destination promised a nice mix of native bird species and wintering US migrants. The combination of warmth and warblers in January was too much for me to resist.Though we spent most of our first day (and our last) in transit, we enjoyed the last hours of daylight on Friday by exploring the area around our Paradise Island hotel. One of the first birds to greet us was our life Smooth-billed Ani, which ably fills the blackbird niche in these parts. We also picked out an American Redstart flitting from tree to tree and a few Northern Mockingbirds.
While wandering around, we fortuitously stumbled upon Lakeview Drive. This modest road, merely a block long, is the birding nexus of Paradise Island and a high point for anyone seeking Bahamian bird life because the ponds here are home to the friendliest flock of White-cheeked Pintail around. This wonderful waterfowl is exquisite, with dappled fawn plumage, blue and red bill, and, of course, cheerful white cheeks. You might certainly find them elsewhere, but nowhere with more certainty than Lakeview Drive. The ponds also sheltered Least Grebe, Neotropic Cormorant, Common Moorhen, Great Egret, Snowy Egret, and White-crowned Pigeon, that last one a life bird for us. Thrilled to tick off four new birds before dusk, we pulled one more — a Black-faced Grassquit — in the fading light.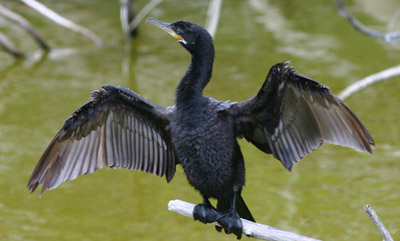 Neotropic Cormorant