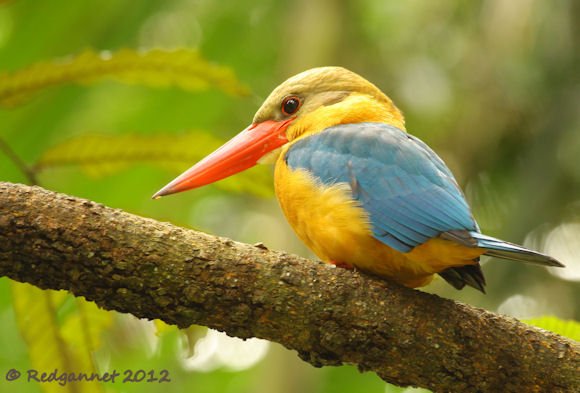 Mike's comments regarding his recent stopover in Japan struck a chord that has been resonating within me for a week or two. Redgannet was originally conceived as a way to encourage my colleagues (in case you haven't read the profile, I work as a flight attendant for an international airline) out of the shops and their hotel rooms to experience something that the local natural scene has to offer. My success in this respect has been very modest, but Mike caused me think that instead of trying to drag folk from their beds, I should be sharing with people who are passing through, either in transit or on a layover.
I usually write about sites accessible from the cities that I visit, but seldom make any mention of sites that can be reached from the airport. For passengers passing through with transit times of more than a couple of hours, such an opportunity could be just what they are looking for. Perhaps I have missed my calling.
Let's take Singapore's Changi International Airport as an example; it is a huge hub airport with large numbers of people passing through in transit to Australia, Indonesia and south-east Asia. Anyone with more than a couple of hours to kill could easily make a quick birding foray out from the airport. The clean, easy and modern Subway/Metro system here is known as the SMRT (map, and fare/time calculator link) and there is a station at the airport (Google Earth cut and paste ref; 1°21'27.49″N 103°59'20.64″E (If you don't already have Google Earth, it can be downloaded for free at this link)). Alternatively, taxis are cheap and plentiful.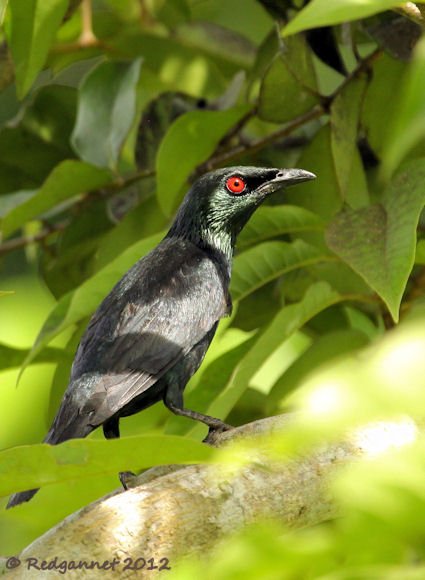 Asian Glossy Starling
Here are two sites that I visit regularly which can easily be reached from the airport by SMRT  or taxi cab and given a cursory look within a couple of hours. If you knew there was an Asian Glossy Starling close by wouldn't you want to go looking for it? But, remember to be back in plenty of time for your onward flight!
Some time management tips;
It may take some time to disembark and fulfill the formalities. Allow 30-40 minutes from landing to getting out of the airport and return to the airport with a minimum of an hour before your next flight.
Check your hold luggage all the way through from your airport of origin to your destination and obtain a boarding card for your next sector at the same time. This will leave you less time stressed on your return to the airport.
If you wish to leave the airport during your transit, you will need to present a landing card to immigration. Request a card and complete it on-board to make the most of your time.
Have a small amount of Singaporean dollars to pay for taxis, trains and drinks. A taxi from the airport to Singapore Botanic Gardens could cost  S$20 – 30 depending on traffic, so bring at least S$60 (Exchange rate calculator). If you don't get to spend it, you can use it on board, or change it back later.
Taxi v SMRT – The SMRT is the excellent, clean, safe, reliable, cheap transport system of Singapore. It will cost just over S$2 per passenger for the same journey to the Botanic Gardens. The SMRT is predicted to take 50 minutes to the gardens, but a cab would probably manage it in 30 minutes. Taxis can usually be found quickly and easily unless it is raining.
Don't carry too much hand baggage. You will either have to leave it at the airport and collect it later (using up precious time), or carry it with you in hot, humid conditions.
Below are details for Paser Ris and Singapore Botanic Gardens.
My favourite site in Singapore is Paser Ris. It is easy to get to and from and very easy to get around. The birding is not exceptional, but you can easily see some of Singapore's and South-east Asia's more common species and it does throw up the occasional jewel. Occasionally there are days like this!               
Paser Ris is a small park within 10kms of the airport, probably about 15 mins in a cab. Taxis are easy to find from the airport and would be easy to find to get back again. It is within 500m of Paser Ris SMRT Station (Google Earth cut and paste ref; 1°22'22.77″N 103°56'58.54″E), just 5 stops (with one change) from the Changi Airport SMRT Station (Fare/time calculator predicts that it will cost S$1.9 and take 23 minutes).
My personal list for Paser Ris runs to 75 birds over 15 visits that average out at around 25 species per outing.
The commonly seen birds, according to their season, are; Gray Heron, Great Egret, Little Egret, Cattle Egret, Striated Heron, Black-crowned Night-heron, Brahminy Kite, White-bellied Sea-Eagle, White-breasted Waterhen, Little Ringed Plover, Common Sandpiper, Common Redshank, Whimbrel, Spotted Dove, Zebra Dove, Pink-necked Pigeon, Red-breasted Parakeet, Long-tailed Parakeet, Asian Koel, Common Kingfisher, White-throated Kingfisher, Black-capped Kingfisher, Collared Kingfisher, Blue-throated Bee-eater, Brown-capped Woodpecker, Laced Woodpecker, Common Flameback, Common Iora, Tiger Shrike, Brown Shrike, Black-naped Oriole, Pied Fantail, House Crow, Large-billed Crow, Pacific Swallow, Red-whiskered Bulbul, Yellow-vented Bulbul, Common Tailorbird, Rufous-tailed Tailorbird, Ashy Tailorbird, Asian Brown Flycatcher, Oriental Magpie-robin, Asian Glossy Starling, Crested Myna, Javan Myna, Common Myna, Scarlet-backed Flowerpecker, Plain-throated Sunbird, Copper-throated Sunbird, Olive-backed Sunbird, House Sparrow, Eurasian Tree Sparrow, Nutmeg Mannikin, White-headed Munia.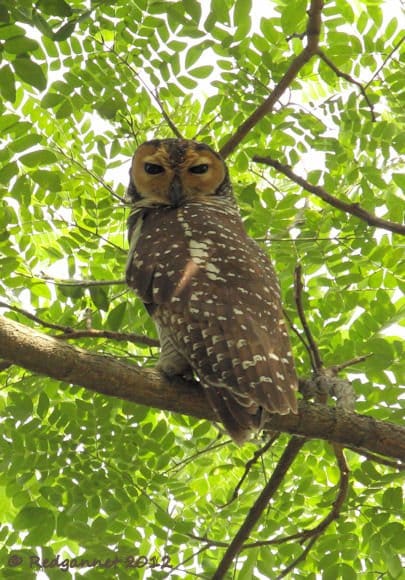 Spotted Wood-owl
A few of the highlights include; Black Baza, Crested Serpent-eagle, Blue-rumped Parrot, Greater Coucal, Spotted Wood-owl , Dollarbird, Oriental Pied-hornbill, Mangrove Pitta, Golden-bellied Gerygone, Pied Triller, Ashy Minivet, Olive-winged Bulbul, Arctic Warbler.
Features of the park include a small, tidal river (Sungei Tampines), lawns, trees and beach. The park can be walked around in less than an hour, but there are a few features that might cause the birder to linger. Its biggest draw for birders would probably be the mangrove boardwalk and the four storey bird viewing tower.
There is a concrete gutter between the tidal part of the river and the boom which maintains water levels upstream. You can find this where the road crosses the river at Google Earth ref;  1°22'30.66″N 103°57'9.79″E.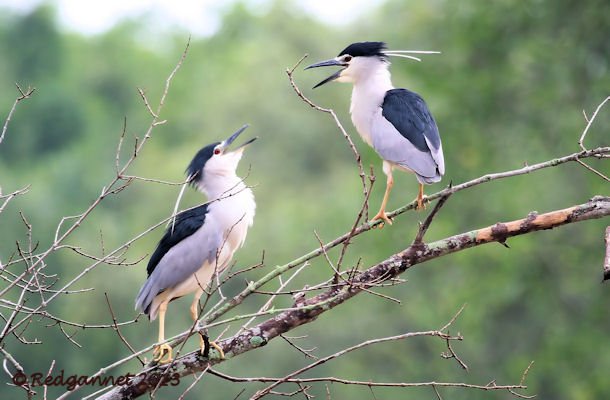 You may also find familiar faces. Black-crowned Night Heron
From the bridge here you will find herons, egrets and kingfishers. The path along the right (east) bank of the river leads along a cycle path with Asian Koels, Yellow-vented Bulbuls, Laced Woodpeckers and Oriental Magpie Robins all likely.
Take the left (west) path down the left bank of the river and you will quickly find yourself on a boardwalk amongst the mangroves. There is a viewing platform built out over the river and the birding tower can be found further along. Orioles, bulbuls and sunbirds are likely to be seen from here.
Whichever way you go, you will soon find yourself at the shore and the mouth of the river, or the beach will give a small selection of wading birds depending on the season and the state of the tide.
The lightly wooded lawns bring flycatchers, pigeons and doves. There is always the chance of an over-flying raptor with Brahminy Kite and White-bellied Sea-eagle commonly seen.
Facilities at Paser Ris include toilets and drinking fountains in the park itself. Near the train station, within 500m are shops and restaurants.
You may also use the SMRT to visit Singapore Botanic Gardens. There is a dedicated station, appropriately named, Botanic Garden.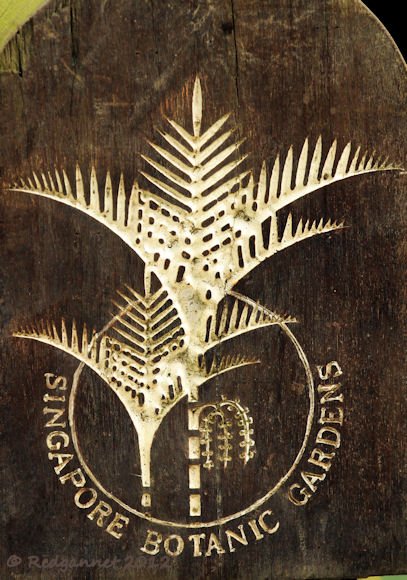 My personal list for the gardens runs to 60 birds over 9 visits. It is open from early morning to late evening and is busy at any time of day. If you are not birdwatching, you may wish to join in with the musical Tai Chi sessions. There is an official website with opening hours and events at http://www.sbg.org.sg/index.asp
The following species are commonly seen here; Lesser Whistling Duck, Yellow Bittern, Striated Heron, Brahminy Kite, White-breasted Waterhen, Spotted Dove, Zebra Dove, Pink-necked Green Pigeon, Long-tailed Parakeet, Blue-crowned Hanging Parrot, Asian Koel, Asian Palm Swift, White-throated Kingfisher, Collared Kingfisher, Blue-throated Bee-eater, Banded Woodpecker, Black-naped Oriole, Black Drongo, Pacific Swallow, Yellow-vented Bulbul, Asian Brown Flycatcher, Oriental Magpie Robin, Asian Glossy Starling, Javan Myna, Scarlet-backed Flowerpecker, Plain-throated Sunbird, Olive-backed Sunbird, Eurasian Tree Sparrow.
Other highlights might include; Black Baza, Red-legged Crake, Stork-billed Kingfisher, Lineated Barbet, Eastern Crimson Sunbird.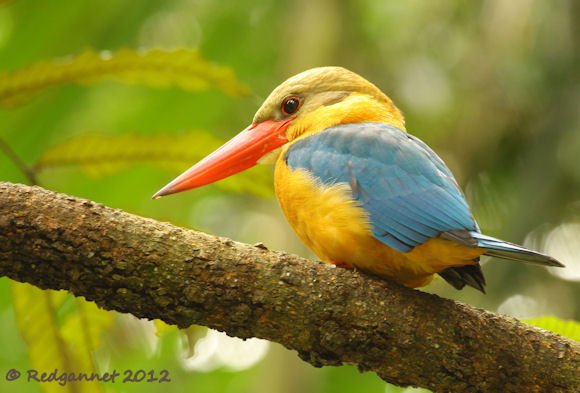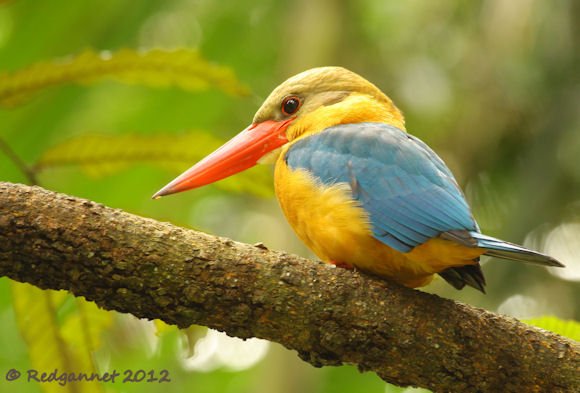 Stork-billed Kingfisher
The SMRT station is located close to the north gate. Just here is Ecopond, a small lake with rough edges and a small palm-congested island. Look for Pink-necked Green Pigeons, Yellow-vented Bulbuls and Asian Glossy Starlings on the island's palms. Around the edges you may see White-breasted Waterhens, Yellow Bitterns and Lesser Whistling Ducks.
Yellow Bittern
Head into the gardens and you will soon find Heliconia Walk. This is my favourite part of the park which allows really close views of Sunbirds that come down to feed in the flower beds.
Heliconia Walk overlooks Symphony Lake, another good spot to look for Yellow Bittern. An island hosts the orchestra stage and some towering palms. Check the tops of the palms for Blue-crowned Hanging Parrot and watch for White-breasted Kingfishers on any prominent feature.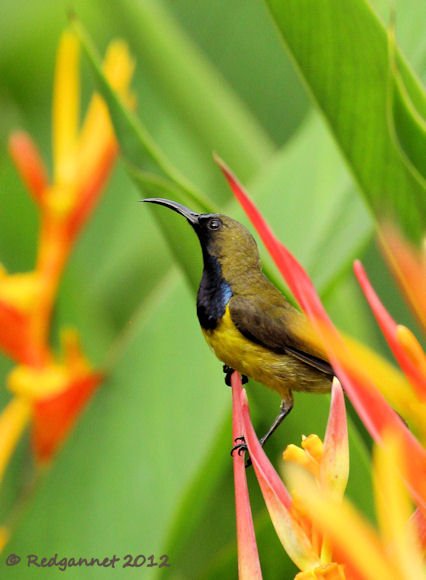 Olive-backed Sunbird
If your time is limited you may not be able to get to grips with the swiflets that flock above the lawns and lakes. If you do manage to identify them, please drop me a line and tell me what they are.
There is a small forested area with a boardwalk so that it is passable even in the wet. Forest species are likely to include the Banded Woodpecker and Black Drongo.
The Botanic Gardens are further from the airport than Paser Ris. 15 stops and 2 changes may sound quite complicated, but the system is very user friendly and all signs are in English. The calculator reckons that the journey will take 50 minutes and cost just over S$2.
At the visitors area of the gardens, restaurants, toilets and a gift shop may be found.
If you do venture out, may I recommend the New Holland Field Guide by Craig Robson to the Birds of South-east Asia.
There is no Malaria risk in Singapore, but there are still biting insects and repellent will be useful around dawn and dusk.
Finally, if you do not have time to escape the airport, visit the butterfly garden in the terminal.