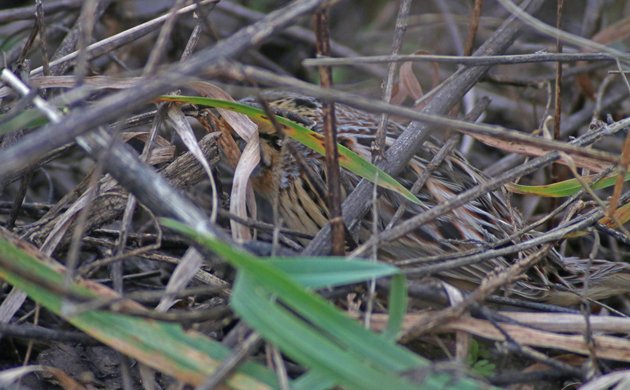 Floyd Bennett Field, the old airport in Brooklyn with lots of acreage that serves multiple purposes, from an NYPD training facility to a community garden, to athletic fields to a campground, has long been a place that birders appreciate. Most recently it hosted a Cassin's Kingbird, New York State's second record. But for some intrepid Brooklyn birders, Cassin's Kingbird isn't enough of a prize for one fall. Heydi Lopes is one of those Brooklyn birders and she was working the turf on the last day of November when she deservedly found a Le Conte's Sparrow, the second she had found there in the last several years. Le Conte's Sparrow are a good bird in New York and seeing as I had only ever seen one before I wanted to see this one.
Fortunately the bird stuck through Monday, 1 December, and my work schedule had me doing an early shift and, even better, finishing my work day only fifteen minutes from Floyd Bennett Field. That meant that I could get to the bird well before dark and even get home before traffic on the Belt Parkway got horrific. I was a bit worried about finding the bird in the vast expanse of Floyd Bennett Field by myself but I need not have worried. It was still working the same area it had originally been found in and to make my twitch even easier, there were at least ten birders on the scene when I arrived.
It was not as willing to come out into the open as it had been on Sunday and most of the time it was either out of sight or providing views like the one at the top of this post but I persevered and got quite a few good looks and a whole bunch of mostly obscured images. Still though, Le Conte's Sparrow! And barely a week after a Henslow's Sparrow! How awesome is that?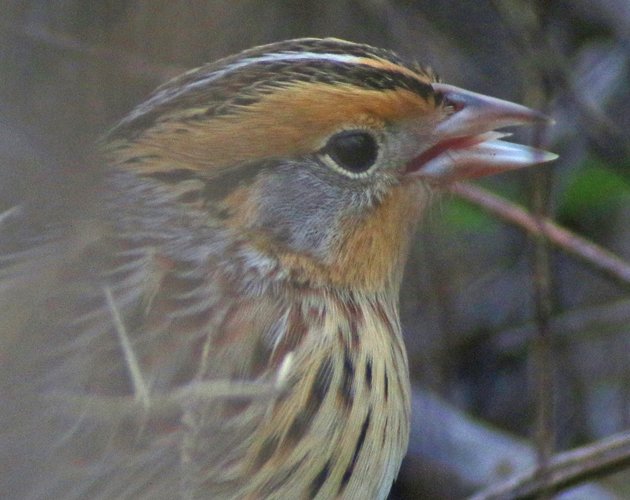 I'm pretty sure that I had never before seen the tongue of a Le Conte's Sparrow.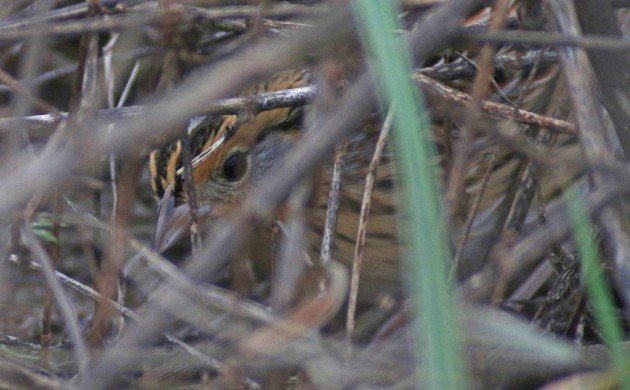 It was amazing how well this bird could move through the thick grasses, often tunneling beneath them like a mouse.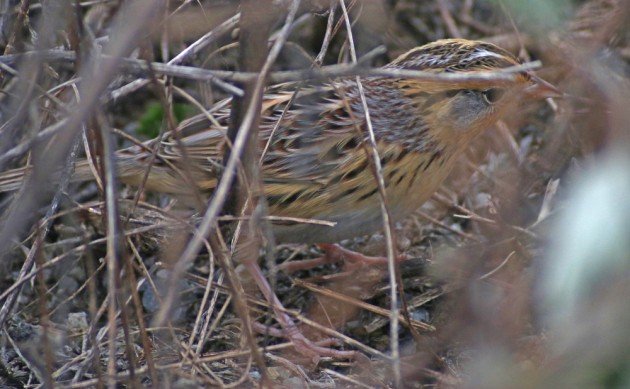 Though I would have appreciated unobstructed views I really had nothing to complain about. After all, it was a work day and I still got to see a Le Conte's Sparrow!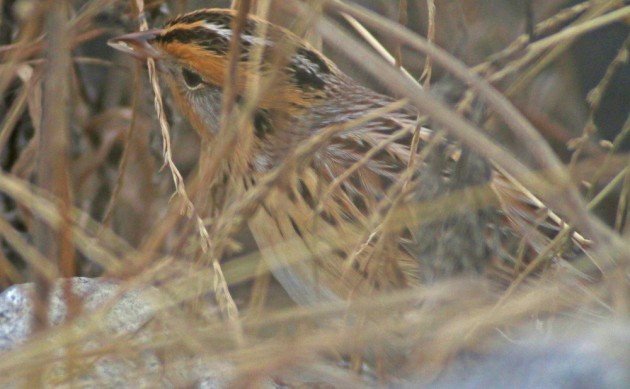 Most of the time it sat in one spot, stripping seeds off every stalk within reach, before moving a bit to a spot that still had seeds.
A brief view of the Cassin's Kingbird after having had my fill of the sparrow was the icing on the cake. What will be the next rarity in New York City? It had better be good to top the run we've had lately!
…