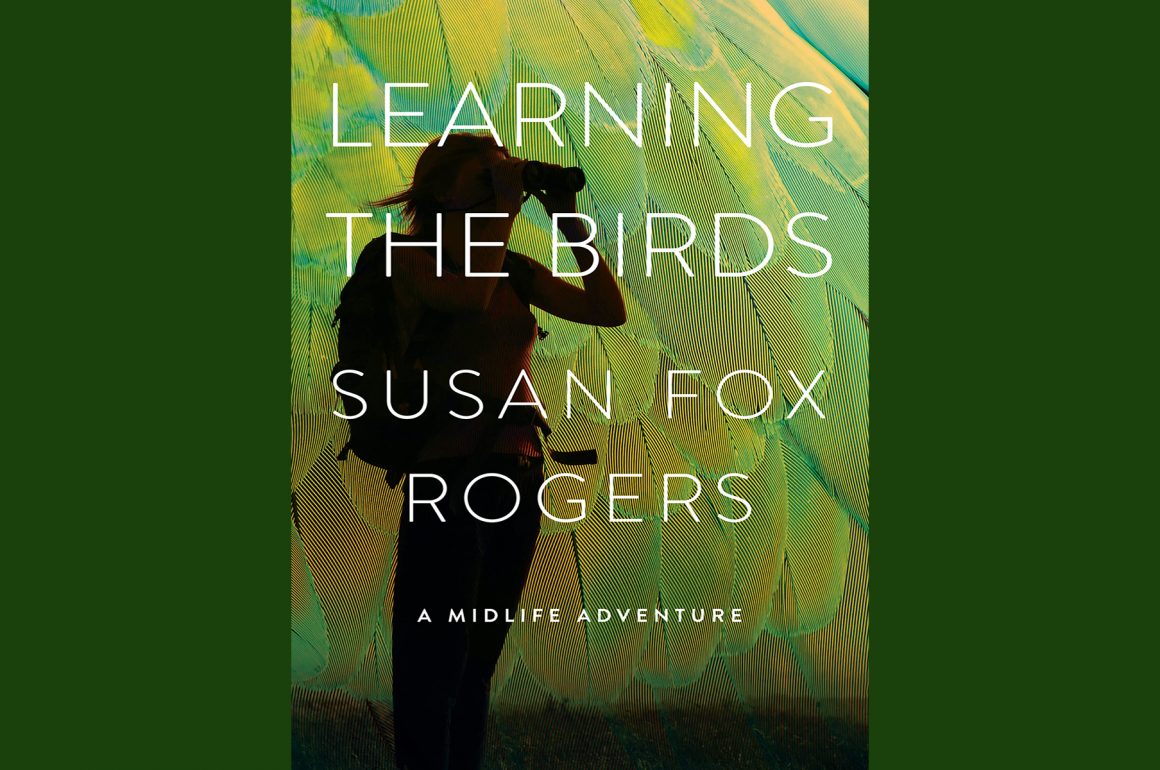 In July 2011 a Henslow's Sparrow was found in Ames, N.Y., a rural area in the eastern-central part of the state. Although Henslow's had been reliably found in nearby Sharon Springs for many years, the last documented sighting was in 2008, and the sighting startled longtime birders, waking them up  to the fact that breeding sites in the state were rapidly being lost. It was also a good opportunity to get a tick and several of my friends made the three-and-a-half (four hours in traffic) drive to see the Henslow's. I'm not quite sure where I was at the time, probably working, and it was six more years till I got my state Henslow's Sparrow at Shawangunk NWR (a shorter drive and a more cooperative bird).
This all came back to me as I read Learning the Birds: A Midlife Adventure because author Susan Fox Rogers was one of the two birders to find the Ames Henslow's Sparrow. It's the subject of the eleventh essay in this collection, almost smack in the middle of the 22 pieces that comprise the book. For Rogers, the finding of the sparrow is not just about the rarity of the find or the decline of breeding Henslow's Sparrows in New York State, though she is proud of the first and concerned about the second. She frames her story with first a Doonesbury comic strip (remember Dick Davenport, the bird watcher?) and then the life and writings of Harriet Mann Miller, a New York State native who under the name Olive Thorne Miller wrote eleven books and hundreds of articles about nature in the mid- and late 19th century. Miller wrote of birds as beings just like us, hence the title of the essay, "Little Brother Henslow," and Rogers finds the idea of anthropomorphizing birds distasteful  ("I see birds because I want to see birds. Having them near is always invigorating, unlike people who are often complicated in exhausting ways" (p. 144), though she admires Miller's writerly productivity and naturalist's patience.
The musings on Miller gracefully evolve into Roger's personal story of the sighting, which is also the story of a certain point in her relationship with Peter, the man who is her birding and at that moment her boyfriend and love interest. It's Peter who hears the Henslow's Sparrow and who reports it to the larger birding community. It's Rogers who uses the adventure in Ames as the centerpiece of an essay on how we relate to birds in a way that makes us want to save them–tying in not only the 19th-century woman writer and the cartoon bird watcher, but also the history of the naming of the bird, the identity of John Stevens Henslow ("But really, Audubon could have given the bird a better name…" (p. 152))–and the happiness one feels when your best birding friend who loves sparrows finds a special sparrow.
The essay, less than 11 pages long and illustrated with a black-and-white photo of the star of the piece, is a sample of the excellent writing that characterizes Learning the Birds. The essays are titularly about how Rogers learned to bird at a midpoint in her life. Not an enticing subject, I think. Isn't every other blog post or tweet these days about how people are learning to bird? I also have to admit that I opened this book with mixed feelings about reading essays in general. The term "essay" has become synonymous with a short piece of writing, sometimes confessional, sometimes philosophical, sometimes a narrative story. But Learning the Birds surprised me. Susan Rogers surprised me.
Unlike some of us who started birding in midlife, Rogers brings to her new passion an adventurous history of a life lived outdoors–rock climbing (serious rock climbing, not in a gym), kayaking, ballooning, environmental stewardship, time in Alaska and Antarctica–which she uses to inform her new birding experiences. (How is birding like rock climbing? Somehow Rogers makes a connection via eBird and it actually makes sense.) Also, Rogers knows how to write an essay. She teaches essay writing as a writing professor at Bard College, but teaching doesn't always mean one can do it, we all know that. Rogers can. Her essays are structured pieces of writing with layers of personal stories over literature over memories, punctuated with emotions, a little bit of philosophizing, and humor. Each piece is, as she says in the beginning of the books, a small journey of exploration, of the birds themselves, of birding, and of herself: "My conversion to the birds was physical, an outer journey. My goal was to get to know the birds and the world that surrounds them. I soon found that this bird world is one with its own logic, rules, and ethics, a place with its own language and literature, its own art and history, its heroes and a few heroines. I felt like an explorer who had landed on a distant continent, or more rightly a pilgrim who had arrived, after years of walking, at Compostela."
Each essay focuses on a current birding experience (with one exception, an essay about Nathan Leopold, the murderer who was a birder). There is the hike up Slide Mountain (NYS) for Bicknell's Thrush with the John Burroughs Natural History Society; the thirteen mile solo trek through the Bighorn Mountains of Wyoming while on a writers' residency; the first twitch (for a Fork-tailed Flycatcher in Connecticut, a bird I had seen several days before her); the first Christmas Bird Count, with Peter in upstate New York; a visit to Paris with Peter during which Rogers finds out what it's like to travel with a slightly obsessed (or maybe normal?) birder, as in 'who needs art? We need a Spotted Woodpecker'); a trip to Arizona where Rogers meets up with an old friend who has also 'converted' to birding and an old lover; the glory of being the number 1 birder in Dutchess County (NYS) in April 2013; the magic of experiencing the dawn chorus on May 10th at Thompson Pond, NYS, a birding adventure honoring the time Franklin Delano Roosevelt went birding with Ludlow Griscom, Allen Frost, and very close friend/distant cousin Margaret Suckley; spending the night in a collapsing duck blind on North Tivoli Bay with friends Christina and Emily, where they are kept awake by Marsh Wrens.
These are not all the essays–there are 22! They are my favorites for various reasons: a reminder of my own experiences in a place or with a bird or even with a person (it doesn't hurt that many of the essays take place in my home state and I know some of the birders who make cameo appearances), a particularly well constructed piece of writing ("Dawn Chorus," the essay about F.D.R., is exceptional), the weaving in of historical birding literature, especially essays that highlight women birders. The chapter about birding the Bighorn Mountains is titled "Florence" after one of my favorite birding foremothers, Florence Merriam Bailey, who serves as Rogers's inspiration and spiritual teacher. In fact, seeing that Bailey is the topic of one of the essays is the reason I decided to read and write about this book. Rogers has read all the birding and nature literature I should read but haven't, and I value her essays for what they teach me about the writings and lives  Bailey, Harriet Mann Miller, and Marjory Stoneman Douglas. Also John Burroughs, John James Audubon, Rachel Carson, and many other writers who make appearances either in the essays themselves or in the discursive notes on each essay in the back of the book. (One note from me: Julie Zickefoose is misspelled; please correct immediately.)
The "Notes" are fun and worth read reading, offering a mix of background and follow-ups on the stories, sources and book recommendations, and documentation of two interviews Rogers did, one  for with Tina Green, the finder of the Fork-tailed Flycatcher and, it turns out, several other Connecticut rarities, and one with ornithologist Tazza Schaming, who researchers Clark's Nutcracker, the bird Rogers finds while channeling Florence Merriam Bailey. I like the journalistic flavor added by these interviews. The notes also identifies the black-and-white photographs of birds that begin every essay, some of the actual bird talked about in the essay. The photos are by Rogers or her mentor Peter or a friend, making them more than mere illustrations, they are part of the story.
A writing professor at Bard College, Rogers has edited and written a number of book about women's experiences in the outdoors even before she became a birder, including her memoir My Reach: A Hudson River Memoir (2011). Her first birding book, When Birds are Near: Dispatches From Contemporary Writers (2020), is a smartly curated collection of essays from new and experienced writers. In Learning the Birds: A Midlife Adventure she creates her own world of stories and meditations about nature. I think they will reverberate with birders of any age and also with readers, birder or not, who enjoy elegant writing and who want to be inspired to think in creative ways about their own birding and life experiences.
---
Learning the Birds: A Midlife Adventure
by Susan Fox Rogers
Three Hills/Cornell University Press, April 2022
320 pages, $28.95; also available in eBook and Audible formats
ISBN-10 ? : ? 1501762249; ISBN-13 ? : ? 978-1501762246