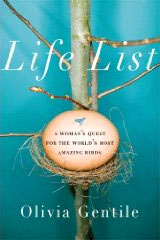 While we love blathering on about life list around here, one that I wrote about last week was all about someone else's life birds as opposed to my own. But what a life list it was! Of course, I'm talking about Life List: A Woman's Quest for the World's Most Amazing Birds, the biography of Phoebe Snetsinger written by Olivia Gentile. I loved Life List and think you will too. That's why, thanks to the generosity of the eloquent author as well as the fine folks at Bloomsbury USA, we're giving some copies of Life List away.
Well, we're not exactly giving them away. You have to earn them, though I know our readers will enjoy the requisite efforts to channel the spirit of Phoebe Snetsinger herself. You have three different ways to get a shot at one of four free copies of Life List. Here's the deal:
1. Help Spread the Word About These Giveaways
This portion of the contest is essential to the success of the others. It's also the easiest one to participate in. Simply help us spread the word about the other giveaways described below. Anyone who posts a link to this page on their blog, website, or Facebook page, promotes the giveaways on a related forum or bulletin board, or submits this link to StumbleUpon, Digg, or any other social bookmarking site will automatically be eligible to win our first giveaway. Notify me of the link and you'll be added to the list from which we will randomly select a winner. Only one link per blog will count but links on multiple blogs and sites generate multiple entries; as a matter of fact, one time we ran a promotion like this, it was the person who spread the word on two different sites who won – true story! The deadline to spread the word about these giveaways is Wednesday, July 15.

2. Describe your most coveted bird Twitter-style
Twitter is another ideal way to promote this giveaway. It may also be the most appropriate one as the second contest requires you to use the prose style, if not the platform, of a Tweet. Simply tell us in 140 characters or less what their most-wanted bird in the world is and what makes that bird so great. You don't need to actually post your entry on Twitter; I don't have an account anyway and wouldn't find it if you did. You do need to make sure that the bird you describe with clever concision is one you've never seen before. Send your entry (one per person please) to me by Monday, July 20. We'll publish all the odes to avians yet unseen here and award books to our two favorites.
3. See a life bird for Phoebe
This giveaway may be the most involved but it will also be the most enjoyable for those of you who deign rise to the challenge. This one is being run in conjunction with the Nature Blog Network so check out the details there.
As I mentioned, these activities are meant to honor the legacy of Phoebe Snetsinger. For inspiration and to see a sampling of some of Phoebe's favorite birds of all time,you should visit Olivia Gentile's fantastic site. I'm grateful to Olivia for helping conceive of these giveaways. If we're lucky, she may even help select the winners!
As usual, the following disclaimers apply: these giveaways are open to everyone and anyone with the exception of the 10,000 Birds and Nature Blog Network teams and their immediate families; these giveaways have no cash value; we are the final arbiters of who receives each book; and all local laws, rules, and restrictions apply.
Good luck to everyone!