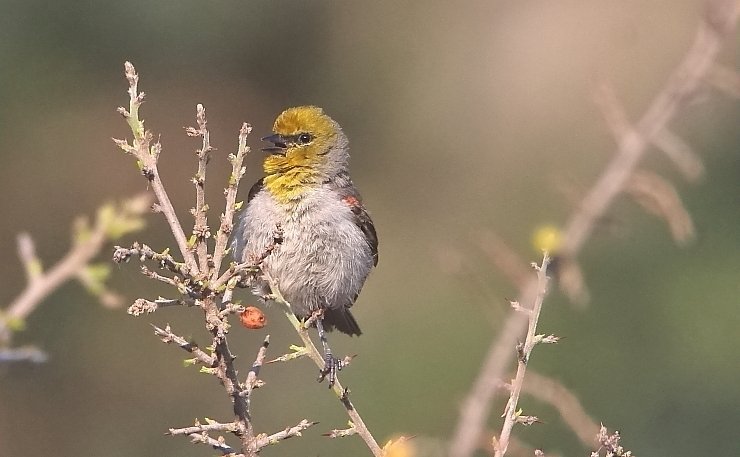 A week and a half ago, I got some exciting news: My beloved Lake Cuitzeo, which I believed had dried up in our ongoing drought, has not completely disappeared. The very farthest-east part (perhaps 10% of its total surface area) turns out to be deeper than the rest of the lake, and has survived throughout our dry season. My contact person could not confirm whether birds were present. But he posted some photos to prove that there was, indeed water there.
I don't usually drive more than an hour to bird, and I almost never take toll roads. But this time, I drove one hour and twenty minutes and paid 65 pesos (about 4 US dollars), each way, to see if perhaps this remnant lake might have concentrations of those birds that I would usually see closer to home.
It was quite a trip to get to my first view of the much-reduced lake: straight toll roads, winding through a large town, a smaller town, and then a long stretch of dirt road (as well as a patch of potholes, I mean, road, that I wished had never been paved). But, as all birders know, getting there can be as interesting as the destination itself. And that was certainly the case on this trip. As I approached the eastern lake, the now-dirt road passed through dense mesquite forest, of a kind more often seen in northen Mexico than down here in the south. Which is exactly why, on my first stop, I found myself surrounded by a species that, in theory, should have not been there.
The Verdin is a little insect-eating bird one can expect to see anywhere from the American desert southwest down to the Mexican states just north of mine. Its Mexican name is wonderful: Baloncillo, which translates at "little ball". But since its diminutive suffix suggests something cute, or that one is fond of (a linguistic feature that Mexicans use on everything from children and pets to food), I tend to translate it in my head as "little puffball". It is a well-deserved word for these tiny birds: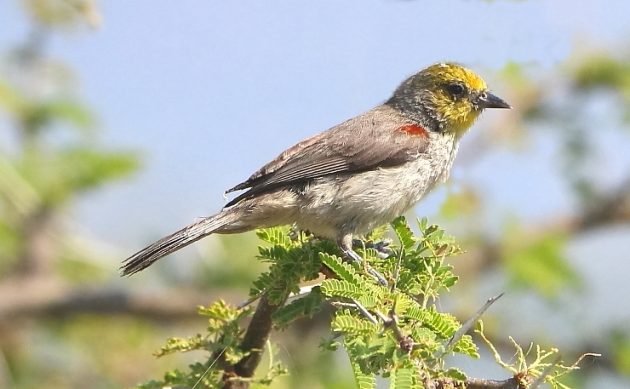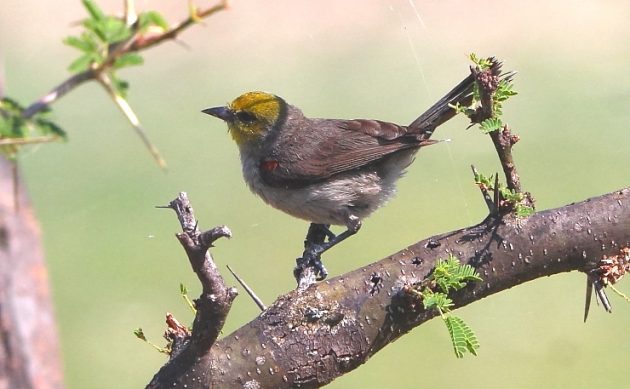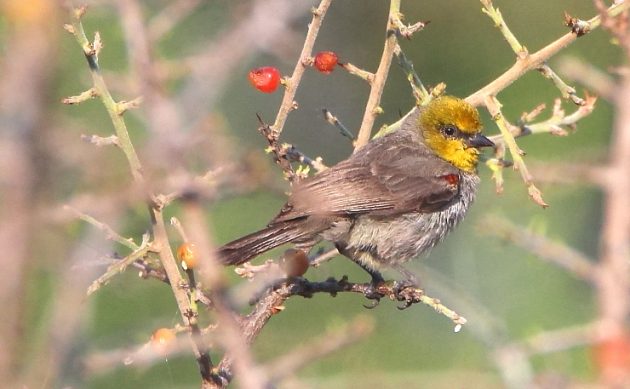 Fledgeling and immature Verdins miss out on those cute yellow heads and red shoulders. But the are adorable anyway: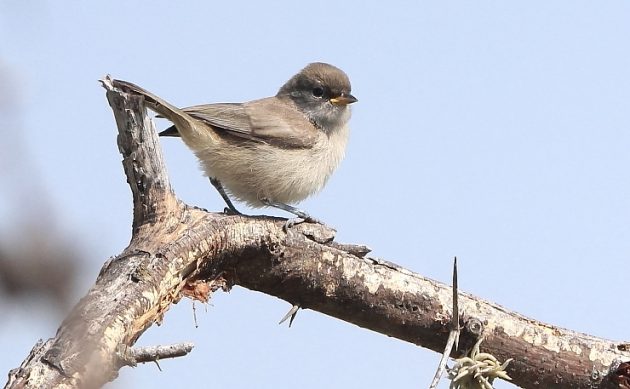 This final Verdin photo isn't as good as the preceding ones, but it is still my favorite. That is because it is my photographic proof for the first Verdins ever listed on eBird for the state of Michoacán: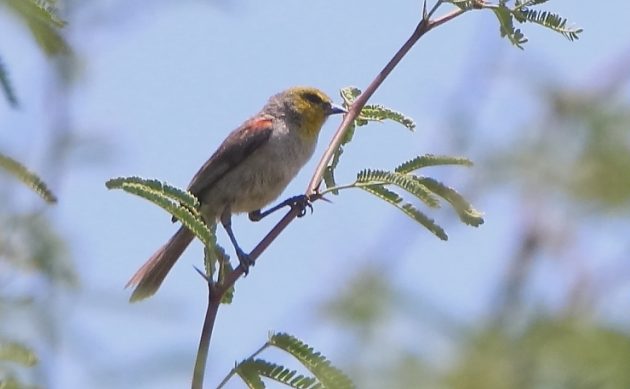 Oddly enough, my Guanajuato Verdins were seen just short of this "Welcome to Guanajuato" sign (oddly formal for this little-traveled dirt road), while the Michoacán bird occurred after I passed the sign. The dirt road in question goes in and out of the two states several times.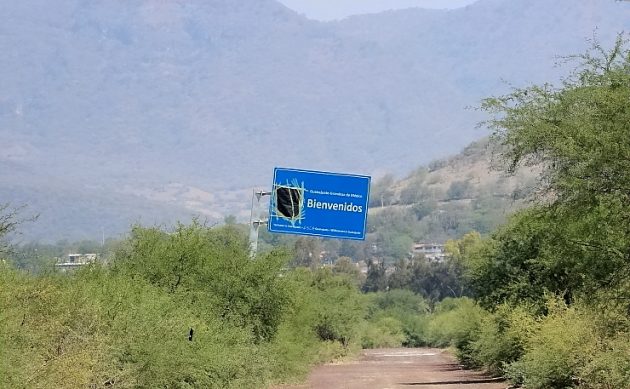 And you may wonder what I saw once I finally reached my little piece of lake remnant? Well, I was very pleased indeed to see that the lake's small population of resident Snowy Plovers have found a way to follow its shrinking shores. Snowy Plovers are also cute little puffballs.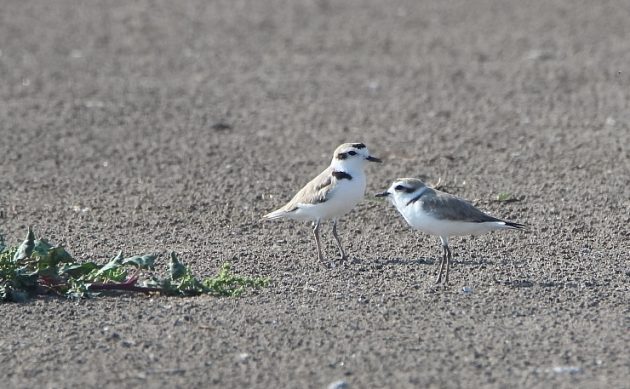 There were also plenty of happy American Avocets and Black-necked Stilts, as well. They have no objection to very shallow water.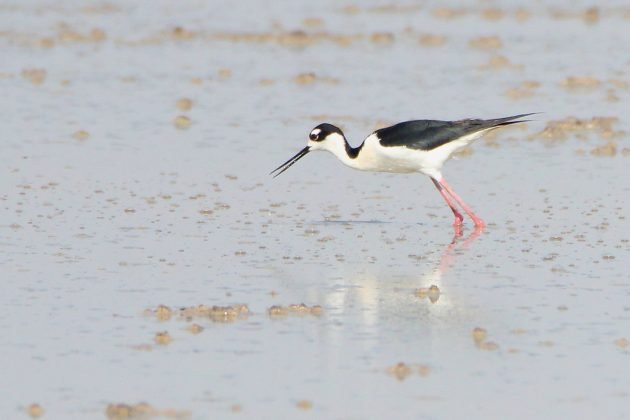 It took me a good while of studying my photos to determine that most of the few Peeps present were actually Baird's Sandpipers, and not the Westerns that I had expected. I usually see this species only on their trip south, in August and September.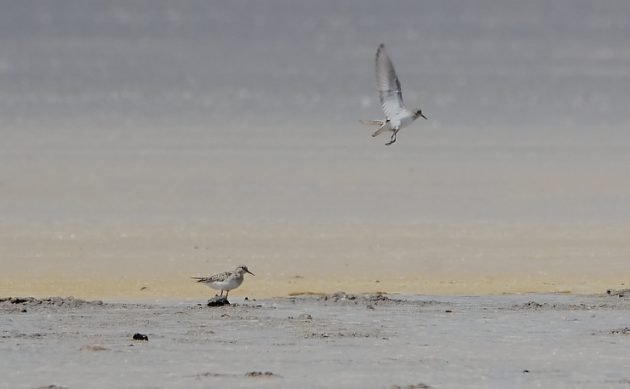 But my biggest shoreline surprise was the presence of hundreds of Stilt Sandpipers. I used to miss this species entirely, because they can be confused with the lake's more numerous Long-billed Dowitchers. But this time, there wasn't a Dowitcher in sight. I know. I looked, for a long, long time.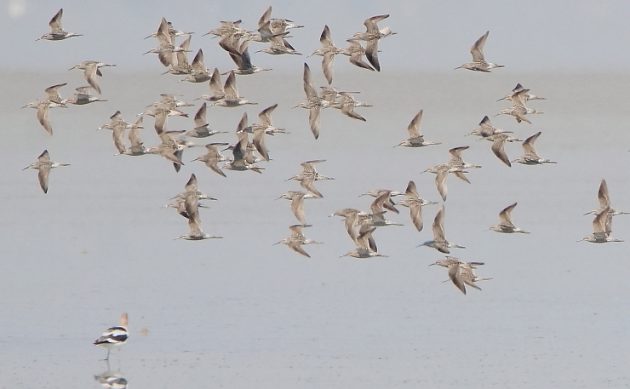 There were, however, just a handful of Wilson's Phalaropes, sporting their breeding plumage, mixed in with the Stilt Sandpipers. I dare you to find them in this photo.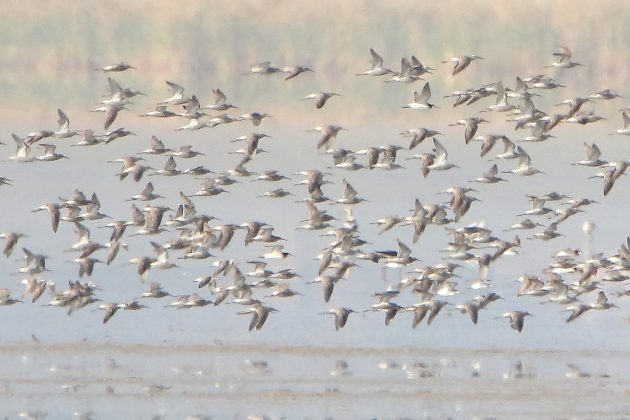 And, hey, a beautiful bird is still beautiful, even if it is common or expected. So I'll leave you with a particularly showy Savannah Sparrow, and a very cooperative Vermilion Flycatcher.