Light winds out of the north-northeast. Snow flurries. High temperature of 41 degrees Fahrenheit. What better forecast could I ask for when planning to stand on a ridgetop all day long looking for a Golden Eagle, a raptor that has avoided my gaze all year? I'd also have the chance to see my long-time friend and budding birder Mary, and her fiancee, Matt, who were driving from Saugerties to watch the majestic raptors go by at the Franklin Mountain Hawkwatch in Oneonta, New York.
We couldn't have picked a better spot for a Golden Eagle mission. In late fall Franklin Mountain is the spot to see these gorgeous birds on their long migration south. In fact, Franklin Mountain owns the northeast record for the most Golden Eagles spotted in one day, a mind-blowing 71 on the eleventh of November in 2005. We were a day early and two years too late to see such a sight, but we still hoped to see at least one or two.
The drive to Oneonta, a mere hour and five west of Albany, was uneventful. In Oneonta, however, a heavy fog obscured the view and as I started driving up Swart Hollow Road there was, gasp, snow!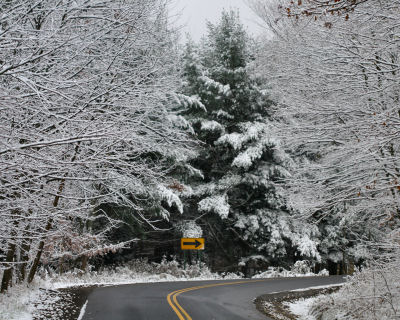 Visibility was not good at the hawkwatch when I arrived at 9:30 AM. In fact, it was horrendous. And it stayed that way until 11:30, during which time Mary and Matt showed up with hot apple cider and delicious sandwiches. Talk about yum! And it's not like there was nothing to look at while we awaited clear weather; Dark-eyed Juncos, Black-capped Chickadees, Downy Woodpeckers, Blue Jays, a White-breasted Nuthatch, a Red-breasted Nuthatch, American Goldfinches and Fox Sparrows all visited the small feeder slightly downhill from the hawkwatch. One of the Fox Sparrows, which I failed to get a picture of, was particularly striking as it was leucistic and had some gorgeous white feathers in its wings and tail. Oh, and it was the first time Mary and Matt ever saw Fox Sparrows, so that was cool too.
About fifteen minutes after the weather cleared, one of the two hawkwatch volunteers, who were entertaining and informative during the long wait for the weather to clear, called out "Bird over South Hill."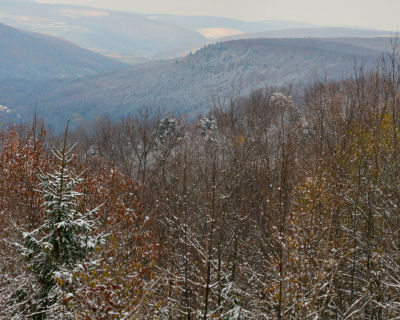 South Hill
Bins went up, and a cry of "Golden Eagle" rang out. I got Mike's scope (yep, still have it) on the juvenile and tracked it across the sky. Having seen bird 292 for the year I headed home.
Ha! Of course I stuck around for some more raptors and I wasn't disappointed. How could I be when we spotted three more Golden Eagles, two subadult Bald Eagles, a Cooper's Hawk, a couple of Sharp-shinned Hawks, many Red-tailed Hawks, the first Rough-legged Hawk of the year at the hawkwatch, and an absolutely stunning Red-shouldered Hawk?
Mary and Matt left before the bulk of the birds went by but they did see quite a few. I stuck around until my underdressed-self was shivering from the cold and unable to hold my binoculars steady anymore.
I highly recommend the Franklin Mountain Hawkwatch to anyone interested in the slightest bit in birds. They put on a heck of a show up there and, who knows, maybe you'll be there the day the Golden Eagle record falls!
Oh, and an aside about the Albany Big Year birders. Rich got to 300 a couple of weeks ago and is sitting on his laurels, unwilling to chase anything. Jory reached 300 with a Cackling Goose that he spotted and identified way up north in a field full of Snow Geese while I was awaiting my Golden Eagle. Congrats to both of them!