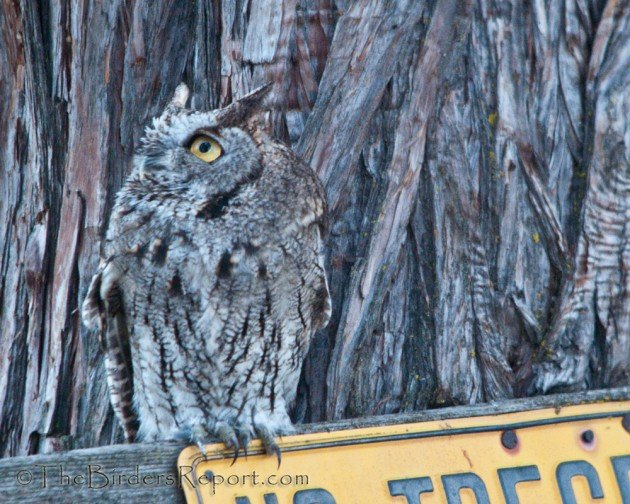 … where the Spring Wings Festival will be held from May 17–19, 2013!
The good folks at the Fallon Convention and Tourism Authority extended an invite to 10,000 Birds to send one of us bloggers to the annual birding festival held in this town about an hour east of Reno. Everyone else is otherwise engaged, or my hand went up first, or both. Either way, I'm extremely excited to be attending my first birding festival, and very grateful to the organizers for covering the expenses.
I've never really been to Nevada—just a layover in the Las Vegas airport, where I was amused to see slot machines at the gates. So I'm quite interested in exploring a new territory. To say nothing of the opportunity to glimpse lifer birds that I'd likely never get to spy in my midwestern neck of the woods, including the adorable Western Screech Owl captured so wonderfully here by Larry Jordan.
In addition to kayak tours and birds of prey demos, Spring Wings has plenty to do for even the most casual birders, including a decoy-carving workshop, a photography seminar, and a chance to help band baby Wood Ducks (and who wouldn't love that!). The festival also features an up-close-and-personal look at the elusive "ironbirds" of the U.S. Navy's "Top Gun" training program, a surefire way to lure nonbirding spouses and kids. (These people have thought of everything!)
As for me, I'm hoping to pack as much as I can into my weekend jaunt to Fallon. My camera's getting repaired, my Peterson Field Guide to Birds of Western North America is in my backpack, and my shopping list includes lots of sunscreen. And I'm all ears for advice from anyone who's birded this area before, or who's a birding festival veteran—please hit me with your best tips in the comments section. I hope to see some of you at Spring Wings, and look forward to reporting on it for everyone else!