Scientists at The Center for Conservation Biology have announced that Machi, a Whimbrel that they have tracked via a satellite transmitter for over two years and 44,000 kilometers (27,000 miles) was gunned down on the Caribbean island of Guadeloupe (French West Indies).  This is a bird that flew over 3,400 miles in one flight from Brazil to South Carolina, an amazing bird that is representative of every other Whimbrel.  And though the satellite transmitter let Machi be tracked it did not protect it from the hunters' guns.  Look at the amazing journeys that this bird had made and then say that it wasn't a disgusting act to shoot such an astounding and amazing creature.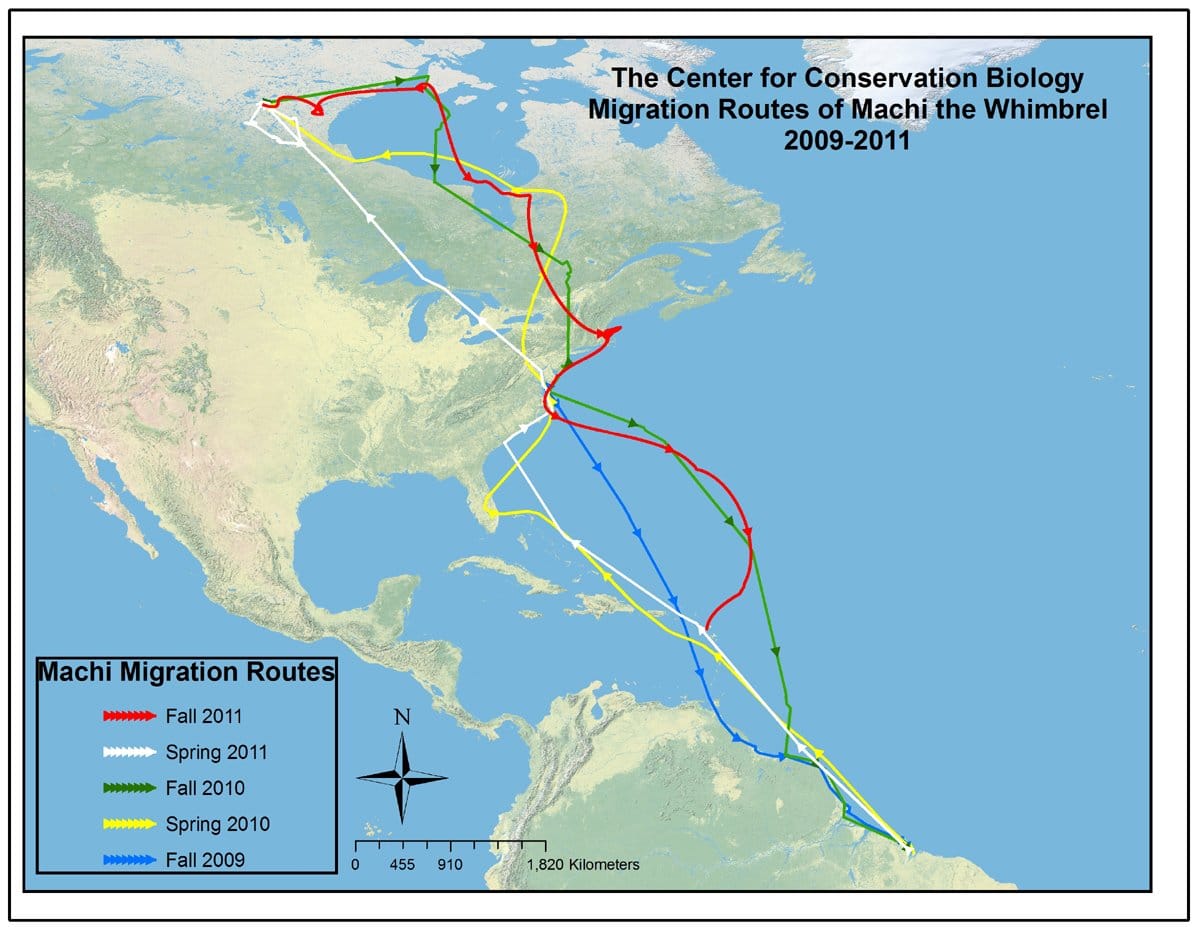 Machi's Migration Map courtesy of The Center for Conservation Biology
What is even more shocking is that it was perfectly legal to shoot Machi.  Why?
Guadeloupe, Martinique and Barbados continue to operate "shooting swamps" some of which are artificial wetlands created to attract migrant shorebirds for sport shooting during fall migration. It is estimated that tens of thousands of shorebirds continue to be taken annually by hunting clubs on just these three islands. This practice is a throwback to more than a century ago when gunners hunted shorebirds throughout the Americas. The Migratory Bird Treaty Act was passed, in part, to protect dwindling numbers of birds that migrate across country borders. Operated as a French overseas department, both Guadeloupe and Martinique are part of the European Union and are not party to the Treaty. Barbados, once a British colony is now an independent state and also not party to the Treaty. The last Eskimo Curlew known to science was shot on Barbados in 1963. Shorebird hunting within these areas continues to be unregulated to the present time. Conservation organizations continue to work toward some compromise that will reduce pressures on declining species.
Machi was, of course, only one bird.  But the toll the "shooting swamps" take on the shorebirds of the Americas is huge and the practice must be stopped.  Suggestions to start a campaign to protect shorebirds from hunters as they migrate through the Caribbean would be appreciated in the comments.  Let's make Machi's death mean something!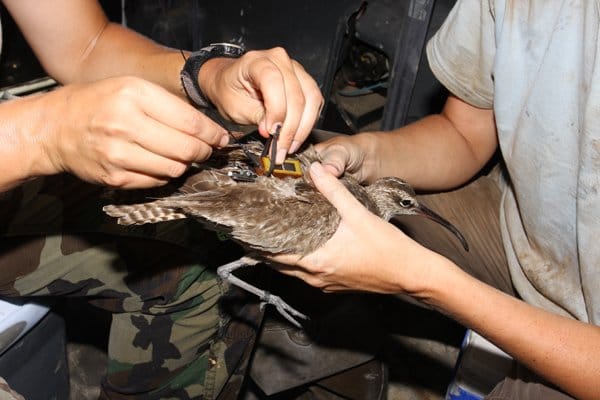 Machi getting fitted with transmitter in 2009. Image courtesy of Barton Paxton.
 Hat-tip to Donna Schulman for the information about Machi.
…