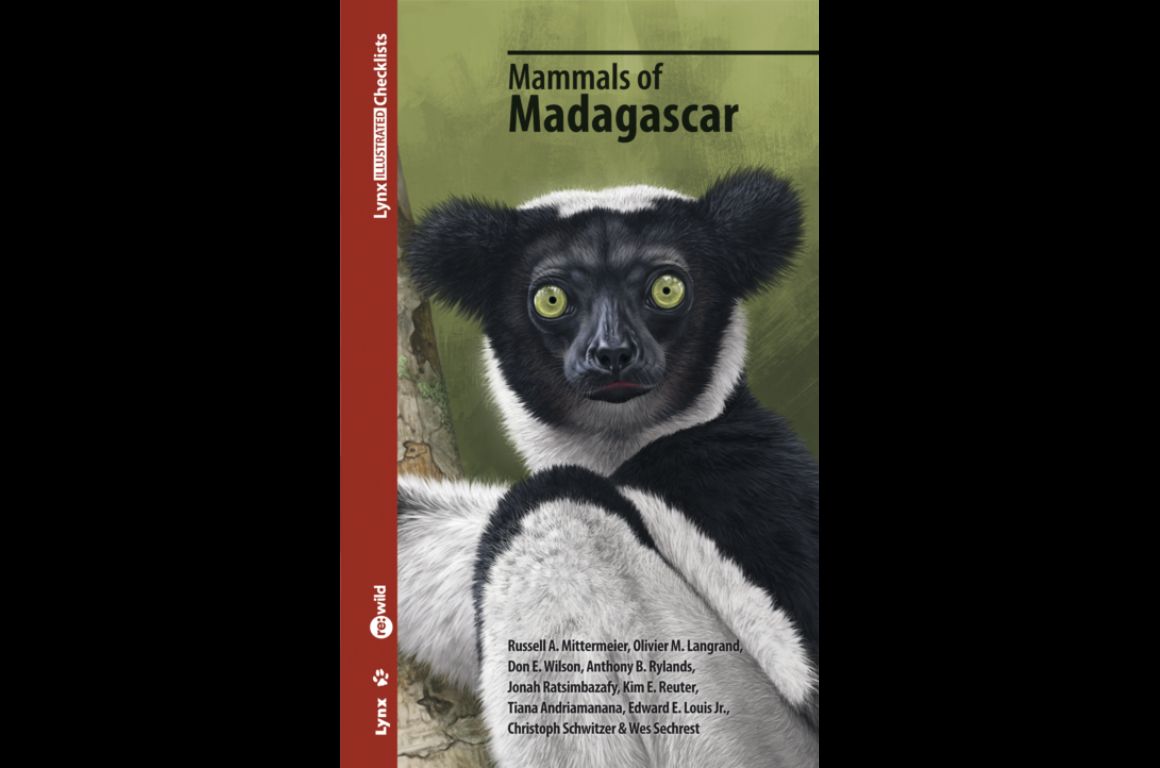 When you bird afar and wander wide, you carry a field guide to the birds of the region you are exploring, a pair of binoculars, likely a camera, perhaps a spotting scope and a tripod too, plus clothing, medicines, toiletries, electronics, money and documents… Did you notice the missing item? Yes, field guides to other groups of organisms, as there's hardly any room left in your baggage or the energy to carry it.

I birded savannas of Southern Africa, I birded India and Central America, and I always missed having a local mammal guide with me. Yet, those bird guides are hefty.

Take Madagascar, for example, one of the world's highest-priority Biodiversity Hotspots: that island-continent is most famous for its penguins. Well, sort of, as there are no penguins in Madagascar, indigenous or otherwise. No, Madagascar is the most famous for an endemic group of mammals: lemurs, sifakas, indri, aye-aye – in total, 112 endemic species and subspecies of lemurs alone! And birders spend a lot of their time watching the tree-crowns and, in the right place, spotting many other tree-dwellers.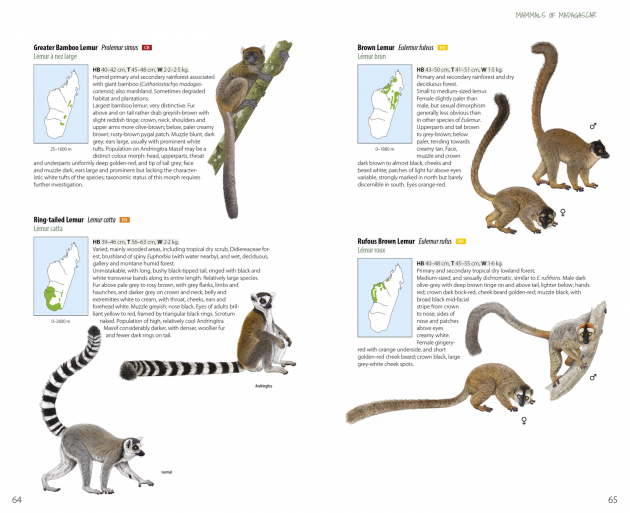 Lynx Illustrated Checklist "Mammals of Madagascar with the Comoros, the Seychelles, Réunion and Mauritius" (apparently, the full title did not fit the front cover) is a lightweight book of 173 pages, easy to pack and carry, depicting 253 mammal species (219 terrestrial, 34 marine) occurring naturally in Madagascar, as well as 13 others restricted to the neighbouring islands.

Mammals of Madagascar follows the latest HMW series taxonomy (with addition of several new species), describes all the species recorded within the region and provides a range map for each (but the introduced) species. The introduction is short (13 pages) and includes a map of the covered region, as well as a map of principal vegetation types of Madagascar.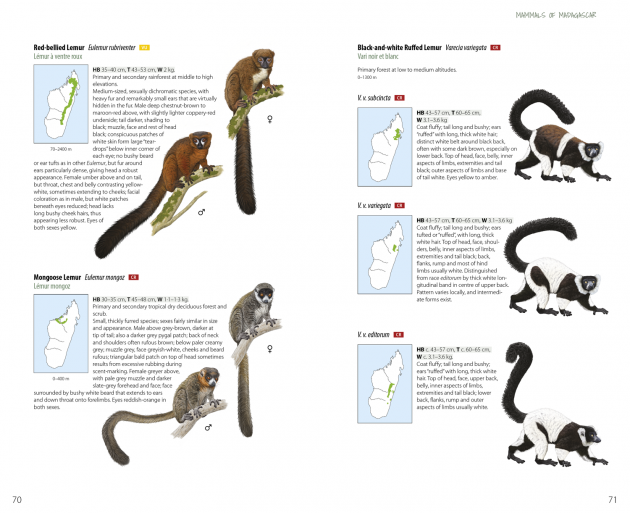 The following 117 pages are the checklist proper, containing 2 to 3 species per page, with mostly one or, where needed, two illustrations per species (exceptionally three), a concise text on its Red List status, measurements (size), habitat and description of the species, followed by a range map.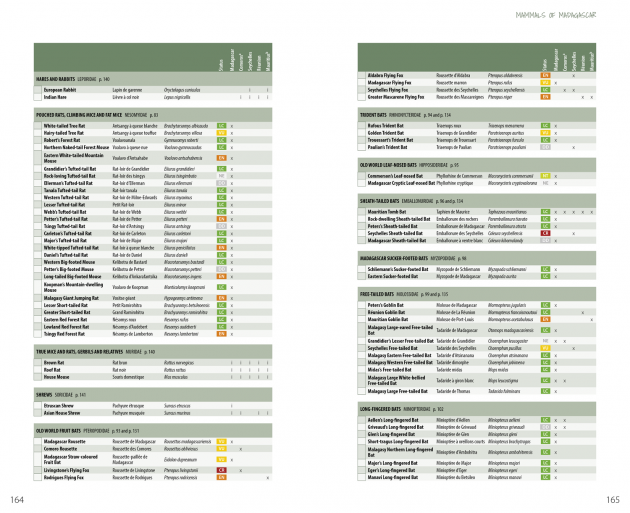 The checklist continues with the 11-pages guide where to watch mammals in Madagascar, consisting of a map and the table of 52 protected areas, their dominant habitat type and the list of mammals for which the parks are known. Finally, it ends with a checklist (above) and the alphabetical index of both English and scientific names.

This book is part of the Lynx Illustrated Checklists collection created from the wealth of data, illustrations and maps compiled for the Handbook of the Mammals of the World (HMW) series which has been distilled into handbooks that can be easily carried into the field.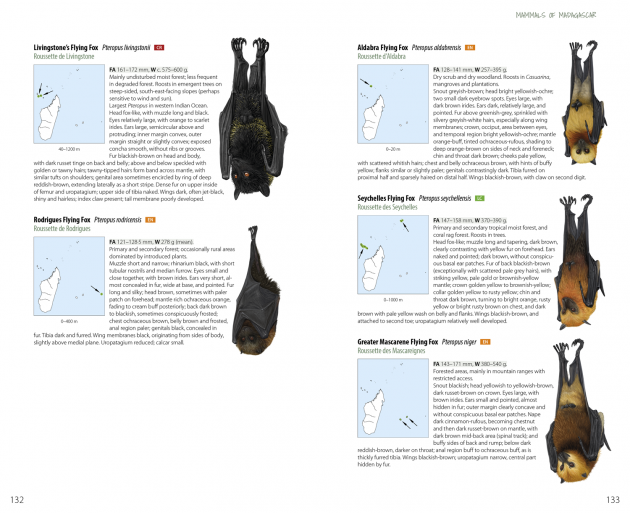 Strictly speaking, Mammals of Madagascar is not a field guide, because some larger groups (rodents, bats) cannot be identified down to a species level following the concise descriptions and a single illustration. Still, there should be no problem with larger species that allow for longer observation time (e.g. lemurs), but you will often need to consult the range map because of many species being very similar! Larger species, that is, excluding dolphins and whales. I may have very limited experience with dolphins and no experience with whales, but the illustrations show the entire animal in the way only divers can see it, without a second illustration of the tail shape, something whale-watchers can actually spot from a boat.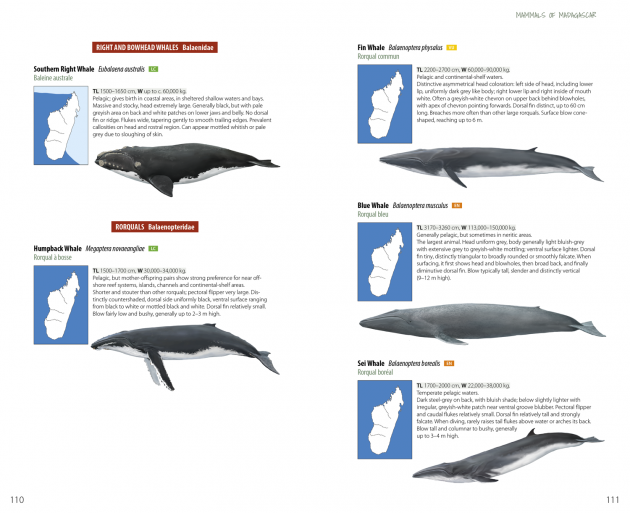 One issue puzzles me, the inclusion of those unidentifiable groups, such as bats, rats and mice, 27 pages of them (and this comes from a former caver who actually likes bats), which you aren't likely to see (apart from fruit bats) and are even less likely to ID. Most mammal guides aimed at wildlife watchers (and not scientists) tend to cover small and cryptic species as a group only, not going to a species level. There is no definitive answer which approach is better, but this checklist's claim to fame is that it is the first book to describe and illustrate all mammal species found in the region. To defend the editors' choice, many of them are highly localised, which could further ease their ID.

Mammals of Madagascar is a beautifully illustrated handbook to take with you into humid, tapia and dry forests, spiny thickets and mangroves, and you will be thankful that it weighs only 400 g. Highly recommended.

Mammals of Madagascar with the Comoros, the Seychelles, Réunion and Mauritius (Paperback)
by Russell A. Mittermeier, Olivier M. Langrand, Don E. Wilson, Anthony B. Rylands, Jonah Ratsimbazafy, Kim E. Reuter, Tiana Andriamanana, Edward E. Louis Jr., Christoph Schwitzer & Wes Sechrest
Weight 0.4 kg
Dimensions 14 × 22.8 cm
Pages 173
ISBN 978-84-16728-48-0
Published in May 2021
Published by Lynx Edicions – Lynx Illustrated Checklists Collection