Seeing as Mike has already stolen the thunder of our best birds of the day (well, he did get better pictures) I figured I would mention a couple of the other species that were around after Mike departed Central Park to be a good father. There were a couple in particular that I wanted to try to track down and because Mike and I had focused on the north end of the park I figured I would head south and see if the ramble had anything to offer. The walk was enjoyable: flowers were blooming, the sun was shining, birds were singing, and vendors provided me all the refreshment I needed to continue birding. Say what you will about the benefits of birding wilder places: I like to be able to get a hot dog without having to put down my binoculars!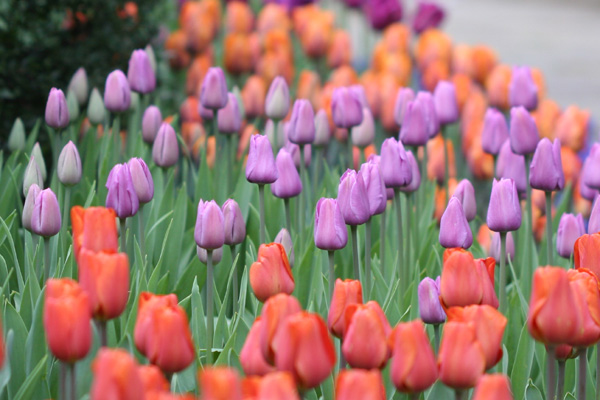 The reservoir still held the breeding-plumaged Common Loon as well as some Ruddy Ducks and a Double-crested Cormorant that was showing off its namesake crests.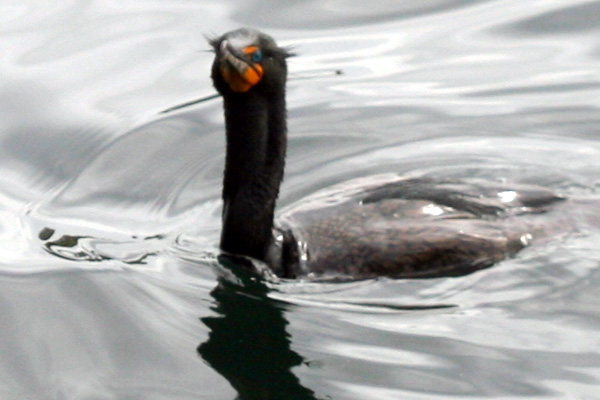 After leaving the reservoir I wandered aimlessly for awhile before making my way down to Turtle Pond to see if I could find anything but turtles. On the observation deck a couple of Mallards perched on a wall above eye level and I couldn't resist getting a shot of this female Mallard from such an odd perspective with the blooming trees behind her.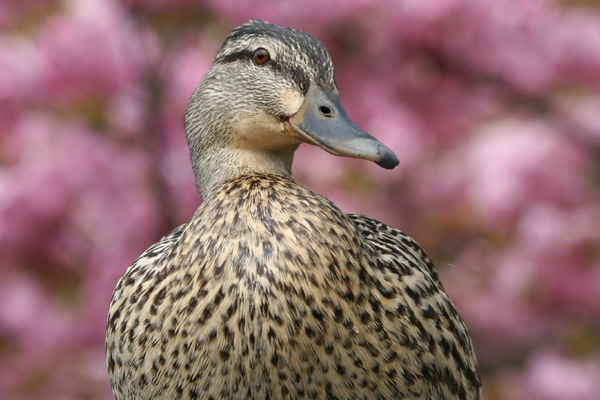 Also at the pond were turtles, of course, and a single Black-crowned Night Heron. A gentleman was flying a very large kite in the grassy area next to the pond and a male Mallard had to take evasive maneuvers on his way in for a landing. At first I thought that it would hit the kite's string for sure but I guess Mallards are a bit more graceful in the air than I give them credit for.
As I worked my way around Turtle Pond so I could get to the ramble a Common Grackle flew in to the side of the path and decided to get its picture taken. Who am I to complain?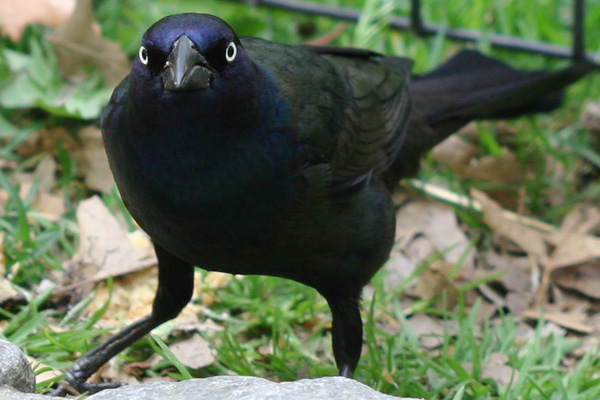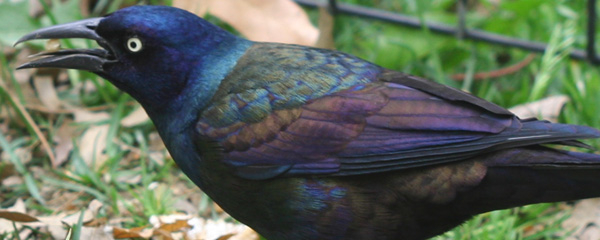 Once the grackle got tired of cooperating it was time for me to start getting serious about birding again. Birding with Mike had netted me seven new species for my Anti-Global Warming Big Year list but I wanted to make it an even ten for the day (by the way the seven species were House Wren, Northern Waterthrush, Scarlet Tanager, Prothonotary Warbler, Blackburnian Warbler, Yellow Warbler, and Purple Finch). Into the ramble I went and quickly tracked down my first Blue-Gray Gnatcatcher of the year (no thanks to Patrick). The mewing cries of the spritely little bird are what brought me attention to it: had it been silent I would never had seen it. Oddly, the bird seemed to prefer foraging along dead branches, ignoring the bug bounty I could see buzzing around the buds and new leaves on branches that were still alive.
Then I heard the distinctive "chew-ee" snoring song of a Blue-winged Warbler, another bird I had not yet tracked down for the year. The bird didn't not sound far off but I could not find it for the life of me, despite the fact that it sang over and over. Another birder came up, having heard the song, and the two of us spent the next five minutes or so failing to get our eyes on the blasted bird. We did see some Eastern Towhees, Hermit Thrushes, and a Black-and-white Warbler but we ignored them in search of our quarry. Then the bird stopped singing and we had to give up the chase.
I headed to the oven, a small area enclosed by a big ol' hunk of rock on one side, steep banks on two others, and the lake on the fourth. Usually the wet wooded spot is good for a variety of species but on Saturday it held nothing (though later reports on a local listserv indicated it had been very productive earlier in the day). At this point the crowds had started to swell a bit in the nice weather and I decided to try my luck in my home borough and started to walk to the south end of the park to catch the subway. As I walked over the bridge that takes one from the ramble over the lake I heard the Blue-winged Warbler sing behind me. I half-heartedly put my binoculars up and there it was! Wood-warbler and new year bird number nine on the day!
The trip to Queens was slowed down by the fact that the F train was running on the E train tracks for the weekend, a bit of information that I didn't know and that cost me fifteen minutes. Once I got to the pond at Forest Park my train-troubles were forgotten and I got back to birding. Unfortunately for me, the birds did not want to cooperate. A Great Egret and Mourning Doves are nice but I was in full-on wood-warbler mode and would not be deterred.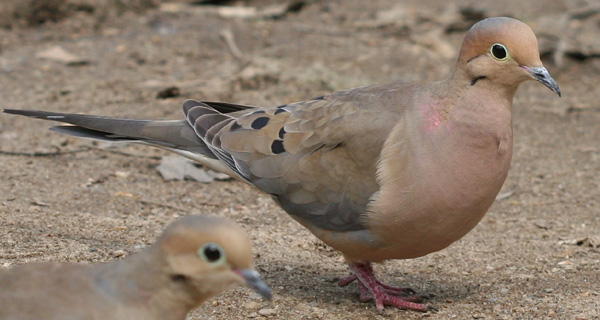 Walking through Forest Park netted me some Blue-headed Vireos, a couple of Black-throated Green Warblers, and another Blue-gray Gnatcatcher, this one acting more gnatcatcher-like and actually, you know, catching bugs. The waterhole, bereft of water (waterless hole?) stank of dead raccoon and birds were not as thick there as usual, not really a surprise as water is the reason they tend to be there to begin with. I did manage to pick out my second Blackburnian Warbler of the day from where it foraged high in the canopy. That was my last real birding highlight and I returned home with nine new birds on my year list and took a nap. I love birding weekends!