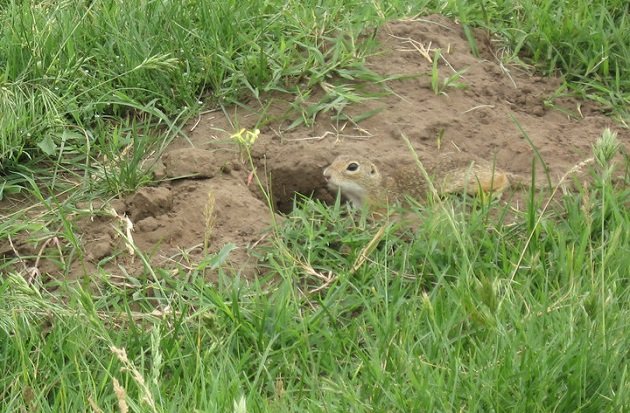 May 2009
After a wakeup call at highly uncivilised 3.45 am, at the crack of dawn I am sitting in a car by the Suslik (European ground squirrel) pasture. It is still cold. No Susliks are to be seen – they are waiting for the sun. Actually, I am not waiting for them, but for the Eastern Imperial Eagle to come here to hunt Susliks – an eagle from one of the last two remaining nests in Serbia. Alas, there is no eagle to be seen either.
A pair of Golden Orioles flies over me, while one sings from the nearby orchard. A Sparrowhawk is chasing something I cannot see well. Not an eagle in sight. Okay, he is heavy and I would expect him to wait for the thermals to rise.
The wind is mild, but cold, so I close the window. Defending their territory, Northern Lapwings are screeching in flight above the stream. The first Common Cuckoo of the season lands on top of the bush. Blackcap, European Stonechat… no eagles. A Corn Bunting sings from the top of a pear tree. Somewhere behind it comes another song, those liquid bubbles of European Bee-eater, also my firsts – they returned from Africa only a week ago.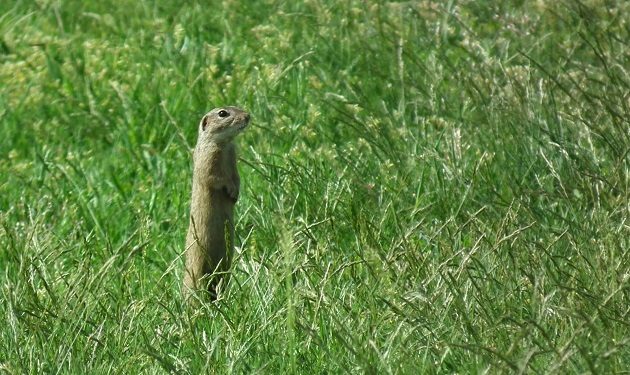 Finally, the first Susliks are up. Some are eating, holding a morsel with front paws, so squirrel-like. Others are chasing each other, some are quarrelling. A few are on sentry duty, standing on their hind legs and watching for eagles.
Susliks are becoming rarer: they need cattle to graze and keep the grass short. But on modern farms, cattle are being kept indoors and if the pasture becomes overgrown, ground squirrels disappear. Ploughing is another threat, turning pastures into arable fields where no Susliks can survive. Some pastures get destroyed in a more fashionable way: a thin layer of soil with grass is removed to be sold as carpet-grass in garden centers. Susliks lose home, eagles lose food, but a new bank or a shopping mall will look smart with that ever so green grass.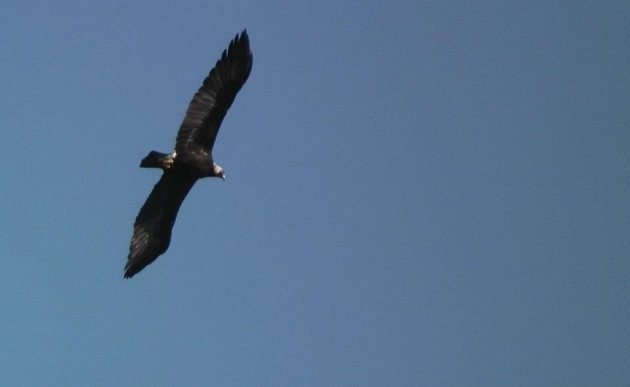 On some earlier occasion I observed an Imperial Eagle hunting. And no, Susliks do not run helter-skelter as soon as the eagle is spotted – that way they would remain hungry. Perhaps every tenth squirrel is standing upright and watching and the others are foraging, while the eagle soars above. Sentinels can tell when the eagle is ready to dive and only then they will give an alarm for every Suslik to run into the nearest hole.
One Brown Hare is leisurely jumping through the ranks of foraging Susliks… There, there, there! Too far to present any danger to squirrels, so they are still chasing each other, fighting or foraging. The endangered Imperial Eagle soars in the thermal, becoming ever smaller, just a dot in the sky, until it becomes invisible. Gone.