Some sites simply must be sought out by North American birders, at least those of us in the East Coast set. Cape May, for example, is one of those hotbeds of avian excitement, a vortex of auspicious energy that seems to beckon birds and bird watchers alike. The celebrated Cornell Lab of Ornithology, wellspring of such awesome citizen science projects as the Great Backyard Bird Count, Project Feederwatch, and eBird as well as home of the world's largest archive of animal sounds, is most assuredly another. Earlier in the year, I visited Cape May and now I can declare that I've finally made the pilgrimage to the Cornell Lab.
One would think that I'd have visited sooner, since I only live about 230 miles from Ithaca. However, my travels usually take me past, not through the municipality known alternately as "America's most enlightened town" and "City of Evil." Thanks to Mike of The Feather and the Flower, I've not only seen the Lab but significant portions of the Finger Lakes region as we searched for the waves of winter finches invading the area.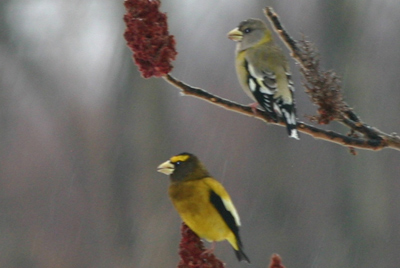 Since I spent much of the Christmas holidays in Potter County, PA, it wasn't much trouble for Seth and I to meet Mike before dawn for some good old fashioned bird chasing. Leave it to an ornithologist to have done his research; Mike knew with scientific precision where best to track down elusive quarry like Pine Grosbeak and Northern Shrike. Unfortunately, few great plans survive contact with the enemy and in this case, our implacable foe was inclement weather. As we arrived at our most promising locale, a light mist turned in rapid shifts from rain to sleet to heavy snow. Such mercurial precipitation must have confused the birds because, apart from a handful of Black-capped Chickadees and Red-breasted Nuthatches, the woods were distressingly silent. This proved to be the case as we crossed three counties in search of boreal specialties. Still, Mike's surpassing knowledge wasn't entirely wasted; he anticipated finding one of our target birds, Evening Grosbeak, camped out by a certain house and wouldn't you know it but as soon as we pulled up, a flock of twenty mobbed a stand of sumac. These brilliant black, gold, and white finches haven't crossed my path since a trip to New Hampshire in my earliest birding days so this sighting meant a lot to me. The titmice, juncos, and tree sparrows… not so much. Apart from an astonishing abundance of redpolls (now I know why they're considered Common!) we missed out on the other winter specialties. No Bohemian Waxwings. No Rough-legged Hawks. Certainly no shrikes. Chattering Red Squirrels, however, proved a welcome diversion.
The highlight of the day was undeniably the Cornell Lab of Ornithology. Visiting the epicenter of American ornithology would be a rush under any circumstances but Mike provided the context necessary to understand how truly important and inspiring the Lab's mission is. Plus, the place is just architecturally magnificent. Of course, we trod the paths of Sapsucker Woods, desolate during this time of year but obviously a magnet for migratory wonders. The birding was, to be fair, prosaic but the experience was memorable and the company outstanding.