The first day of winter, I've learned, carries a lot more significance when one lives in a place that experiences a real winter. By real, of course, I mean a frigid, intemperate, icy season accompanied by snowfalls measured not in inches but in feet. Welcome to my winter in western New York!
Since I was visiting my in-laws in equally inclement Potter County, PA, I was privileged to enjoy true winter birds on the winter solstice. For example, Sara's mother Ann's feeders were overflowing with those consummate cold-weather survivors, Black-capped Chickadees.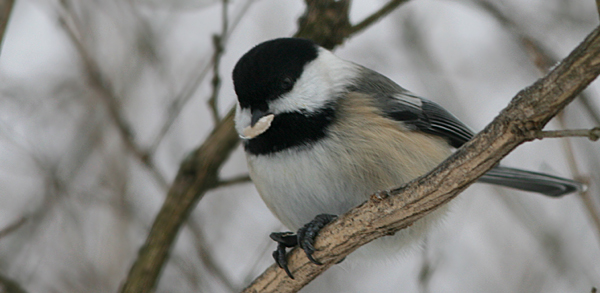 Black-capped Chickadee
Chickadees actually inhabit just about every inch of this area all year long but their chipper, clownish manner is never more remarkable than when the mercury drops down low. These birds were joined at brunch by other hardy species like Dark-eyed Juncos, Tufted Titmice, White-breasted Nuthatches, American Tree Sparrows, House Sparrows, and House Finches.  I was impressed by the number of Blue Jays crowding the feeders and by the abundance of crows beyond them. However, the best bird of the day was easily the rarest. Last year, the winter finch making all the headlines was Common Redpoll. These crimson-capped little seed-eaters were streaming out of the boreal in waves. Lucky me, they hit my mother-in-law's house just as I did, around Christmas Day, granting me long, loving looks at a coveted species. This year, the fancy finch is White-winged Crossbill, which you might recall I saw, rather unsatisfyingly but for the first time, just a few weeks ago. Well, wouldn't you know it, I was snapping shots of the charming chickadee above when what do I detect in the tall spruce behind me but a full flock of crossbills!

White-winged Crossbill
I can't complain about my crossbill sightings anymore considering the length of time I watched these pincer-bills plunder the seed cones of one conifer after another. Since we're still some days shy of Xmas, I'll call this a Winter Solstice miracle!
Moving on to my father-in-law's abode meant an increase in altitude but decrease in diversity. Most winter feeder species stayed behind, leaving more chow for chickadees, juncos, Mourning Doves, and Blue Jays. The only sparrows up there were American Tree Sparrows, like this character crouching in a leafless bush.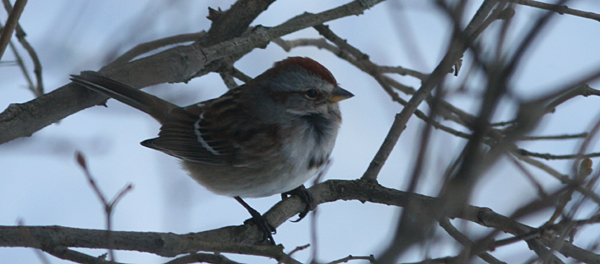 American Tree Sparrow
We struck out on a midday search for shrikes, Northern that is, but actually did strike out in that regard. The most interesting sighting was a pair of large Red-tailed Hawks huddled next to each other on an evergreen branch, a behavior I've never seen before but fully condone considering the temperature! I don't know how hard winter falls in your part of the world but out here, I don't begrudge any bird a little warmth.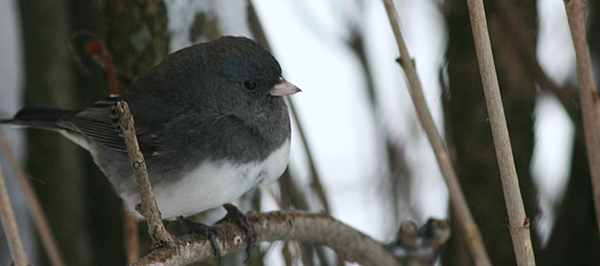 Dark-eyed Junco
If you watched birds on the winter solstice, be sure to report your sightings to Birdstack!