It was cold and dark when I awakened on Saturday at 5:45 in the morning.  My gear was all packed and ready so I just had to slip into my several layers of clothing, drink some coffee, shrug on my backpack, and get out the door.  As I walked through the flurries over the ice and snow that had accumulated on the sidewalks I had dreams of seeing all kinds of good birds that no other group on the Queens County Christmas Bird Count would see.  It might have been that I was still asleep but I don't really remember ordering at the Dunkin' Donuts store that served as my pre-dawn meeting place with Jean, the section leader for the Ridgewood Reservoir/Forest Park/Willow Lake section of the count circle.
I do remember that I felt rather warm and full when we got out of Jean's car and met Lou at the parking lot for Highland Park, at the Queens/Brooklyn border, from which we walked out to explore the three basins that comprise the Ridgewood Reservoir.  At one point the reservoir provided clean water for the boroughs of Queens and Brooklyn but now two of the three basins are largely forested and the third has a large pond surrounded by a phragmite marsh.  The city's parks department has some rather poor ideas for the reservoir that environmentalists and birders (including myself) oppose, but the politics of the situation wasn't whey we were there: we were there to count birds!
And count birds we did, though the area's first major snowstorm that struck on Friday certainly depressed our count, as all of the smaller bodies of water in our area were entirely or mostly frozen and the half-hardy birds that make Christmas Bird Counts in the northeast so like a treasure hunt were struggling to find food and stay warm.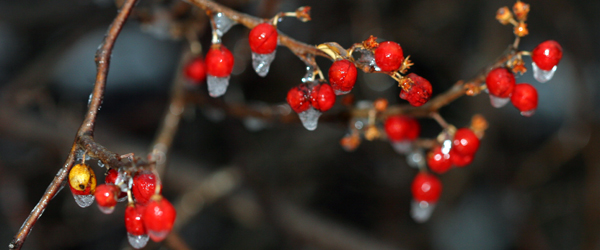 iced-over bittersweet berries
Wherever food was available the birds flocked.  We saw big ol' flocks of robins, smaller flocks of starlings, and wherever seed-bearing plants stuck out from beneath the snow sparrows would be gathered 'round knocking the seeds loose and scarfing them down.  It was near one such congregation of sparrows that included Song Sparrows, White-throated Sparrows, Swamp Sparrows, American Tree Sparrows, and a Fox Sparrow that we found what was likely the best bird of the day for our group, a rather lethargic winter-plumaged Chipping Sparrow with a right wing that drooped a bit.  Lou and I felt that the bird is unlikely to survive much longer in the freezing temperatures.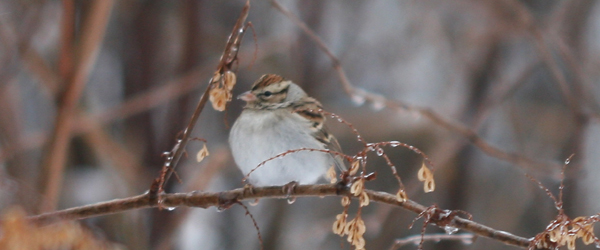 Chipping Sparrow on the Queens County CBC
Other good birds that we tracked down at the reservoir complex and the adjacent Highland Park were our only two Gray Catbirds of the day, our only Brown Creeper, a couple of Hermit Thrushes, both a Cooper's Hawk and Sharp-shinned Hawk (our only two non-Red-tailed Hawk raptors of the day) another Fox Sparrow, a single Rusty Blackbird, a Red-winged Blackbird and a Brown-headed Cowbird.
Our next stop, a quick walk around the pond at Forest Park, didn't net us much, though the lone male Mallard which has been solo since the female disappeared a couple of months ago, had managed to keep a tiny part of the pond free of ice.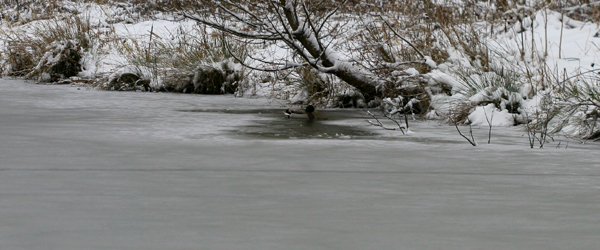 lonely Mallard on Queens County Christmas Bird Count
Then it was to the waterhole, unfortunately frozen, to get the seed out there and at another nearby feeding station.  Jean was prepared with a variety of food, and, considering the snow cover and iced-over food supplies, the birds were overjoyed to see us.  The Downy Woodpeckers dove straight into the suet without caring how close a birder with a camera was.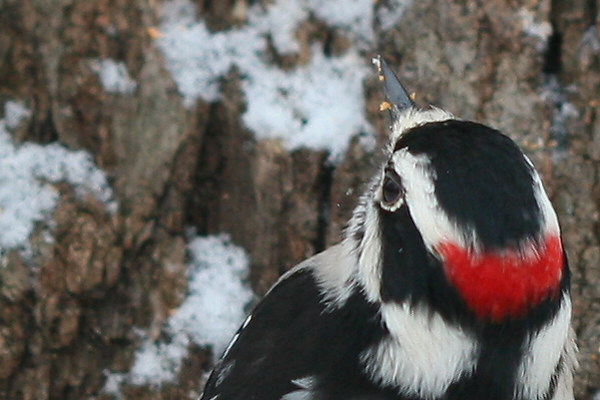 male Downy Woodpecker in Forest Park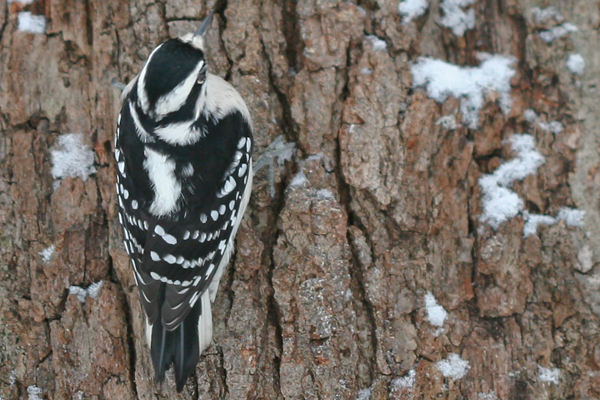 female Downy Woodpecker at Forest Park
We were also joined at Forest Park by several other birders and carefully combed the park seeking to spot as many species as possible.  Two Winter Wrens, more Hermit Thrushes, and Hairy Woodpeckers were the highlights at first, and then we went off to search the pine groves scattered throughout the park for roosting owls.  No owl was found, and, more amazingly, not a single owl was found in the entire count circle!  That is a big miss considering that six species of owl have been spotted on the count at least twice in the last ten years.
When we split up to cover more ground the group I joined going through the gully hit a hot spot that added several species in rapid succession.  First, two Golden-crowned Kinglets foraged past us and then a Northern Flicker flew by, the bright yellow under its wing clinching its identity during our split-second look. A flock of Canada Geese going overhead was joined by a single Double-crested Cormorant, and a small flock of Brant flew by as well!
We then had a short break for a late lunch before meeting back up to bird our last location, Willow Lake, which is at the southern end of Flushing Meadows Park.  I won't go into details about how we accessed the lake for fifth amendment purposes but our visit was highly fruitful.  We flushed the count's only Wilson's Snipe of the day, saw hundreds of American Robins coming in to roost, saw one Great Blue Heron after another take off, added Pied-billed Grebe, Common and Hooded Mergansers, Ruddy Duck, and American Black Duck and basically ended our counting for the day on a high note.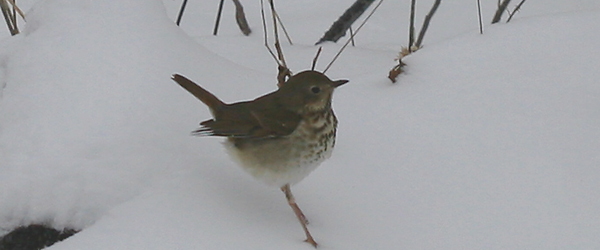 our section had eight Hermit Thrushes, the highest of any section
The compilation diner was at the Fame Diner on Union Turnpike.  The club had requested a private room which we initially were not given.  Then, when they did move us to a private room it adjoined another private room where a raucous anniversary party that included a mariachi band was taking place.  Needless to say, between the band and the blender which was being used to make drinks for the party it was not the easiest environment to do the compilation.  Nonetheless, we managed to add up the species and discovered that our total was 107 species seen on count day, with a couple of others for the count period.  The bird that was in the highest numbers?  Greater Scaup, with well over fifty thousand, almost all seen by one section where they came across a gigantic flock.
Al in all it was a heck of a day but was I ever glad to get home and crash.  What CBC did you do and what was your best bird?