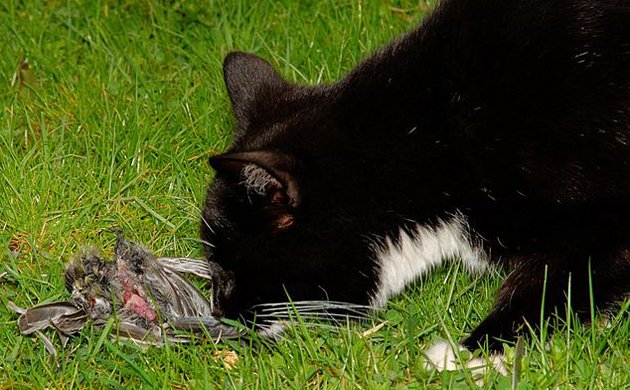 In a sad, stupid, and short-sighted move, the National Audubon Society has decided to suspend their contract with Ted Williams and remove him from his position of "Editor-at-Large" on the masthead. Ted has contributed articles to Audubon Magazine for over 33 years. The reason for Audubon's actions? He wrote a column, not for Audubon, but for the Orlando Sentinel, in which he advocated the killing of feral cats instead of the use of trap-neuter-release. The column was originally followed by "Ted Williams is editor-at-large for Audubon magazine" but was subsequently labeled as expressing the views of Ted Williams and not those of the National Audubon Society. (It has also apparently been edited by the newspaper since it was originally published to make it more palatable for the crazy cat people.)
What is perhaps most shameful about the statement Audubon put on their Facebook page is how they tried to distance themselves from Ted Williams:
Ted Williams is a freelance writer who published a personal opinion piece in the Orlando Sentinel. We regret any misimpression that Mr. Williams was speaking for us in any way: He wasn't. Audubon magazine today suspended its contract with Mr. Williams and will remove him as "Editor at Large" from the masthead pending further review.

Mr. Williams is not an Audubon employee. He is a freelance writer and a conservationist who has written for Audubon for 33 years. He writes for numerous publications.
When one of the leading organizations for bird conservation in the United States caves to the pressure of the crazy cat people that is just disgusting. Feral cats kill birds by the billions in the United States and the only real solution to the problem is removal and euthanasia, along with heavy fines for those caught dumping cats.
Ted Williams is one of the few reasons I read Audubon Magazine. I see very little reason to continue doing so if his writing no longer appears there.
Hat-tip to Rick Wright who pointed me to the Audubon statement.
This post has been edited to clarify Audubon's actions towards Ted Williams.