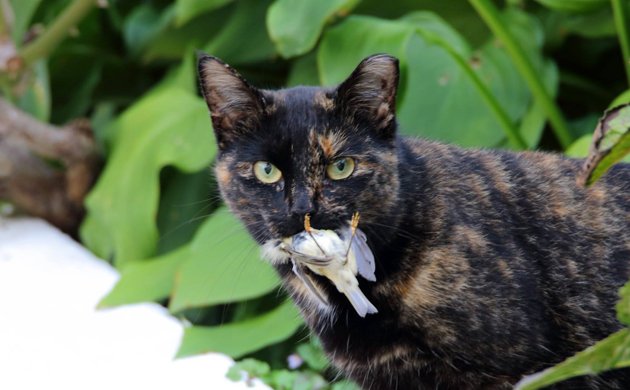 feral cat with a Golden-crowned Kinglet by Isaac Grant
Pity the poor souls at Alley Cat Allies. They have been so successful in suckering cities and other municipalities into believing that they can solve their feral cat problems through Trap-Neuter-Return (T-N-R) that now citizens of those towns have had their eyes (and their noses) opened to what happens when the inmates run the asylum. So on 16 October, which Alley Cat Allies has turned into "National Feral Cat Day," local governments got an earful.
Example one? Fort Myers, Florida, where the feral cats have gotten so bad that people are moving out of their neighborhoods.
Residents point to what the cats are leaving behind as a big component of their frustration – as it draws flies, causes foul odor, kills plants and grass and frequently gets trampled on.

"They poop in my lawn continuously," said Stella Street resident Judy Mahon. "I don't even own a pet, and yet I'm dealing with the pet problem."

Mahon, who is allergic to cats, says that since renting her home her health has deteriorated and now she plans to move when her lease is up – all because of the dozens of feral cats roaming her neighborhood.

"As soon as the lease is up I do plan on probably moving," Mahon said. "Obviously the Spay, Neuter, Release program is just not working – cause where are the kittens coming from."

And she's not alone. Stella Street resident Seen Prenders said: "That's why she wants to move, that's why she's moving, that's why we're moving, that's why everybody moves."
Sadly, the reporter on this story credulously reported on "the vacuum effect" as if it were real. You know, the lie that Alley Cat Allies puts out there that if you remove feral cats from a neighborhood more automatically move in? The truth is that feral cat colonies normalize the idea of outdoor cats and actually encourage cat-dumping. After all, someone is taking care of all those cats, right?
Example two is from Canada, Ontario to be exact. Town residents and officials have realized that four years of T-N-R has been a failure:
Four years ago the town launched a pilot program, the Animal Management Plan, that would trap, neuter/spay, vaccinate and return the cats into the community.

At Tuesday's council meeting Keith said the number of feral cats appears to be increasing – as does the noise, smell and general nuisance.

"The program that we seemed to have in place does not seem to be working," Keith said. "I realize the number of those (cats) that are caught relies on volunteers and those that are caught are spayed or neutered and returned to the community, but it still means we have a lot of cats."
As we have mentioned many times here on 10,000 Birds, cats belong indoors because it is better for them, better for wildlife, and better for people. T-N-R is an abject failure and the charlatans at Alley Cat Allies and similar organizations should not be given credence by anyone who wants to keep a livable town. Instead of T-N-R you should support the American Bird Conservancy's Cats Indoors program.