When one is doing a Big Year in New York one must go on pelagic trips. As many as possible. Because I wasn't doing a Big Year at the beginning of the year I didn't go on the February trip out of Freeport so I had a giant hole in my year lists where wonderful alcids like Common Murre, Dovekie, and Razorbill should have been. And while the pelagic trip in September helped with my year list, alcids are not at all likely to occur in New York waters in September, and, not surprisingly, we didn't see any. This is why I spent all day Sunday on a boat on the Atlantic Ocean in sleet, rain, and snow.
When I arrived at the boat on Sunday in the predawn darkness I was not awake yet and I wasn't sure how I had managed to arrive in Freeport after having arisen in Queens. It was nice to see some familiar faces and catch up on the birds that everyone had seen recently (there were at least four other birders on the boat that I knew of who had already cleared 300 species for the year, including a couple in the 320's) and by the time the Captain Lou VII was off I had come out of my stupor and was ready for some birds!
Too bad it was still dark. As the boat cleared Jones Inlet and headed out to the open sea the sun had risen (though it stayed behind clouds all day) and we were out on the deck hoping to see some good gulls or ducks as we cruised due south. We didn't pick up anything terribly rare but we did see Northern Gannets which are always a pleasure.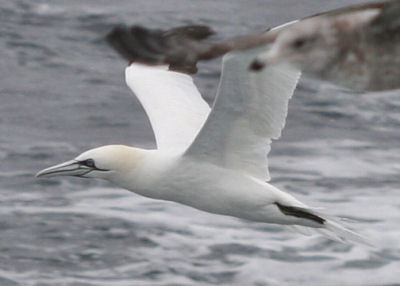 Oddly, the beginning of the trip, led by Paul Guris, the genius behind See Life Paulagics, was highlighted not by the alcids, gulls, fulmars, and kittiwakes we were hoping to see, but by land birds swept out to sea by the strong northwest winds overnight. We spotted a Fox Sparrow, at least one Red-winged Blackbird, an American Pipit (identified by ear), an American Goldfinch, a White-throated Sparrow, Dark-eyed Juncos, a flock of seven birds that were not identified but were probably Horned Larks, and, most amazingly, two Common Redpolls that landed on the boat, providing a couple pelagic participants a most unexpected lifer!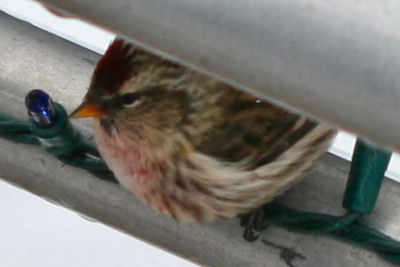 Common Redpoll on the railing, one deck down
exhausted White-throated Sparrow
The other highlights of the early going were both Dovekies and Atlantic Puffins, year birds for me and birds that the captain carefully maneuvered the boat as close to as possible to get everyone the best looks he could. At least, we did this for the first several sightings until it got to the point where everyone had had their fill of both. That is not an uncommon occurrence with Dovekies, of which we ended up tallying more than 200, but for Atlantic Puffins, well, we hadn't dared to hope for more than one or two, but by the end of the trip we had spotted 22!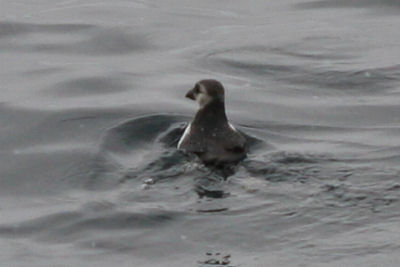 Atlantic Puffin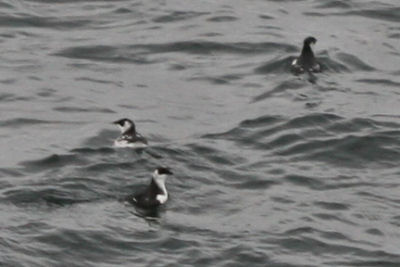 Dovekies
A single Razorbill was spotted in the distance and by the time I got to the side of the boat that it was on it was in the air and pretty distant. Fortunately, I was standing near Paul, who, as always, was making sure people knew the field marks, including the triangular tail.
We had been hoping for a Pomarine Jaeger, the most likely jaeger at this time of year but somehow the only jaeger we saw was a Parasitic Jaeger (Update: a review of photos by expert birders has determined that the bird was in fact a Pomarine Jaeger. Now I have the dilemma of whether or not to count it.) that flew past the boat and looked like it was going to fly into the crowd of gulls chumming in our wake but, in a surprising role reversal, a Herring Gull chased it away from us disappointed birders.
And the larids, ah, the larids. In addition to Bonaparte's, Ring-billed, Great Black-backed, Herring, and Laughing Gulls we had much better looks than I had Saturday at not just one Lesser Black-backed Gull, but three! Of three different age groups! And not one, but two first-year Iceland Gulls. And I haven't even mentioned the Black-legged Kittiwakes! Wonderful, especially the birds that were behind the boat, gobbling down chum.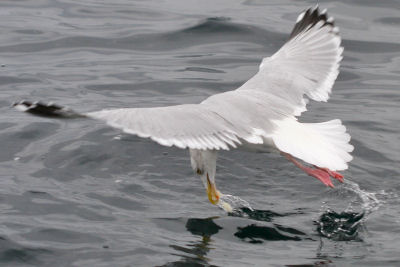 Herring Gull getting some bread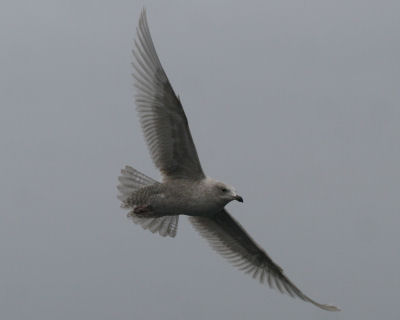 Iceland Gull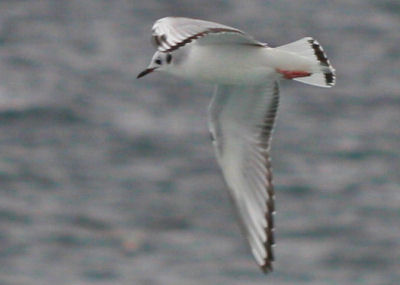 Bonaparte's Gull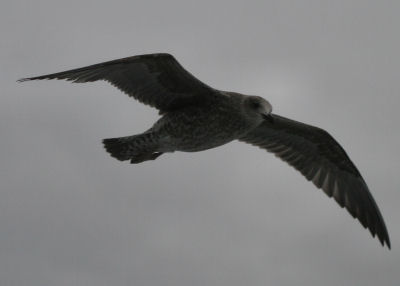 Lesser Black-backed Gull
And don't ever, ever let balloons go to fly up, up, up and out of sight. They end up killing birds. That's what the balloons that you let go do. They kill birds, that, besides their intrinsic value as living creatures, I really want to see.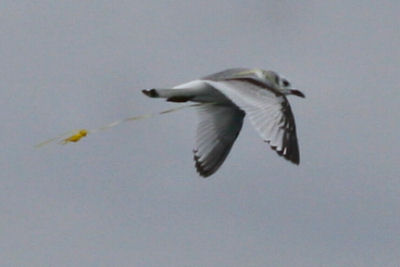 doomed Black-legged Kittiwake
After watching the birds for hours, alternately getting sleeted and snowed upon, and occasionally getting some salt spray when I was stupid enough to stand in the exact spot where the spray always hits when the boat accelerates while the boat accelerated, I wanted some hot food. The birding had hit a lull, if one can define a lull as meaning all we were seeing was the occasional Atlantic Puffin or Dovekie and the Iceland Gull that had been behind the boat for about an hour. I headed down to the galley and ordered a three-dollar cup of Easy Mac, a somewhat vile, microwavable version of Kraft Macaroni and Cheese. While I was waiting for my culinary delight, but before I had paid for said culinary delight, I noticed that the eyes of the gentleman birder standing across from me looking out the window over my shoulder had gone wide and then he bolted for the door. I turned my head and saw a flash of a gull-sized but not gull-shaped bird going past the window. I was out the door in a flash to cries of "fulmar" ringing down from the upper deck. The bird had headed to the back of the boat and around the other side so I ran around the back, up the stairs, and to the rail and saw the bird below, a lifer and a heck of a cool bird: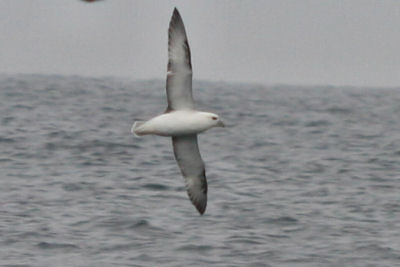 Northern Fulmar
After watching the bird until it disappeared I headed back downstairs, paid my three dollars and got my Easy Mac. I was enjoying it immensely, mostly because it was warm, back on the upper deck when I was asked if I had been buying my snack when the fulmar flew past and had I seen the fulmar? I said yes to both queries and pointed out that I had just ordered the Easy Mac when the fulmar appeared. Of course, when no new birds came into view for the next half-an-hour, I trudged back downstairs for more Easy Mac. I had just been handed my second three-dollar bowl when a birder came in and sat down, talking about what good views of the fulmar we'd had. I agreed, wishing another one would appear. He said, "Well, that's what I was talking about, we just had a second one that gave us great looks."
Apparently, Northern Fulmars really like Easy Mac. Fortunately for me, a short while later three more fulmars were spotted resting on the water some distance from the boat. As we approached a Herring Gull beat us to them, attacking one of the fulmars viciously for no reason we could see. Oh, and I got a picture of the assault.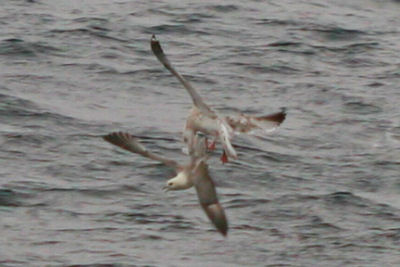 By the end of the trip we had seen no fewer than twelve Northern Fulmars, including a dark-morph and a medium-morph! Not bad for a bird I had never seen before.
When we finally got back to port exhaustion had set in but it was a good exhaustion, the kind that comes when you are tired but know that it was worth it. Five year birds, one of them a lifer (six year birds and two lifers if I count the Pomarine Jaeger), and great looks at most of them had made the twelve hours on the boat go by far too fast. If only I had birds to look at on my near three-hour drive back to Albany through the freezing rain…
And make sure to check out Rich's recounting of the pelagic as well.