Saturday I was down in New York City once again and because Daisy has law school finals to study for I had plenty of free time so I went shopping at the mall. Ha! Of course I didn't go shopping: I went birding. Because I had promised Daisy a ride to her group study session I couldn't get an early start so I figured it would be a perfect day to bring a non-birder birding (for some reason non-birders seem not to understand the joy of pre-dawn awakenings).
Anyway, the non-birding friend that I dragged off to scour the beaches and preserves of New York City and Long Island with was Pam, whom I met in Germany while at my friend Mike's wedding. She couldn't understand why, after the wedding, I headed up to the Baltic Sea to look for avians when such notable destinations as Prague or Amsterdam were within such easy reach. So I had to make the attempt to show her the wonder and joy that is my favorite pastime (ok, ok, obsession).
I didn't pick the ideal initial introductory spot. You see, geographically, after picking Pam up in Brooklyn it made sense to stop at Fort Tilden to look for the Lesser Black-backed Gull that a fellow Big Year birder, Pete Shen, had informed me was present. But, really, there are birders who don't like looking through flocks of gulls trying to find the rarity and non-birders, well, let's just say that Pam was probably a bit bored by the time I found my lifer Lesser Black-backed Gull and year bird number 306. City dweller that she is, though, she liked being out on the wide-open beach, and she seemed to appreciate the Sanderlings so I don't think it was too bad for her. We also spotted Purple Sandpipers, Yellow-rumped Warblers, Northern Cardinals, a Black-capped Chickadee, Song Sparrows, and a White-throated Sparrow on our walk along the beach and back on the road through the dunes. Pam was excited when she recognized the "chick-a-dee-dee-dee" of the chickadee and more so when I pointed it out to her and told her what it was.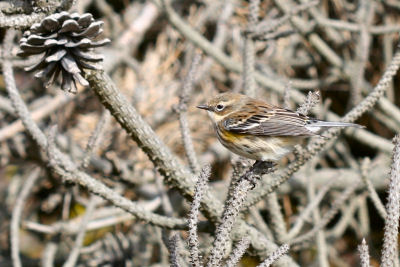 Yellow-rumped Warbler

After Fort Tilden we headed over to what should have been our first stop to better ease Pam's transition from non-birder to birder: Jamaica Bay. The easy walk around the waterfowl-laden West Pond was much more enjoyable and the Ruddy Ducks, American Wigeons, Brant, Canada Geese, Mute Swans, American Coot, Great Egrets and Black-crowned Night-Herons were much more fun to look at than gulls. Even more exciting than those birds, however, was the Ash-throated Flycatcher, probably the same one from two weeks ago, that cooperatively flew in front of us and sat for pictures and extended viewing.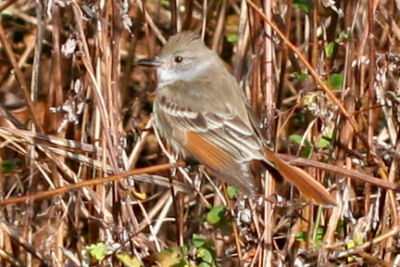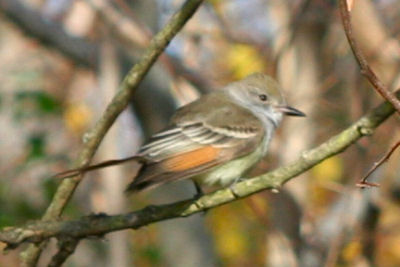 I did feel bad for the birders we met on the way out who were there for their fifth time trying to see Jamaica Bay's Ash-throated Flycatcher…if even a non-birder like Pam could see one, well, that's just not right (I did let them know where we saw it so hopefully attempt number five was successful)!
After the excitement of the rare bird we arrived back at the visitor center and Pam suggested a stop at a diner for some food. This seemed odd to me as it was still daylight out and there were birds to see but, heck, sometimes a birder has to accommodate the non-birder who has started to turn a bit blue from the cold. Over my omelette and her reuben we made plans to check out Fire Island, where Pam had never been, but when I got a text message from Jory that Harlequin Ducks had been reported at Point Lookout our plans changed. Hey, sometimes non-birders have to accommodate birders (and Pam had never been to Point Lookout either).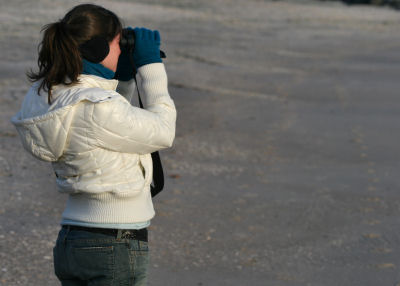 Pam admiring the Harlequin Ducks
So we got to Point Lookout and at the first jetty spotted what I was pretty sure were Harlequin Ducks, but the sun was against us and the jetty was occupied by fishermen so after I memorized the field marks I could make out we continued down the beach, planning to check out the ducks on the way back. I was pleased when Pam correctly identified the small flock of Brant loafing on the beach: she had been paying attention at Jamaica Bay! I was even more pleased when we spotted a female Common Eider off the last jetty that let me get some pics.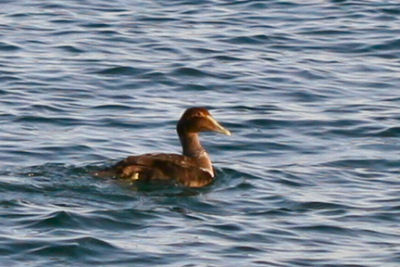 Common Eider at Point Lookout
When we got back to the first, western-most jetty the fishermen had left and the ducks were still there. We walked out on the jetty and, though the sun was still against us, managed to identify the birds (well, identify them as best we could, as I had never seen a Harlequin Duck and had forgotten to take a gander at the field guide prior to getting out of the car but was nonetheless rather sure as they were ducks I had never seen before and they were in the spot they had been reported from). I despaired at the horrible light that prevented good pictures until the Harlequin Ducks, perhaps taking pity on me, decided to swim out to the end of the jetty, around the tip, and back down the other side, putting them directly in front of us with the light behind us. Talk about cool! They repeatedly dove for food, coming up with what I assumed were some kind of mollusk.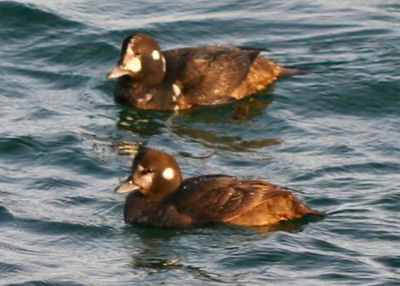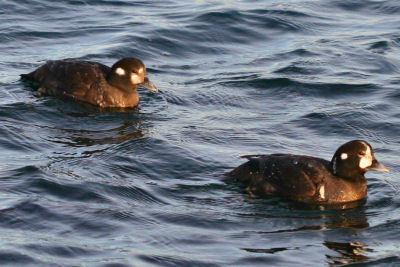 The only downside to my first-ever Harlequin Ducks (and bird number 307 in the state for the year), if there can be a downside to getting great looks at a life-bird, was that the two birds were a juvenile male and an adult female so Pam and I didn't get to see a gaudily-colored adult male that provides the justification for the name "harlequin."
We enjoyed the antics of the ducks for awhile and then headed over to Jones Beach where Long-tailed Ducks frolicked in the water by the Coast Guard Station and we enjoyed a rather spectacular sunset.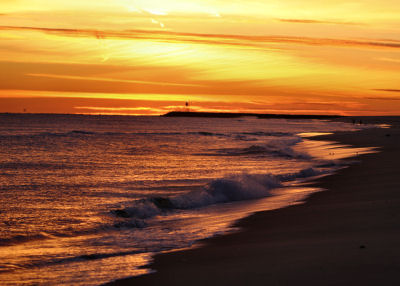 After dropping Pam off I picked Daisy up and we had a late dinner. I didn't get to bed until after midnight, which was kind of rough as I had to get up at five in the morning to make the pelagic trip which you will get to read about tomorrow (you can probably tell by the 312 up in the right corner that it was a pretty darn good trip).
And is Pam a birder now? Well, she doesn't own a pair of binoculars or a field guide yet but I think she might be on her way to this sick and depraved addiction. Can someone really be considered a non-birder when they have seen an Ash-throated Flycatcher, Harlequin Ducks, a Common Eider, Long-tailed Ducks, Yellow-rumped Warblers, Purple Sandpipers, and Sanderlings in the same day? I think not, at least not for long…