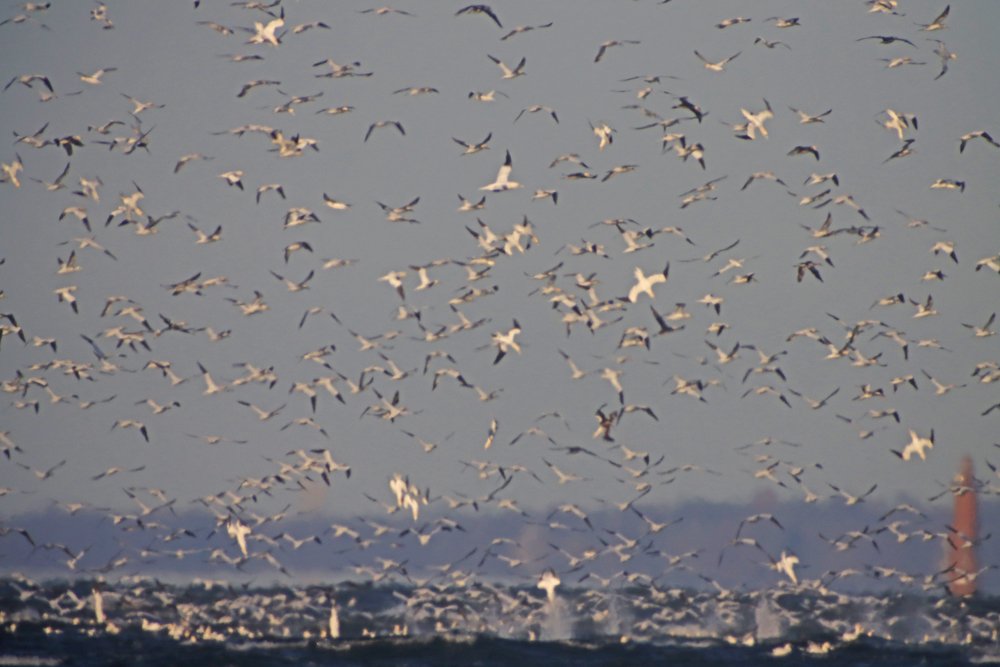 Few birds are as spectacular as a Northern Gannet in a plunge dive. The way they briefly flare up and turn over, pulling their wings in as they plunge, bill-first, like an arrow into a bullseye, is one of those things you just have to see to comprehend. To see literally thousands of them doing so, and in the middle of one of our great modern metropolises, is something to behold. Such was the sight that met my eyes yesterday morning when I took the cold and lonely walk out to Breezy Point.
From the moment I reached the bay-side of the point I could tell that something was happening. I could see large numbers of gannets between me and Brooklyn, and as far as I could see across the lower harbor to Staten Island. As I walked around to the tip of the point the numbers of gannets kept increasing and I saw that they were continuing to come around the point and into the harbor. Well, some were going around the point but a nearly equal amount was dispensing with the need to go around and were coming straight over the point, the quicker to join their fellows in their plunge-diving feeding frenzy.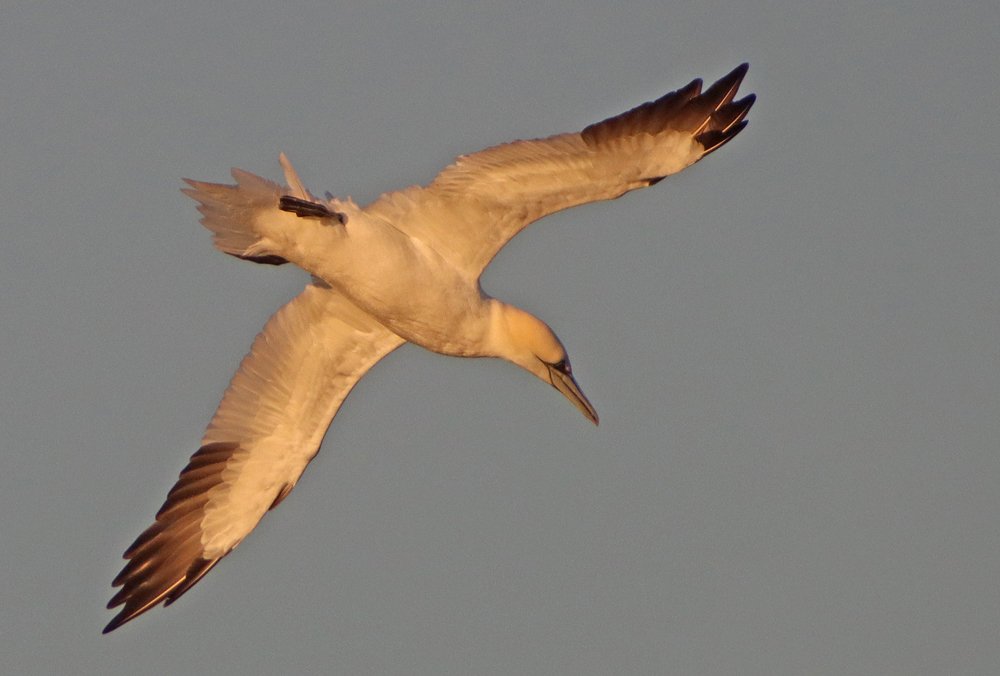 I actually took this photo a couple of weeks ago but I really like it.
I did five one-minute counts of the birds going past and over the point and it averaged 150 birds per minute. I also did an extremely rough count of the birds already in the harbor and came up with roughly 3,000 birds, though I was probably undercounting. The stream of birds coming past the point kept up at that rate for at least an hour, so at least 9,000 birds passed the point to join the 3,000 gannets already there. That means I was looking at, at a minimum, 12,000 Northern Gannets. That's a lot of gannets!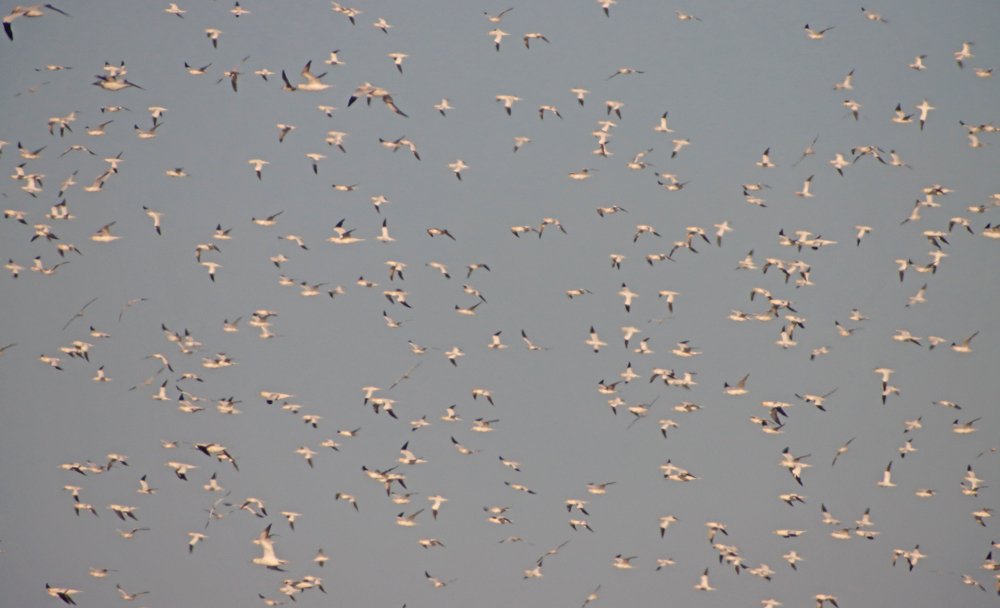 Gannets!
Though I did my best to take pictures and video I mostly just watched the show. What I noticed is that some gannets would start to dive in a spot, probably where there were large numbers of bait fish, and then the hordes would descend, with dozens plummeting at a time. It was fun to watch despite the wind and cold and sea spray hitting me when larger waves hit the jetty. Please forgive the shakiness of the video below: the wind made it difficult to get the tripod not to shake. The main thing is the number of gannets!
It was an invigorating experience and an example of my favorite kind of birding, that of the spectacle. It was also cool to get a Coney Island landmark in the background.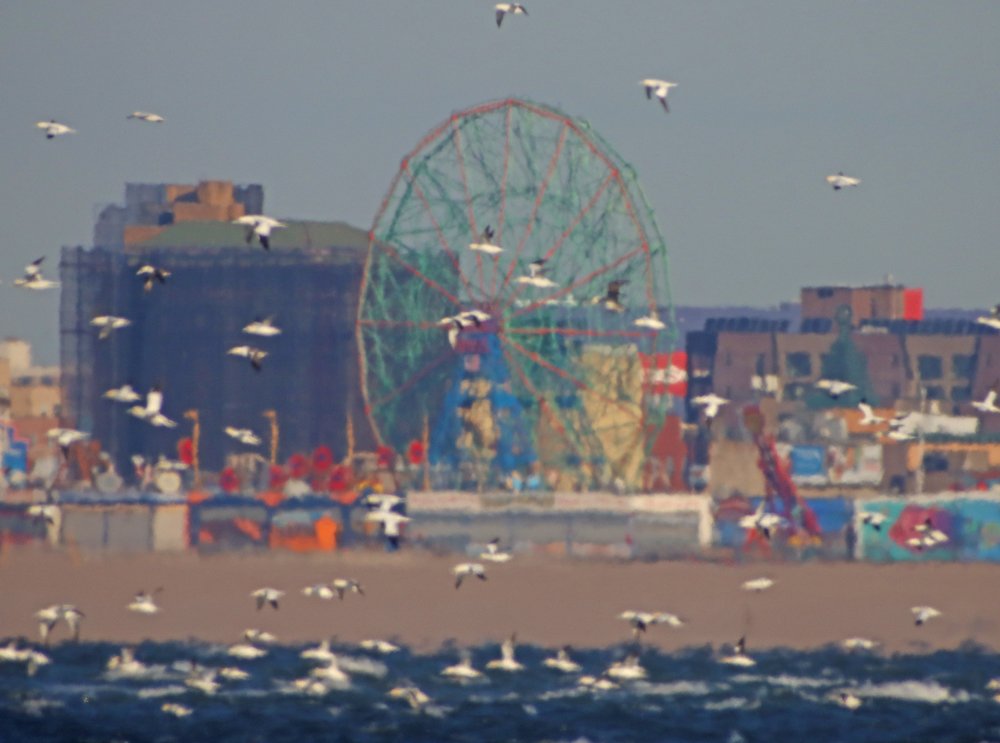 Deno's Wonder Wheel!
I almost didn't go birding yesterday morning with the cold and wind that were forecast. But am I ever glad I did! After all, it's not every day that you more than double the all time high count for a species in your home county, and it is definitely not every day that you get to witness a spectacle like a 12,000-strong gannet feeding frenzy!
…