When a Northern Hawk Owl, normally a denizen of the far white north, was reported in Peru, New York, as a result of local birders combing the area for the Plattsburgh Christmas Bird Count I really wanted to go see it.  When Jeff Nadler posted his amazing pictures of the bird on his website I wanted to go see it even more.  When Jory called me while viewing the owl I wanted to head north and see the bird even more.  So, while home in Saugerties for the holiday (Saugerties being almost halfway to Peru from New York City), I rounded up the troops.  It took some convincing, but finally, by Saturday morning, my mother, my middle niece Raven, and I were in the car and on our way north.
Now the ride to Peru is not short, even from Saugerties.  It is in the north country of New York State, north of even the Adirondack Mountains.  It is closer to Montreal than it is to New York City and to get there we had to drive through the Adirondacks in winter.  The weather cooperated by warming up a bit so that the temperatures were above freezing, shocking for late December that far north, but what the weather gave with one hand it took with the other, as a light rain fell for most of the day.  But if a three-hour drive couldn't dissuade my twelve-year-old niece or my mom from wanting to see the Northern Hawk Owl than a bit of light rain was certainly not going to stop me.  Of course, the three-hour ride went by pretty quickly for Raven, who fell asleep in the back seat, but it couldn't have gone by quickly enough for my mother who was holding on with white knuckles as I got the Honda up to speeds that a Lamborghini would be hard-pressed to match.
Once we reached exit 35 off of the Adirondack Northway and took the left onto Bear Swamp Road we were nearly giddy with anticipation (well, at least I was).  We took a turn, drove through downtown Peru (blink and you'll miss it), headed north on 22B, also known as Pleasant Street, and kept an eye out for Brand Hollow Road, where we took a left and drove past apple orchards galore.  When Brand Hollow ended at Clark Road we took another left and there the owl was (it was easy to spot seeing as several cars were pulled over and numerous birders were pointing all kinds of optics at it).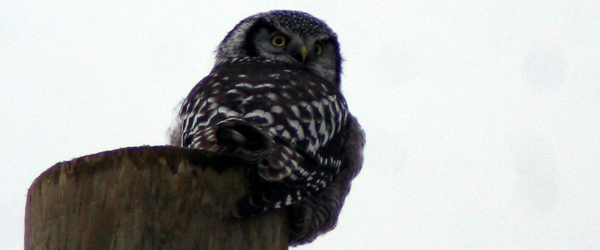 At first, the owl just sat on the top of a tree but then it made flights from one perch to another to another, an array of optics following its every move.  It was amazing to watch, and the rain falling on us was ignored, as was the fully overcast sky and the gray and dismal light.  Through a kind birder's scope we ogled the owl's glowing yellow eyes and sharply hooked yellow beak, oohing and aahing as is only appropriate when one is appreciating an owl in the open.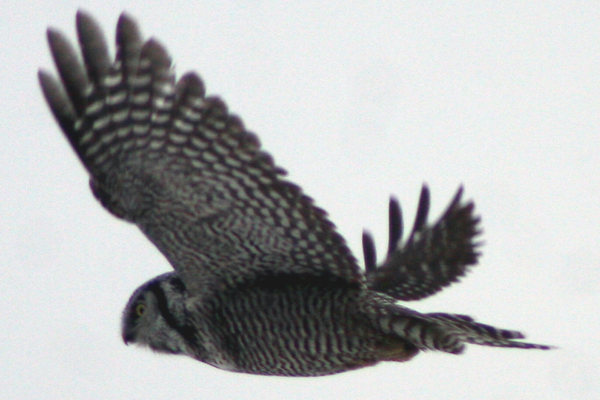 It was quite a show the owl put on, chasing Blue Jays into an orchard and causing locals to pull over and ask what the fuss was all about.  Other birders had traveled from New Jersey, Pennsylvania, and Vermont, and I think they all returned to their respective states satisfied with the looks that they got.  I know that my mom and niece both enjoyed the hour we spent watching the owl, and my mom has started talk of buying a new field guide and a good pair of binoculars.  Raven was inordinately pleased at seeing her namesake bird for the first time on the side of the northway on our way back south.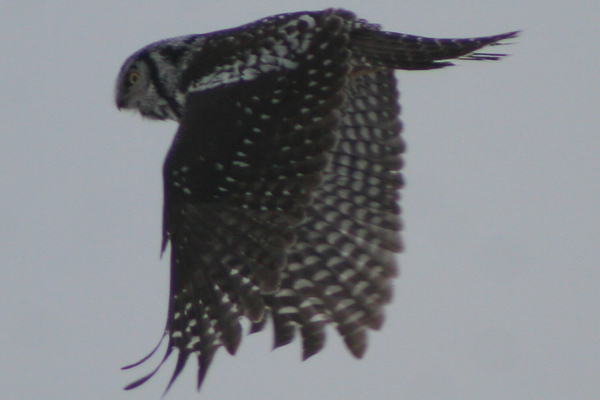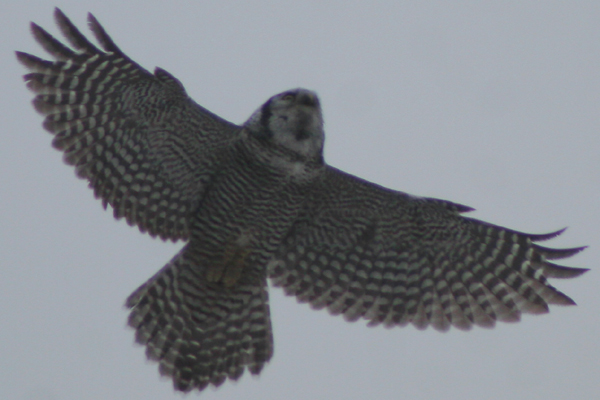 I highly recommend trying to see such an owl if one happens to show up in your neck of the woods.  Even better, bring some non-birding friends or relations: if a Northern Hawk Owl isn't enough to make someone a birder nothing is.  I can't think of a better way to spend a rainy day than seeing a great bird with loved ones and if a Great Gray Owl should show up way up north, well, you know I'll get there one way or another…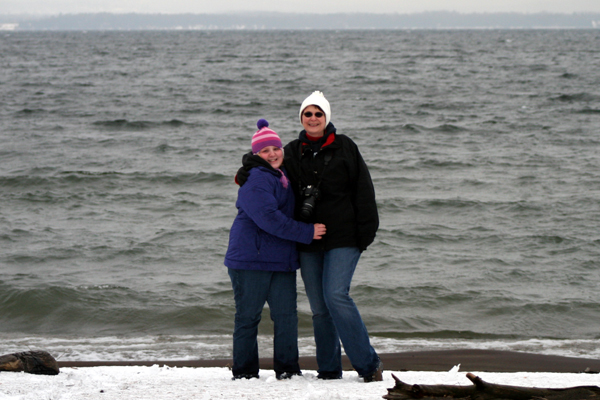 my mom and Raven on the shore of Lake Champlain
Two more things.  On Sunday, some birders, including Peter Schoenberger, got to see the Northern Hawk Owl eating lunch…maybe we'll be so lucky next time.  And this post has been submitted to Bird Photography Weekly #18.  Go check it out!