Last year we at 10,000 Birds were tagged with a meme by Tai Haku that compelled us to list our Top 10 Nature Moments of 2007.  This year we were not tagged by a meme but we decided to do another top 10 list because, well, they're fun!  So, without further ado, here are the 10,000 Birds Top 10 Birding Moments of 2008, in chronological order, with three from each of us and a bonus to make it an even ten.
In January, Corey, accompanied by Daisy, took a wonderful trip to Santa Cruz Island off the coast of California to see a species endemic to the island, the Island Scrub Jay.  While the jay was the star of the show the ferry ride to the island was a trip worth taking all by itself, with thousands of dolphins entertaining the ferry's passengers and shearwaters and auklets delighting the few birders on the boat.  Every birder should get to take the trip to Santa Cruz Island.
Another highlight in January was when Charlie saw ten Indian Courser on one of his first trips of the year, when he flew into Delhi and virtually went straight from the plane into a taxi down to Sultanpur: he'd been there all morning (seeing lots of great birds) and was on the point of heading back to the hotel when a chance meeting led to him being shown one of the best birds he's ever seen (and one of Charlie's best birds would cause a heart attack in most birders).  Of course, for most of our readers, seeing any of the birds Charlie got great pictures of that day would have been a highlight!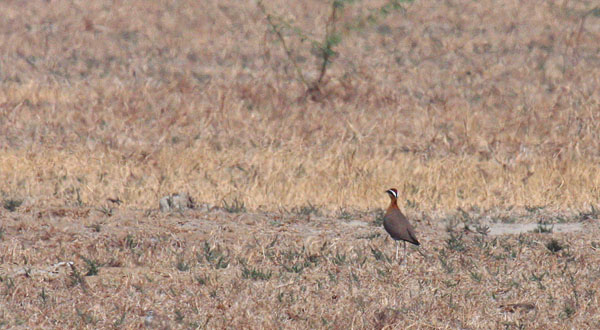 Indian Courser
In February, the three intrepid 10,000 Birds bloggers got together for the first time ever and birded the heck out of the New York City area in the midst of some seriously inclement weather.  Charlie, Corey, and Mike all related a portion of the day's outing, which, while it didn't go exactly as planned was still a heck of a good time.
In March, Mike's entire trip to Guatemala was a birding fantasy, with his excursion to Cerro Cahui the culmination of a series of unforgettable Neotropical avian adventures.  Species like Gray-throated Chat and Rufous-tailed Jacamar were sensational but the real highlight was tromping through the jungle with maniacs like Bill Thompson III, Julie Zickefoose, Jeff Gordon, Liz Gordon, Jeff Bouton, Mike Freiberg, and many others!
Also in March, and even more amazing, was when Charlie saw the "Plover with no proper name" on Changi Beach in Singapore with Simon Cockayne – a unique, unique (that's really unique!) moment that was made all the more intense because he did not know if they'd be allowed into the area to see the bird, or if the rain would stop long enough for them to find it. When they made a mad dash from the car in between the downpours and found one almost straight away Charlie reports that he nearly burst!  Seeing a bird that has not yet been properly described for science would be highlight of any birder's year, heck, it would be a highlight of any birder's life!
At the very end of July and beginning of August Corey had a four-day stretch of birding that left him elated and exhausted.  First, he explored the Swarovski headquarters with a horde of bird bloggers ( Julie Zickefoose, Sharon Stiteler (aka Birdchick), John Riutta the Born Again Bird Watcher, Helena of Adventures of Bird Girl, Eddie of Birdfreak fame, and Ben of 600 Birds) and then joined said bird bloggers for a trip to South Beach, Cape Cod, Massachussets where he saw two life terns!Then, on the day after he returned to New York City he took a trip to Jamaica Bay where he added two vagrant shorebirds to his life list.  What a week!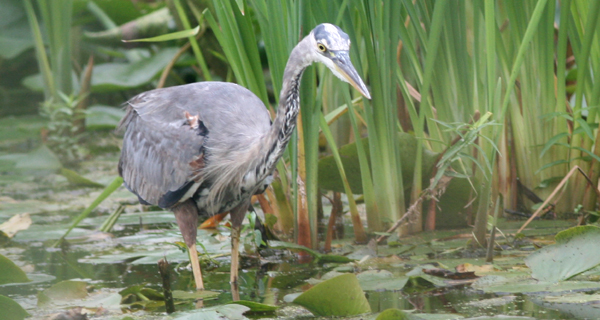 Great Blue Heron on the Montezuma Muckrace
In September, Mike experienced his first Big Day by competing in New York's very best birding competition: the Montezuma Muckrace. The Butcher Birders might not have won the day but Corey, Will Raup, 10,000 Birds puzzlemaster Jory Langer, and Mike charged hard for nearly 24 hours straight and had a hell of a time. Plus Mike spotted his life American Golden Plovers (and Corey got his ABA-area Greater White-fronted Goose)!
In October, Charlie had what was, without a doubt, the best moment of the year: the day he spent with Luca Borghesio, Dominic Kamauand others in Kinangop (Kenya) when he was made a Kikuyu tribal elder and was given a rug with a Sharpe's Longclaw image on it at the inspirational Njabini wool-spinning workshop.  He didn't see many birds that day, but it was one of the best experiences of his entire life…and proof that a bird blog can make a difference.
In November, Mike attended the Rio Grande Valley in Texas, which deserves its reputation as one of the greatest regions for birding in all of North America. Attending the annual Rio Grande Valley Birding Festival is the very best way to discover the best of what this insane area has to offer.  And while excursions to fabled hotspots like Zapata and San Ygnacio, King Ranch, Bentsen-RGV Park, and Estero Llano Grande lived up to their considerable hype, Mike's favorite location was where he was staying. The fabled Fuller Eco Lodge, home of his new friends Marci and Terry, provides a perfect promontory from which to observe just about all the fascinating folk that filter through this event. It didn't hurt that he spotted his first Common Paraques and Buff-bellied Hummingbirds with them!
Later in November Corey saw, for the first time, a Northern Saw-whet Owl in Forest Park.  Sure, it isn't a rare bird and it wasn't in an exotic locale, but it was greatly appreciated by Corey and he hopes to see many more. Of course, the owl Corey saw yesterday was pretty cool too but you'll have to wait a day or two to read about that!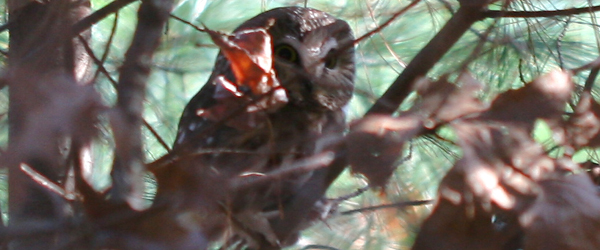 Northern Saw-whet Owl in Forest Park
Here's hoping 2009 will be as fun and exciting and bird-filled as 2008!