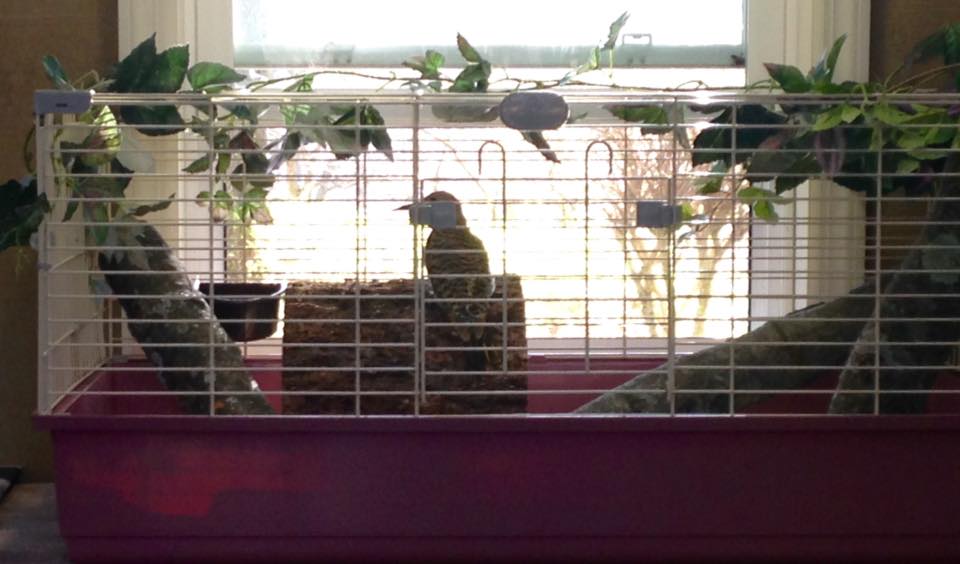 Thud! That awful sound of a bird hitting a window. What comes next?
So many times these situations end badly, which is why we love a feel-good story.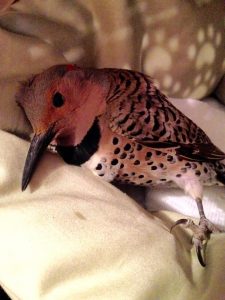 This beautiful Northern Flicker hit the window of a Family Dollar store in Beacon, NY. She was spotted and rescued by Michelle Basignani, who put her in a box in her car and called her friend Daniel Cronk. Daniel called his brother, Dylan Cronk, who called his friend Skye Horgan, whose mother is a wild bird rehabilitator (me). Do you see how these wildlife rescue stories go? It takes a village.
Since I'm on bird sabbatical right now I called Lia Pignatelli, a very skilled songbird rehabber in Westchester County, NY. She said she could take the flicker if someone could transport her, so Michelle brought the bird to Skye, and Skye and Dylan drove almost 90 minutes round trip to Brewster, where Lia works.
The poor flicker had severe neurological symptoms: eyes closed, unable to stand, torticollis (head bent to the side). She couldn't eat on her own, so Lia had to hand-feed her mealworms hourly for two weeks. Each morning Lia would find her lying on her side, propped up by towels, eyes closed. Lia would say "Good morning," the flicker would open her eyes, and Lia would open the flicker's beak and feed and hydrate her. Flickers are difficult birds to rehab, as they tend to stress out and start thrashing and rolling. But not this one.
https://www.youtube.com/watch?v=edenAEmmxOM
Here you can see how severe her head tilt was. Lia gave her very gently daily massages on the contracted side to help her recovery.
Her legs improved, and she began sitting up on her own instead of leaning against the towels. Then she stood, even though her head was still tilted. For a few days there seemed to be no progress at all, then one day she started eating on her own.
https://youtu.be/5A6gf7A6UNk
She grew stronger and stronger, and eventually could cling to the side of her crate. And then … drumming!
https://youtu.be/M0Qe1pk-ZA4
She was moved to a larger enclosure until all her neurologic symptoms were gone, and then to a flight cage where she could fly and regain her strength.
Lia and Skye met in the parking lot of the Family Dollar store to release her. It wasn't exactly prime bird habitat, so they scouted the area across the street and found a beautiful wooded valley with a brook, alive with birds. Skye manned the video camera, Lia opened the door, and the flicker rocketed out and into the woods.
https://youtu.be/rkjtna4yMhE
From intake to release was a little over a month.
"This is what we do," said Lia, speaking not only on behalf of all those hard-working wildlife rehabilitators out there, but for the wonderful people who go out of their way to rescue and deliver the injured and orphaned. "We give them a second chance."
All photos and videos by Lia Pignatelli, except final by Skye Horgan.