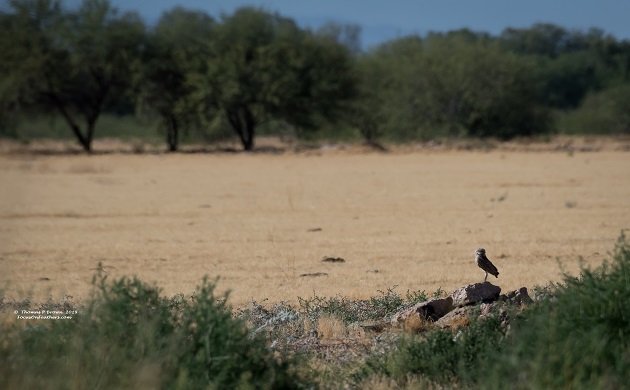 The last couple of weeks have really been a boom for me personally, as far as spotting our local owls goes. Getting to actually see four species, in the last two weeks, and to hear two more is almost unheard of in my experience. It all started in getting to photograph the Northern Pygmy-owls in Madera Canyon. Then a quick check up on the Ferruginous Pygmy-owls that are out in Alta Valley. The Great Horned Owls that live in the palm trees right above our RV have returned and brought with them a pair of fledglings. Last week, a good friend, Dan Weisz gave me a tip on the location of a family of Burrowing Owls that were extremely easy to access. In the same few days I have heard, but not been able to locate, the Western Screech Owl, up in Madera Canyon and several Elf Owls, in Saguaro National Park near where I am living. Another friend recently commented that while she loved all forms of birds, owls were, well, just something special! I have to agree with her, as every time I chance upon an owl, be it something as common as a Great Horned Owl, or something extremely special like Australia's Powerful Owl, or the Verreaux's Eagle-owl from South Africa, I get a huge feeling of accomplishment. The only owl species that were around when I was a child were the Great Horned Owls, so any other species found since then have been a huge level of special for me.
Here is a shot of that Northern Pygmy Owl, from Madera Canyon.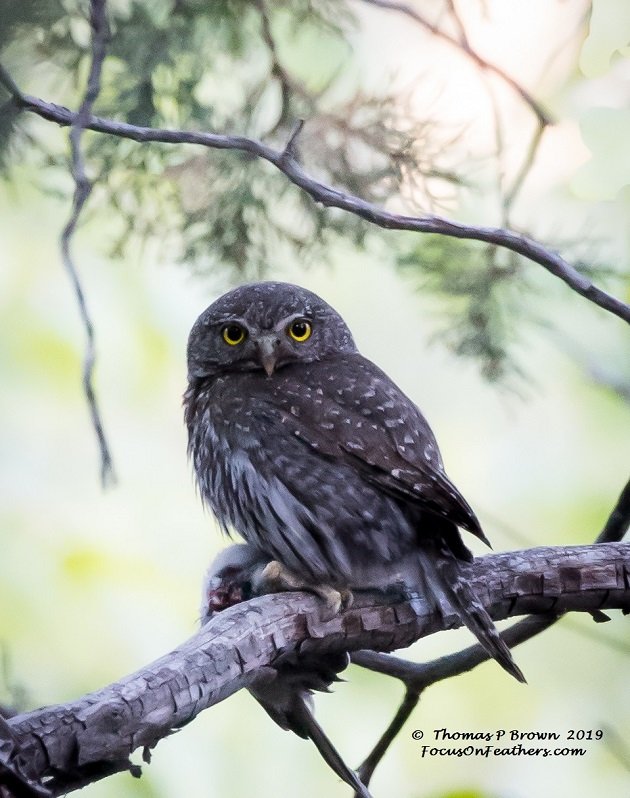 This lovely little owl is one of the Ferruginous Pygmy Owls from Alta valley.
These are the Great Horned Owl fledglings that arrived in our RV Park a few days ago. I am not sure what is going on with the mis-matched iris's?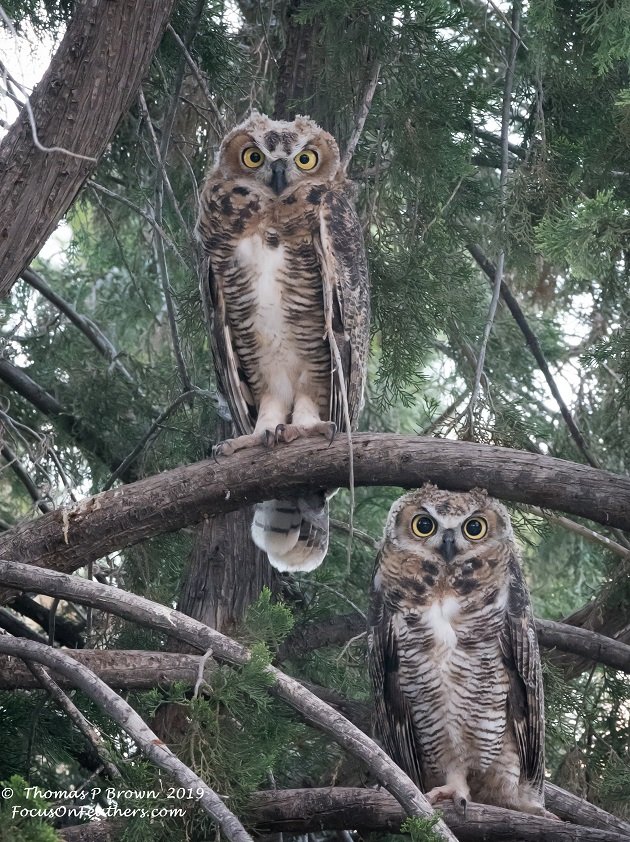 I can't begin to tell you how much fun I had sitting and watching the antics of this family of Burrowing Owls. They are located in the Santa Cruz Flats just north of Tucson, and are quite honestly, living right alongside the road. When I cautiously approached the location that they were reported to be in, I first spotted several actually sitting on the phone lines right above the road. I drove past, not wanting to spook them, and then tried to figure out where to park, to get the best use of the early light, back ground, and bird location. Once I was where I thought I wanted to be, it was quite obvious it didn't matter much to the owls. They flew here and there, chased each other, landed in the middle of the road, and at one point, almost landed on my car. To anybody that might have been in the car with me, I am sure I was very much like a little kid, as I have no doubt that there was an audible giggle or two escaped from my mouth. I counted a total of 9 owls, with 4 being mature adults and 5 juvenile birds. Here are just a few of nearly 400 photos that I took that morning; I hope you enjoy them, as much as I did taking them!
This is one small part of the family group on the dirt between the small irrigation canal and the corn field.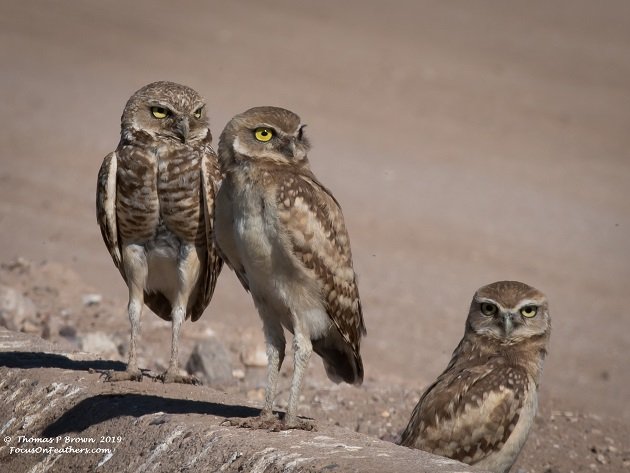 I guess they don't like staring into the sun, and more than we do!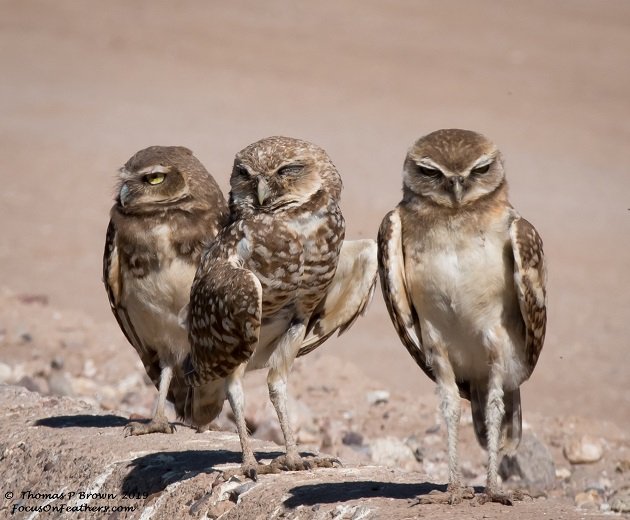 A little less than a mile away, there is a spot where a nice population of Burrowing Owls, have been relocated in hopes of starting a new breeding population. Look like it is working as last I heard there were three pairs that fledged birds this spring! This is a look at the man-made burrow openings.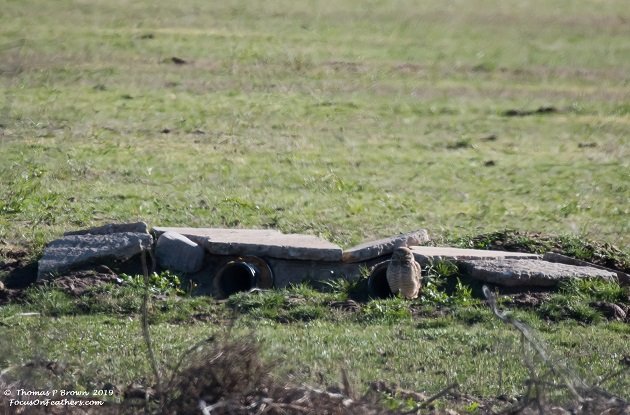 Several times, a couple of the juvenile owls would take off in a game of chase. Their darting and dashing made for tough photos from inside a car/blind, but I did manage to capture this image.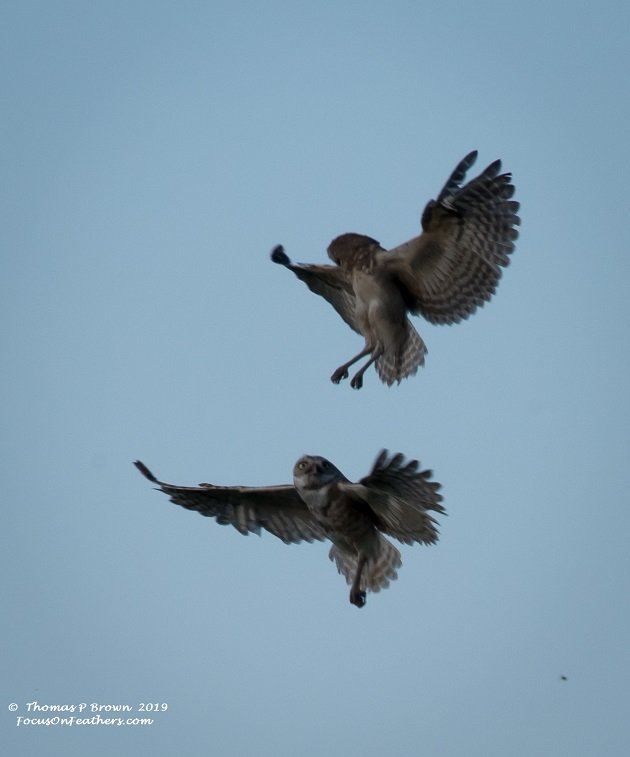 While their flying skills looked to be fully developed, landing was sometimes an adventure. This young owl is landing on the over head wires with it's eyes closed!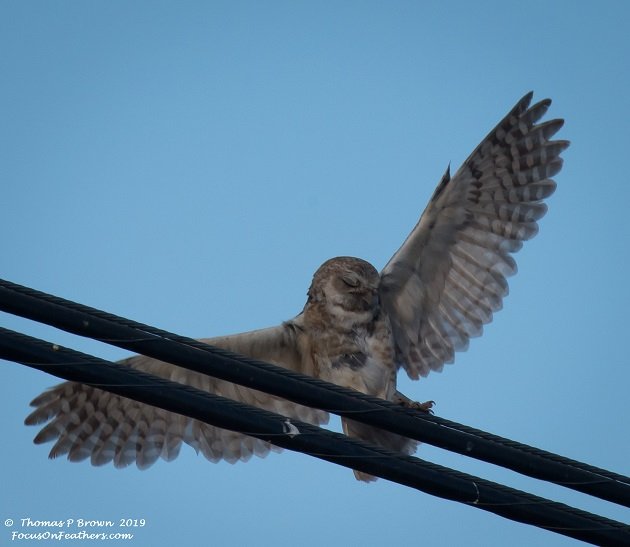 This one was just trying to stay out of the canal, and not run over it's sibling.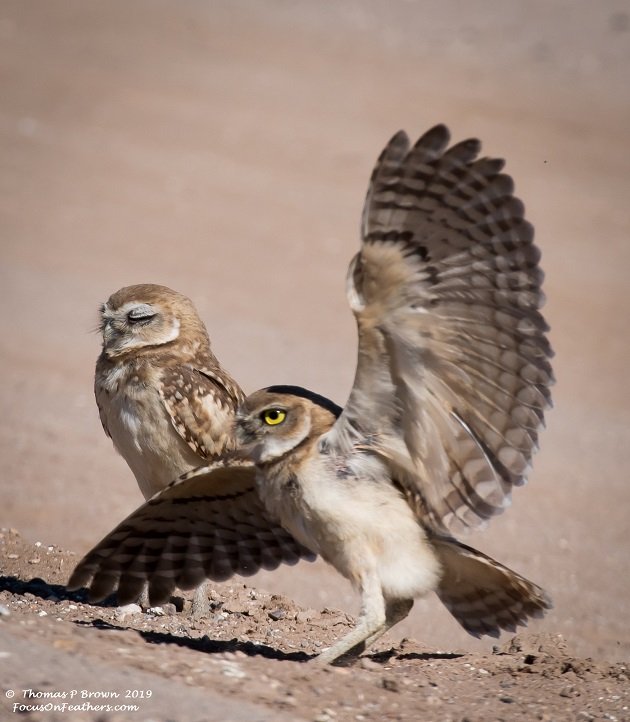 In a real first for me, I managed to get this series, of one of the juvenile birds getting a drink from then irrigation canal.
Sneaking down the slimy bank carefully…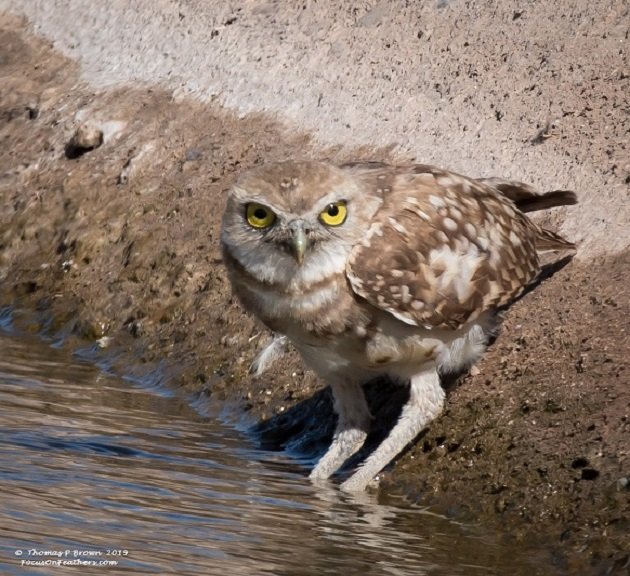 Umm  cool water on a pretty hot Arizona day!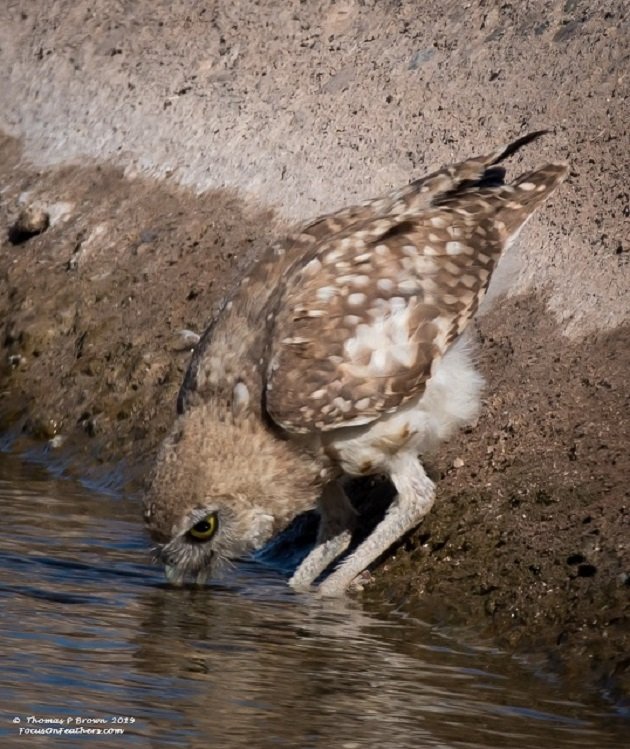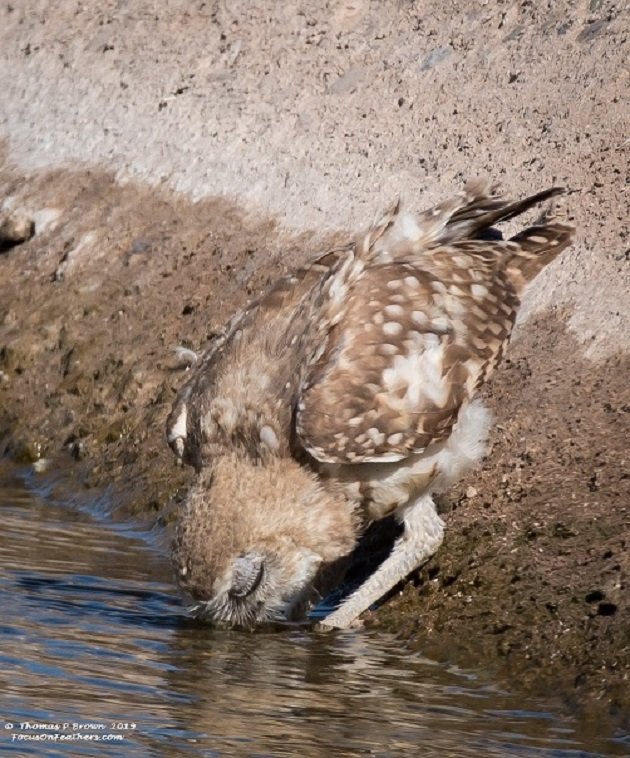 While they are located on a pretty quiet farm road, there were still  a couple dozen cars and trucks went by while I was sitting they. That was no deterrent from landing right in the middle of the road.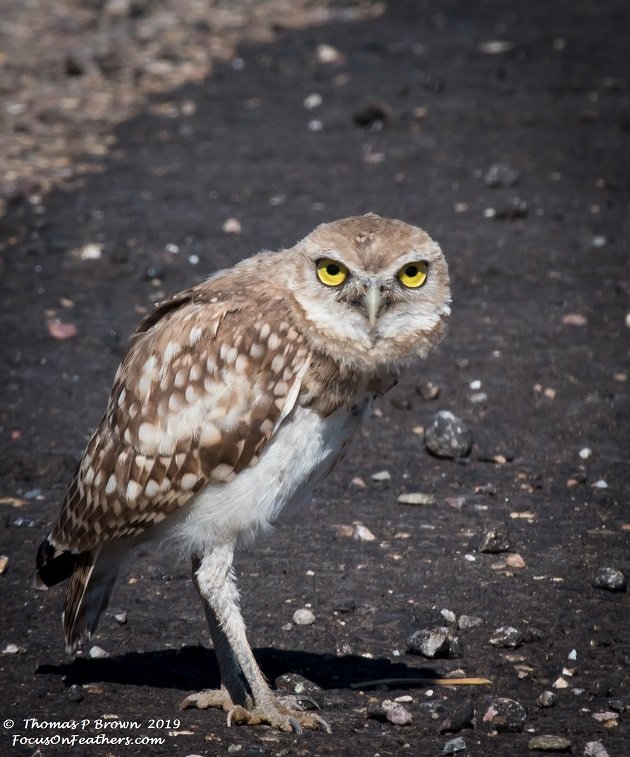 Even low flying passes on the road seemed a little daring to me, but not to these young Burrowing Owls.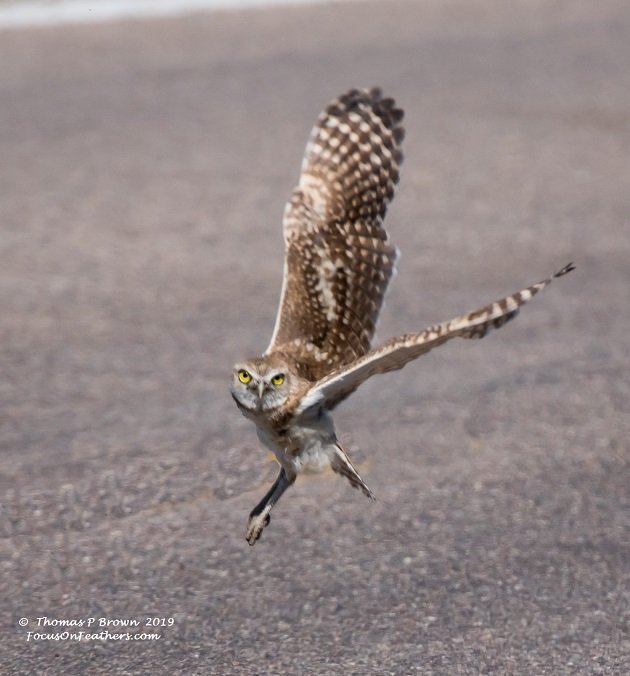 There was times when all they did was stand around as well, but I still kept shooting…I was just having way to much fun to stop!!