A recent visit to the East Pond of the Jamaica Bay got me up close and personal with quite a few species of shorebird, among them several Pectoral Sandpipers.  Calidris melanotos is not at all a rarity in Queens during the fall migration but it is not so common a shorebird that one would want to overlook its presence.  It is also seen on occasion in spring migration in coastal New York, but fall migration records greatly outnumber those from spring.  Inland, according to Bull's Birds of New York, in upstate New York, it is more common over all but even more so in spring.  This is because on its northbound migration most birds head up the middle of North America while on the southbound return greater numbers take a more eastern route. Bird Life International lists the Pectoral Sandpiper as a species of least concern, good news both for the bird and for those who like watching them.
Pectoral Sandpipers can go from a scuttling, crab-like, hunched over little shorebird to an upright and angry menace to peeps in the blink of an eye.  Sibley thinks that the Pectoral Sandpiper "resembles a large Least Sandpiper in appearance" and I think that is a reasonable description.  It has the crouchiness of a foraging Least Sandpiper and the coloration is rather similar.  Pete Dunne describes the pec this way:
A big beefy peep or a medium-sized sandpiper (larger than White-rumped or Buff-breasted; about the same size as Solitary Sandpiper) distinguished by its variable but largish size, well-patterned upperparts, idiosyncratic shape, and distinctive corduroy bib.  The overall structure seems ungainly.  The distinctly large and sturdy body is somewhat humpbacked, big-chested, and occasionally pot-bellied.
The Pectoral Sandpiper is described in The Shorebird Guide as "bulky and broad-chested but attenuated; smaller head, longer neck and legs than Baird's; primaries equal with tail tip."
But enough with the descriptions; let's look at the images!  I felt lucky to see some of these shorebirds on their way south to southern South America.  Let's hope they fatten up enough in the fertile precincts of Jamaica Bay to complete their long journey.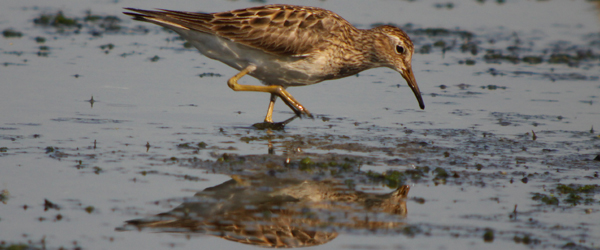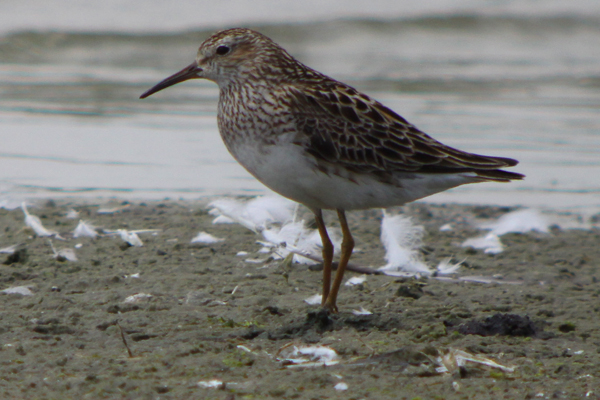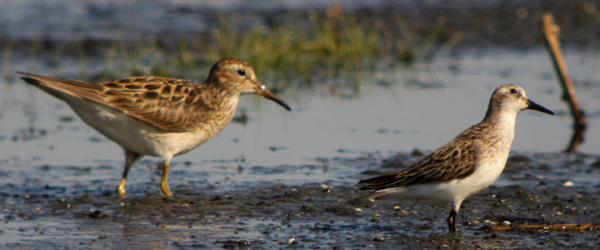 The images above and below show a Pectoral Sandpiper with a Semipalmated Sandpiper.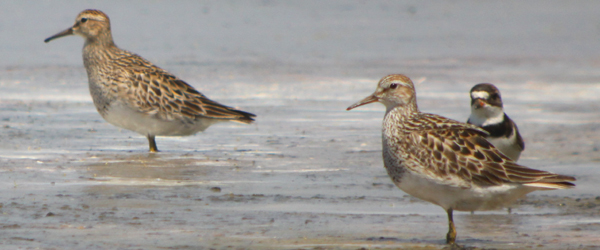 The shot above includes a Semipalmated Plover with the two Pectoral Sandpipers.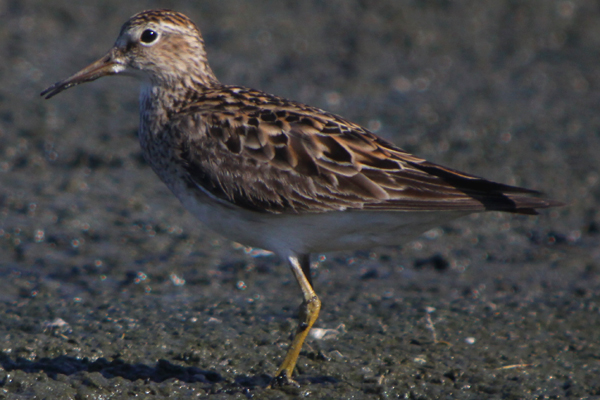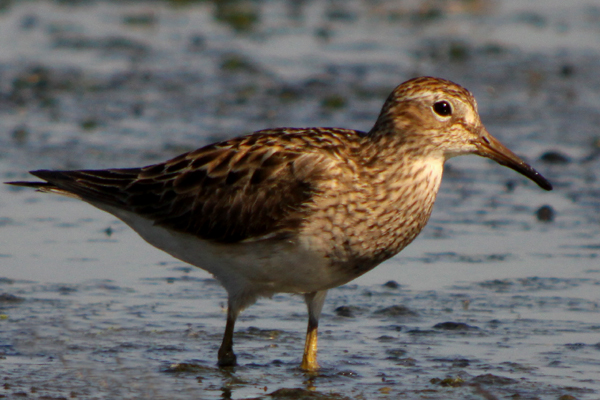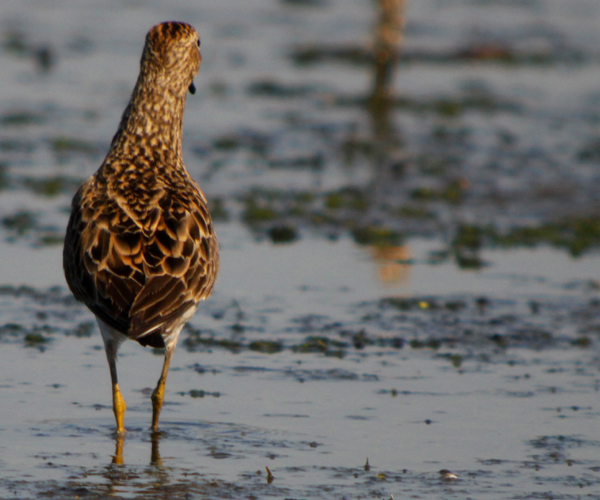 If you are interested in seeing a juvenile-plumaged Pectoral Sandpiper click here.
May you see several Pectoral Sandpipers this year and may the Pectoral Sandpiper continue its long migration for as long as there are birds!