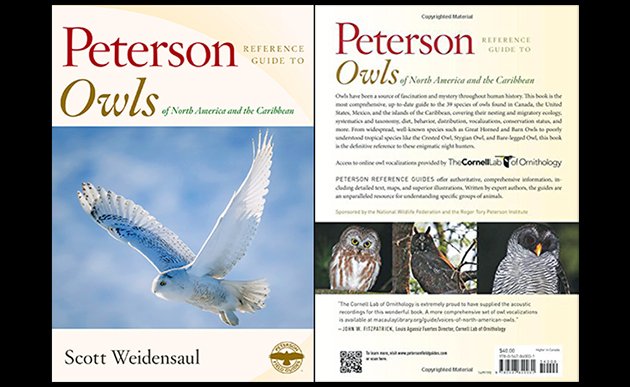 Here are some things I've learned from the Peterson Reference Guide to Owls of North America and the Caribbean by Scott Weidensaul:
The Burrowing Owl is the only North American owl species where the male is larger than the female, albeit, only slightly larger. (And the term is 'non-reversed size dimorphism.')
The Caribbean islands were once populated by enormous owls, some over 3-feet tall, some flightless. All now extinct. (Horror movies are missing out on a great opportunity.)
There are distinct differences between Eastern Screech-Owl morphs. Rufous morphs have sharper hearing, Gray morphs have a lower metabolic rate, amongst other features, all leading to the theory that the morphs have nothing to do with camouflage and a lot to do with environmental adaptation.
Whiskered Screech-Owl looks and sounds like Western and Eastern Screech-Owls, but is more closely related to Tropical and White-throated Screech-Owls. Which is odd because these South American owls look and sound absolutely nothing like Whiskered Screech-Owl. Mitochondrial DNA analysis strikes again.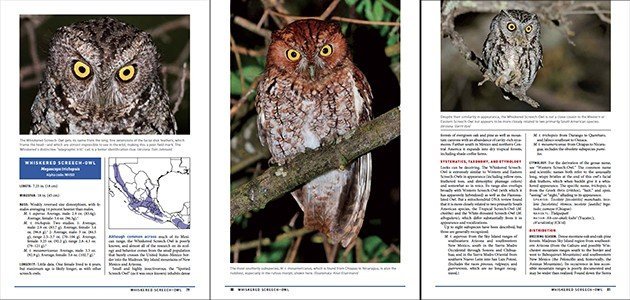 I could go on and on, it's that kind of a book—a comprehensive treatment of a species we respect and adore, based on the most current research, written in a style that, while factual, is from the author's viewpoint, flavoring facts with a witty, observant personal quality. In a world of owl books (over 150 titles not including children's books), Scott Weidensaul has written an authoritative, beautifully illustrated reference guide, that will be essential to any birder or naturalist who wants to go beyond the basic information in your field guide or handbook.
Scott Weidensaul is a nature writer with roots in journalism. His many book titles include Living on the Wind: Across the Hemisphere with Migratory Birds, a finalist for the 2000 Pulitzer Prize for Nonfiction, The Ghost with Trembling Wings: Science, Wishful Thinking and the Search for Lost Species (2002), Return to Wild America: A Yearlong Search for the Continent's Natural Soul (2005), and Of a Feather: A Brief History of American Birding (2007). He is also a field researcher and bander, a co-founder of Project Snowstorm (the brilliant research project that bands and tracks the movements of owls that appeared in our recent irruptive years), the coordinator of the Northern Saw-whet Owl research project at Ned Smith Center for Nature and Art, and a licensed hummingbird bander. If you are hosting an unusual hummingbird in eastern Pennsylvania, this is they guy who is likely to come to your home and band it. So, Scott Weidensaul comes to this Reference Guide with three important qualifications–expertise, the ability to explain complex scientific ideas in friendly, accessible language, and a passion for birds and research.
The latter is important, because I don't think there is a sentence in this book that is not based on ornithological research, from wing measurement to map distribution to behavior to conservation status. Of course, most natural histories are based on research, but Weidensaul's approach is highly specific. We don't simply learn that Great Horned Owls sometimes eat fish, we learn that in northeastern California, they eat Tui chub and in Pennsylvania they eat brown bullhead catfish. We also learn that Snowy Owls, so quiet on our beaches and fields, give courtship hoots and nest defense vocalizations on their breeding grounds, and then find out exactly what these calls sound and look like–"threat hooting" with upright posture, hooting bouts of multiple males (one involving ten males was reported in 1932), the combination hoots, bill snaps and barks of nest defense, the piercing female calls of courtship feeding.
This high level of detail is balanced by Weidensaul's prose, which, although necessarily less graceful than in his other works, succeeds in communicating a plethora of data in a relaxed, well-written manner.  He is at his best in the chapter on the Snowy Owl, whom he considers "one of the most thoroughly misunderstood" of the owls, redefining activity patterns as nocturnal (not diurnal as is generally written), informing the migration section with data gained from Project Snowstorm, discussing why he thinks Snowy Owls are particularly at risk from climate change. And, he is also good in the species accounts of less-researched owls, where he finds diverse ways of saying 'there is no research so we know little or nothing.'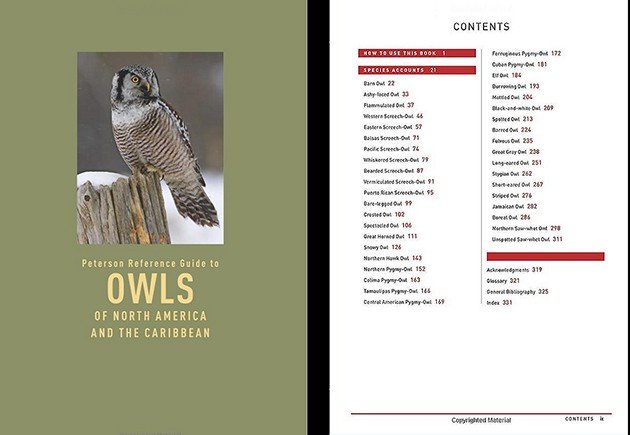 Peterson Reference Guide to Owls of North America and the Caribbean covers 39 species found in, as the titles says, North America and the Caribbean islands. It includes owls found in Canada, the U.S., Mexico, Bermuda, the Bahamas, Puerto Rico, Dominican Republic, Cuba, and other islands that make up the Greater and Lesser Antilles. The 39 owls include five endemic Caribbean species. As far as I can tell (there are a lot of owl guides out there!), the geographic coverage is unique. And though all 39 species are included in the excellent Owls of the World, 2nd edition by Claus König and Friedhelm Weick, the species accounts here are far more extensive.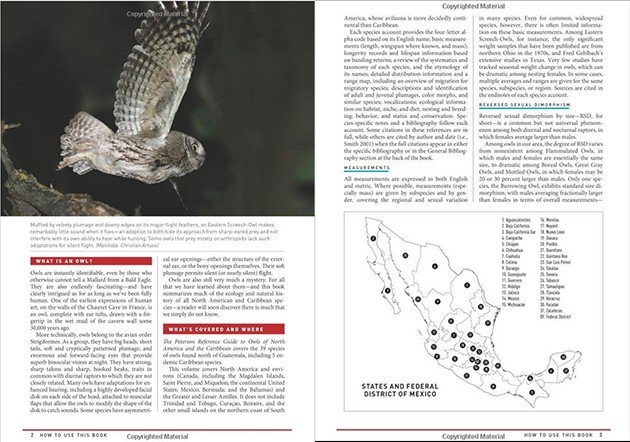 Species Accounts range from 17 pages (Snowy Owl) to 3 pages (Balsas Screech-Owl, Colima Screech-Owl, Tamaulipas Pygmy-Owl, Cuban Pygmy-Owl, Fulvous Owl), reflecting the scope of what we know about the species. Each Species Account starts with names (scientific and English) and banding codes, measurements (overall and by gender and subspecies where possible), longevity (utilizing banding data), and a summary description of the species, its habitat and status. There follows more detailed sections on: Systematics, Taxonomy, and Etymology, Distribution (including distribution outside the boundaries of the book), Description and Identification, Vocalizations, Habitat and Niche (including diet and pellets), Nesting and Breeding, Behavior,  and Status (including conservation concerns and recent research impacting on status).
Each account contains a range map created by Weidensaul, utilizing diverse sources–breeding bird atlases, banding data, research articles. (It does not seem that eBird data was used; Weidensaul praises its value but notes problems when it comes to giving a complete picture of owl distribution.)  There are also subspecies distribution maps for Eastern and Western Screech-Owls, Spotted Owls, and Great Horned Owls.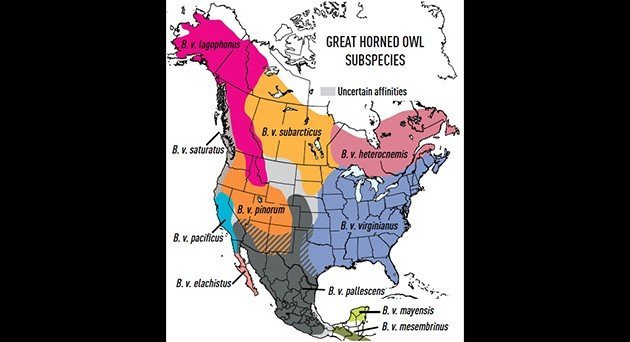 Species Accounts are generously illustrated with photographs nature photographers Glen Bartleby, Tom Johnson, Christian Artuso, Gerrit Vyn, Alan Richard, amongst others. I imagine it was a challenge to obtain photos of some of the more territorial restricted, little known species like Tamaulipas Pygmy-Owl, which is represented by only one photograph. But, for those owls who are more well-known and easier to find, we have the delight of seeing them in full-body portraits, perched in their habitat, with mates, as nestlings, hunting and flying, in concealment postures and eating prey. Photos in the Species Accounts are documented with photographer's name and place where the photo was taken (an important fact given some species' nomadic or irruptive tendencies); additional credits are given in the Acknowledgments.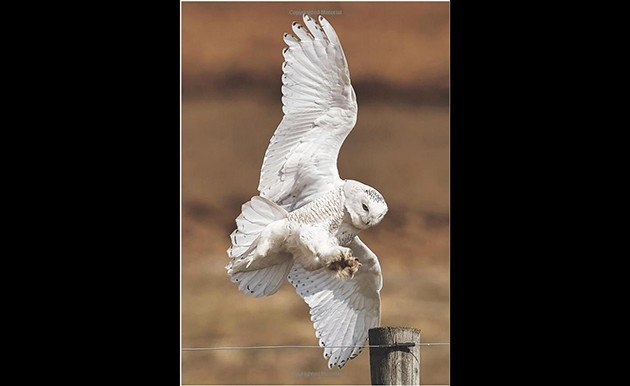 The photos work both as illustrations of the text and, for some, as works of art, with particularly striking photos used as section separators (the Snowy Owl above, by Alan Richard, sets off the Glossary section). They are sharp, richly colored, and well produced. You expect the yellow eyes of Northern Saw-whet Owl to jump out at you, but it is surprising to see the brown eyes of the Unspotted Saw-whet Owl having the same impact.  Images are well-balanced with the text. Many chapters offer a full-page portrait to satisfy our owl image craving, and then illustrate the text with quarter or half-page photos and extensive captions.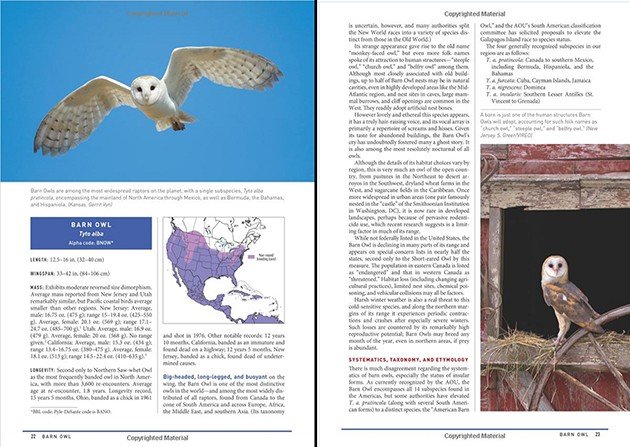 The research basis of the book is emphasized with Notes and Bibliography sections that conclude each Species Account. This is supplemented with a five-page General Bibliography. Ornithological articles and monographs make up the majority of sources and citations are primarily to print versions, though Internet references are given for sources from Birdlife International, the Cornell Lab or Ornithology, and a couple of others. There is also a brief Glossary of terms (for the most part, the text is highly accessible to the general reader) and a Topography of bird anatomy in the Introduction.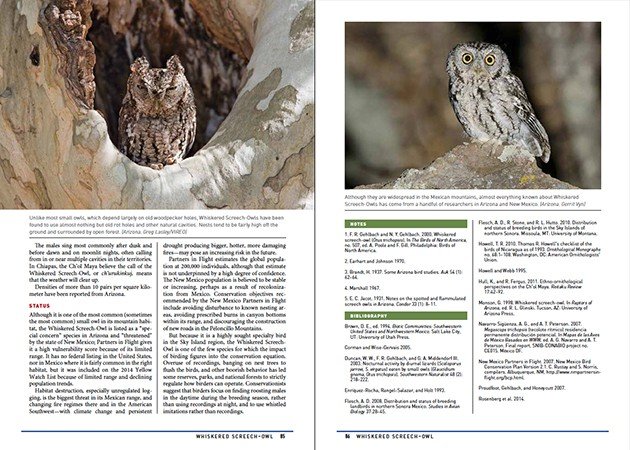 The three-page index consists only of species and subspecies names, both scientific and English, with pages for photographs, maps, and captions in bold print. Thankfully, English names are listed by whole name; for example, Stygian Owl is listed as "Stygian Owl", under S. With so many book indexes listing species under family name, I am thankful that the decision was made NOT to list all 39 owl species under the heading "Owl."
In addition to the sections of vocalizations, the author and publishers have made available an "album" of 86 owl vocalizations (some species have only one, others have multiple examples of hoots, wing claps, begging calls, etc.), taken from the Macaulay Library of the Cornell Lab of Ornithology. The album is available online and can be used interactively on the web or downloaded (the URL is given in the Introduction). Warning: Going to this web page can be addicting. I am loving listening to the Screech-Owl trills, especially the Balsas Screech-Owl bouncing ball.
The Introduction not only thoroughly describes the content parameters and structure of the book, it serves as an introduction to the history and study of owls in North America. Topics such as reversed sexual dimorphism by size (RSD), systematics and taxonomy, and extinction of island species are defined and discussed clearly and engagingly. (I particularly enjoyed systematics and taxonomy and the unexpected, surprising relationships being discovered via molecular DNA analysis.) It is not necessary to read the Introduction to use the Reference Guide, but, like all good introductions, it provides context and background.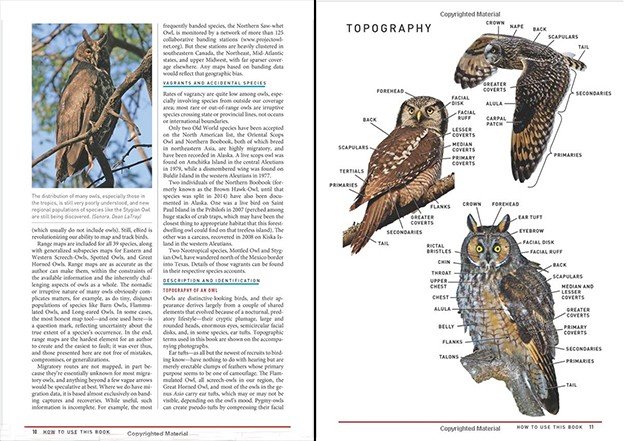 A group of owls is traditionally called a parliament, though there is a line of thought that C.S. Lewis originated the term as a pun on Chaucer's Parliament of Fowls. This is not the kind of information you'll find in the Peterson Reference Guide to Owls of North America and the Caribbean. It is not that kind of reference guide. It is an outstanding reference source for data and a synthesis of knowledge about the natural history, taxonomy, distribution and conservation status of owls in the United States, Canada, Mexico, and the Caribbean Islands. Many birders will find the species accounts for the endemic and little-known owls as valuable as those for the "popular" owls, maybe even more valuable. After all, you can read about Great Gray and Burrowing Owls in many books; how many bird guides describe the vocalizations of the Cuban Pygmy-Owl or the habitat of the Fulvous Owl?  I think this is a book many birders will be happy to have on their shelves. December is approaching fast. Start making those Bird Books Wanted lists.
—————–
Peterson Reference Guide to Owls of North America and the Caribbean
by Scott Weidensaul
Peterson Reference Guides series
Houghton Mifflin Harcourt (October 13, 2015)
Hardcover, 352 pages,  7 x 0.9 x 10 inches
ISBN-10: 0547840039; ISBN-13: 978-0547840031
$40.00 (substantial discounts from the usual suspects)