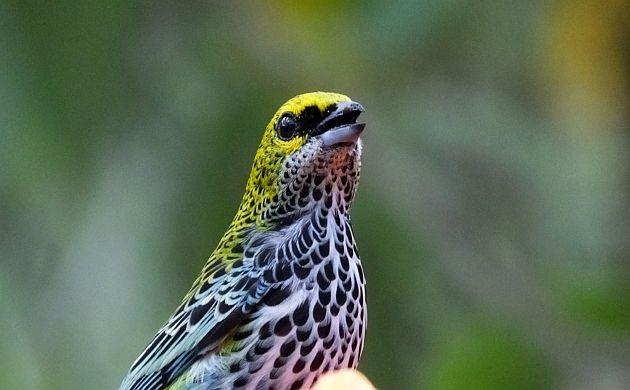 I reside in Costa Rica, the country is roughly the same size as West Virginia, but I rarely make it to some parts of this birdy nation. In large part, my lack of full birding national coverage stems from another feature shared with the state that harbors the New River gorge, and one that helped create conditions that can result in mega diversity. Although points between A and B might be a short distance, the near constant range of ravines, gorges, ridges, and mountains tend to turn those travel lines into marathons of squiggliness. The combination of volcanic and seismic topography is pleasing to the eye but it adds a fair bit of travel time to the birding commute, and I guess that's pretty much the thing that has kept me from doing much birding around the Costa Rica/Panama border region of San Vito.
For the most part, I blame my hesitation on the 6 hour ride, some of which can include mountains draped in fog, watching the back ends of slow rumbling trucks for uncertain, grueling periods of time, and dealing with damn fool drivers who pass on blind turns. Six hours isn't that bad, though, and if you stick to the coastal route, it's even better, so I should try and make it down that way more often, especially because the birding is wonderful.
It's not just wonderful because there's all sorts of species to look for, including a few for which distributions in Costa Rica are more or less restricted to that region. It's also wonderful because the area is so agreeable in so many ways. The food is great (our group enjoyed a fantastic vegetarian gourmet repast at the Casa Botania as well as wonderful meals at the Cascatata del Bosco), there are some cozy places to stay in fine habitat (the same two places just mentioned), and the climate is pretty much perfect at this 1,000 meter elevation. In general, "photogenic" pretty much sums up the San Vito experience.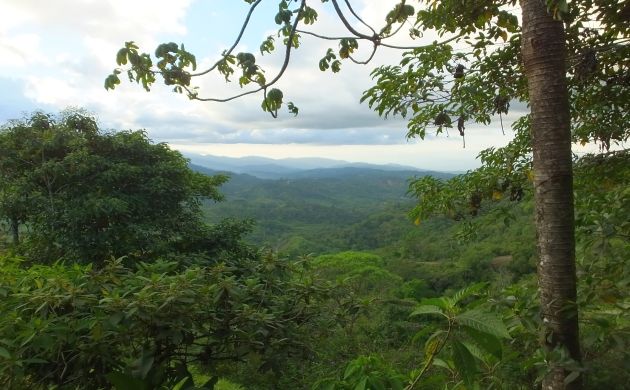 My view from the Casa Botania. Each early morning was replete with a fine dawn chorus that included calls of Barred Forest-Falcon, Scaled Pigeon, and Brown-billed Scythebill.
But enough of that other stuff, because as those of us with binos know, the real meat and potatoes or uncommonly good soy-based stuff or truffle topped pizza are the birds. San Vito has them, most are easy to see, and quite a few match their photogenic surroundings with eye candy plumage. Here are a few of those beauties: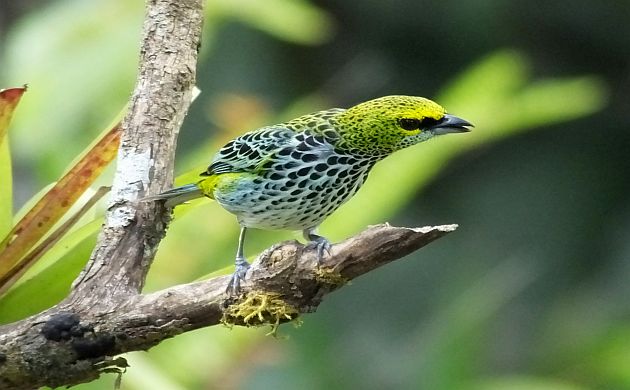 Speckled Tanager
This exquisite Tangara is especially common around San Vito. It can be admired in forest, second growth, with mixed flocks, and on its own.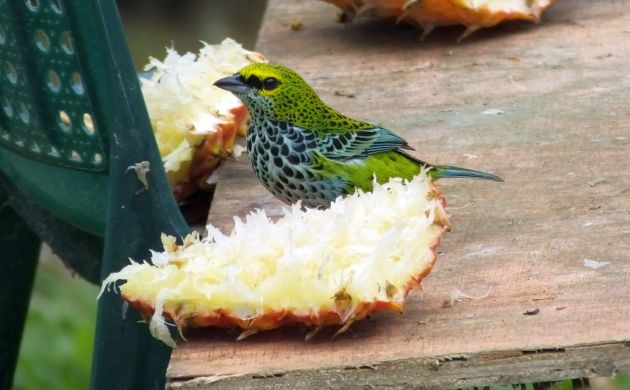 At the Cascata del Bosco, you might also see it visiting an erstwhile feeder on a green plastic chair.
Silver-throated Tanager
While admiring Speckled Tanagers, bright yellow Silver-throated Tanagers also frequently pop into view.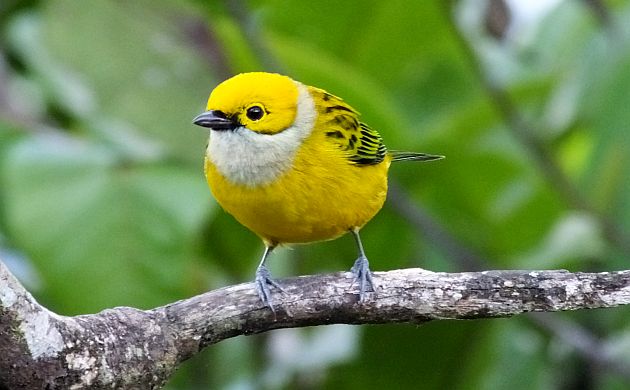 Common, photogenic, always fun to watch.
Green Honeycreeper
This bird is fairly common in many parts of Costa Rica but it's so stunning, it always deserves a mention.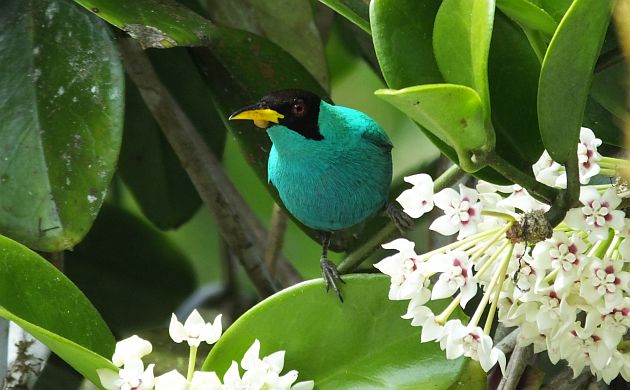 Dang, this jade bird is so beautiful!
Swallow-tailed Kite
These definitions of avian elegance were constantly soaring and swooping over the Casa Botania.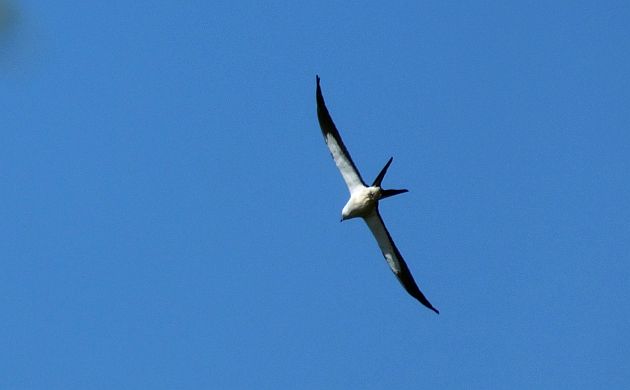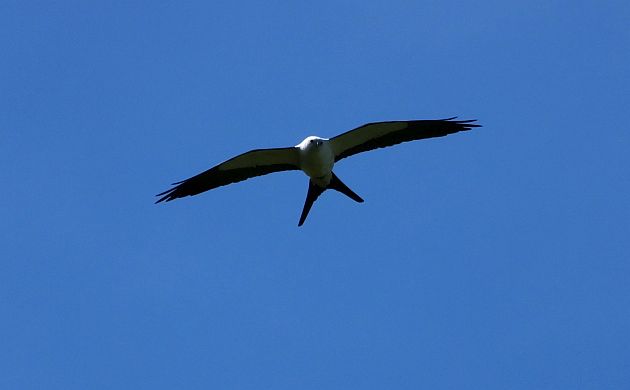 So much better than television!
Hummingbirds are of course always photogenic and a bunch live around San Vito. One of the best is the tiny White-crested Coquette. Unfortunately, it's so tiny, my camera couldn't keep up with it but this regional endemic is always better to see in person anyways.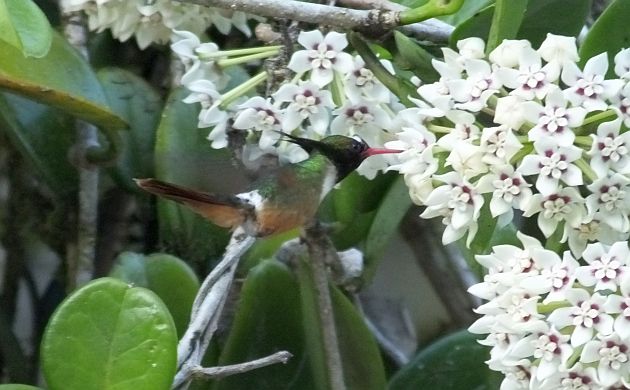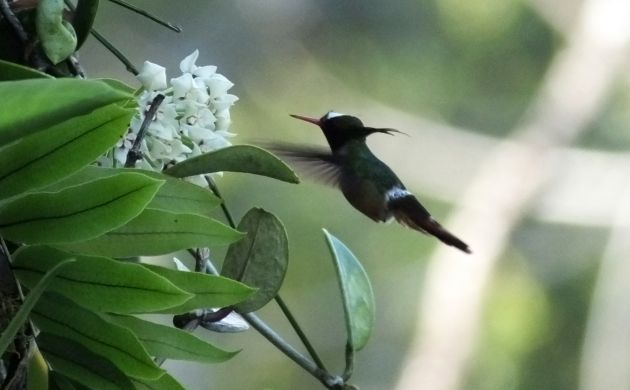 Male White-crested Coquette.
Of course, there's lots of other photogenic stuff that didn't make it onto my memory card including Crested Oropendola, Masked (Chiriqui) Yellowthroat, Black-thighed Grosbeak, and other birds, and the awesome San Vito Birding Club. Go to San Vito and enjoy the birding life.