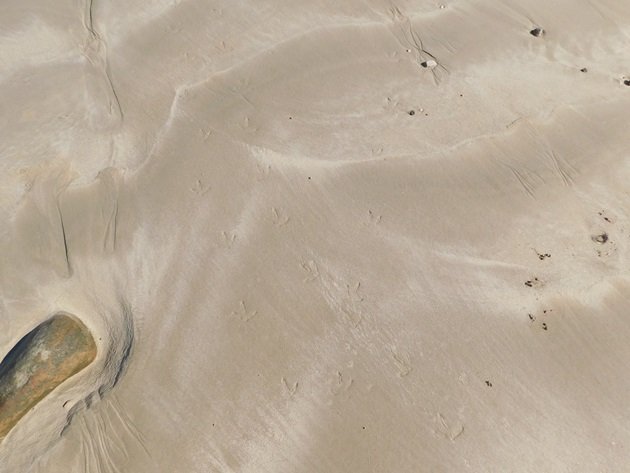 Last week I said we were "cautiously optimistic" about the Pied Oystercatcher chick at Gantheaume Point surviving. Well, another week has gone by and we really are quite certain that it will fledge now. Arriving at the beach as the tide pushed in yesterday we soon found the Pied Oystercatcher family had left footprints in the wet sand. It is hard to tell which footprints belong to the chick now. The photo I took of the footprints is above. We then moved slowly through the rocks until we found the family. The parents were guarding the area as always and we stayed far enough back that they could move forward as the tide came in without feeling that we were a threat.
The Pied Oystercatcher chick development over a few days is quite incredible. It could almost be mistaken for an adult bird at a distance. It was mostly independent of its parents, but they still brought it food. They called as the tide came in to get the chick to move through the rocks. We are aware of the route they usually take and could position ourselves to observe them move to a safe place for the upcoming high tide. There is a visible line through the chick's breast, so it does need a bit more fattening up! The bib appears to be almost complete with feathers, but there is still down in the neck area.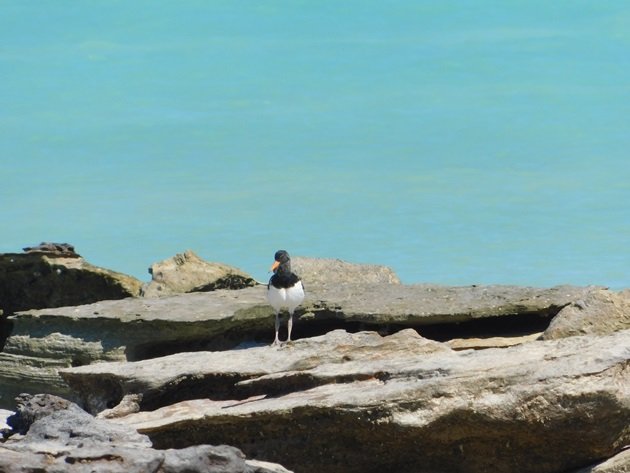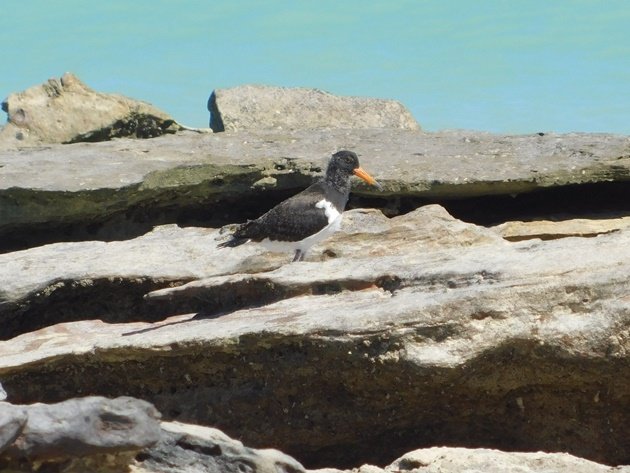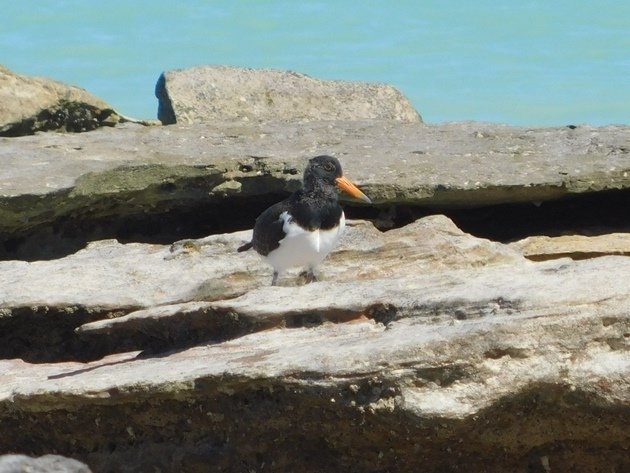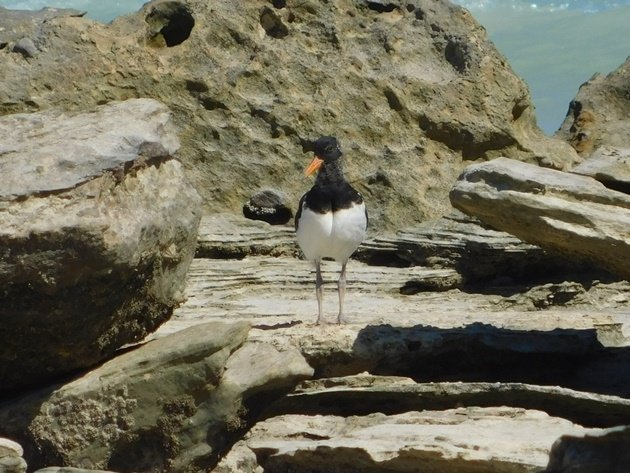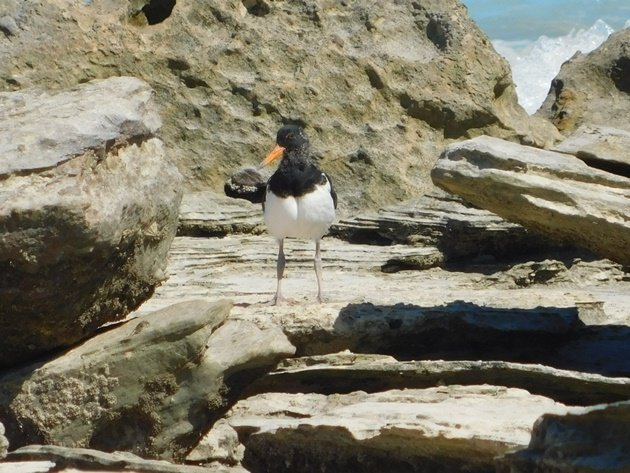 Pied Oystercatcher chick at 40 days old
Observing the Pied Oystercatcher chick walk towards its parent it is clearly visible that there is not too much of a size difference now.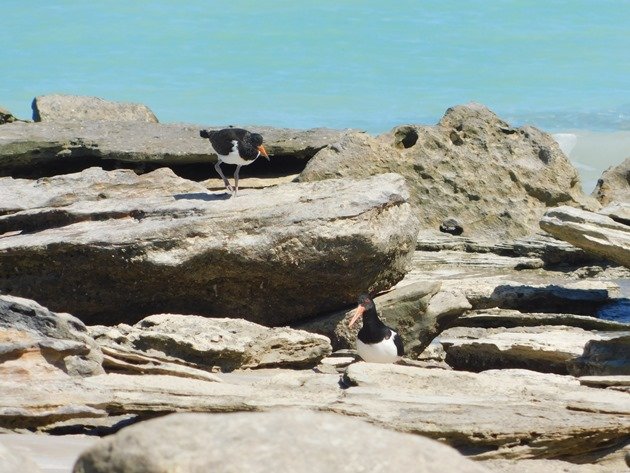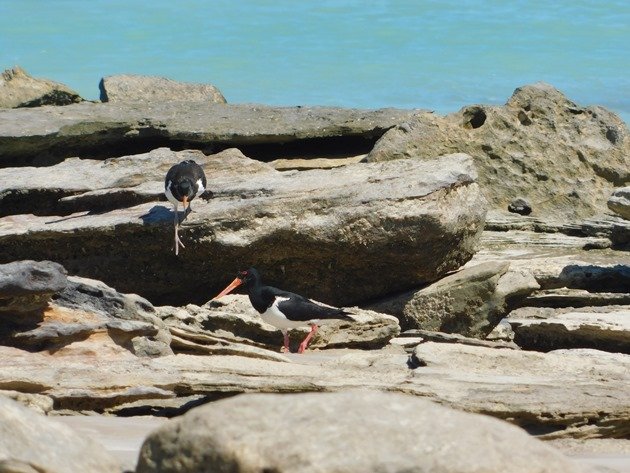 Pied Oystercatcher chick and adult
The Pied Oystercatcher chick did attempt a short flight as the tide raced in. It then stretched its wings out. I managed to capture the stretched wing, but not the whole bird! You will notice the Common Sandpiper in the photo to the right!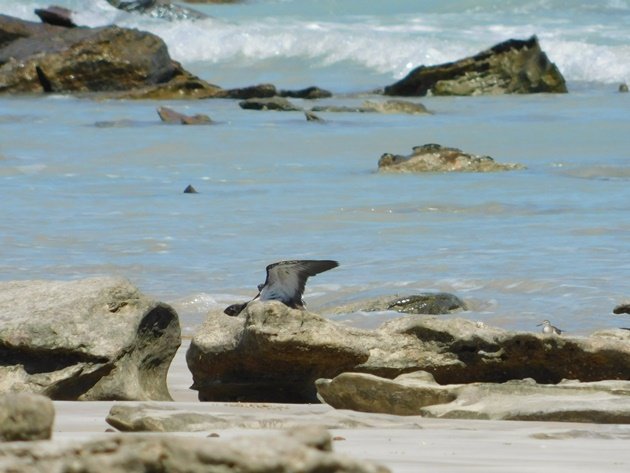 Pied Oystercatcher chick having a wing stretch
There are more Pied Oystercatcher nests with eggs in them now, so the breeding season is not over yet. One Pied Oystercatcher chick surviving to forty days old in any year is nothing short of a miracle along our coast. We always hope for a good outcome, but over the years we have had to accept that the Pied Oystercatchers are not usually successful due to predation of either their eggs or chicks.