Arctic Terns are a rarity in New York State.  But Sterna paradisaea can be found pretty much every year at Cupsogue Beach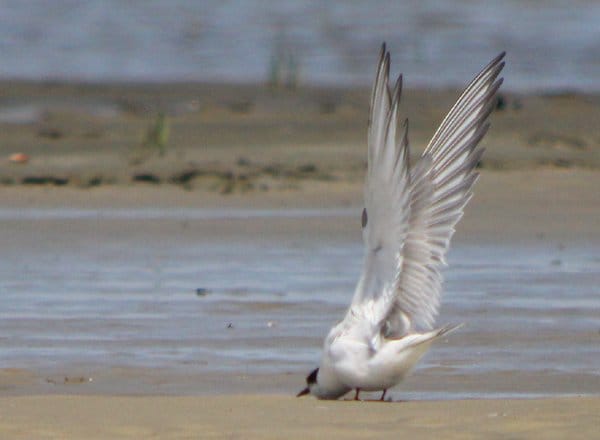 County Park on Long Island in very small numbers and only during the summer.  Shai Mitra has already done an excellent job on this blog of explaining the methods that must be employed to find and identify an Arctic Tern visiting Long Island during the summer, and many New Yorkers have since followed his instructions and found their own birds.  A couple of weeks ago Seth Ausubel and I did the same out on the flats at Cupsogue.
First we found the terns that were clearly not adults, but birds in either portlandica plumage* or 2nd summer plumage.  Then we looked for other field marks that would indicate that we were dealing with Arctic Terns rather than the much more common Common Tern.  The easiest field mark to use was the extremely short legs of Arctic Terns, though one must be careful because sometimes uneven ground can create the illusion of short legs.  We managed to find two Arctic Terns this way, and had the joy of watching them for quite some time, long enough for us to call Shai and Pat Lindsay, who were birding elsewhere, and get them out on the flats to join us and see the birds as well.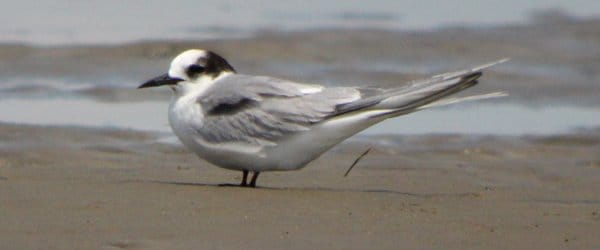 portlandica plumage Arctic Tern
The pictures below are of the two Arctic Terns we found, both in portlandica plumage.  All shots were digiscoped with my Canon EOS 50D through my Swarovski spotting scope.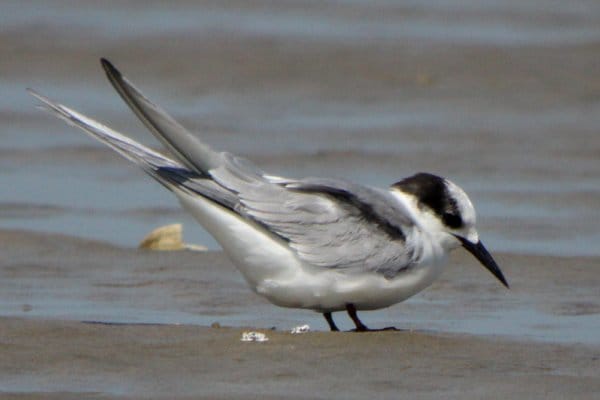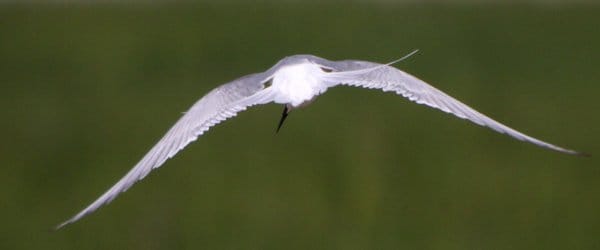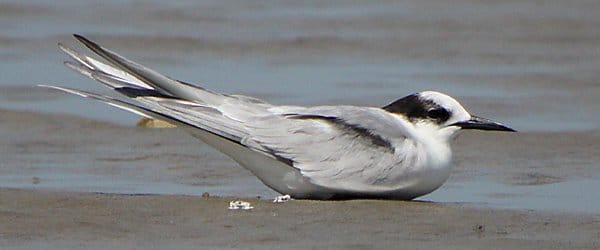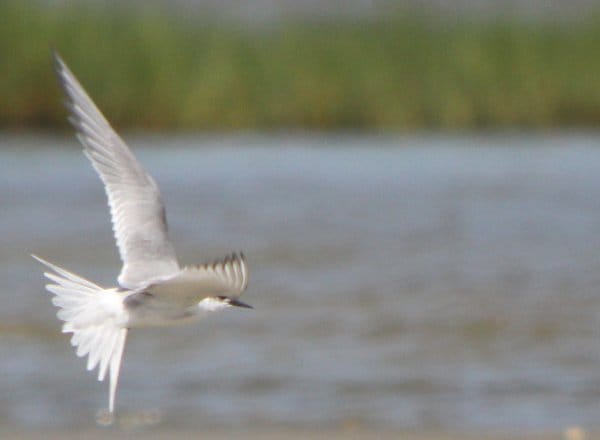 portlandica plumage Arctic Tern with alternate plumage Common Tern
*Portlandica plumage refers to terns in their first summer plumage (one-year-old birds), when they have some white on their head.  Usually there are some intermediate characteristics between basic and alternate plumage shown.  The term comes from a mistaken identification by ornithologist Robert Ridgway, when he identified first summer Arctic Terns as a new species, Sterna portlandica.  The term "portlandica" has since been used as shorthand for first summer tern plumage.  Though, as Shai explained in an email after I asked about the accuracy of this footnote, it is a rather imprecise term:
[T]he term "portlandica," and also the term "second-summer type," most accurately refer to aspects rather than to definite age classes, especially when they are used operationally (as we do here on LI) to cover species other than Arctic Tern (such as Common and Roseate, and even Least and Black). In Common Tern, for instance, it is alleged that some first-summer birds can be a somewhat advanced and resemble the "second-summer type;" that some second-summer birds can be a bit retarded and resemble the portlandica plumage; and that some very old adults come north in "second-summer type" plumage…Anyway, although many of the experts urge AGAINST using the term portlandica because of the ambiguity it carries, I like it because it clearly captures something people actually see–and it doesn't cause the nausea and eye-rolling associated with the (often overly precise) technical language (e.g., first alternate = first-summer = second calendar year).
…