Work has brought me to Maryland this week, so I decided to drop in on the renowned Patuxent Research Refuge. The Patuxent Research Refuge, 12,750 acres in the heart of the Baltimore – Washington corridor, is the only U.S. National Wildlife Refuge established to support wildlife research. Most of this research is conducted through the Patuxent Wildlife Research Center, the largest science and environmental education center in the Department of the Interior. Frequent readers of this blog may actually be unwitting consumers of this work, as I frequently link to North American birds presented by the Patuxent Bird Identification InfoCenter. Wanting to do my part for science, I decided to conduct a little research of my own, a survey of the refuge's seasonal avifauna.
The handsomely appointed Visitor Center is the appropriate place to start, since it serves as the trailhead for a circuit of hiking trails. I had no choice but to use these trails as this is deer hunting season and any living creature that steps off these protected paths is considered fair game. But the trails are a wise choice any time of year; they string together to form a modest loop through a variety of interesting habitats including woodland and freshwater lakes.
My first impression was that very few birds sought refuge in Patuxent in November. My first 30 minutes were disconcertingly birdless, apart from the expected flocks of Canada Goose. The woods yielded the odd Hermit Thrush and Dark-eyed Junco, but little more than that. But once I sat a while in a fruitless attempt to spy a beaver sneaking from its ramshackle lodge, the diversity of the local birdlife finally became apparent. My first pleasant surprise was the groups of Ring-necked Duck like the wild-eyed rascal hightailing it in the photo below. We hardly ever see these beauties, but here, they were more common than Mallard. Other waterfowl I picked out among the geese were Ruddy Duck and American Wigeon.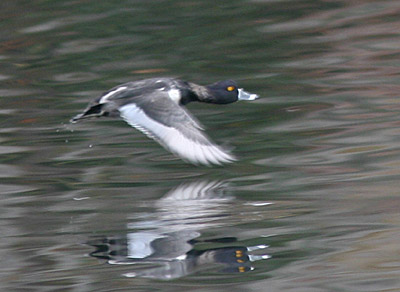 Proceeding further, more birds jumped out. A cluster of Savannah Sparrow, my new best friends, controlled one shore of the lake. A Belted Kingfisher strafed the surface of the water from an abandoned osprey platform. Pine Warbler in the treetops acted very skittish about my presence while a stalking Great Blue Heron seemed entirely unperturbed. The waterfront held all kinds of interesting birds, the Northern Mockingbird, American Crow, Blue Jay, Northern Cardinal, and White-throated Sparrow one comes to expect of autumn in the northeast. I even spotted a couple of unidentified falcons along with some easily identified Turkey Vulture.
Once I veered away from the water and back into the woods, things became quiet again. Whispers of kinglets and chickadees failed to resolve into visual contact. When I arrived back at the Visitor Center, however, the situation drastically improved. Feeding American Robin and Northern Flicker dwarfed smaller birds like Chipping Sparrow and Song Sparrow. One particular tree seemed a magnet for songbirds, drawing not just sparrows but American Goldfinch, Eastern Bluebird, and one brightly colored wood warbler that took off before I could identify it. I had finally found the mother lode of diversity I came for, but my allotted birding time was up. I noted a flying Fish Crow overhead and then sadly took my leave of Patuxent Research Refuge, on my way to the business that brought me here.