Peter Thoem settled in Canada many years ago. He lives at the west end of Lake Ontario which, twelve months of the year, is a very rich and varied place for birds. So he spends as much time as he can in the field and whenever possible he chases lifelong birding dreams in foreign lands. You can and should read about Peter's daily adventures at My Bird of the Day.
I first crossed the Straits of Gibraltar some forty years ago. Back then I wasn't aware of its significance as a focal point of bird migration, but things change and witnessing the fall migration from the commanding heights of the Rock of Gibraltar has been on my list of things to do for some years. Early this September I made that pilgrimage planning to be there when Africa-bound vultures, buzzards and eagles are on the move.
It was actually logistically easier for me to stay away from Gibraltar itself which, as a British Crown Colony with constrained geography, a slowish, passport-controlled border with Spain and relatively limited flight connections, has its limitations. Instead I found a direct flight from Canada to Malaga from where I could travel anywhere along the Mediterranean and Atlantic coasts, east or west of the Rock of Gibraltar.
Hordes of Brits live along the Costa del Sol, the resort-lined coast just east of Gibraltar, and English is the de-facto second language. So, using Birding Pal, I had no trouble finding local, English-speaking birders willing to help me. One of the responses was from a couple who own a beautiful little guesthouse near Casares, a small, white town located centrally and strategically close to the birding action. They provided my ideal accommodation.
People asked me what target birds I had in mind, but really I had very few; I'm not a list-ticker and my goal was to experience the raptor migration. As a child and teen, growing up in England, I had an informal mental list of birds I'd seen in books but which I believed to be out of my reach. That list included: Hoopoe (a dove-sized, pink, black and white bird with a flamboyant crest), Great Bustard (a bird of open grasslands, sort of an ostrich / turkey cross) and a Bee-eater (iridescent blue, green, gold and chestnut, a little bit like a streamlined kingfisher.) It would be icing on the cake if I saw any of those.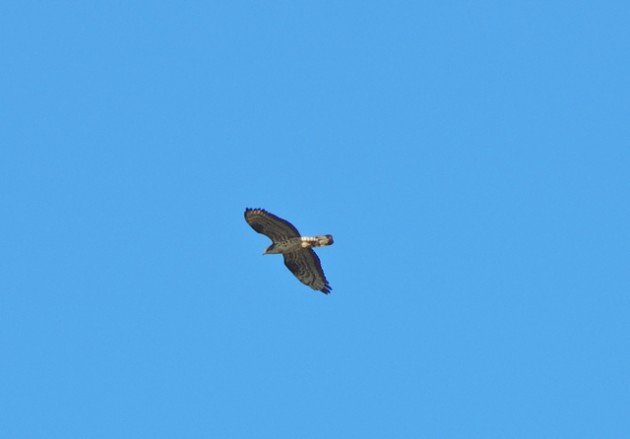 Honey Buzzard
My visit was perfectly timed. From my hosts' terrace with its commanding view, we watched dozens, maybe hundreds, of Black Kites and Honey Buzzards gathering in swirls and riding thermals to gain height, then unwinding to stream overhead aiming for the 17 Km crossing at Gibraltar. We always seemed to have resident Griffon Vultures in sight too, riding and skimming the ridge waves like surfers, sometimes just three or four but often twenty, thirty or more. One evening a juvenile Egyptian Vulture passed overhead; an exceptional bird I was told. They were all exceptional to me.
Near Tarifa, where the Africa and Europe almost touch, there are a couple of strategic lookouts where raptor enthusiasts gather to search the skies and record numbers of birds. By late morning of the day I was there, they'd already tallied Booted, Bonelli's, and Short-toed Eagles, Montagu's and Marsh Harriers , Common and Lesser Kestrels, and Peregrine and Lanner Falcons ( I missed this last one). The sky was always busy.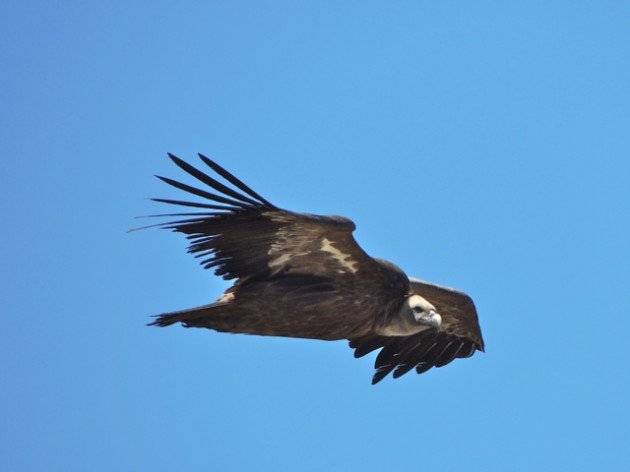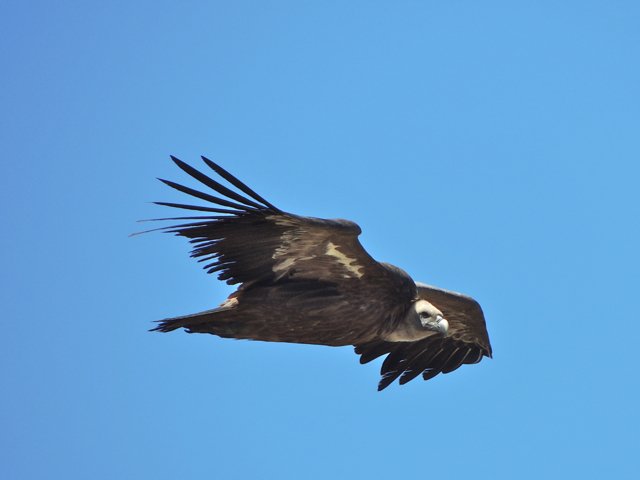 Griffon Vulture
Watching the cluster of sky searchers reminded me of a pagan gathering, a VW camper van with disheveled bedding tumbling out its open door was obviously home to one pilgrim.
Spending time away from the hot spots, my short week of birding generated a list of around one hundred and twenty species and even included two of my childhood dreams: Hoopoe and European Bee Eater.