During my second trip upstate in the last three weeks (and after my second Big Day in as many weekends) I was up for some relaxation Sunday, and got it with my family. Of course, for me, relaxation includes watching birds, so the Ruby-throated Hummingbirds coming to my parents' feeders featured prominently in my relaxation plans.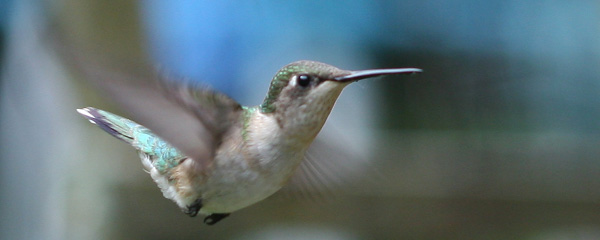 If you look closely at the shot of the female above, taken about two meters from the bird, you can just make out a bit of spider silk on her beak. Ruby-throated Hummingbirds use spider silk when building their nests because it is a strong material that allows the nest to expand as the nestlings grow. Seeing as hummingbirds nest in my parents' yard every year, I wouldn't be the least bit surprised to learn that she is already working on her nest for the year.
In the half an hour I spent photographing the hummingbirds a total of three came to the feeders, two females and one male.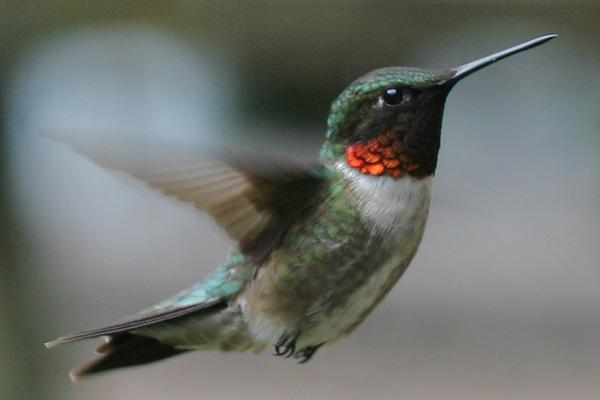 The male was extremely aggressive, driving the females away every time he noticed them feeding at what I can only assume he felt were his feeders, while the females seemed to be willing to share.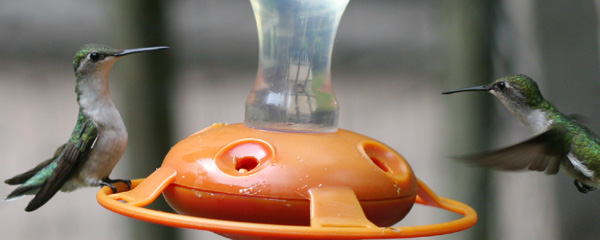 The feeder above is kind of beat up, both from age and from the abuse heaped upon it by marauding bears and squirrels. My dad has recently received some very nice new feeders but he is hesitant to put them out for fear that they will be destroyed (or he is a bit tired out from digging holes for trees, something I will be posting about soon). Anyway, the feeder above is nice for photography as it allows me to get shots like the one above with a still hummingbird, something I can't get with the feeder in the shot below.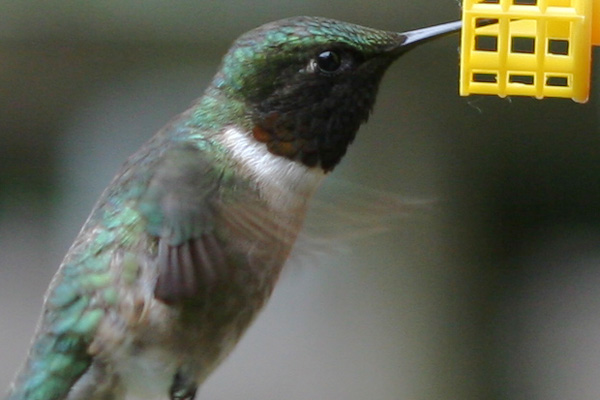 Nonetheless, I am pretty happy about that shot. But not as happy as I am about the one below, the only time I managed to get a picture of a hummingbird flying towards me even close to nicely focused.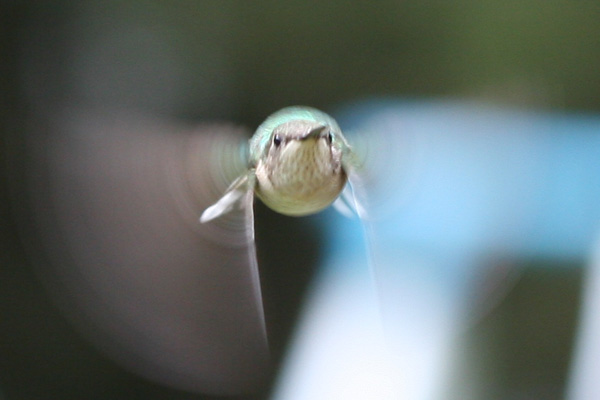 Anyway, I highly recommend getting a hummingbird feeder for your backyard, that is, if you have a backyard, and, for that matter, if you live in the Americas.  Though if, say, Europeans started putting some feeders up maybe they would be more likely to get some vagrants (get to it Jochen!).