After adding an Ash-throated Flycatcher to my year list I stuck around Jamaica Bay for awhile hoping to see it again and to get a picture. As you know from yesterday's post I didn't. And there were other birds I wanted to see so I headed across the Cross Bay Bridge and drove east to Fort Tilden to search for some scoters, Surf Scoters and Black Scoters to be exact.
Scoters are big sea ducks that migrate along the coast this time of year, that is, they migrate along the coast when the wind is blowing in the right direction. On Saturday, however, the wind was blowing out of the west which kind of cut down on any seabird migration at all. I did see a distant pair of scoters flying east into the wind but was unable to discern if they were Surf or Black Scoters. Talk about frustrating!
So instead of seeing scoters I scanned gulls, searching for a Lesser Black-backed Gull, but seeing Great Black-backed, Herring, Ring-billed, Bonaparte's, and Laughing Gulls. More frustration. I sighted the occasional Common Loon and several Red-throated Loons but it seemed like the beach at Fort Tilden wasn't the spot for me on Saturday. I walked back to my car on the narrow road through the dunes, seeing a variety of passerines like American Goldfinches, Black-capped Chickadees, White-throated Sparrows, a late female Eastern Towhee, and tons of Yellow-rumped Warblers, a bird blogger's best friend. Butterbutts are always willing to have their picture taken.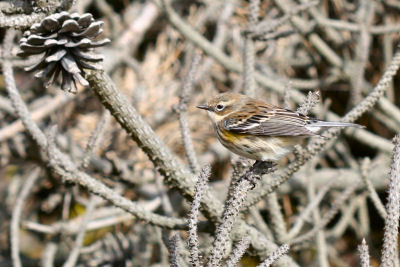 Butterbutt at Fort Tilden
Once I got back in my car I drove west, hoping that Point Lookout, across Jones Inlet from Jones Beach, might have some good birds present. I was right! Well, it's not like the birds were terribly good or anything but I did manage to see two Surf Scoters foraging between jetties, bringing my Big Year list to 298. The wind was still out of the west, and still keeping migration to a minimum though, so despite my best efforts I didn't see much else. A single Sanderling hanging out on the last jetty was kind of odd, and a bit photogenic.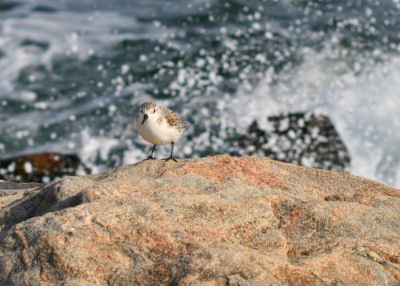 Sanderling at Point Lookout
Other than some more distant Common Loons nothing much else was around so I headed back to my car for the short drive to Jones Beach.
I parked at West End 2, walked to the beach, and went west, directly into the wind. An occasional loon flew by, and the usual gulls were around, mostly pretty far out over the ocean. I spotted a couple of small birds on the beach and when I eventually got the scope on them I realized that they were Horned Larks. Then a small flock of them flew past but two of the birds in the flock were Snow Buntings. There wasn't much else to look at except for a male Northern Harrier hunting over the dunes until I got out to the jetty at the western end of Jones Beach and found a whole flock of Dunlin and Sanderlings hunkered down on it.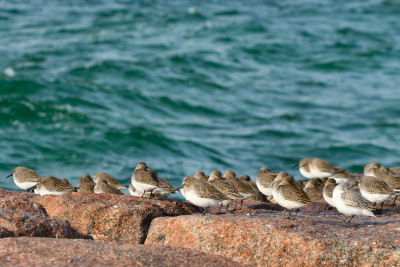 Dunlin and Sanderling
Then a flock of Snow Buntings came out of nowhere and almost before I realized what they were they were out over the choppy waters of Jones Inlet, straining against the wind to get to Point Lookout. I tracked them through my binoculars as best I could, and, sad to say, I think I saw a couple of them sink into the briny deep. I can't be sure though, as the wind and the spray and the waves made seeing exactly what was going on pretty difficult.
Walking back to the car I spotted both a Merlin and an American Kestrel. Two falcons in five minutes isn't too shabby but I wanted to see more birds. Over at the Coast Guard Station things seemed rather dead except for a couple of Ruddy Turnstones, a small flock of Common Mergansers, a bunch of Brant, some Mallards and an American Black Duck. Then, through my bins, I spotted a plump ovalish-shaped bird far out in the bay. I managed to get the scope on it just as it tipped up and went under water. I started to get excited, thinking it was some kind of alcid, and I haven't seen any alcids all year. It popped up again and again I got the scope on it but the 20 power I had the scope set to just wasn't enough. So I held the scope as steady as I could against the wind and turned the scope all the way up to 60 power and saw a seal staring back at me. It pulled its head underwater and disappeared. I've seen branch birds, rock birds, bag birds, leaf birds, post birds, squirrel birds, can birds, and bush birds.  Now I guess I've seen a seal bird.
Back to the car, back on the highway, home to Daisy and out to dinner. Two more birds to go!