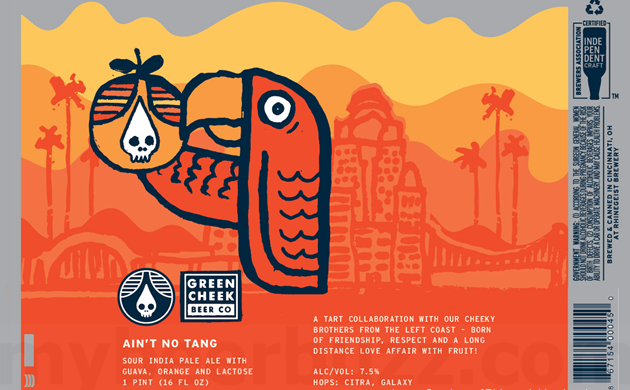 Birders have a natural tendency to appreciate variety in form, from the bewildering range of colors displayed within a single avian family, to minute distinctions between otherwise similar birds wholly inscrutable to the untrained eye (or even to those of many birders!). Of course, the evolutionary processes that produce this variety generally take place on a scale that prevents us from noticing any change at all over the course of our lifetimes. So, while waiting for evolution to produce new birds for our life lists is inadvisable, we sometimes catch a break and every few years get a new species or two when some genetic research or study of breeding distribution presents enough evidence to split what was once considered a single species into a few new ones. Birders are generally happy when this happens. More birds mean more potential lifers.
Stylistic variety abounds in the beer world, and it too is on the rise, though this is more an effect of human intervention. Artificial selection, if you like. Nowhere is this more apparent than in the ever-evolving style of India pale ale, which at this point need not be pale nor have anything to do with India – to such an extent that it's now more convenient to refer to it in abbreviated form as "IPA", which dispenses with the now pointless semantics of its original name. Before the craft brewing revolution of the 1970s and '80s, the lone IPA produced in the United States for most of the twentieth century was a curious holdout by P. Ballantine and Sons Brewing Company. But now, in these heady days of hoppy beers, where over half the taps in a bar might be adorned with that three-letter portent of lupulin excess, a bartender requires further clarification whenever a customer asks – innocently enough, perhaps – for just "an IPA".
Thanks to the ongoing and apparently accelerating speciation of IPAs, we now have a multitude of substyles, including English IPA, American IPA, West Coast IPA, East Coast IPA, black IPA, brown IPA, red IPA, rye IPA, white IPA, double IPA, triple IPA, Belgian IPA, New England (or "hazy") IPA, and brut IPA.  To that list we can now add "milkshake IPA" as well, the newest addition to the IPA family.
Admittedly, milkshake IPA is a terribly frivolous name for a beer style, especially compared to the solid, old-fashioned matter-of-factness of bitter or porter, or the elegant cachet of bière de garde or Hefeweizen. But for all its silliness, it isn't a misleading designation – these beers really do look, taste, smell, and feel like milkshakes, as odd as that may seem. Like the New England IPAs they appear to have evolved from in the last two or three years, milkshake IPAs are pale and hazy, thick and creamy in texture and bursting with citrusy and tropical hop aromas, but without the bracing bitterness that accompanies older IPA styles. But milkshake IPAs go a step further with the addition of lactose, a disaccharide found in milk that's largely unfermentable by Saccharomyces cerevisiae, the top-fermenting ale yeast used by brewers to make IPAs. This milk sugar adds a residual sweetness to these beers, which – when combined with the sweet and juicy hop flavors favored by many craft brewers and a smooth, rich mouthfeel – drink like a cool, refreshing milkshake.
The use of lactose in beer isn't a new technique – brewers have been using milk sugar to produce milk or cream stouts popular in Britain for well over a century. But milkshake IPAs are novel in combining this dessert-like sweetness with fruity hop flavors. And some brewers are now compounding this effect by adding baking spices (vanilla is particularly popular) and even actual fruit to their milkshake IPAs, concocting dessert-like beers that convincingly suggest all manner of decidedly "un-beery" treats, like peaches and cream, strawberry shortcake, Orange Julius, piña colada, French toast, Key lime pie – the list goes on.
I've tried a few milkshake IPAs before but Ain't No Tang, a collaboration from Rhinegeist Brewery of Cincinnati, Ohio and Green Cheek Beer Company of Orange, California, is the first I found with a bird on it (well, to be honest, my girlfriend picked it up for me while on a business trip in Ohio – thanks, honey!). The bird is a cartoonish, all-red parrot with a yellow bill. It's not an exact match for any real species, but it comes up pretty close to the Red Lory (Eos bornea) or Chattering Lory (Lorius garrulus) as I see it.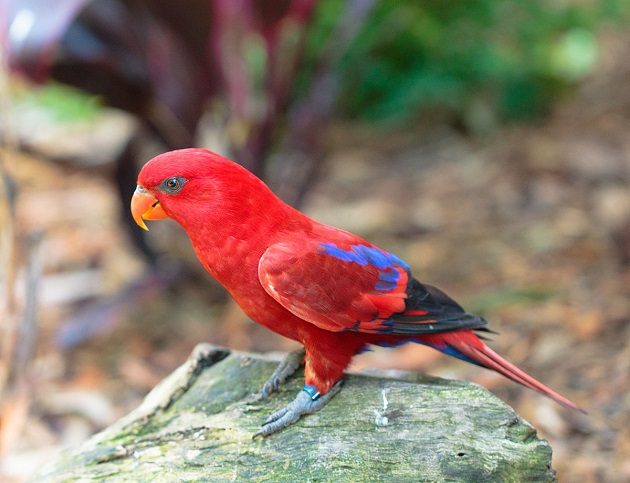 The Red Lory (Eos bornea) matches our Ain't No Tang Bird pretty well…
But this bird is also just a red version of the usually green logo of Green Cheek Beer Company, so perhaps it's meant to be an erythristic Green-cheeked Parakeet (Pyrrhura molinae). Maybe I'll write to the brewery and inquire about the incidence of pigmentation abnormalities in their psittacid mascots – I'll be sure to share any response I receive.
…but one of the collaborating breweries seems to be named for the Green-cheeked Parakeet (Pyrrhura molinae).
If the milkshake IPA concept isn't nouveau enough for you, Ain't No Tang is a sour beer as well, in spite of what its name might claim. What's more, an addition of fruit to this beer – guava and orange, to be precise – only adds to the milkshake illusion, giving us what should be most completely described as a sour, fruited milkshake IPA. We've certainly come a long way from Ballantine's with this one. Be careful you're in the right sort of place before you go asking your friendly barkeep what "sour, fruited milkshake IPAs" are on tap.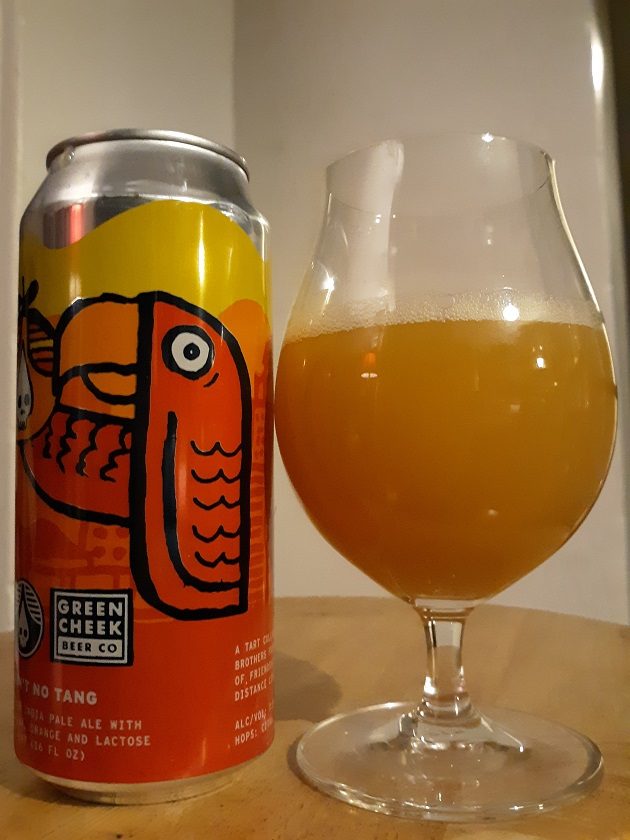 Not too long ago, the sight of Ain't No Tang in the glass would have raised eyebrows, but after just a few years of cracking open so many 16-ounce cans of hazy IPA, its opaque apricot appearance isn't so alarming. The nose is awash with the ripe, floral aromas of guava, passionfruit, mango, and mellow orange. Ain't No Tang lives up to its name with a slightly citrus tartness, balanced with a faint, doughy sweetness hiding behind an expected rush of bright, tropical fruit flavors. This milkshake IPA ends with a soft but slightly bitter, mimosa-like finish that keeps the creamy, full-bodied mouthfeel and milky sweetness from getting out of hand – to the extent that such a wildly playful brewing creation need be kept in check at all.
Good birding and happy drinking!
---
Rhinegeist Brewery and Green Cheek Beer Company: Ain't No Tang





Three out of five feathers (Good)
---
Birds and Booze News:
November 30: Sorry for the short notice, but the Maui Brewing Company in Hawaii is hosting a "Pint Night for the Birds" to benefit the Maui Forest Bird Recovery Project, which is dedicated to saving habitat for endangered Hawaiian endemics like the Maui parrotbill or kiwikiu (Pseudonestor xanthophrys). Event details can be found here.