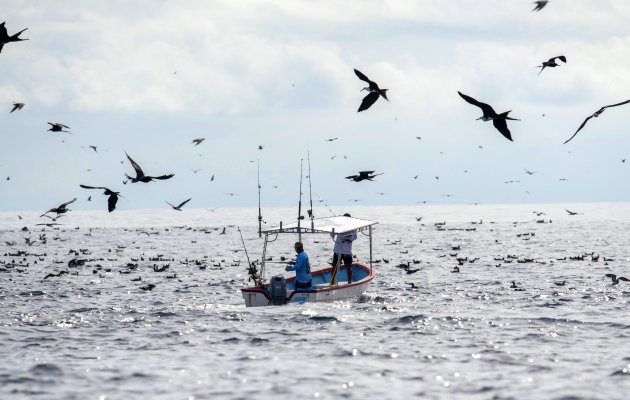 "That bird! Go! Go! Get it! That bird, chase it! Chase it!" In a flash, our small deep sea fishing boat went from casually bobbing on gentle waves to flying over the waters of the Pacific. Shearwaters scattered at our approach and the wind howled in our ears but it couldn't dampen Wilfredo's focus, nor his vocal insistence to "follow those birds"!
We had been floating, birding amidst a massive flock of shearwaters, surrounded by an aquatic city of Spinner Dolphins when Wilfredo spotted two small dark shearwaters flying away from the feeding flock. Since they seemed to be attempting the same getaway escape made by a pair of rare Christmas Shearwaters he had seen the previous week, the chase was on!
As the prop motor revved and ocean spray flew by, I wondered, "Which birds"? I strained to see them, could only see an occasional booby escape our bow, watch some of the hundreds of Wedge-tailed and Pink-footed Shearwaters zip by and hold on as our boat tested its speed. But Wilfredo never lost focus, kept his sharp eye on the two small target birds that were making their unknowing getaway. "There! There! Get them!" Eventually I spotted the fugitives, the two small feathered things rushing over the waves. With quick stiff flaps and glides, the pair of small shearwaters flew just as fast as our boat, even faster!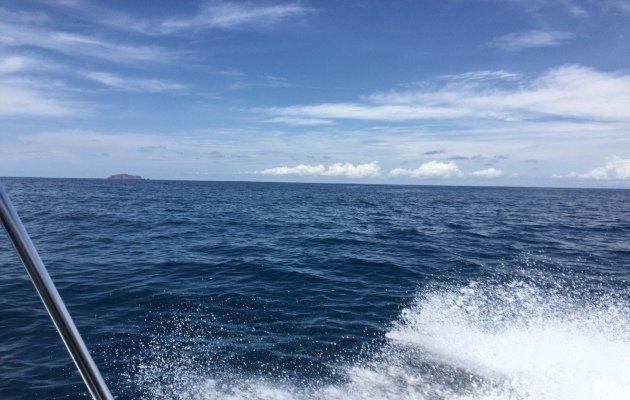 They covered so much water so quickly, so effortlessly, I understood how they could wander from Hawaii to Costa Rica, make steady constant progress over countless kilometers of waves and deep blue water. As we approached and drew nearly alongside the small seabirds, we also tested the limits of our optics, our balance, and our focus. With one hand grasping a metal support rod and the other holding binos to my eyes, for a moment, I thought I could make out white on the underparts. Diego said, "Looks like a Galapagos" and another look confirmed that yes, they were Galapagos Shearwaters. A nice bird for sure, a bird with an evocative name and one that would be a lifer for many birders from North America, but not the bird we had hoped it to be.
We looked back at the feeding flock, now, way back there in the distance, and laughed at how far we had gone. The chase didn't give us any Christmas Shearwaters but we were still glad to have done it. We could at least confirm what those two distant shearwaters were and since chases like this were just how Wilfredo has seen several rarities on other trips, well, you gotta go after that bird!
Earlier in the day, as we ventured out towards the deep waters off of Malpais, Costa Rica at 6 in the morning, another Galapagos Shearwater was the first real pelagic species we encountered. An expected offshore bird in Costa Rica, the small bicolored shearwater was one of many targets during our 7 hour sojourn. This being a season for migration, many other birds were also possible. Pelagic waters being a sort of unexplored unique goldmine with potential to produce sea wanderers from far and away, some of those other birds could also be rare species. There was even that outside, enticing chance of documenting something new for Costa Rica.
As with other pelagic trips in this area, we had rented a deep sea fishing boat, not exactly large in size but with enough room for six seated passengers. It didn't have a galley, nor a bathroom but with possible pelagic madness less than an hour's ride from shore, it was packed with potential.
At first, the birds were absent, it was just that one shearwater, a sad lost Eastern Kingbird flying low over the waves, and groups of Brown Boobies making a beeline to feeding grounds. Unexpected, sudden moments of excitement came in the form of a few leaping Thresher Sharks (!), a couple sea turtles, and a jumping sailfish but no birds. Gazing at the empty water, brief flashes of doubt came to mind. Were there going to be any birds? Would this oceanic venture be a bust?
Thankfully, it didn't take long for the radio to crackle and give us the news, tell us where other boats had spotted the "mancha". Mancha means a patch or stain or spot, in deep fishing terms, it means the spot where baitfish are being driven to the surface and thus cause the water to look darker. In those promising waters, it was where most of the birds were and when the radio said, "millions of birds", our hopes were renewed. With a cheer, we raced towards the coordinates of the mancha.
With the boat bouncing on the waves, there was no scanning with optics, no way to check for other birds but it didn't matter. Like the groups of 20, 50 Brown Boobies flying next to us, we raced towards the feeding flock, towards shearwaters, terns, and whatever else might be out there in the wild waters of the Pacific. As we approached, the mancha became clearly visible, a surreal area of darker water made choppy by the double activity of tuna down below and Spinner Dolphins above.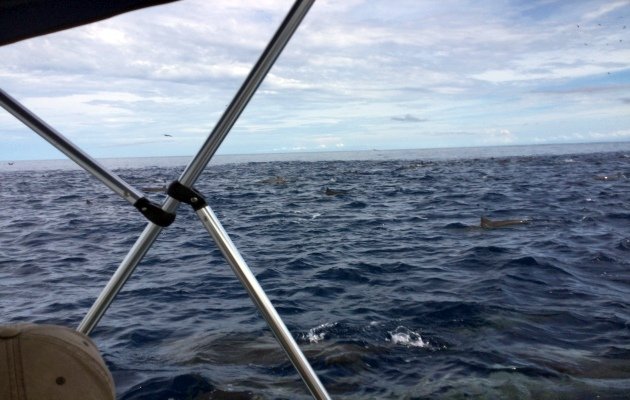 And it was a large mancha. It was immense! It was so extensive, it looked like some separate ocean current. And it was full of Spinner Dolphins and birds.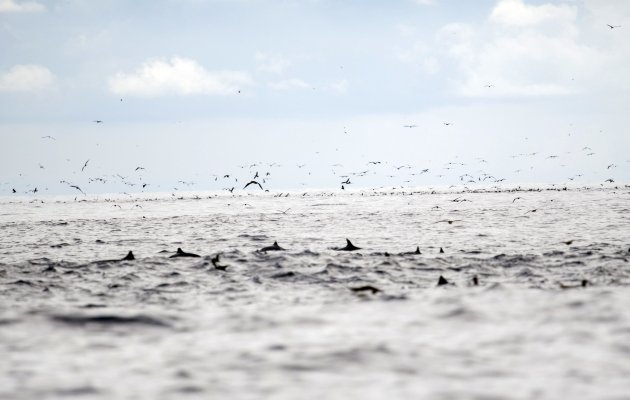 Placing ourselves next to the mancha, we got to work watching and identifying the hundreds of shearwaters and other birds that fed with Magnificent Frigatebirds and a thousand Brown Boobies as dolphins broke the surface all around, some jumping and spinning in air, others swimming within arm's reach next to the boat.
Wedge-tailed Shearwaters were the most abundant tubenose, there were plenty of Pink-footed Shearwaters too.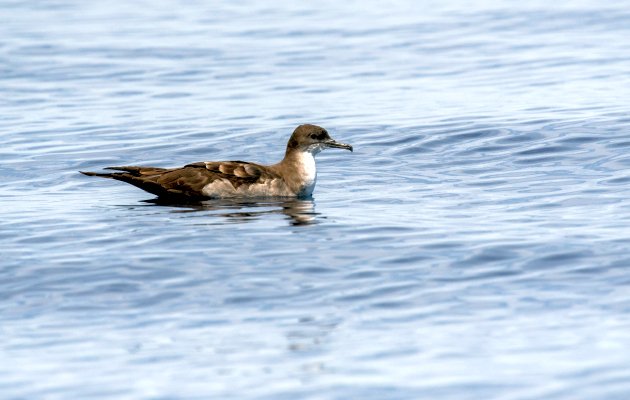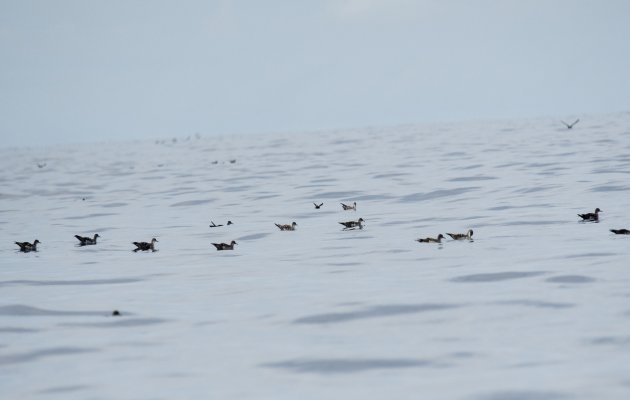 Sooty Terns soared over the feeding frenzy, both adults and juveniles.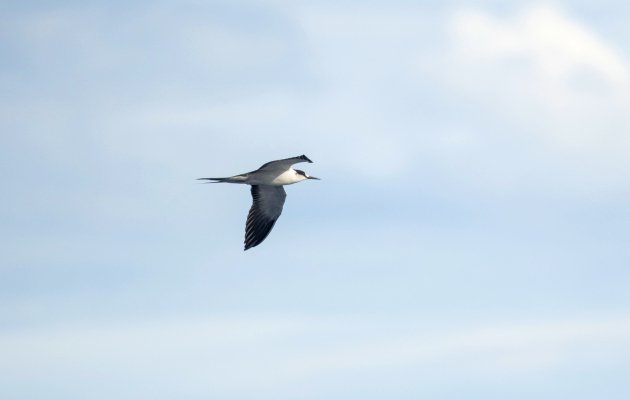 A Bridled Tern made a sudden appearance as did a couple of Arctic and Common Terns.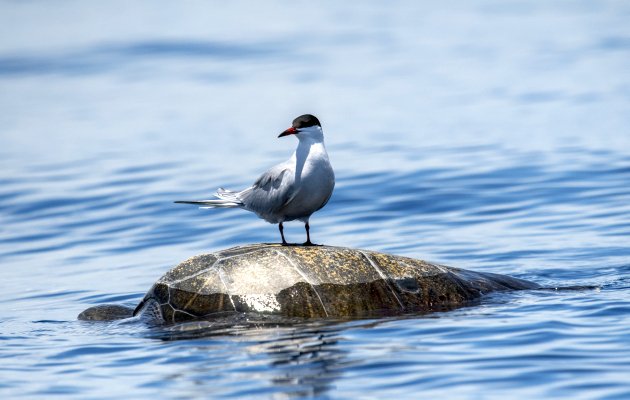 A few Brown Noddies were also present, an occasional Pomarine Jaeger lumbered past the edge of the flock, and we got onto a distant yet definite adult Masked Booby! A couple of lovely as can be Sabine's Gulls also came to the party, happily, a lifer for some of our group and one of Pirjo's most wanted species. A world birder who has seen literally thousands of species, Pirjo had hoped to connect with this small striking gull.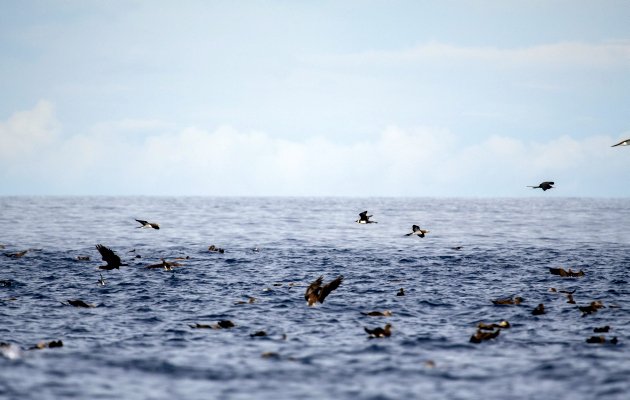 While scanning the constant life in motion around us, I noticed a small white bird flapping and feeding with the others. It couldn't be, it had to just be a Common Tern in bright sun but no, the dark eye was there, the dark bill too and it shone like a beacon. I had to admit that yes, holy smokes, it was a White Tern!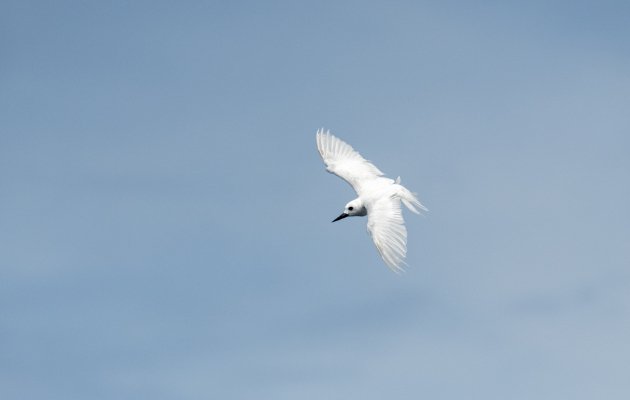 Also known as the Fairy Tern, this species breeds on Cocos Island and is very rarely seen from pelagic trips in Costa Rica. It was a bird that had occurred to me as a possibility but one that seemed remote and so I had mentally pushed it to the back of my mind. And yet there it was, shining white as soft atoll sand, my much wanted lifer White Tern foraging in front of us, foraging next to the boat, even flying right over the boat.
It looked like an aquatic version of a Snowy Cotinga.
Once the feeding frenzy sort of slowed down, we casually meandered among the huge scattered flock of shearwaters. There were too many to check. A distant glimpse of an arcing bird may have been a Tahiti Petrel but it was too far off, one that got away! At one point, a juvenile Long-tailed Jaeger flew directly at us and somewhere around then, we gave chase to the small shearwaters.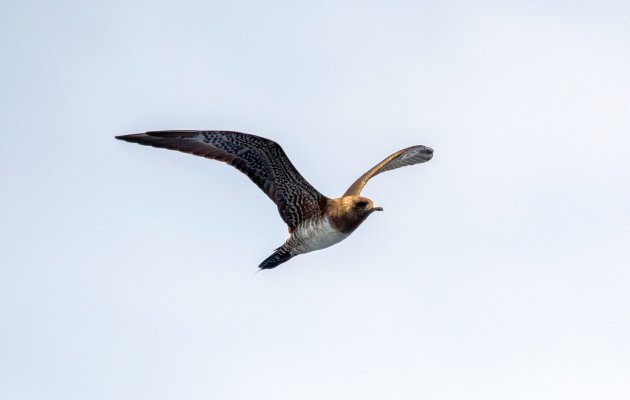 Coming back to the mancha, we enjoyed close looks at a Red-footed Booby before eventually starting back to shore. On the way, more jaegers got our attention, we had more looks at three species of storm-petrel (Least, Black, and Wedge-rumped), and we stopped to admire an odd pair of birds sitting on the water; a Red-necked Phalarope with what may have been that same juvenile Long-tailed Jaeger seen earlier in the day.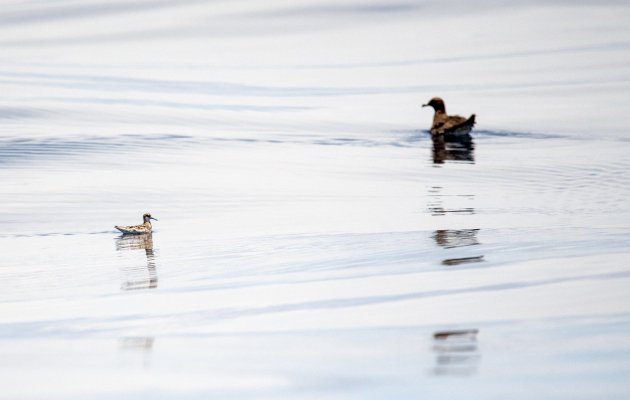 We were back on shore by one in the afternoon, visions of Spinner Dolphins and hundreds of feeding seabirds still in our heads. It will be a while before that incredible morning of shearwater chasing leaves the forefront of the mind. I wonder what else is out there? What was feeding at the mancha, what could we have chased today?
Many thanks goes to Pirjo Laakso and Wilfredo Villalobos of Cabuya Bird Watching for organizing this special trip and to fellow birders Alex Montero, Diego Quesada, and Roger Rodriguez Bravo for sharing the experience. Most photos in this post were taken by Diego Quesada of Birding Experiences.